Gluten-Free Waffle Recipe
This Homemade Gluten-Free Waffle Recipe Makes light and crispy Brussels waffles with the most delicious vanilla flavors.
Plus, if you are after an easy-to-make gluten-free breakfast that is sure to impress, these gluten-free waffles are ready in less than 20 minutes.
Who doesn't like waffles?
For many, waffles are one of the classic afterschool snacks as a kid, in particular if you live in France or Belgium.
What Are Gluten-Free Waffles?
This recipe is a gluten-free version of the classic waffles.
You might have tried my delicious crispy almond flour waffles or soft coconut flour waffles.
Today this version uses all-purpose gluten-free flour to make super crispy waffles that taste like classic Belgian waffles.
These are not Liege waffles! Liege waffles are made from raised yeast dough. They are thicker and soft in the center.
But, if you are intolerant to gluten, this recipe is the closest you will find to classic Brussels waffles.
How To Make Gluten-Free Waffles
What makes light and crispy waffles is a combination of a few simple ingredients.
But most of all, oil and light plant-based milk are the secrets of ultra-crispy waffles.
In fact, while many recipes call for melted butter and full-fat milk, I don't recommend these options. These make the waffles softer with a cake-like texture.
If you love light and crispy funfair-style waffles, follow the recipe below.
Ingredients
All-Purpose Gluten-Free Flours – Not all brands are equal. I recommend picking a brand that contains added xanthan gum and works at a 1:1 ratio replacement to all-purpose flour. If these are mentioned on the packaging, you are pretty sure this recipe will work.
Eggs – Prefer large free-range eggs.
Plant-Based Milk – Almond milk, oat milk, or coconut milk work best for crispy waffles. If you want to use regular milk, use half milk and half water to make ultra-crispy edges on the waffles.
Avocado Oil or any vegetable oil you like. However, I recommend avocado oil because it's healthier, has a high smoke point, and won't smoke at high temperatures in the waffle iron.
Sugar – Classic white sugar or coconut sugar.
Baking Powder – Make sure yours is gluten-free with no added wheat in the ingredient list.
Salt
Vanilla Extract
Xanthan Gum – Only add to the batter if your flour blend doesn't contain any.
Waffle Batter
First, ensure your gluten-free flour blend is fresh, with no flour lumps. Fluff it with a fork if necessary.
Then, use measuring cups to measure the flour. Use the scoop and sweep method, and don't over-pack to avoid adding too much flour.
In a large mixing bowl or the bowl of your stand mixer add flour, sugar, salt, and baking powder, and whisk to combine.
Next, add the oil, eggs, vanilla extract, and milk. Whisk to beat eggs and milk into the dry ingredients. The batter should be smooth and slightly thick, like pancake batter.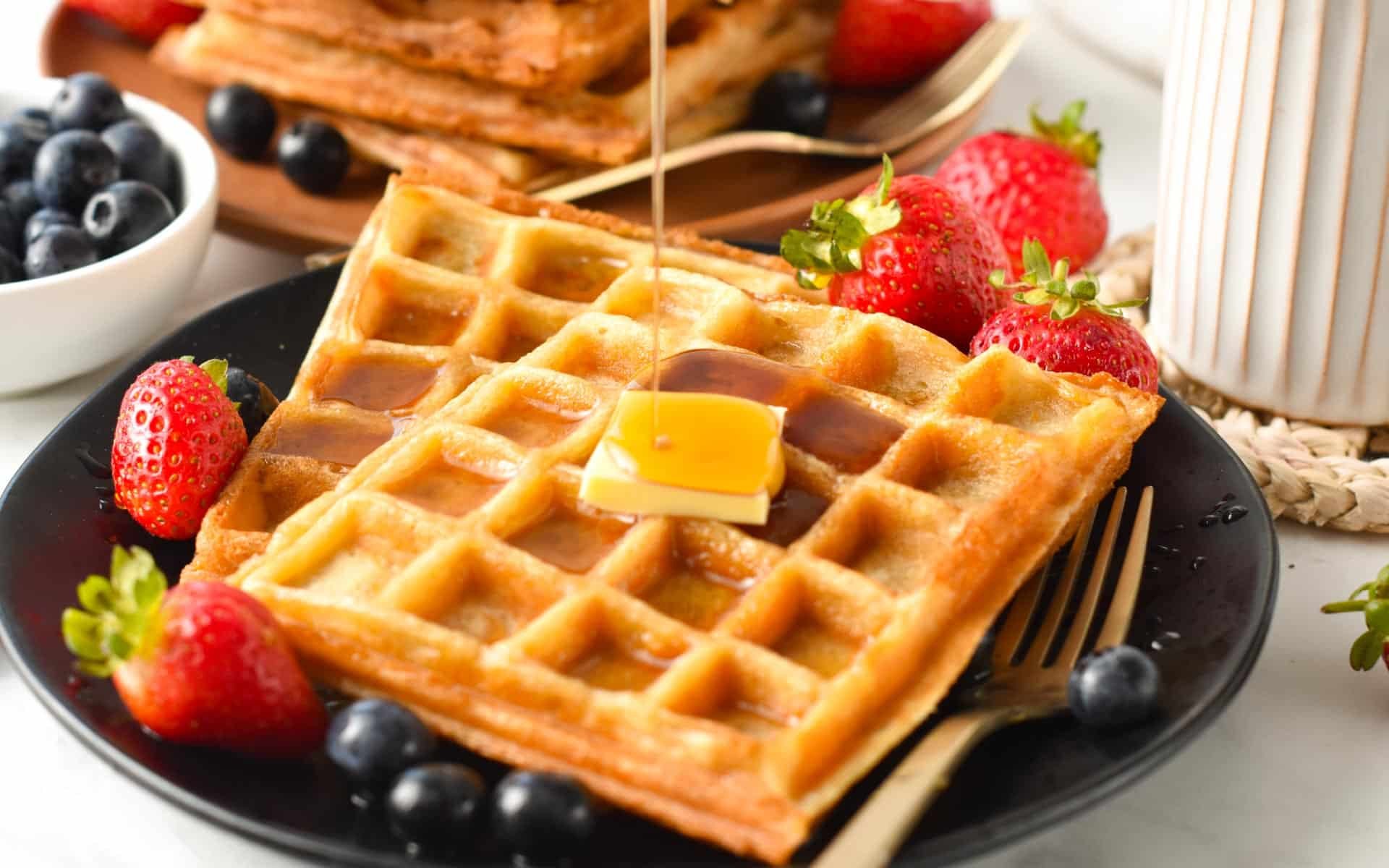 Cooking Waffles
The key to making ultra-light and crispy waffles is to cook them in a warm, piping-hot waffle maker.
If the waffle batter is cooked at too low a temperature, it won't crisp, and the waffles stay light in color and soft.
Grease the waffle iron with cooking spray, then fill the iron plate with the waffle batter. Depending on the size of the iron, you need more or less of it to fully cover the bottom plate of the iron.
If you don't have cooking spray, you can use a pastry brush. Silicone works better. Rub the plates with avocado oil or olive oil.
My waffle iron makes two rectangular waffles, each requiring 1/3 cup of batter. But don't add too much batter because it will spread as you close the waffle iron and, sometimes, overflows on the sides.
Cook for 4 to 5 minutes or until the waffles are golden brown and crispy.
Repeat the steps above to cook the remaining waffle batter, and always ensure that the waffle plate is greased and warm.
Most of the time, you must wait a few minutes between each waffle to give time for the waffle maker to reach its maximum temperature.
Again, this ensures that the plate is piping hot and the waffles turn out ultra-crispy.
Storage Instructions
Place each cooked waffle on a cooling rack so they stay crispy while you cook the remaining batter.
Cover the cooling rack with a piece of foil to keep the waffles warm.
You can serve the waffle immediately or cook all the batter and serve it later. As the waffles cool down, they lose some of their crispiness.
Making Waffles Crispy Again
You have two options to bring cripsiness back.
You can place the cooked waffles a few minutes in a bread toaster.
You can also preheat the oven to 250°F (120°C) and place them on a baking sheet to keep them warm and crispy.
Serving
Waffles are naturally bland in flavor, and toppings add sweetness and flavor.
Try some of the toppings below to make the waffles tasty.
Dut of powdered sugar
Butter and pure maple syrup
Jam
Melted chocolate drizzle
Caramel sauce
Allergy Swaps
Below are some options to adapt this recipe to any food allergies you may have:
Dairy-Free – Any milk works in this recipe, like almond milk, coconut milk, or soy milk.
Nut-Free – If you can't use almond milk, try coconut, soy, or regular milk if not dairy-free.
Sugar-Free – You can skip the sugar or use your favorite sugar-free granulated sugar.
Oil Swap – You can use any kind of oil as long as its flavor is light. This includes light olive oil, avocado oil, melted coconut oil, or canola oil.
Egg-Free – Replace the two eggs with 1/2 cup of unsweetened applesauce.
Vegan Gluten-Free – Use the egg-free and dairy-free options listed above.
Frequently Asked Questions
Find below my answers to your most frequent questions about this recipe.
Can I Make The Batter In A Blender?
I don't recommend using any electric tool to blend waffle batter. They would add make the batter too airy.
You would then need to let the batter rest for at least 30 minutes to use, and still, the batter can be overmixed and make the waffles chewy and dense.
However, you can make the batter in a stand mixer, using the whisk attachment on low speed, speed 2-3 of a KitchenAid.
Why Are There Lumps In My Batter?
The gluten-free flour forms lumps if you don't mix the wet ingredients with the dry ones too vigorously.
Whisk faster, but don't worry too much. You can make delicious waffles even if a few lumps stay in the waffle batter.
Are Waffles Gluten-Free?
No, a traditional waffle recipe is made from all-purpose baking flour that contains wheat. As a result, it contains gluten.
Can I Use Almond Flour Or Coconut Flour?
No, you can't swap all-purpose gluten-free flour for other flour in this recipe.
More Gluten-Free Breakfast Recipes
Here are some more gluten-free recipes for your sweet breakfast, including gluten-free pancakes, crepes, and waffles recipes:
Have you tried this gluten-free waffle recipe? Share a comment or review below to let me know how it goes.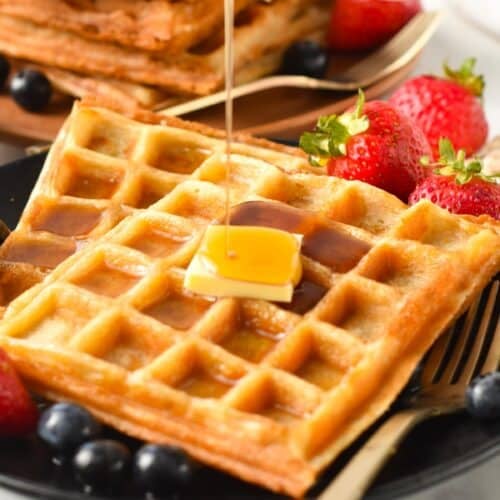 Gluten-Free Waffles
These homemade Gluten-Free Waffles are light and crispy Brussels waffles with the most delicious vanilla flavors. Plus, if you are after an easy-to-make gluten-free breakfast that is sure to impress, these gluten-free waffles are ready in less than 20 minutes.
Nutrition Snapshot
Want My Kitchen Equipment?
Instructions
In a large bowl, whisk dry ingredients: gluten-free flour, baking powder, salt, sugar, and xanthan gum if used.

In another bowl, beat the eggs with a fork, then add the flour along with milk, vanilla, and oil.

Whisk well to combine and form a slightly thick batter – similar to a pancake batter.

Warm a waffle maker on high.

Spray cooking oil on the iron plate and fill the plates with waffle batter.

Close the iron and cook for 4 to 5 minutes until crispy and golden brown.

Serve with maple syrup, berries, or butter.
Storage
Store leftovers in the fridge in a sealed container and rewarm them in a waffle iron, air fryer, oven, or bread toaster.
My Recipe Notes
Nutrition
Serving:
1
waffle
Calories:
205
kcal
(10%)
Carbohydrates:
21.7
g
(7%)
Fiber:
2.4
g
(10%)
Net Carbs:
19.3
g
Protein:
4.7
g
(9%)
Fat:
12
g
(18%)
Saturated Fat:
2.1
g
(13%)
Polyunsaturated Fat:
1.6
g
Monounsaturated Fat:
7.1
g
Trans Fat:
0.003
g
Cholesterol:
35.9
mg
(12%)
Sodium:
185.4
mg
(8%)
Potassium:
73.7
mg
(2%)
Sugar:
5.8
g
(6%)
Vitamin A:
110.9
IU
(2%)
Vitamin B12:
0.3
µg
(5%)
Vitamin D:
0.6
µg
(4%)
Calcium:
128.5
mg
(13%)
Iron:
1.1
mg
(6%)
Magnesium:
6.2
mg
(2%)
Zinc:
0.3
mg
(2%)
Posted In: