This easy Sugar-free Whipped Cream Recipe is a homemade keto whip cream made with 3-ingredients and ready in 10 minutes and only 0.9 grams of net carbs per serving.
It's the perfect side or topping to cakes, sweet pies, mug cakes, and sugar-free desserts.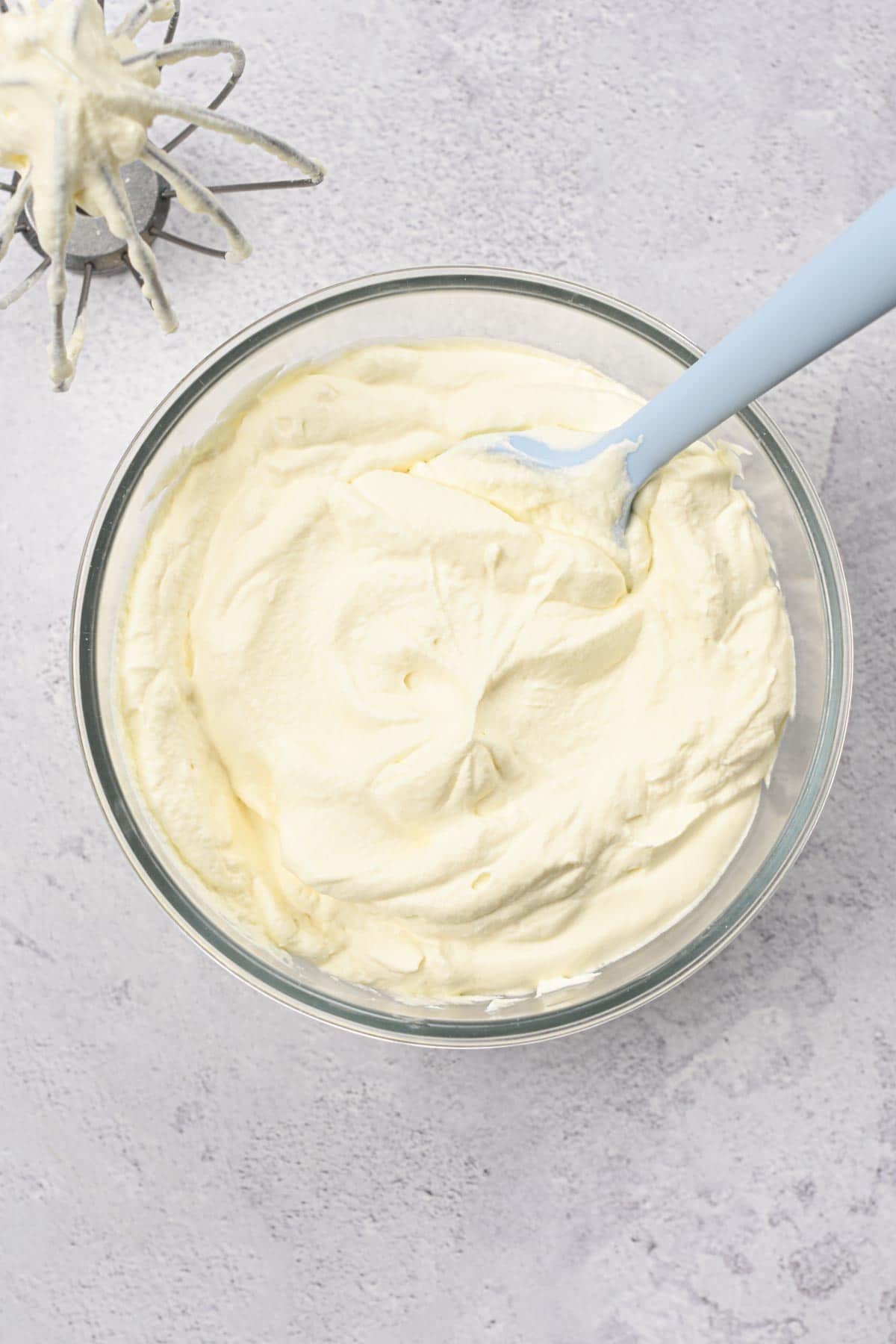 If you love whipped cream, and can't find a sugar-free whipped cream version in your grocery store, try to make your own.
It's very easy to make 3-ingredient whipped cream at home using a simple glass bowl, electric beater, and your favorite sugar-free sweetener.
What's Sugar-Free Keto Whipped Cream?
A sugar-free whipped cream is a gluten-free, keto-friendly homemade whipped cream recipe perfect to top sugar-free dessert recipes.
Why You'll Love This Recipe
It's a great staple, sugar-free snack, or sugar-free topping to dessert that's naturally:
Gluten-Free
Diabetes-Friendly
Keto
Just 3 Ingredients
Sugar-Free
Low-Carb
Egg-Free
How To Make Sugar-Free Whipped Cream
Making this recipe is so easy, it's ready in under 10 minutes.
Ingredients
Heavy Whipping Cream – cold straight out of the refrigerator, you must use full-fat heavy cream.
Sugar-free Powdered Sweetener – like powder allulose or powder erythritol or a blend with monk fruit or stevia such as Swerve. Read my review of sugar-free sweeteners.
Vanilla Extract
Preparation
Place the tool in the freezer for 10 minutes before you start.
In fact, the success of a whipped cream recipe lies in the use of cold ingredients, a cold beater, and a cold bowl. It ensures perfect whip cream every time.
So take this 10 minutes to pop the glass bowl of the stand mixer and beater in the freezer.
Add all the ingredients into the stand mixer bowl or the mixing bowl.
Making A Soft Peak
Whisk on medium-high speed for 3 minutes using the whisk attachment of your stand mixer, or an electric hand mixer.
Whisk until a soft peak forms.
A soft peak is perfect if you want to use a soft, fluffy whipped cream as a side to a cake slice, muffin, or mug cake or on top of: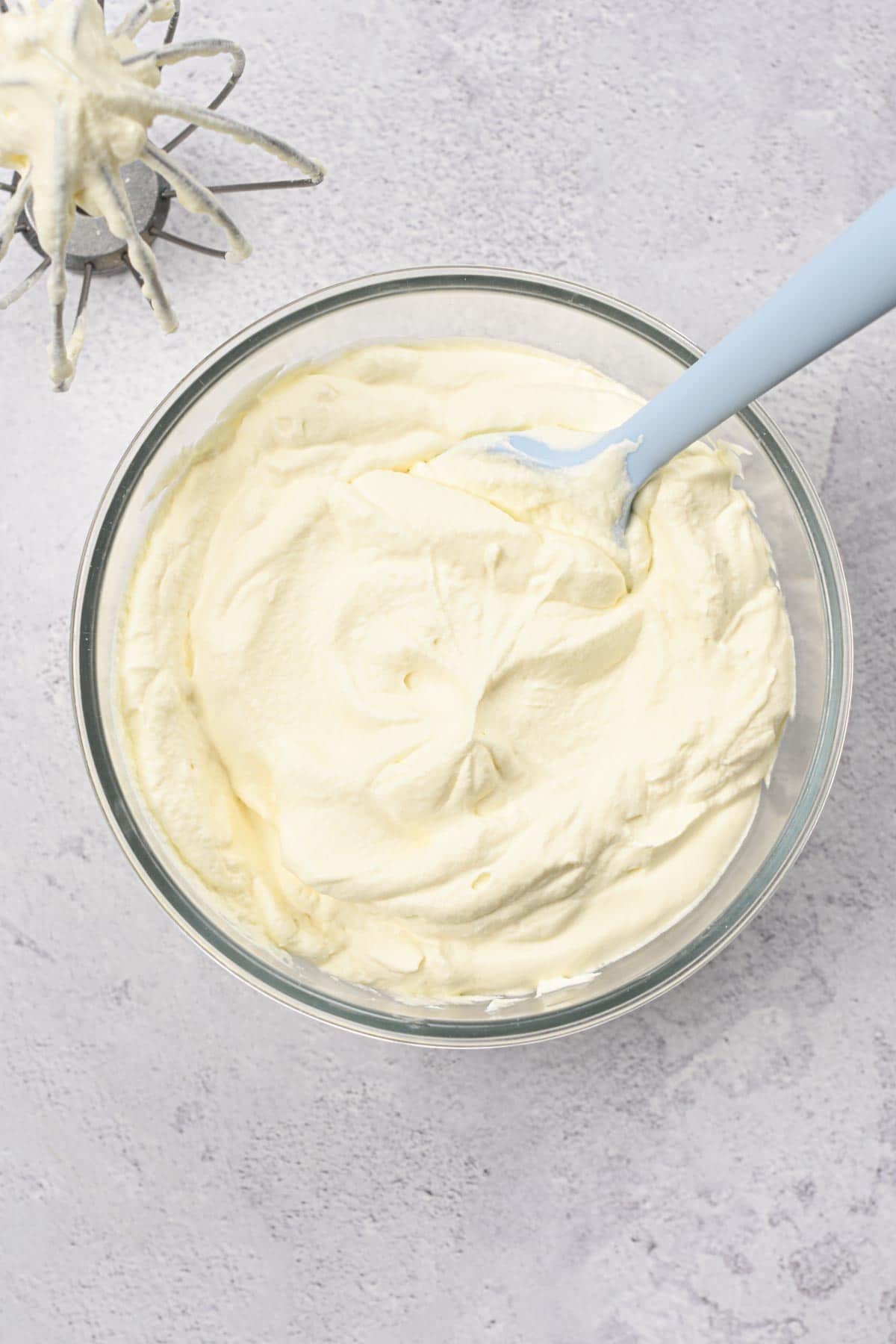 Making A Stiff Peak
Beat for an extra one minute, up to 4 minutes in total for a stiff peak.
A stiff-peak whipped cream is perfect for piping and decorating pies and cheesecakes like these keto desserts:

Keto Whipped Cream Options
This keto whipped cream recipe can be improved by adding:
More Powdered Sugar-Free Sweetener – to make it sweeter, add up to 2-3 tablespoons of sweetener.
Different Flavors – add 1/2 teaspoon of coconut extract, peppermint extract, or almond extract to create a range of flavored sugar-free free whipped cream that matches the tastes of your keto dessert flavors.
Using Sugar-Free Whipped Cream
This recipe can be used for decorating your favorite desserts or piping on top of cakes or cupcakes.
It's also a great sugar-free snack on its own on a keto diet.
Simply serve it plain or with:
Keto fruits like a bowl of berries, strawberries, raspberries, or blueberries. Add a dollop of sugar-free cream on top.
Unsweetened Shredded Coconut
Sliced Almonds
Chopped Nuts
Storage
You can store whipped cream for up to 24 hours in an airtight container in the fridge.
It is still good to eat after that time and up to 3 days, but the texture will soften and deflate.
You can't freeze whipped cream, it will lose its fluffy texture.
Allergy Swaps
Below I listed some options to make this easy whip cream recipe based on your food allergy:
Dairy-Free – Unfortunately, this recipe must use dairy and heavy cream to get a light, fluffy, firm cream. You can try to whip the hard part at the top of a can of coconut cream, but whipped coconut cream will never get as thick and firm and you won't be able to pipe it. Most dairy-free whipped cream recipes call for adding starch or sugar to hold their shape which up the carbs and sugar content of your recipe.
Sugar-Alcohol – you can replace sugar alcohol with stevia drops add 1/2 teaspoon of plain stevia drops or flavored stevia drops on the batter before whisking.
Keto Dessert Recipes With Whipped Cream
Try adding this whipped cream to any of these keto desserts:
Have you made this keto sugar-free whipped cream? Share a comment or review below.
Sugar Whipped Cream (Keto Whip Cream)
This Sugar Whipped Cream is the best keto whipped cream to top up on your cupcakes or dessert.
Yield:
servings (1/4 cup)
Serving Size:
4
tablespoons
Nutrition Snapshot
Want My Kitchen Equipment?
Instructions
For the best result, place the glass bowl and beater in the freezer for 10 minutes before starting.

Add the cold heavy whipped cream to the cold glass bowl with vanilla extract and powdered sweetener. Beat with an electric beater on medium-high speed for 3 minutes for a soft fluffy medium peak – perfect for desserts or up to 4 minutes for a stiff peak – perfect for pipping on cupcakes.
My Recipe Notes
Nutrition
Serving Size:
4
tablespoons
Yield:
servings (1/4 cup)
Serving:
4
tablespoons
Calories:
101.9
kcal
(5%)
Carbohydrates:
0.9
g
Net Carbs:
0.9
g
Protein:
0.8
g
(2%)
Fat:
10.7
g
(16%)
Saturated Fat:
6.8
g
(43%)
Polyunsaturated Fat:
0.5
g
Monounsaturated Fat:
2.7
g
Cholesterol:
33.6
mg
(11%)
Sodium:
8.1
mg
Potassium:
28.6
mg
(1%)
Sugar:
0.9
g
(1%)
Vitamin A:
437.3
IU
(9%)
Vitamin B12:
0.05
µg
(1%)
Vitamin C:
0.2
mg
Vitamin D:
0.5
µg
(3%)
Calcium:
19.7
mg
(2%)
Iron:
0.03
mg
Magnesium:
2.1
mg
(1%)
Zinc:
0.1
mg
(1%)
Posted In: