This Almond Flour Mug Cake is a quick and easy snack perfect for fixing a sweet tooth in less than 2 minutes.
Plus, this is a healthy chocolate mug cake made without refined sugar and grain-free.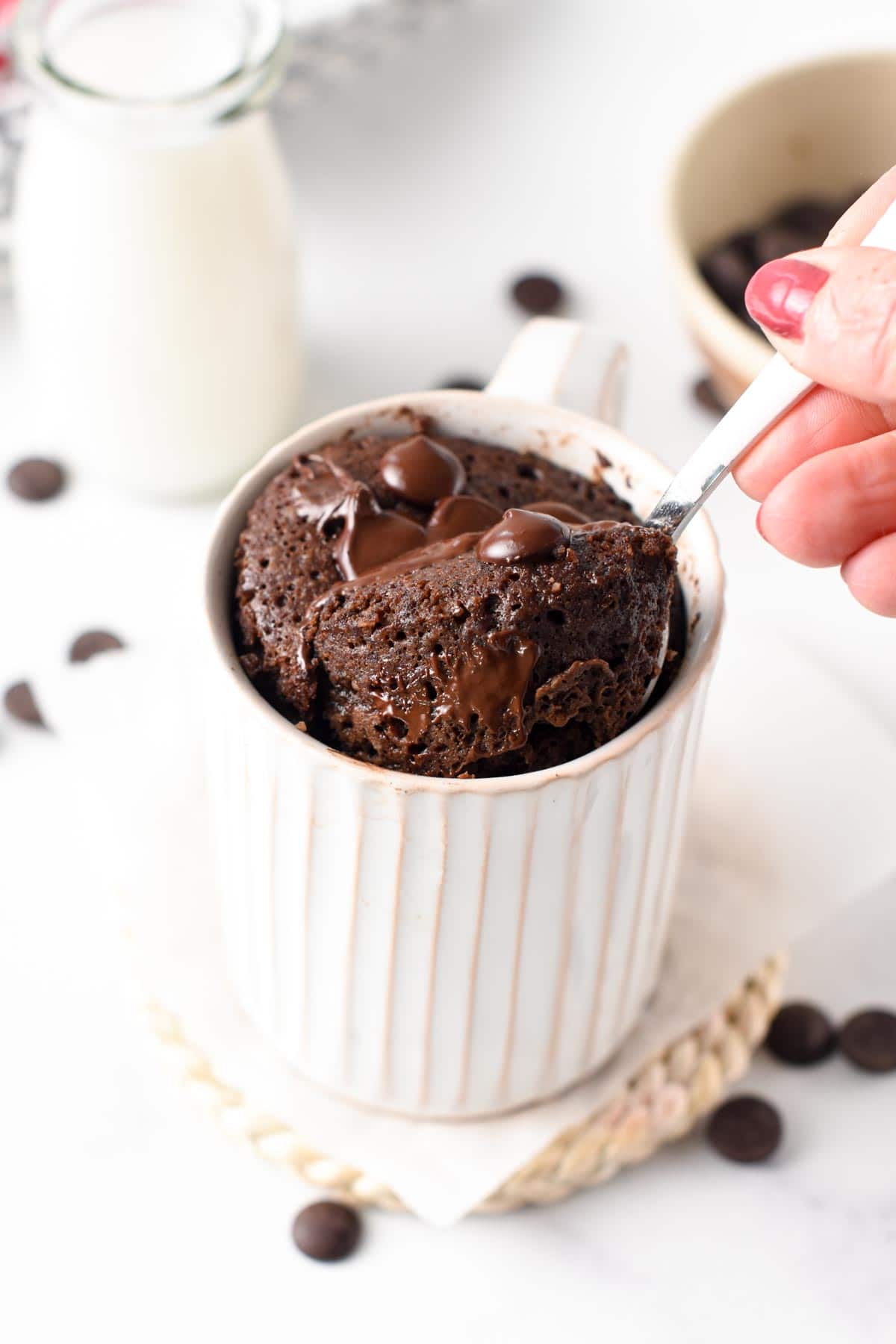 When I shared my vanilla mug cake with almond flour, I was immediately asked for a chocolate version.
So here's a chocolate mug cake recipe made with almond flour to keep it low-carb, sugar-free, and gluten-free.
What's Almond Flour Mug Cake?
It's a healthy microwave cake made with almond flour.
It's a gluten-free, low-carb, and paleo-friendly cake baked in 90 seconds in the microwave for a quick and easy cake fix.
Why You'll Love This Recipe
This easy dessert recipe for a cake in a mug is also:
Dairy-free
Paleo-friendly
Sugar-Free
Grain-free
Keto-friendly
Ready In Under 5 Minutes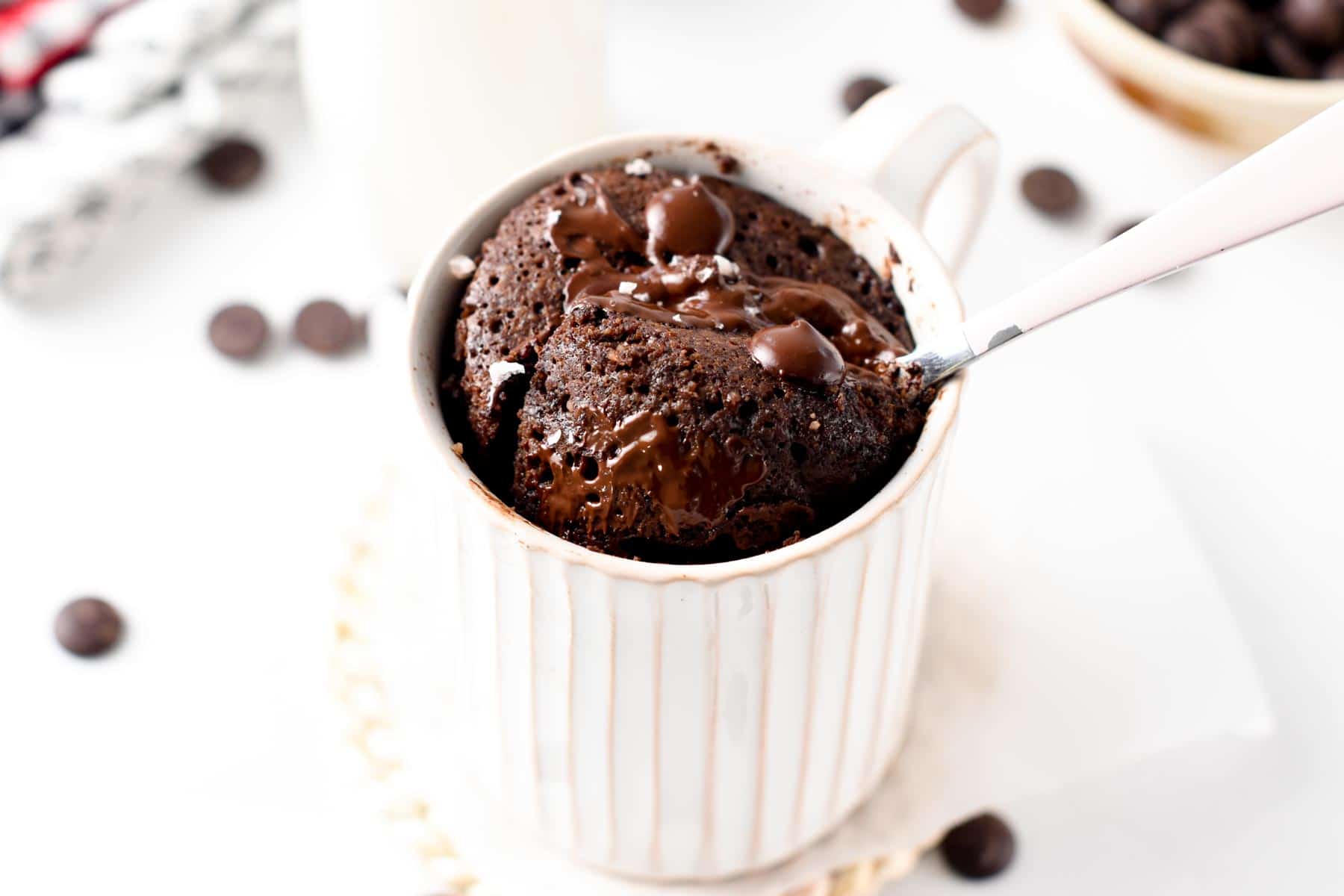 How To Make Chocolate Almond Flour Mug Cake
It's super easy to make a mug cake with almond flour in less than 5 minutes.
Ingredients
All you need to make this healthy chocolate mug cake recipe are:
Almond Flour – Use almond flour or almond meal. Almond flour is a great low-carb flour with about 10 grams of net carbs per 100 grams, so you can make delicious almond flour recipes.
Baking Powder
Dark Chocolate Chips – You can use store-bought chocolate chips or make your own with my Sugar-free Chocolate Chips Recipe.
Egg
Unsweetened Cocoa Powder
Coconut Oil – Use melted coconut oil. Let it cool down for a few minutes to avoid 'cooking' the egg. I recommend cooling the oil at room temperature before adding it to the mixing bowl.
Maple Syrup – or sugar-free crystal sweetener to decrease net carbs. Sugar-free maple syrup works as well.
Vanilla Extract
Preparing Mug Cake Batter
In a bowl, whisk the dry ingredients (almond flour, cocoa powder, baking powder) with the liquid ingredients (egg, maple syrup, melted coconut, and vanilla extract).
Whisk until a smooth and consistent batter forms.
Stir in half of the sugar-free chocolate chips.
Pour the batter into an oven-proof ramekin or a tall 12-ounce microwave-safe coffee mug.
Add the remaining chocolate chips on top of the mug cake.
Cooking Time
Microwave
Place the coffee mug in the center of the microwave and microwave on high 900W for 60 seconds.
Check the mug cake. If it's still raw in the center, keep cooking in 10-second bursts up to 90 seconds in total.
Serve with extra chocolate chips on top.
Air Fryer
Place the ramekin in the center of the air fryer basket and air fry for 5 to 8 minutes at 350°F (180°C) until a pick inserted in the center of the mug cake comes out clean.
Baking
Place the ramekin in the center of the preheated oven at 350°F (180°C) and bake it for 15 to 18 minutes or until a pick inserted in the center of the mug cake comes out without crumbs.
Add-Ons
You can add stir in some of the below ingredients in the mug cake batter for flavor:
1 teaspoon of peanut butter or almond butter.
1/4 teaspoon of peppermint extract for a chocolate peppermint mug cake.
1 tablespoon of shredded coconut.
1-2 tablespoons of mashed banana,
Serving Mug Cakes
Serve the mug cake after it cools down a few minutes at room temperature.
You can eat the almond flour mug cake straight away from the mug or flip it over a plate.
Serve with some of the below toppings:
Fresh berries like raspberries, strawberries, or blueberries.
Whipped cream to serve, including coconut whipped cream for a dairy-free option.
Chopped nuts or coconut.
Pinch of sea salt to enhance the chocolate flavor.
Storage
You can make the almond flour mug cake batter ahead and store it in the coffee mug, wrap the top with plastic wrap, and keep it for up to 24 hours in the fridge.
However, you can't store the baked mug cake for longer than 30 minutes.
In fact, microwave cakes dry out very fast and become gummy, so to store them for longer, use the oven or air fryer mug cake method.
Frequently Asked Questions
Can I Swap Almond Flour With Coconut Flour?
You can replace 3 tablespoons of almond flour with 1 tablespoon of coconut flour.
The size of the mug cake will be smaller with a light coconut flavor, but the recipe will work.
Can I Use A Granulated Sweetener?
Yes, you can replace the maple syrup with coconut sugar or sugar-free crystal sweetener like monk fruit for a low-carb mug cake.
Instead, add 1 teaspoon almond milk to keep the mug cake moist and fluffy.
Can I Make It Egg-Free?
You can use 3 tablespoons of unsweetened apple sauce or mashed banana to replace an egg.
Also, a flax egg works in this recipe.
Stir 1 tablespoon of flaxseed meal in 3 tablespoons of lukewarm water and wait 10 minutes until a gel-like consistency forms.
Then, use it as an egg replacer in the recipe.
Is Almond Flour Mug Cake Healthy?
Yes, almond flour is a low-carb, high-protein flour loaded with healthy fats.
It's a healthy low-carb, gluten-free flour to make fulfilling cakes and desserts.
Plus, this mug cake is also low-sugar and keto-friendly if you use keto sweetener.
Can I Make A Keto Almond Flour Mug Cake?
Yes, simply use a keto sweetener in the recipe to make the recipe keto-friendly.
More Gluten-Free Mug Cake Recipes
I love mug cake recipes as a quick snack. Below are more mug cake recipes for you to try.
Have you made this mug cake and love this recipe? Leave a comment below or share a review.
Almond Flour Mug Cake
A 90-second Almond Flour Mug Cake Recipe naturally sweetened with a hint of maple syrup and delicious chocolate crumbs.
Yield:
Almond Flour Mug Cake
Nutrition Snapshot
Want My Kitchen Equipment?
Instructions
Grease a microwave-proof ramekin or tall coffee mug with coconut oil. Choose one that is at least 2.5-inch tall and 3.5-inch wide. This will prevent the mug cake from overflowing when microwaving. Set aside.

In a small bowl, whisk the egg, melted coconut oil, maple syrup, and vanilla extract.

Stir in almond flour, cocoa powder, baking powder, and half the amount of dark chocolate chips.

Pour the batter into the prepared mug cake.

Microwave on high (800W) for 80-90 seconds or until set in the center. Make sure you check the microwave power. If yours is higher (1000W), you may have to microwave the mug cake for only 60-70 seconds to get the same texture.

Sprinkle the remaining chocolate chips on the hot mug cake and cool for 60 seconds in the mug before eating.
My Recipe Notes
Nutrition
Yield:
Almond Flour Mug Cake
Serving:
1
mug cake
Calories:
370.8
kcal
(19%)
Carbohydrates:
13.4
g
(4%)
Fiber:
9.7
g
(40%)
Net Carbs:
3.7
g
Protein:
10.7
g
(21%)
Fat:
34.6
g
(53%)
Saturated Fat:
17.6
g
(110%)
Polyunsaturated Fat:
1.2
g
Monounsaturated Fat:
2.6
g
Trans Fat:
0.1
g
Cholesterol:
186
mg
(62%)
Sodium:
344.6
mg
(15%)
Potassium:
69
mg
(2%)
Sugar:
0.9
g
(1%)
Vitamin A:
270
IU
(5%)
Vitamin B12:
0.5
µg
(8%)
Vitamin D:
1
µg
(7%)
Calcium:
72.1
mg
(7%)
Iron:
1.7
mg
(9%)
Magnesium:
6
mg
(2%)
Zinc:
0.7
mg
(5%)
Posted In: