3-Ingredient Keto Mug Cake (Flourless)
An easy flourless 3-Ingredients Keto Mug Cake recipe to fix a quick sweet craving in no time with only 3 basic pantry ingredients.
Plus, this mug cake contains only 6.5 grams of net carbs per serving, and it's naturally gluten-free and dairy-free.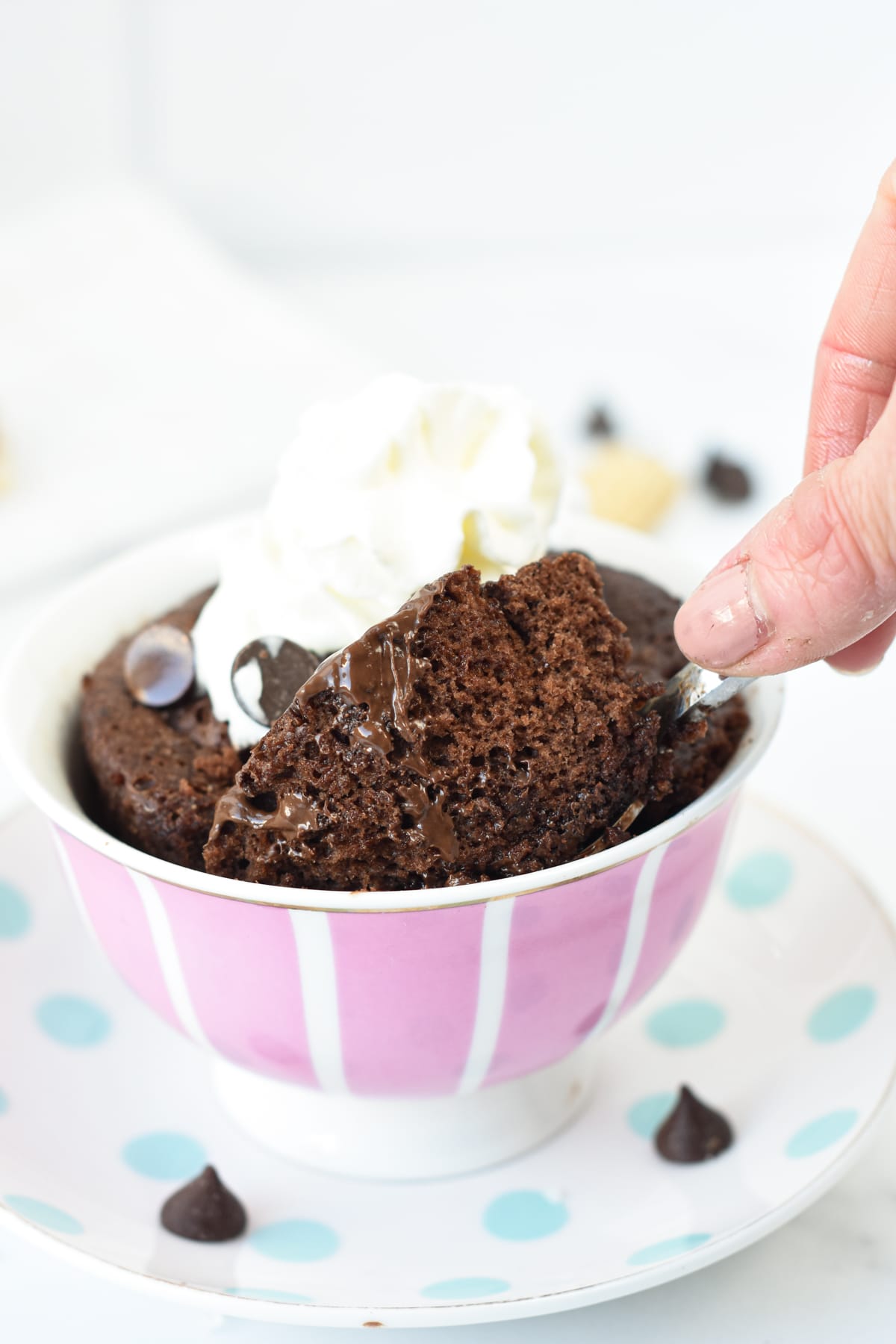 How To Make A 3-Ingredients Flourless Keto Mug Cake
A 3-ingredient Keto Mug Cake is a single-serving cake, easy, quick, and baked in the microwave in 90 seconds.
Ingredients
All you need to make this simple flourless keto mug cake recipe are:
Nut butter – I used natural peanut butter, but natural almond butter works as well.
Large egg at room temperature.
Stevia-sweetened cocoa powder – I used keto drinking chocolate mix made of unsweetened cocoa powder and erythritol. Some popular brands I love are Lakanto or Avalanche.
Note that you use unsweetened cocoa powder in this recipe. The keto mug cake is unsweetened because natural peanut butter has no sweetener added.
So to make the mug cake sweet, you will need a fourth ingredient, like 1 1/2 tablespoon erythritol or stevia drops.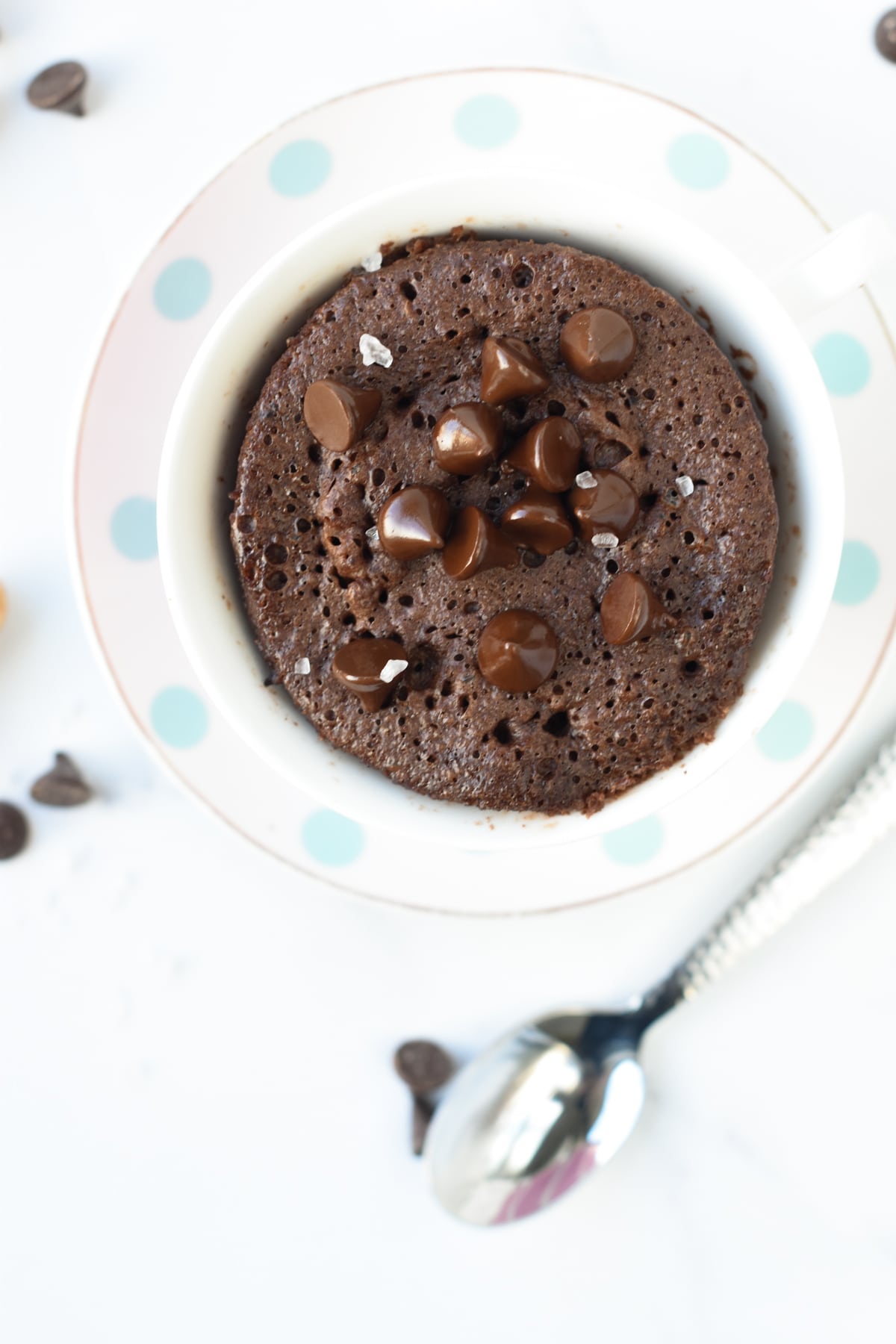 Making The Batter
First, make sure you stir very well the peanut butter in its jar.
This recombines the oily layer that often shows on top of fresh jars and dries up the spread under it.
Next, beat the egg and peanut butter together.
Make sure both ingredients are at room temperature and that your spread is creamy, drippy not dry in its jar.
If you are using a dry spread, the mug cake will be crumbly and not good.
Finally, stir in cocoa powder and a touch of baking powder only if you prefer a fluffy keto mug cake.
I personally like the easy 3-ingredient version. It tastes like a brownie.
The batter of this keto mug cake should be relatively liquid, not thick or dry.
Microwave
Finally, transfer the batter into an 8-once coffee mug and microwave for 60-90 seconds.
Start microwaving for 60 seconds at 900W, then add 10 seconds burst until cake is set on top.
Cool the mug cake down for 30 seconds in the mug before eating.
Serving Ideas
Serve your keto mug cake topped with:
Sugar-free keto chocolate chips
Drizzle natural peanut butter
Unsweetened whipped cream
Tips and Troubleshooting
If your batter is too dry, this can happen if your peanut butter is not fresh from the jar or you used a smaller egg than mine.
Then, stir in 1 teaspoon of melted butter or coconut oil.
You can also stir in 1 teaspoon almond milk.
Storage Instructions
You can't store a baked keto mug cake simply because microwave baking dries out food super fast. As a result, cakes are good to eat for only 30 minutes after baking.
After that time, their texture becomes crumbly and extra dry.
However, it's a great keto-friendly recipe to make ahead. Simply whisk egg, spread, and almond flour the day before. Store in your mug, wrap top with plastic wrap, and pop in the fridge.
The next day, microwave as recommended in the recipe.
Taste and texture
This 3-ingredient mug cake tastes like a brownie-like chocolate cake. I love to top it with sugar-free dark chocolate chips to add an extra smooth melted chocolate texture to the crumb.
Depending on the cooking time you apply, the cake can be moister or dryer.
I always recommend microwaving the mug cake for 60 seconds and adding 10 seconds burst until the texture looks like your favorite keto cake recipe.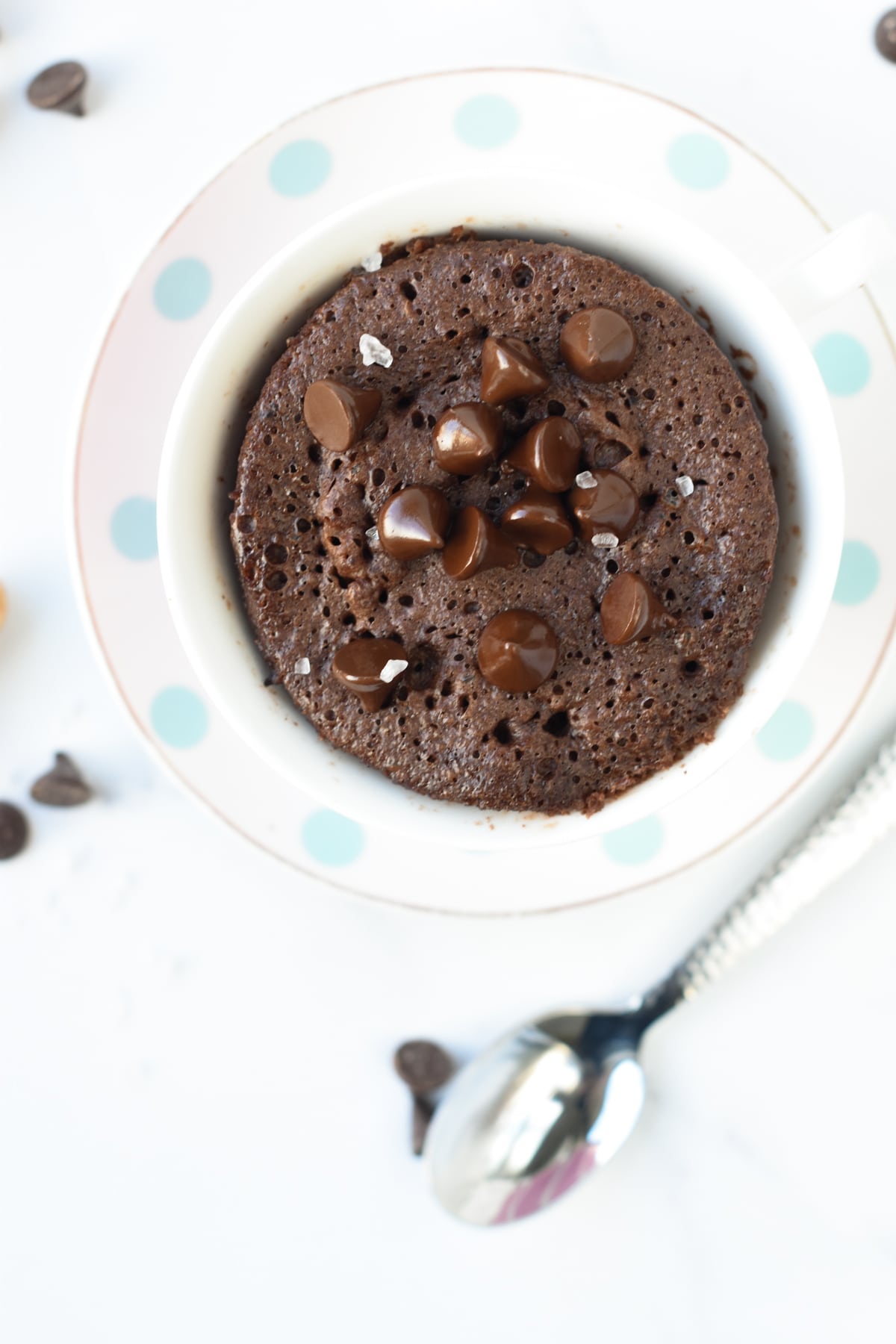 Allergy Swaps
If you can't find some of the ingredients in this recipe in your grocery store, you can use another simple swap like:
Natural peanut butter swaps – drippy Almond butter, sunflower seed butter, cashew butter.
Stevia sweetened cocoa powder – replace with 1/2 tablespoon of unsweetened cocoa powder (or cacao powder) combined with 1 to 1 1/2 tablespoon erythritol.
More Keto Mug Cake Recipes
I love to create keto mug cake recipes to fix my sweet tooth on my keto diet and minimize carbs for breakfast!
Below I listed my favorite other keto low-carb mug cake recipes for you to try.
Have you made this low-carb chocolate mug cake with 3 ingredients? Share a review or comment below,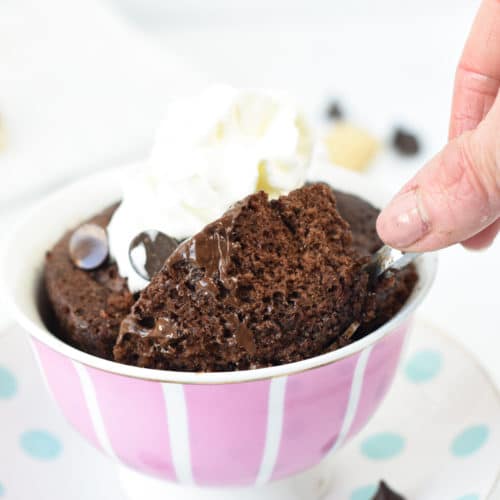 3-Ingredient Keto Mug Cake
A delicious fudgy chocolate Keto Mug Cake made with 3 simple ingredients.
Ingredients
Optional – for a fluffier mug cake
This recipe may contain Amazon or other affiliate links. As an Amazon Associate I earn from qualifying purchases.
Instructions
In a small bowl, whisk egg and natural peanut butter. Beat until it is consistent and it looks like melted peanut butter. You shouldn't see egg white pieces.

Stir in sugar-free drinking chocolate powder and a pinch of baking powder for a fluffier cake, or, if you used unsweetened cocoa powder, use 1/2 tablespoons cocoa + 1 1/2 tablespoons erythritol.

Transfer the batter into a tall 8-ounce coffee mug.

Microwave for 90 seconds at 900W until the cake is set.

Serve with a dollop of unsweetened whipped cream or sugar-free chocolate chips.
Want My Kitchen Equipment?
Serving:
1
mug cake
Calories:
272.1
kcal
(14%)
Carbohydrates:
10.1
g
(3%)
Fiber:
3.6
g
(15%)
Net Carbs:
6.5
g
Protein:
15.3
g
(31%)
Fat:
21.6
g
(33%)
Saturated Fat:
5.3
g
(33%)
Polyunsaturated Fat:
5.5
g
Monounsaturated Fat:
9.8
g
Trans Fat:
0.1
g
Cholesterol:
186
mg
(62%)
Sodium:
430.9
mg
(19%)
Potassium:
353.3
mg
(10%)
Sugar:
3.2
g
(4%)
Vitamin A:
270
IU
(5%)
Vitamin B12:
0.5
µg
(8%)
Vitamin D:
1
µg
(7%)
Calcium:
165.7
mg
(17%)
Iron:
2.4
mg
(13%)
Magnesium:
80.8
mg
(20%)
Zinc:
1.9
mg
(13%)
Posted In: