90-Second Keto Blueberry Mug Cake
This Keto Blueberry Mug Cake is a moist microwave keto cake in a mug ready in 90 seconds to fix all your sweet cravings in no time.
Bonus, one of these keto mug cakes contains only 3.5 grams of net carbs, so you can indulge without maxing out your macros.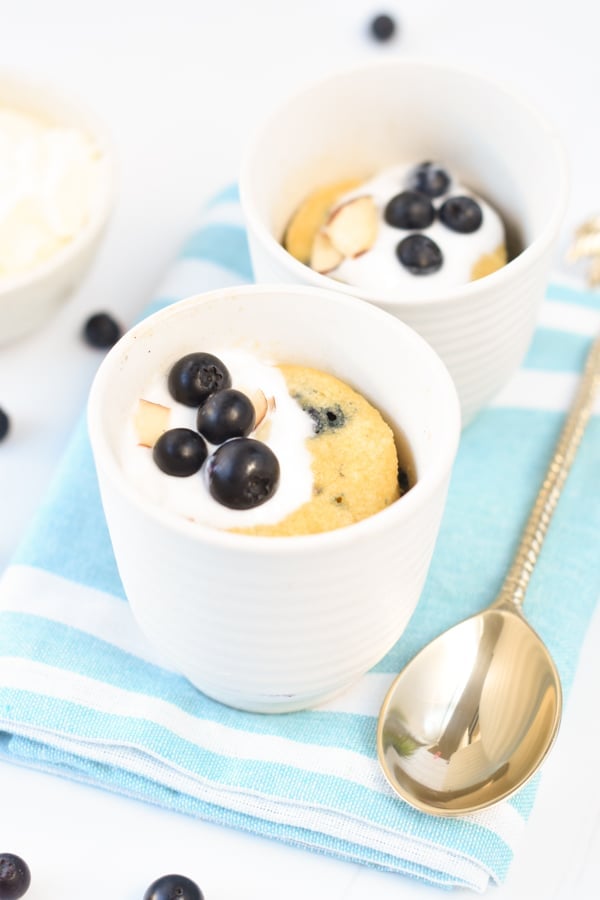 What's A Keto Blueberry Mug Cake?
A keto blueberry mug cake is a keto blueberry cake in a mug, baked in 90 seconds in your microwave.
It's the best keto snack to fix your cake craving quickly with few carbs, no sugar and is gluten-free.
How To Make A Keto Blueberry Mug Cake
This recipe makes two moist keto muffins baked in a mug.
Ingredients
To make this easy keto mug cake recipe, you need:
Large egg – yes, eggs are keto!
Almond flour – use ultra-fine almond flour with a golden color. If you prefer to use coconut flour, use my coconut flour mug cake recipe and add blueberries to the batter.
Erythritol or any keto sweetener you love.
Unsweetened almond milk – because regular milk is high in carbs.
Baking powder
Vanilla extract
Blueberries – fresh or frozen and an extra 1/2 teaspoon of coconut flour to roll the keto-friendly berries and prevent them from sinking to the bottom of the coffee mug.
Combining Dry And Wet Ingredients
In a small bowl, beat egg, almond milk vanilla. Then, stir in baking powder, almond flour, and erythritol until a thick batter forms.
In another bowl, stir the blueberries with coconut flour. This is optional, but it prevents the blueberries from sinking to the bottom of the mug.
Fold in the blueberries and split the keto blueberry muffin batter evenly into two tall coffee mugs.
It is essential to use tall coffee mugs because the muffins will rise and might overflow from the mugs.
Baking In The Microwave
This recipe is baked in the microwave for a quick 90-second keto snack. To achieve a moist mug cake, you must bake this recipe:
One mug at a time – don't place both mugs in the microwave at once, or they won't bake evenly.
Set the microwave on high powder 800 W-900W.
Microwave for 80 seconds first.
Keep baking for an additional 10 seconds if it is still wet in the center.
Instructions
Place one coffee mug in the center of the microwave.
Set the microwave power to high/800W and microwave the keto blueberry muffin mug cake recipe for 80-90 seconds each, until it is set on the top and has doubled in height.
Cooling Down
Remove the low-carb blueberry mug cake from the microwave and cool down 1 minute before eating.
You can eat it in the mug itself or flip it over a plate to cool down quickly.
Blueberry Mug Cake Toppings
This quick and easy mug cake is delicious topped with:
Unsweetened whipped cream
Extra blueberries
Sliced almonds
Powdered erythritol
Drizzle peanut butter
A dollop of cream cheese
Add-Ons
You can create a range of blueberry mug cake flavors by adding some of the below ingredients into the batter:
1-2 tablespoons of sugar-free white chocolate chips.
1-2 teaspoons of chopped almonds.
1 teaspoon of lemon zest.
1/2 teaspoon of lemon extract.
Storage Instructions
This easy recipe for blueberry mug cake serves 2 mug cakes.
To store the extra mug cake batter, place the uncooked batter in a sealed container or into a tall coffee mug and wrap the top with film wrap.
Refrigerate for up to 48 hours. Microwave it just before eating.
You can't store a microwave-baked mug cake for more than 30 minutes. After that time, the mug cake becomes hard and dense.
Frequently Asked Questions
Can I Use Other Berries?
Yes, you can replace blueberries with other keto fruits like strawberries, raspberries, or boysenberries.
Can I Bake This Blueberry Mug Cake?
Yes, you can bake this keto blueberry mug cake. However, the muffins won't rise as much as seen in the picture.
Preheat the oven to 350°F (180°C). Divide the batter into two oven-proof ramekins, grease with butter or coconut oil.
Bake both ramekins in the center rack of the oven for 15-20 minutes or until a pick inserted in the center of the cake comes out clean.
Why Do Berries Sink To The Bottom Of The Mug?
This happens if you didn't roll the berries into coconut flour before adding the batter.
Make sure you roll the berries with 1/2 teaspoon of coconut flour to prevent this to happens.
More Keto Mug Cake Recipes
Keto mug cakes are the best to fix your sugar craving and cake craving on a keto diet.
They are quick to make, tasty, and low in carbs. Below I listed my top keto mug cake recipes for you to try:
Have you made these low-carb keto blueberry muffins in a mug? Share a comment or review below. I love to hear your feedback on my recipes,
Keto Blueberry Muffins in a Mug
An easy recipe to make two keto blueberry muffins in a mug in less than 2 minutes.
Nutrition Snapshot
Want My Kitchen Equipment?
Ingredients
To prevent the blueberries from sinking in the mug – optional
Instructions
In a small bowl, beat egg, vanilla, unsweetened almond milk, and melted coconut oil.

Stir in almond flour, baking powder, and erythritol until smooth.

In another mixing bowl, stir blueberries with coconut flour. This prevents them from sinking at the bottom of the mug.

Fold the blueberries into the batter.

Transfer the batter into two tall mug cakes. Your mug cake will rise and double in height so make sure you are using a tall mug, or the batter will overflow.

Bake each mug cake in the microwave, one at a time, power 800W for 90 seconds each. Don't microwave both mug cakes at the same time. Note that if your microwave has higher power, you will need to decrease baking time to avoid a dry mug cake. You can start with 80 seconds, check the texture, and return to the microwave for an additional 10 seconds until it is baked through.

Cool 2 minutes before serving to avoid burning yourself.

Enjoy directly in the mug. Top with unsweetened whipped cream if desired
Baking method
Note that baking this recipe won't result in a similar texture. The muffins won't rise as much. Bake at 350°F (180°C) for 15-20 minutes in 2 oven-proofed ramekins.

Insert a skewer in the center of the cake to check if it's baked. If it comes out dry, it is baked.
Storage
You can't store a mug cake baked in the microwave. The texture will be chewy, eggy after 1 hour.
My Recipe Notes
Nutrition
Serving:
1
muffin
Calories:
146.8
kcal
(7%)
Carbohydrates:
5.3
g
(2%)
Fiber:
1.8
g
(8%)
Net Carbs:
3.5
g
Protein:
6.3
g
(13%)
Fat:
11.5
g
(18%)
Saturated Fat:
3
g
(19%)
Trans Fat:
0.1
g
Cholesterol:
93
mg
(31%)
Sodium:
161.3
mg
(7%)
Potassium:
46.2
mg
(1%)
Sugar:
2
g
(2%)
Vitamin A:
141
IU
(3%)
Vitamin B12:
0.2
µg
(3%)
Vitamin C:
1.1
mg
(1%)
Vitamin D:
0.5
µg
(3%)
Calcium:
121
mg
(12%)
Iron:
1.1
mg
(6%)
Magnesium:
4.2
mg
(1%)
Zinc:
0.3
mg
(2%)
Posted In: