This easy keto pumpkin mug cake is the most delicious fall keto breakfast or snack baked in 90 seconds in your microwave oven! With only 6g net carbs per serve, you can indulge in a tasty, fulfilling moist pumpkin cake with no guilt!

Are you ready for keto fall recipes? This easy pumpkin mug cake is the best to start fall with no fuss! Ready in 5 minutes, this easy microwave pumpkin mug cake is moist, fluffy, and tastes like pumpkin muffins without the carbs.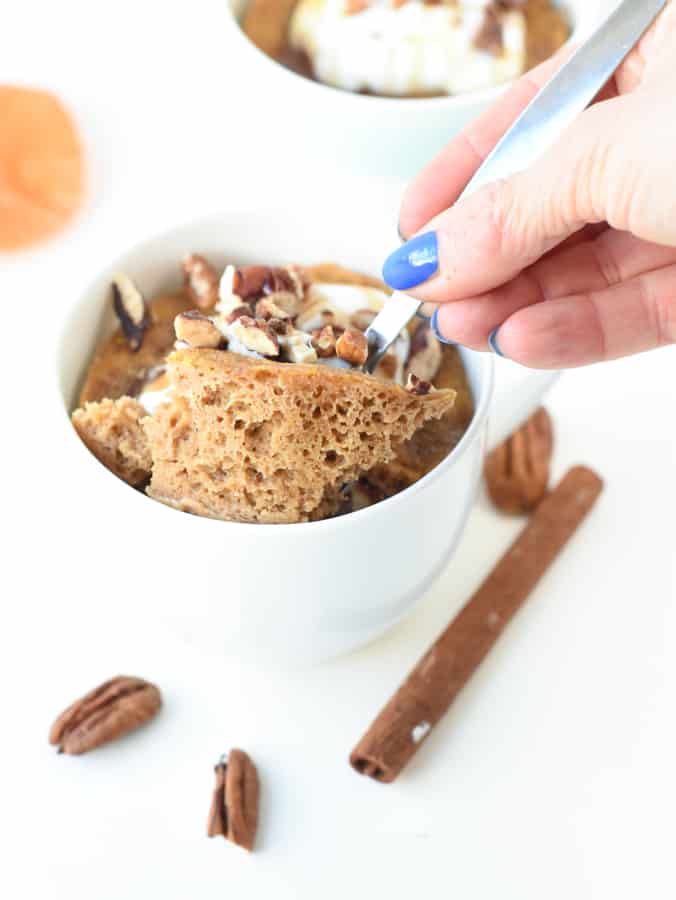 What's a pumpkin keto mug cake?
It is a single-serve keto dessert ready in 90 seconds, and it is perfect for fixing your pumpkin cake craving with very few carbs and no sugar. If you just began the keto diet, mug cakes are very convenient keto snacks to fix your sweet tooth without maxing out your carb count.
You can make many mug cake flavors like my keto peanut butter mug cake or keto chocolate mug cake. All keto mug cake recipes are keto-friendly. It means that their nutrition information is high in fat, contains few net carbs, and no sugar.
Is pumpkin keto?
Yes, pumpkin is a keto-friendly vegetable with only 4g net carbs per 100 grams and 5 grams of fiber it's a great vegetable to make keto recipes.
How to make a keto pumpkin mug cake?
Mug cake ingredients
This keto low-carb pumpkin mug cake is made of less than 10 wholesome ingredients. All you need to make this single-serve dessert are:
Pumpkin puree – use canned pumpkin puree, not pumpkin pie filling!
Erythritol – for sweetness or xylitol or liquid stevia drops.
Pumpkin spices – or combine cinnamon, nutmeg, and ginger. See recipe card for the exact amount.
Egg – this recipe doesn't work with flax eggs or egg replacers. You must use an egg.
Baking powder – for a fluffy cake.
Coconut oil – or melted butter for a denser buttery pumpkin pie mug cake.
Almond flour – this is a gluten-free pumpkin mug cake using a combination of two gluten-free keto flours, don't swap one for another, or the cake texture would not be good.
Coconut flour – don't replace coconut flour with almond flour. These flours are very different and can't be substituted for each other. The combination of flours creates the perfect moist and fluffy texture. More coconut flour will dry out the cake.
Vanilla extract

Preparing the mug cake batter
This healthy pumpkin mug cake can be made directly into your mug or into a mixing bowl. Start by combining the wet ingredients together, then stir in flour and spices.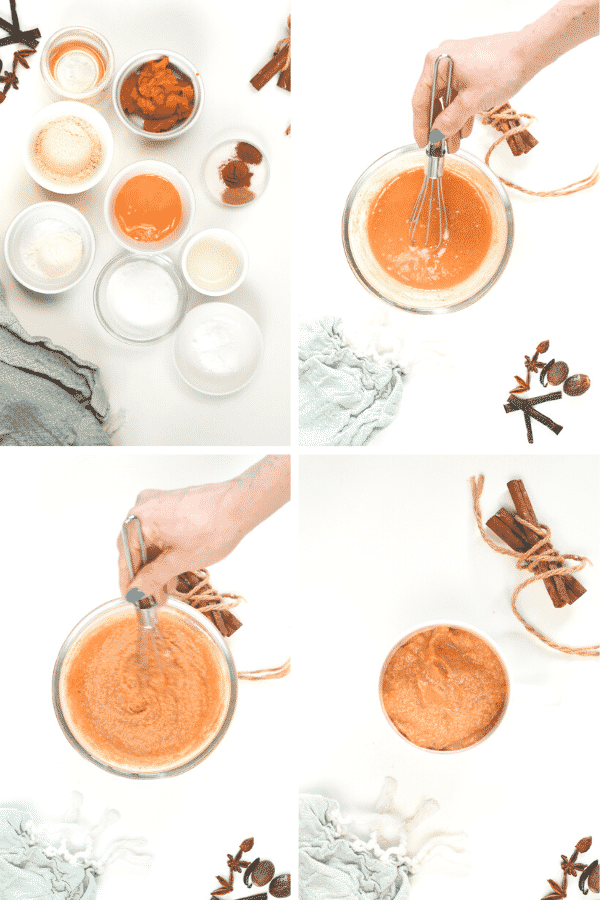 Are you new to Keto?
Receive my Keto Quick Start email series to learn all about the Keto diet and kick start your keto journey!
Cooking time and tips
Keto mug cake recipes are not difficult to bake the cake in the microwave, but it requires a few tips before you start.
Use a tall microwave-safe mug
At least 6.5 cm height (2.5 inch) and 8.5 cm width (3.4 inch). This is about 1 1/2 cup (400ml) coffee mug. That's the perfect size to make the best keto pumpkin mug cake that fits the mug, stays moist, and bakes evenly.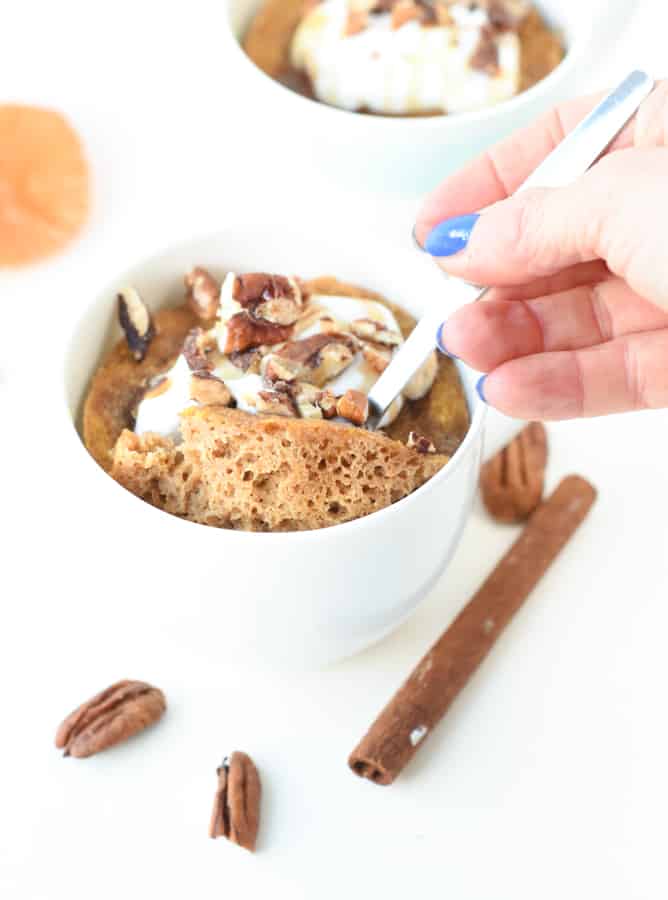 2. Check the microwave power
Set the microwave on 800W. This is the standard temperature for a 90-second keto mug cake. If your microwave only has a power of 600W, it will take longer to bake. Start with 90 seconds, then add 10-second bursts until the center is fully set, not runny or moist.
3. Cool down
Always wait 1 or 2 minutes before decorating your mug cake with cream. This prevents the whipped cream from melting.

How to serve a keto pumpkin spice mug cake?
This pumpkin keto mug cake is even better with some toppings. The best fall keto toppings for your mug cake are:
Unsweetened whipped cream – or dairy-free coconut yogurt if dairy-free for a paleo pumpkin mug cake.
Ground cinnamon – add a pinch of cinnamon on top of your hot cake!
Chocolate chips – add 1 tablespoon of sugar-free chocolate chips on top of the cake or in the batter.

More keto pumpkin recipes
I have plenty of easy, tasty keto pumpkin recipes for you to try.
Keto Pumpkin Pie
Keto pumpkin pie recipe - an easy stevia-sweetened recipe with a coconut flour crust. Low-carb, keto, gluten-free. A delicious Thanksgiving healthy dessert!
3.7
g
Check out this recipe
Pumpkin Crepes
Pumpkin crepes are low-carb and gluten-free pumpkin spice crepes. A delicious recipe made with coconut flour, almond meal, pumpkin spices, and a coconut cream pecan maple filling. 
3.1
g
Check out this recipe
Made this keto pumpkin mug cake recipe? Don't forget to share a review below or a picture on Instagram! I love to see your creations and hear back from you.
XOXO Carine
Recipe Card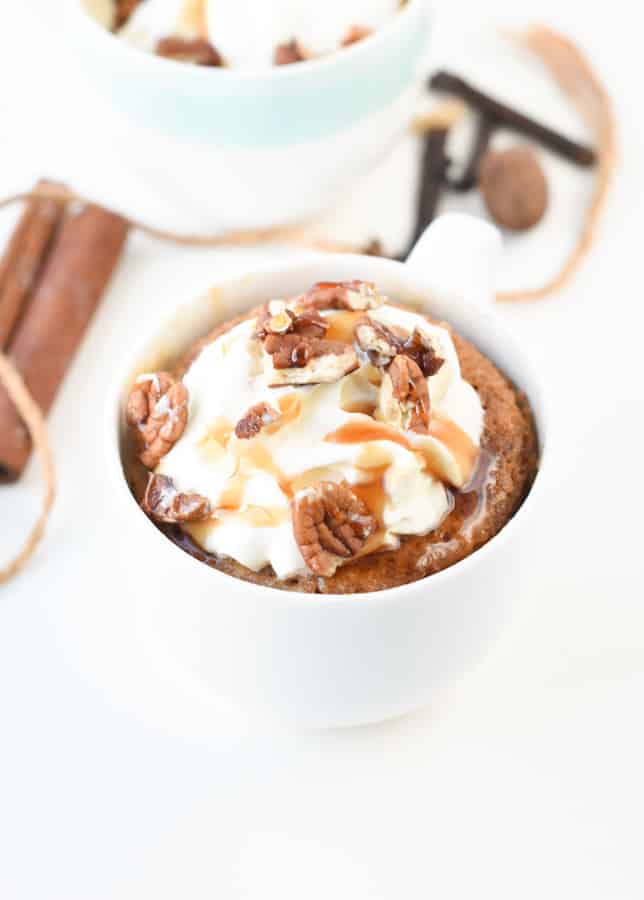 Keto Pumpkin Mug Cake
A soft spicy pumpkin keto mug cake, perfect for fixing your fall sweet cravings.
1

large

Egg

at room temperature

2

tablespoons

Pumpkin Puree

NOT pumpkin pie filling, - scooped, packed, leveled up

½

teaspoon

Vanilla Extract

1

tablespoon

Coconut Oil

or melted butter or avocado oil - NOT hot to avoid 'cooking egg

3

tablespoons

Almond Flour

scooped, packed, leveled up

½

tablespoon

Coconut Flour

scooped, packed, leveled up

1 ½

tablespoon

Erythritol

½

teaspoon

Baking Powder

¼

teaspoon

Ground Cinnamon

⅛

teaspoon

Nutmeg

⅛

teaspoon

Ginger
Toppings suggestions - optional
1

tablespoon

Chopped Pecans

1

teaspoon

Sugar-free Maple Syrup

2

tablespoons

Unsweetened Whipped Cream

or coconut yogurt if dairy-free
In a medium-size bowl whisk the egg with the pumpkin puree, melted coconut oil, and vanilla extract.

Whisk in almond flour, coconut flour, erythritol, baking powder, cinnamon, nutmeg, and ginger.

Transfer the batter to a tall microwave-safe coffee mug, its minimum size must be 500ml, 2 cups to prevent the mug cake from overflowing.

Microwave at 900W for 90 seconds or until the cake rises out of the mug and the middle is set. It is a moist mug cake so it may have a small area in the center that stays a bit wet but not under-cooked!

If the cake is still too wet in the center, return to the microwave by 15-second bursts until baked to your liking.

Wait for 1 minute before adding unsweetened whipped cream on top of the mug, chopped pecan, and a drizzle of sugar-free maple syrup.
Oven baking method
Preheat oven to 350°F (180°C).

Grease a 2-cups / 500-ml oven-proof ramekin with butter or coconut oil.

Pour the cake batter in the ramekin and bake for 15-20 minutes or until set in the center.
Storage
A mug cake bake in the microwave must be eaten within 1 hour or the texture dries and hardens.
Egg note: This recipe must use egg, it doesn't work with a flaxegg or egg replacer. Flour note: This recipe must use a combination of both flour, almond flour, and coconut flour. Nut-free option: swap almond flour with the same amount of sunflower seed flour or pumpkin flour and use pumpkin seeds as a topping instead of pecans.
Nutrition Facts
Keto Pumpkin Mug Cake
Amount Per Serving (1 mug cake (without topping))
Calories 351.2
Calories from Fat 268
% Daily Value*
Fat 29.8g46%
Cholesterol 186mg62%
Sodium 292.4mg13%
Potassium 130.8mg4%
Carbohydrates 10.8g4%
Protein 11.6g23%
Vitamin A 4938.9IU99%
Vitamin C 1.3mg2%
Calcium 189.6mg19%
Iron 2.3mg13%
Net Carbs 6.2g
* Percent Daily Values are based on a 2000 calorie diet.