Keto Pumpkin Bread with Coconut Flour
This Keto Pumpkin Bread is the best moist keto pumpkin bread with coconut flour and almond flour. Plus, it's gluten-free and dairy-free.
What's Keto Pumpkin Bread?
A keto pumpkin bread is a sweet bread loaf recipe made with a combination of low-carb flour and delicious pumpkin spice flavors.
It has a delicious, soft, and moist texture, perfect to serve for breakfast or afternoon tea.
How To Make Keto Pumpkin Bread
This is an easy 1-bowl pumpkin bread recipe that everyone can make!
Ingredients
Let's see all the ingredients you need to make this delicious moist keto pumpkin bread.
Almond flour – I recommend fine almond flour for the best result. Almond meal is coarser. It would dry the bread. Read how to choose your keto flours.
Coconut flour – don't skip or replace. It's the combo of coconut flour and almond flour that makes this bread so moist. Try my Almond Flour Pumpkin Bread recipe instead if you don't have coconut flour at home
Canned pumpkin puree. If you are wondering whether or not pumpkin is keto-friendly, it definitely is, with an average of 4g/100g of net carbs. Learn how to make your own pumpkin puree.
Sugar-free crystal sweetener – erythritol, xylitol, or Monk fruit stevia blend. Learn how to convert sweeteners!
Coconut oil or butter
Eggs – make sure you are using large eggs at room temperature, not cold!
Pumpkin spices – or see the recipe card notes for the blend of spices you can use to replace store-bought pumpkin pie spice.
Baking powder
Powdered sugar-free crystal sweetener – optional, only if you want to add the ginger glazing on top of the bread.
Walnuts – or pecans to put on top of the bread.
Instructions
Making this keto pumpkin bread is very easy, it only takes 15 minutes of preparation!
1. Make the batter
Combine all the dry ingredients in a bowl. Whisk vigorously to remove any lump of flour.
In another bowl, beat the eggs and erythritol for 30 to 60 seconds.
When fully incorporated, pour the canned pumpkin puree and pumpkin spices (cinnamon, nutmeg, ginger, cloves, and allspice).
Pour the beaten egg mixture into the flours. Add coconut oil.
Combine well with a wooden spoon or silicone spatula until it forms a consistent and sticky batter.
2. Bake the pumpkin bread
Preheat the oven to 350°F (180°C) and line a 9-inch x 5-inch loaf pan with parchment paper.
Pour the pumpkin bread batter into the prepared pan and spread it with a wooden spoon.
Sprinkle some chopped walnuts on top of the batter and press them lightly with your hands to make them stick while cooking.
Bake the keto pumpkin bread for 70 to 80 minutes.
After 20 minutes of cooking, open the oven and add a piece of foil on top of the pan to prevent the top layer from burning.
When the bread has been cooking for 70 minutes, check its moisture by inserting a skewer or a toothpick into its center.
If the skewer is dry, the bread is ready. If there are many crumbs, keep cooking for a few more minutes and check again.
Take the bread out of the oven and let it cool down in the pan for 20 minutes. If you take it out of the pan too late, the bottom of the bread will be very moist.
Lift the bread out of the pan and let it fully cool down on a cooling rack for at least 4 hours before eating.
3. Prepare the glazing
Combine erythritol, water, and ground ginger in a bowl. Whisk the glazing with a whisk for a few minutes until it becomes sticky and shiny.
If it's too thick, add more water. If it's too runny, add more sweetener.
Drizzle the glazing on top of the bread.
Storage Instructions
You can store this bread for 3 to 4 days in the pantry. The best way to keep it moist is to store it in a clean cloth.
You can also free individual slices in zip-lock bags or in an airtight container.
Take them out of the freezer and let them thaw in the fridge overnight before rewarming them in the toaster.
Tips for baking a low-carb bread loaf
Keto bread loaves are thick and dense. Therefore, they require precision and patience to achieve the best texture.
Check out my tips below to succeed any time:
Measure the ingredients with precision – you can make the recipe using cups or grams/oz. If you are using cups, make sure you slightly pack flours in the cup and level the top to remove excess. In fact, keto bread uses high fiber flours that are 4 times more liquid absorbent than regular flour. As a result, if you miss some of the flour, the bread will remain too wet. Or, if you add too much flour, the bread can be very dry. That's why precision is key.
Egg size – this recipe calls for large eggs. Smaller eggs result in dry keto pumpkin bread.
The temperature of the ingredients – it's crucial to use ingredients at room temperature. For example, cold eggs solidify melted coconut oil, creating oil lumps.
Baking time – be patient. This keto pumpkin bread is thick and requires at least 70 minutes of baking.
Add a piece of foil on top of the pan – As for any large bread loaf, it's recommended that you add a layer of foil on top of the bread after 20 minutes. This will prevent the top of the bread from burning, and the bread will cook perfectly in the center.
Frequently Asked Questions
Can I use homemade pumpkin puree?
I recommend canned pumpkin puree for the best results and for a perfect pumpkin flavor.
However, you can use your homemade pumpkin puree in this keto pumpkin bread recipe.
If so, make sure that your pumpkin puree is not watery. This happens if you boil the pumpkin instead of steaming it.
Why is my low-carb pumpkin bread soggy at the bottom?
If you leave the bread loaf in the pan for more than 20 minutes, the bottom doesn't dry enough and remains moist and soggy.
Can I substitute erythritol for another sweetener?
Yes, you can use other sweeteners as long as they are in crystal form.
Make sure to use my sweetener converter to figure out how much of your sweetener you should use.
Table sugar (but it won't be keto-friendly)
Coconut sugar (again, not low-carb)
Can I use coconut flour only?
No, coconut flour is much more moisture-absorbent than many other flours. Using only coconut flour would turn the bread very dry.
Can I substitute the almond flour?
Yes, you can replace the almond flour with sunflower seed flour, and sesame flour and keep it keto-friendly.
If you don't follow your carbs, you can use regular flour.
Can I make it without eggs?
No, this bread can't be made with egg replacers. They don't work in this recipe.
Can I add chocolate chips to the batter?
By all means. If you are on a keto diet, make sure that they are sugar-free!
Can I use another pan?
Yes, this bread can be made in other pan sizes, but the cooking will be different.
Keep in mind that for the macros to be valid in another pan, you just have to cut the pumpkin bread in the same number of servings (16 slices).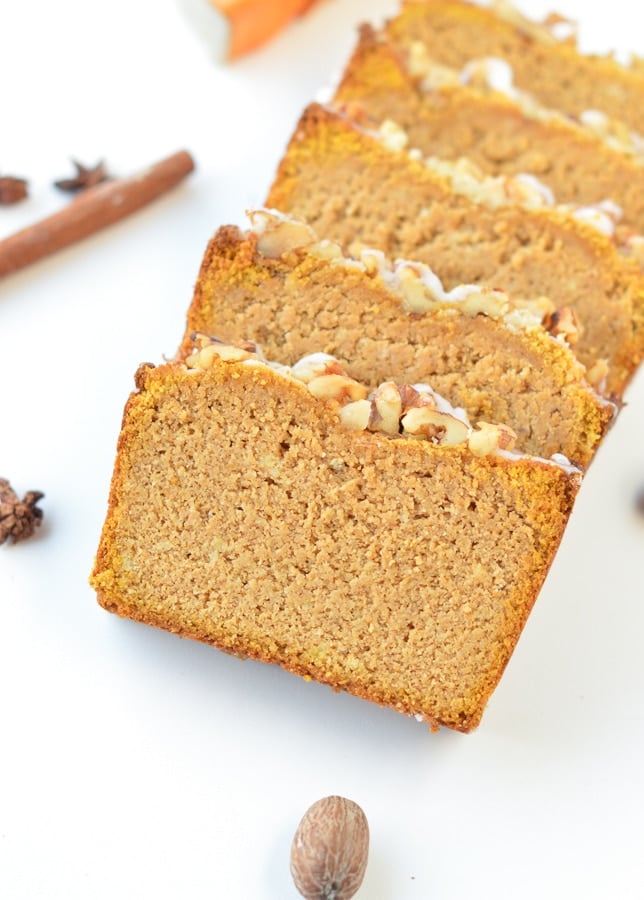 More Low-Carb Bread Loaf Recipes
I have got a large range of delicious sweet keto bread loaves to try on the blog. My favorites are:
More Keto Pumpkin Recipes
I hope you enjoy this new recipe. If so, share a picture of your keto pumpkin bread creation with me on Instagram.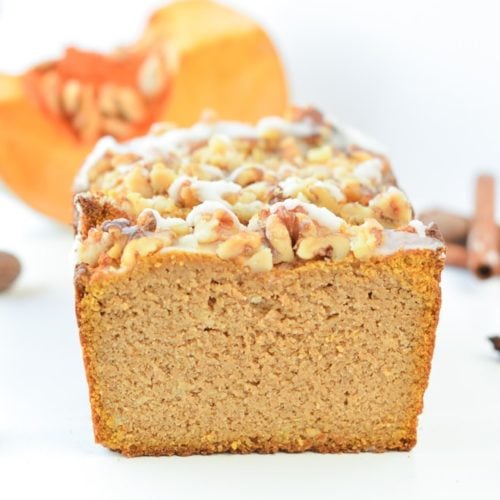 Keto Pumpkin Bread
Keto Pumpkin Bread, a moist pumpkin bread recipe with delicious pumpkin spice flavors.
Ingredients
4

large

Eggs

at room temperature, not cold

¾

cup

Pumpkin Puree

at room temperature, not cold

¾

cup

Erythritol

erythritol, xylitol or monk fruit stevia blend

3

teaspoons

Pumpkin Spices

see note to make your own

2

cups

Almond Flour

¼

cup

Coconut Flour

½

cup

Coconut Oil

melted or melted butter, lukewarm, not hot

1

tablespoon

Baking Powder

½

cup

Chopped Walnuts
Ginger glazing – optional
This recipe may contain Amazon or other affiliate links. As an Amazon Associate I earn from qualifying purchases.
Instructions
Preheat oven to 350°F (180°C). Line a 9-inch x 5-inch loaf pan with a piece of parchment paper. Slightly oil the paper to make sure the pumpkin bread doesn't stick to the pan. Set aside.

In a large mixing bowl, beat eggs with sugar-free crystal sweetener for 30 seconds or until well combined. Set aside.

Whisk in canned pumpkin puree and spices until evenly combined. Set aside.

In another large mixing bowl, whisk together the almond flour, coconut flour, and baking powder. Make sure the coconut flour doesn't create lumps. If it does, whisk faster or break them with your fingers.

Pour the beaten egg mixture and melted coconut oil onto the flour bowl. Make sure the eggs are at room temperature and the melted coconut oil is lukewarm, not hot. Hot coconut oil (or butter) will cook the eggs. On the other side, cold eggs will solidify coconut oil, creating oil lumps.

Combine the ingredients until it forms a consistent loaf batter. It will be heavy, thick with no lumps.

Transfer the batter into the prepared loaf pan and spread evenly.

Sprinkle the chopped walnuts on top of the bread and slightly press them to stick to the top.

Bake for at least 70 minutes up to 80 minutes. After 20 minutes of baking, add a piece of foil on top of the loaf pan to prevent the top of the loaf from burning.

After 70 minutes, insert a skewer in the center of the loaf, if it comes out clean or with few crumbs, it is cooked.

Remove the loaf from the oven and cool for 20 minutes in the pan.

Lift the loaf out of the pan by pulling the pieces of parchment paper and cool the pumpkin bread for at least 4 hours or overnight on a cooling rack.

When the bread is at room temperature, you can prepare the ginger glazing.
Ginger glazing
Combine powdered sugar-free sweetener, water, and ground ginger until it forms a runny white glaze. Add more powdered sugar-free sweetener if you like yours thicker.

Drizzle on top of the pumpkin bread loaf.
Storage and freezing
Store the bread in an airtight box to keep the bread moist. Place the container in the pantry and store for 3-4 days.

Freeze the bread slices in ziplock bags or a silicone airtight container of your choice. Defrost the slices the day before at room temperature. Rewarm in a toaster, oven, or eat as is.
Notes
Pumpkin spices:
If you don't have pumpkin spices, replace the 3 teaspoons of pumpkin spices by adding this combo of spices: 2 teaspoons ground cinnamon, 1/2 teaspoon nutmeg, 1/4 teaspoon all spices, 1/4 teaspoon ground ginger.
Want My Kitchen Equipment?
Serving:
1
slice
Calories:
118
kcal
(6%)
Carbohydrates:
5.4
g
(2%)
Fiber:
1.8
g
(8%)
Net Carbs:
3.6
g
Protein:
4.6
g
(9%)
Fat:
4.3
g
(7%)
Sugar:
1.6
g
(2%)
Posted In: