This keto strawberry mug cake is the best keto sweet treat to fix your cake cravings on a keto diet.
A moist vanilla cake with juicy strawberries and even better with a dollop of unsweetened whipped cream on top.
Bonus, this low-carb dessert is also gluten-free, with only 4.4 grams of net carbs per serving.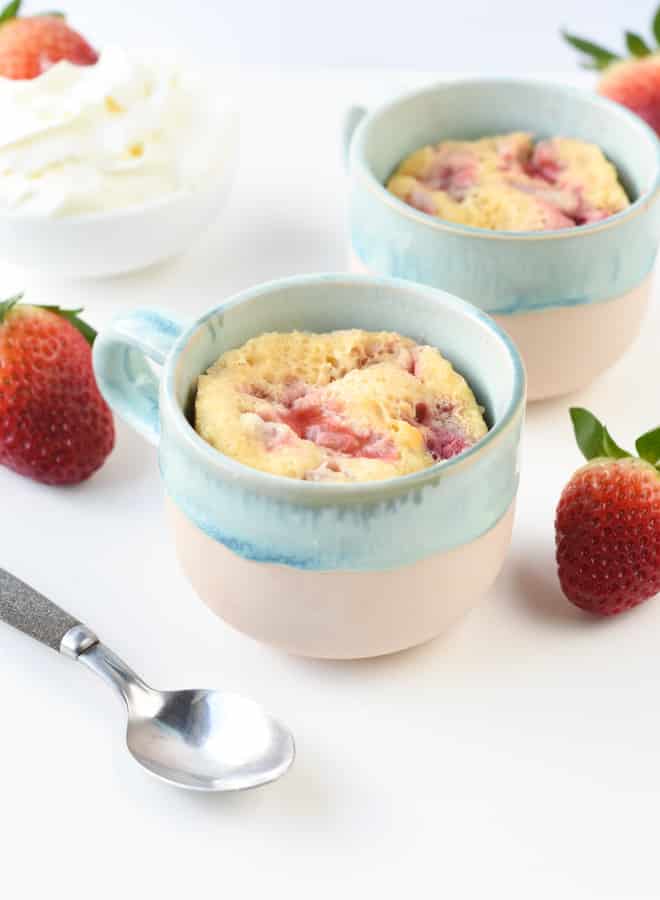 What's A Strawberry Mug Cake?
A strawberry mug cake is a quick keto snack to fix your cake craving in 90 seconds.
It tastes like a strawberry shortcake without the hassle of baking a whole cake.
In fact, the cake batter serves only 2 mug cakes, baked in a coffee mug in the microwave in less than 2 minutes.
Why You'll Love This Recipe
This Strawberry Mug Cake tastes delicious and it's:
Gluten-Free
Dairy-Free
Paleo
Ready In 7 Minutes
Uses 7 Basic Ingredients
Low-Carb
Keto-Friendly
How To Make Keto Strawberry Mug Cake
This is an almond flour mug cake recipe. You can't replace the almond flour with the same amount of coconut flour, or the cake would be dry.
Follow my coconut flour mug cake recipe if you don't want to bake with almond flour.
Ingredients
All the ingredients needed for this easy mug cake recipe are:
Almond Flour – Almond flour or almond meal both work here. Learn how to choose the best low-carb flours!
Unsweetened Almond Milk – or heavy cream to increase the moist texture of the cake crumb.
Baking Powder
Erythritol – feel free to use any keto sweetener you like. A combo of monk fruit and erythritol or xylitol works fine here.
Large Egg – Take the egg out of the fridge about 30 minutes before, so it reaches room temperature. This is the best way to avoid flour lumps.
Vanilla Extract – or vanilla essence
Fresh Diced Strawberries – make sure you dice them into small chunks, or they will release too much juice and leave the batter uncooked in some areas.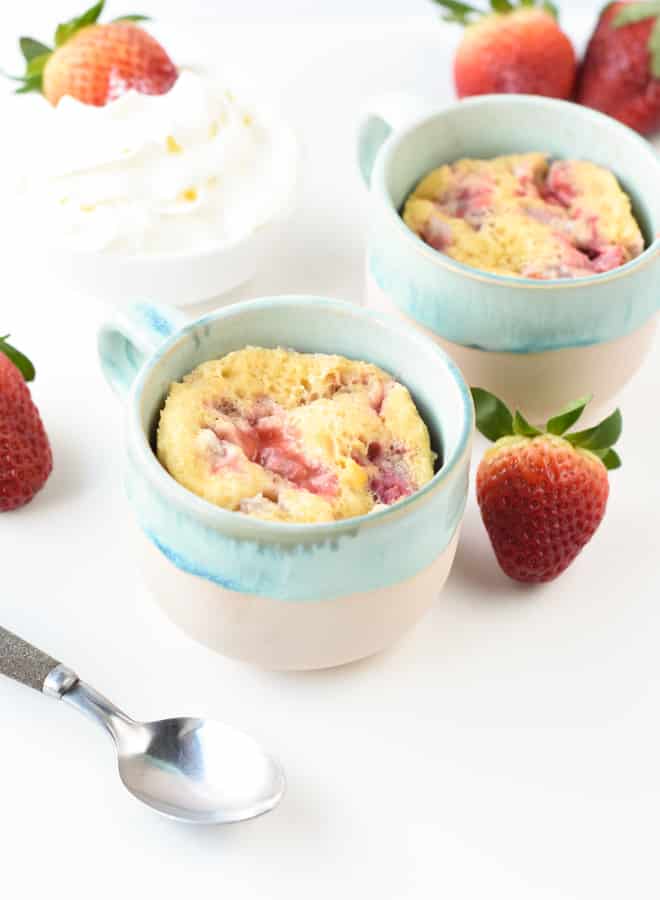 Making Perfect Keto Mug Cakes
It is pretty easy to make a low-carb mug cake recipe as long as you follow the few basic steps below.
Step 1: Use A Microwave-Safe Ramekin Or Mug
That might be obvious to some, but not all ramekins are microwave safe! So first, check that you can put your mug or ramekin in a microwave.
Then, make sure you are using a tall enough ramekin or mug. In fact, when you cook in the microwave, cakes rise fast. They usually double in height!
In order to prevent the cake from overflowing, you need a tall mug.
It means that the mug cake batter should only fill about half the mug. Also, heat diffuses differently in ceramic or in glass.
I personally prefer to bake my low-carb mug cake recipes in ceramic mugs. It keeps the crumb moist and soft.
Step 2: Preparing The Batter
This is a recipe for 2 low-carb mug cakes.
It means that the whole batter is split into two mugs and baked individually. Therefore, preparing the batter in a separate bowl is the best.
Step 3: Using The Right Microwave Power
I won't stress this enough, your microwave oven has different power levels, just like your oven. Don't assume that baking in your microwave oven is the same as for all other microwave ovens.
In fact, most regular microwave ovens are set to 800W, but some are 600W or up to 1200w. This mug cake recipe bakes for 90 seconds in an 800W microwave oven.
So before baking this recipe, check your microwave power and set it to 800W for the best results.
Best Mug Cake Toppings
A keto mug cake is even better with some topping. My favorite recommendations are:
Peanut Butter – a drizzle of natural peanut butter is delicious with strawberries.
Coconut Yogurt – this yogurt is dairy-free and has just a few carbs as it is made of pure coconut cream and probiotics. The combo of creamy coconut yogurt and strawberry vanilla cake is amazing.
Unsweetened Whipped Cream – a classic topping that never disappoints! It makes the recipe taste like a keto strawberry shortcake.
Sugar-Free Chocolate – melt a few sugar-free chocolate chips and drizzle on top!
Frequently Asked Questions
Can I Use Frozen Fruits?
Fresh fruits are the best in low-carb mug cakes recipes since they don't release as much moisture.
However, you can use frozen fruits too, as long as you cut them into small pieces.
If you want to prevent them from sinking to the bottom of the mug, roll the fruits in 1 teaspoon of coconut flour before adding them to the batter.
Also, if strawberries are not available, try other keto fruits like blueberries or raspberries.
More Mug Cake Recipes
I love keto mug cakes to quickly fix my cake cravings with limited carbs. I have plenty of other low-carb mug cake recipes for you to try.
Made this keto strawberry mug cake? What about pairing this recipe with my delicious keto strawberry milkshake!
Plus, don't forget to share a comment or review below to connect with me.
Keto Strawberry Mug Cake
This Strawberry Mug Cake is a moist keto almond flour cake ready in a few minutes and with juicy strawberries.
Nutrition Snapshot
Want My Kitchen Equipment?
Instructions
In a small bowl, beat egg, vanilla, unsweetened almond milk, baking powder, and erythritol.

Stir in almond flour until smooth.

Stir in 3 tablespoons of finely diced strawberries. Don't add too big pieces of strawberries, or the mug cake would be too moist and wouldn't bake well in these areas.

Transfer the batter into two tall mug cakes. Your mug cake will rise and double in height, so make sure you are using a tall mug, or the batter will overflow.

Bake each mug cake in the microwave, one at a time, at a power of 800W for 90 seconds each. Don't microwave both mug cakes at the same time. Note that if your microwave has higher power, you will need to decrease baking time to avoid a dry mug cake. You can start with 60 seconds, check the texture, and return to the microwave in 10-second bursts until it is baked through.

Cool 2 minutes before serving to not burn yourself.

Enjoy directly in the mug. Top with unsweetened whipped cream and one extra strawberry slice per mug cake.
Baking method
Bake at 350°F (180°C) for 12-15 minutes in 2 oven-proofed ramekins.

Insert a skewer in the center of the cake to check if it's baked. If it comes out dry, it is baked.
Storage
You can't store a mug cake baked in the microwave. The texture will be chewy and eggy after 1 hour.
Notes
Frozen strawberries: you can use frozen strawberries but you must cut them into small pieces before adding them to the batter. Other options are frozen raspberries.
My Recipe Notes
Nutrition
Serving:
1
mug cake
Calories:
134.6
kcal
(7%)
Carbohydrates:
6.5
g
(2%)
Fiber:
2.1
g
(9%)
Net Carbs:
4.4
g
Protein:
6.4
g
(13%)
Fat:
9.6
g
(15%)
Saturated Fat:
1.3
g
(8%)
Cholesterol:
93
mg
(31%)
Sodium:
161.5
mg
(7%)
Potassium:
79.7
mg
(2%)
Sugar:
2.6
g
(3%)
Vitamin A:
135
IU
(3%)
Vitamin C:
20.9
mg
(25%)
Calcium:
120.2
mg
(12%)
Iron:
1.2
mg
(7%)
Posted In: