This keto vanilla mug cake is a moist, single serve almond flour mug cake, gluten-free, dairy free and paleo friendly. It's perfect to fix a vanilla birthday cake craving with only 4g of net carbs.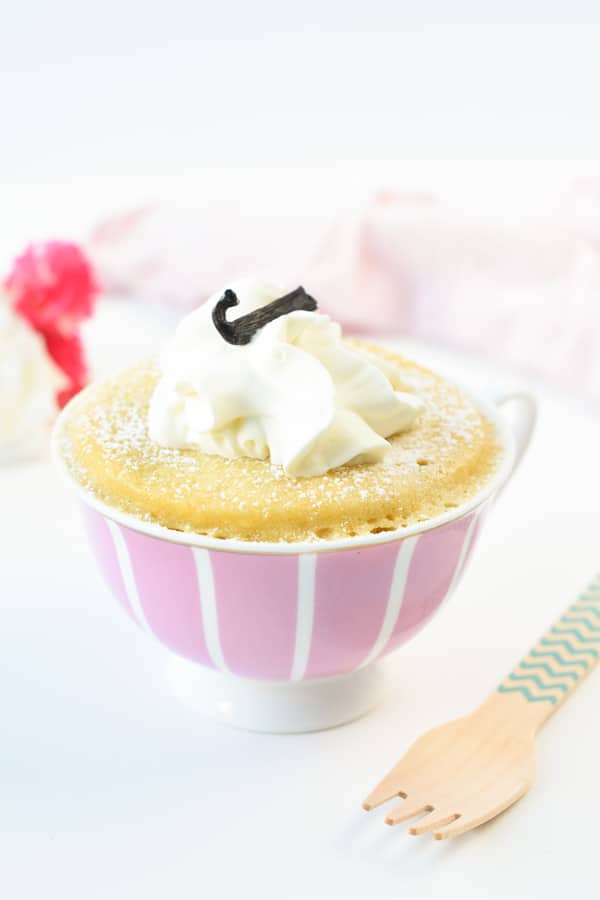 I have a passion for keto mug cakes, there's no more secret about that! Low-carb mug cakes are true lifesavers on a keto diet because they help you fix your cake cravings in only 2 minutes with just 4g net carbs. Plus they are very fulfilling too as they contain a good amount of fat and fiber.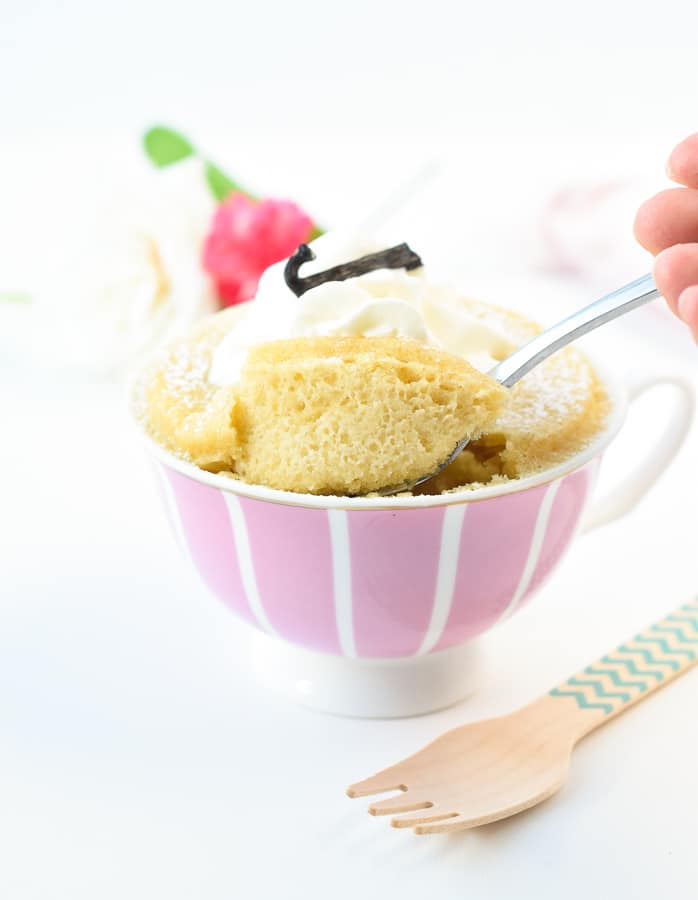 How to make almond flour mug cake?
Choose the right flour
It's easy to make mug cake with almond flour. The trick to make a moist, fluffy almond flour mug cake is to use ultra-fine blanched almond flour. In fact, if you use ground almond or almond meal, the result will be gritty, dry and even darker in color. Ground almonds or almond meal are made of whole almonds, skin-on and their ground is coarse and dark. While it can be used in keto cake recipes, it doesn't provide a bakery-style result as you used to love from wheat-based recipes. That's why I always recommend using a fine almond flour. This said, some countries like New Zealand call almond flour almond meal! This is very confusing so my tip is to look at product itself. A good keto almond flour is white/gold in color, it's ultra-fine as regular flour and it doesn't have dark spots from almond skin.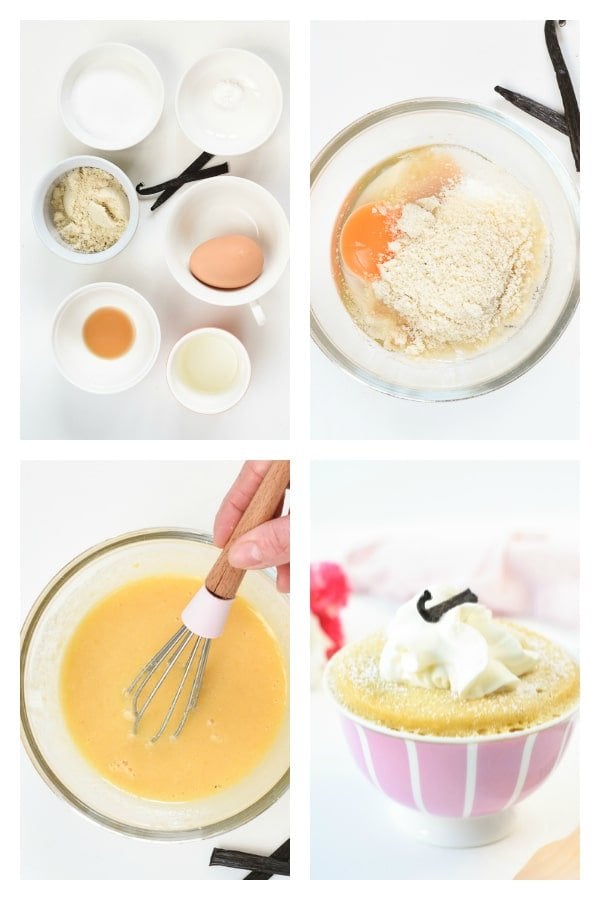 Mug cake baking time
This is another tricky part! First, check your microwave power and use my recommendation below on baking time based on your microwave power. Note that most microwave ovens operate between at 600W, 800W and 1000W.
Below are the baking time recommended for an almond flour mug cake recipe based on these 3 microwave power levels.
600 W – this is a low power so you need to increase the baking time by another 20 seconds. The best texture will be achieved after about 100-110 seconds
800W – that is what I am using in all my keto mug cake recipes and I microwave for 80-90 seconds
1000 W – that is the max power of most microwave ovens which means less cooking time is required. Usually, 70-80 seconds will be perfect
Next, I recommend to always microwave the mug cake based on the lowest time provided. For example at 800W, start with 80 seconds, check the cake and add those extra 10 seconds if the center is not set. Also note that the mug cake keeps baking while cooling in the mug for 1 minute. That is why you shouldn't over bake mug cakes or they tend to be overly dry. Finally, if you don't have a microwave oven, use your regular oven! Preheat the oven at 180C/350F and bake the mug cake for 8-12 minutes in the center rack of the oven.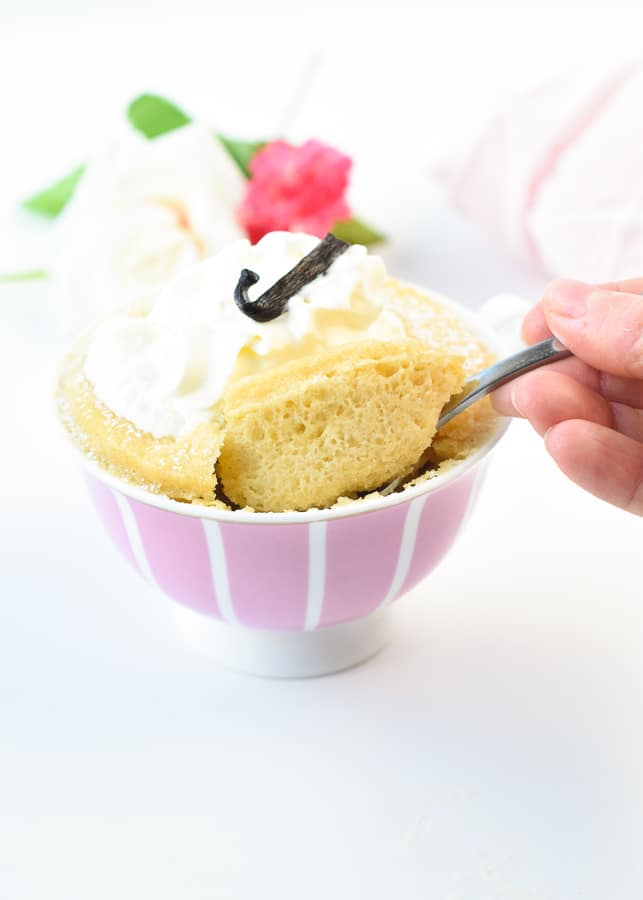 Keto vanilla mug cake ingredients
Now that you have all the information you need to choose the best almond flour for this almond flour mug cake, let's have a look at the rest of the ingredients you need. A keto vanilla mug cake needs 7 wholesome ingredients:
Almond flour – read my note above for details on how to choose the best keto almond flour
Coconut oil – or melted butter. Both options work and provide different texture. Coconut oil makes the cake slightly chewier and spongy while butter makes the cake more moist and soft. Try both and see which one is your favorite!
Egg – at room temperature and pick a large one. I won't stress this enough, cold eggs solidify coconut oil and make lumps in dairy-free keto baking and don't taste as good. Also, small eggs make mug cake dry, so make sure you are using a large-size egg.
Erythritol or any sugar-free crystal sweetener that can be used as a 1:1 sugar replacement. This includes xylitol, Monk fruit erythritol blend If you are not eating sugar-free and you are simply after a tasty almond flour mug cake, any sugar can be used in same amount. A healthy paleo option will be coconut sugar.
Baking soda
Vanilla extract or vanilla essence. If you can't find some without sugar added, swap for vanilla stevia drops. Therefore, you will have to decrease erythritol to 1 tablespoon or the mug cake would be too sweet.

More keto almond flour mug cake recipes
I love making almond flour mug cakes and I have plenty other flavors for you to try !
Enjoy the simple cinnamon keto mug cake and don't forget to share a picture of your creation with me on Instagram.
XOXO Carine