Keto Snickerdoodle Mug Cake
This Keto Snickerdoodle Mug Cake is perfect for fixing a sweet craving with only 4 grams of net carbs per serving.
Plus, it's also dairy-free and gluten-free, so you can share it with everyone!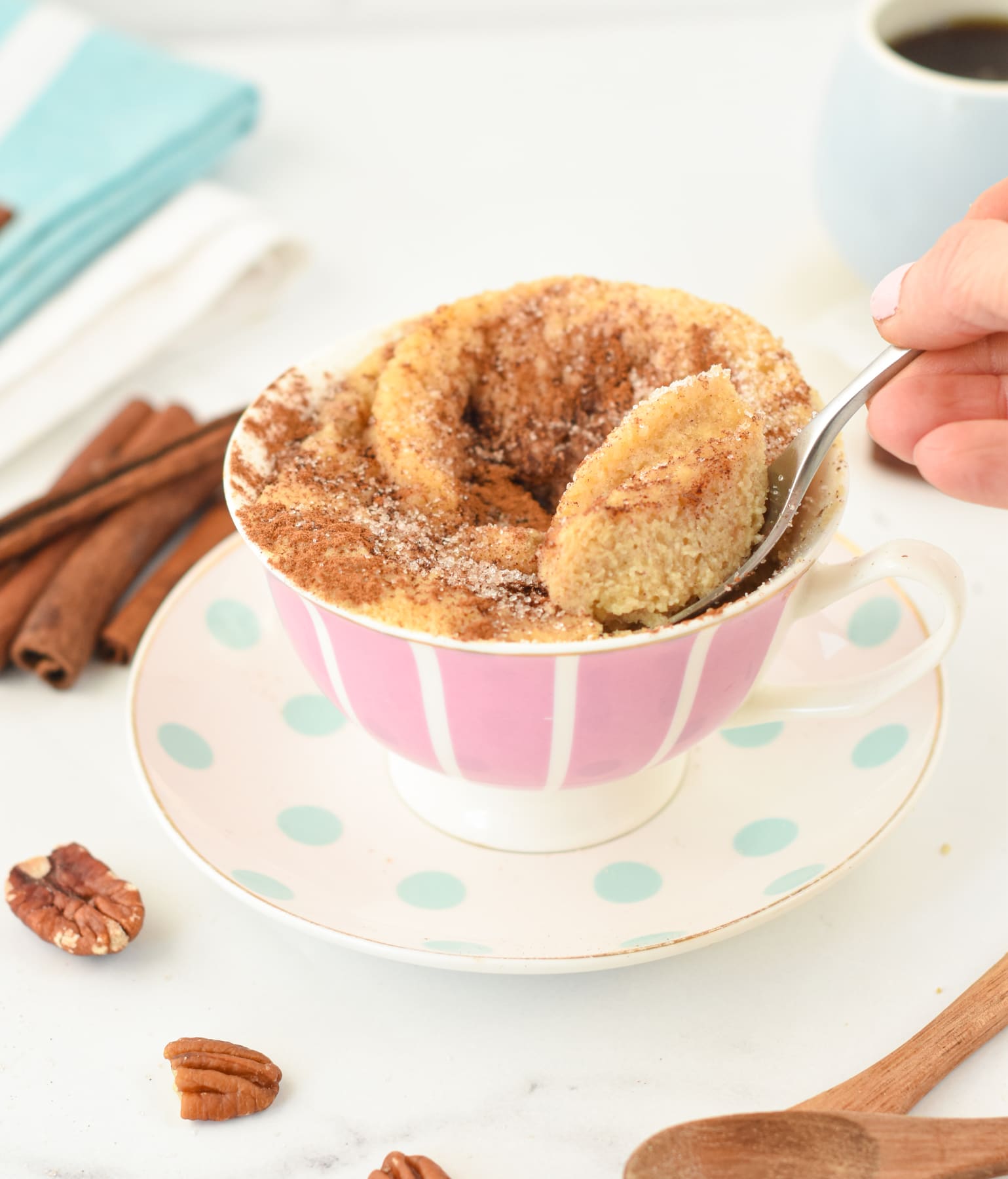 I am a huge fan of cinnamon flavor, and when I don't have time to make my keto snickerdoodle cookie, I go for this low-carb mug cake with almond flour instead!
It's fluffy, spongy with a delicious cinnamon sugar-free topping! Irresistible for cinnamon lovers, so let me share how to make this simple almond flour mug cake.
How To Make Snickerdoodle Keto Mug Cake
All you need to make this Keto Cinnamon Mug cake are a few pantry ingredients and some basic kitchen tools.
Kitchen Tools
You need:
A tall microwave-safe recipient. It can be a tall coffee mug of about 12 fl oz volume or a simple microwave-safe ramekin. The key is to use a tall recipient, or the mug cake won't rise properly or totally overflow from the recipient.
A microwave. This is a microwave cake recipe, so you need a microwave or read below for an oven option that takes a little bit longer to bake.
So before you start, grease the recipient of choice with coconut oil. Set aside on the benchtop and prepare the ingredients.
Ingredients
You need the below ingredients to make a keto mug cake with a delicious snickerdoodle flavor.
Almond flour – I am using ultra-fine almond flour with a lovely golden color. Avoid any coarse almond meal that makes keto cakes gritty and grainy. If you prefer to use coconut flour, use my coconut flour mug cake recipe and add the cinnamon and cinnamon sugar to make this recipe flavor. Read my review of keto-friendly flours to learn how to choose them.
Erythritol or sweetener you love as soon as it's a granulated keto sweetener like allulose or xylitol or just a pinch of stevia powder. Learn how to choose your keto sweeteners.
Ground cinnamon
Egg at room temperature
Unsweetened almond milk
Baking soda – you can swap for baking powder by using 1/2 teaspoon of baking powder instead of 1/4 teaspoon of baking soda.
Cream of tartar – skip if you don't have some at home, but this is what makes the difference between my classic cinnamon mug cake and this keto snickerdoodle cake in the microwave. In fact, cream of tartar is the magic addition to snickerdoodle cookies. It adds a particular flavor to the cookies that you will love in this mug cake.
Vanilla extract
Instructions
First, combine the wet ingredients in a small mixing bowl. Beat the egg with almond milk and vanilla.
Then, stir in the dry ingredients: add the almond flour, baking soda, cinnamon, and cream of tartar.
Assembling The Mug Cake
To assemble the mug cake, start by adding about half of the cake batter into the mug cake container.
Then, add half the keto cinnamon sugar and top up with the remaining cake batter.
Finally, add the remaining keto sugar on top of the mug cake.
Microwave
Microwave the keto mug cake in the center of the microwave on 800W power for 90 seconds.
You know that the mug cake is cooked when it has risen to the top of the mug, and the top is dry. The center top of the mug cake should be dry if touched, bouncy, not wet, or too dry.
Microwave Time Tips
Always check the microwave power before microwaving a cake. Your microwave must be set on 900W power for this recipe.
If it's above 900W, reduce baking time to 60 seconds and increase by 10-second bursts until cooked through.
If your microwave produces less than 900W, increase the baking time after the recommended 90 seconds.
Add 10 seconds extra at a time and check the texture. Stop microwaving when the top is set and the cake is set.
Oven Option
If you don't have a microwave, you can bake this snickerdoodle almond flour mug cake. Use a 5-inch oven baking pan or any ceramic ramekin that is oven-friendly.
Grease the mold with coconut oil and fill following the assembling tips above.
Bake at 350°F (180°C) until the cake is set and a pick inserted in the center of the snickerdoodle cake comes out clean.
It can take 15 to 25 minutes, depending on the diameter of your mold. The wider, the faster it cakes, but the less it rises!
Allergy Swaps
If you are allergic to some of the ingredients on don't have them in your pantry, you can try the following swaps:
Almond Milk – You can replace almond milk with coconut milk, oat milk, or cashew milk.
Crystal Sweetener – Any crystal sweetener works, such as erythritol, allulose, coconut sugar, or xylitol.
Almond Flour – You can substitute almond flour with oat flour or sunflower seed flour. Coconut flour is not an option as it would make the mug cake very dry.
More Keto Mug Cake Recipes
I love to make low-carb mug cakes when cake cravings come up for a snack or breakfast. Below are my other favorites for you to try.
Have you made this snickerdoodle cake in your microwave or oven? Share a comment or feedback with me below!
Keto Snickerdoodle Mug Cake
A Keto Snickerdoodle Mug Cake recipe ready in 90 seconds to fix your cinnamon cake cravings fast with few carbs!
Ingredients
1

large

Egg

2

tablespoons

Unsweetened Almond Milk

or heavy cream

½

teaspoon

Vanilla Extract

1

tablespoon

Erythritol

4

tablespoons

Almond Flour

¼

teaspoon

Baking Soda

or 1/2 teaspoon baking powder

¼

teaspoon

Ground Cinnamon

adjust up to 3/4 teaspoon if you like a strong cinnamon flavor! -> mug cake will be darker in color

⅛

teaspoon

Cream of Tartar

optional add tangy, chewy texture
Keto Cinnamon Sugar
½

teaspoon

Ground Cinnamon

adjust to taste, up to 1/2 teaspoon

½

tablespoon

Erythritol
This recipe may contain Amazon or other affiliate links. As an Amazon Associate I earn from qualifying purchases.
Instructions
Grease one tall coffee mug with coconut oil. Find a 12 fl oz tall mug to prevent the batter from overflowing when baking. Set aside.
Keto Cinnamon Sugar
In a small bowl, prepare the keto cinnamon sugar. Stir erythritol and cinnamon and set aside for later.
Mug Cake
In a small bowl, beat together egg, almond milk, vanilla extract, and erythritol.

Stir in almond flour, baking soda, cinnamon, and cream of tartar. Stir until a smooth batter forms, and feel free to increase the cinnamon to 3/4 teaspoon if you love a strong cinnamon flavor. In this case, the batter will turn darker than the picture.

Transfer about half of the mug cake batter into the coffee mug, then add half the keto cinnamon sugar and the remaining cake batter.

Bake for about 90 seconds in a microwave power 900W, in the center of the microwave.

Remove from the microwave and sprinkle leftover cinnamon sugar on top.

Cool it down for 1 minute before eating to avoid burning yourself, and let the topping slightly melt and flavor the top of the mug cake. Serve plain or with a dollop of unsweetened whipped cream if used.
Notes
Baking: if you don't have a microwave, you can bake this keto mug cake in the oven at 180°C (350°F) for 15-20 minutes in a tall recipient, or it won't rise.
Want My Kitchen Equipment?
Serving:
1
mug cake
Calories:
243.4
kcal
(12%)
Carbohydrates:
7.9
g
(3%)
Fiber:
3.9
g
(16%)
Net Carbs:
4
g
Protein:
12.4
g
(25%)
Fat:
19
g
(29%)
Saturated Fat:
2.5
g
(16%)
Polyunsaturated Fat:
1.1
g
Monounsaturated Fat:
2
g
Trans Fat:
0.1
g
Cholesterol:
186
mg
(62%)
Sodium:
383.9
mg
(17%)
Potassium:
78.4
mg
(2%)
Sugar:
1.5
g
(2%)
Vitamin A:
274.4
IU
(5%)
Vitamin B12:
0.5
µg
(8%)
Vitamin C:
0.1
mg
Vitamin D:
1
µg
(7%)
Calcium:
138.1
mg
(14%)
Iron:
2.1
mg
(12%)
Magnesium:
7.1
mg
(2%)
Zinc:
0.7
mg
(5%)
Posted In: