Sugar-Free Keto Coconut Cream Pie
This Keto Coconut Cream Pie is an easy keto dessert recipe if you love coconut!
A buttery flaky crust filled with coconut custard and topped with whipped cream and toasted coconut for a comforting dessert any time of the year.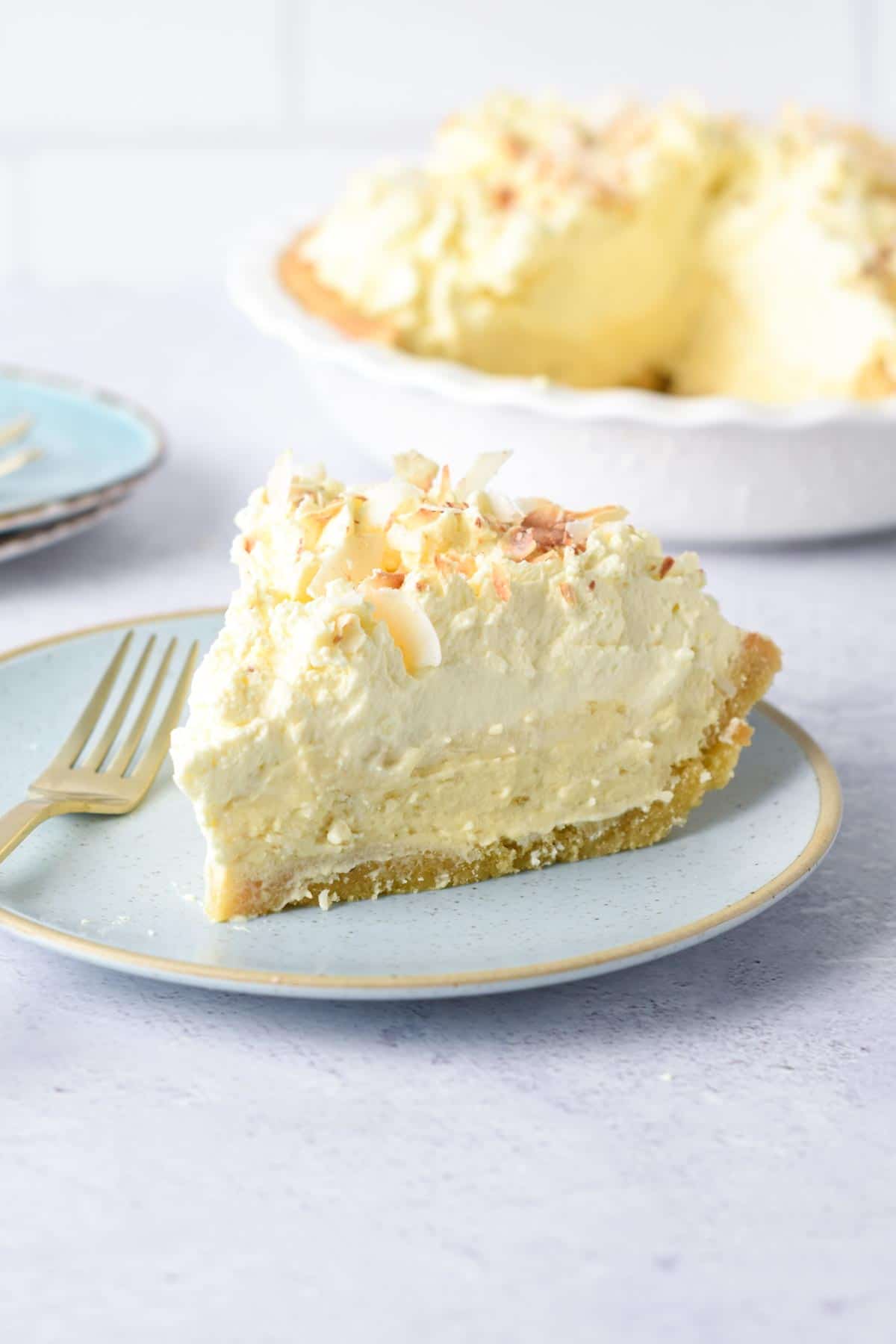 What's A Coconut Cream Pie?
Coconut cream pie is a classic dessert made of a shortbread pastry crust then filled with coconut custard and topped with whipped cream.
Is Coconut Cream Pie Keto?
No, the classic recipe is high in sugar as the custard, and whipped cream contains white sugar, and the crust is made of high-carb wheat flour.
Why You'll Love This Recipe?
This Keto Coconut Cream Pie is delicious and it is:
Gluten-Free
Sugar-Free
Low-Carb
Keto
Vegetarian
How To Make Keto Coconut Cream Pie
Luckily, it's pretty easy to make a sugar-free coconut cream pie at home.
The Keto Pie Crust
First, you need to make a keto pie crust and prebake the crust before adding any filling to the pie case.
There are many ways to make a low-carb pie crust, you can use my almond flour pie crust, or you can also use a coconut flour pie crust if you don't want to use almond flour.
Whatever you choose, you will have to fill a 9 inches pie plate with the crust, prick the crust and prebake the crust for 20 minutes before adding any coconut custard filling.
Coconut Filling Ingredients
Next, prepare the custard filling.
The ingredients you need for the coconut custard are:
Eggs – I like using large free-range eggs.
Egg Yolks
Heavy Cream – Heavy cream is very low in sugar, perfect for sugar-free desserts.
Erythritol or sugar-free granulated sweetener
Canned Coconut Milk or canned coconut cream with no added sugar
Coconut Essence or extract
Vanilla Extract
Unsweetened Shredded Coconut
Butter – Prefer unsalted grass-fed butter.
Making The Cream Pie Filling
First, in a large mixing bowl, add the eggs, egg yolk, sweetener, vanilla extract, and coconut extract, and sprinkle the xanthan gum on top.
Then, whisk vigorously with a hand whisk until all the ingredients are well incorporated.
You may see a few spots of xanthan gum forming, and that's ok. Set it aside.
Next, add heavy cream and coconut milk to a non-stick saucepan and bring over low-medium heat.
Warm until a light simmer appears – about 1-2 minutes. Stir and remove from heat.
Scoop out 2 to 3 tablespoons of the hot cream mixture and pour it into the egg yolk bowl and whisk vigorously to incorporate.
Repeat these steps 2 or 3 times. This tempers the egg yolk mixture and avoids cooking the eggs by adding the hot milk too quickly.
Transfer To Saucepan
After adding about nine tablespoons of hot milk to the egg yolk mixture, it's safe to pour the mixture from the bowl into the saucepan.
Stir gently with a wooden spoon or silicone spatula and return to low heat.
Keep stirring gently over low heat, forming a figure-eight motion until the custard thickens and covers the spatula.
It takes about 5 to 6 minutes, so be patient.
Remove from heat and stir in unsweetened shredded coconut. Taste the custard and add more coconut extract if you want a stronger coconut flavor.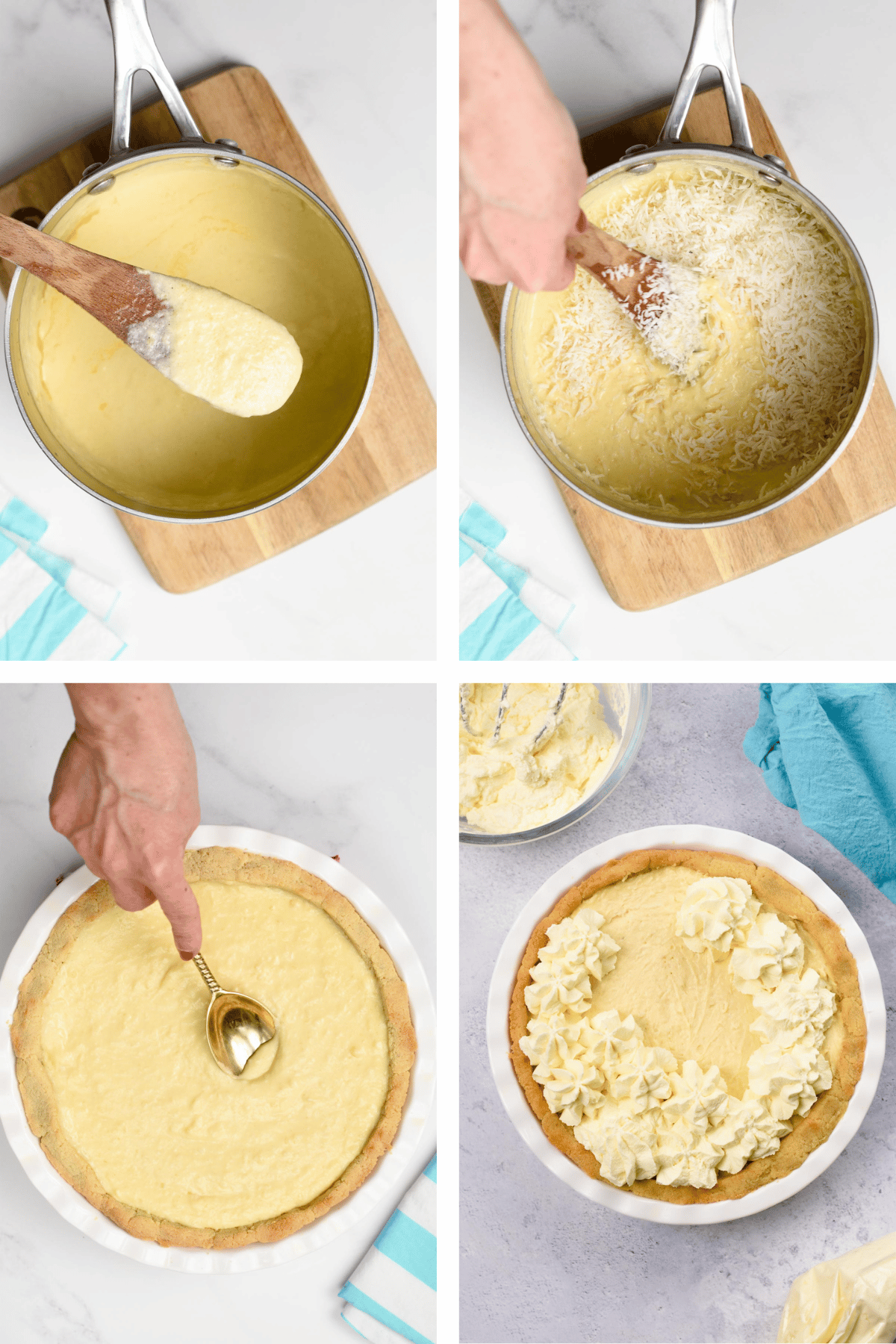 Assembling The Pie
Remove the custard from the heat and wait 10 minutes before pouring it into the crust.
Then, pour the coconut custard into the prebaked pie case. Wait until it cools down, about 40 minutes, before filming the top with plastic wrap.
Stick the plastic wrap to the custard to ensure that no crust forms on the top of your custard.
Place the low-carb coconut cream pie in the fridge overnight or at least 3 hours before adding the topping.
Topping Ingredients
The next day, or when the custard has set, prepare the sugar-free whipped cream.
In a large mixing bowl, pour the cold heavy cream and whip until half stiff peak forms.
Pour the powdered sugar-free sweetener and keep whisking until a stiff peak forms.
Spread or pipe the low-carb whipped cream on top of your low-carb pie.
Decoration
Serve this keto dessert with toasted coconut flakes on top of the pie.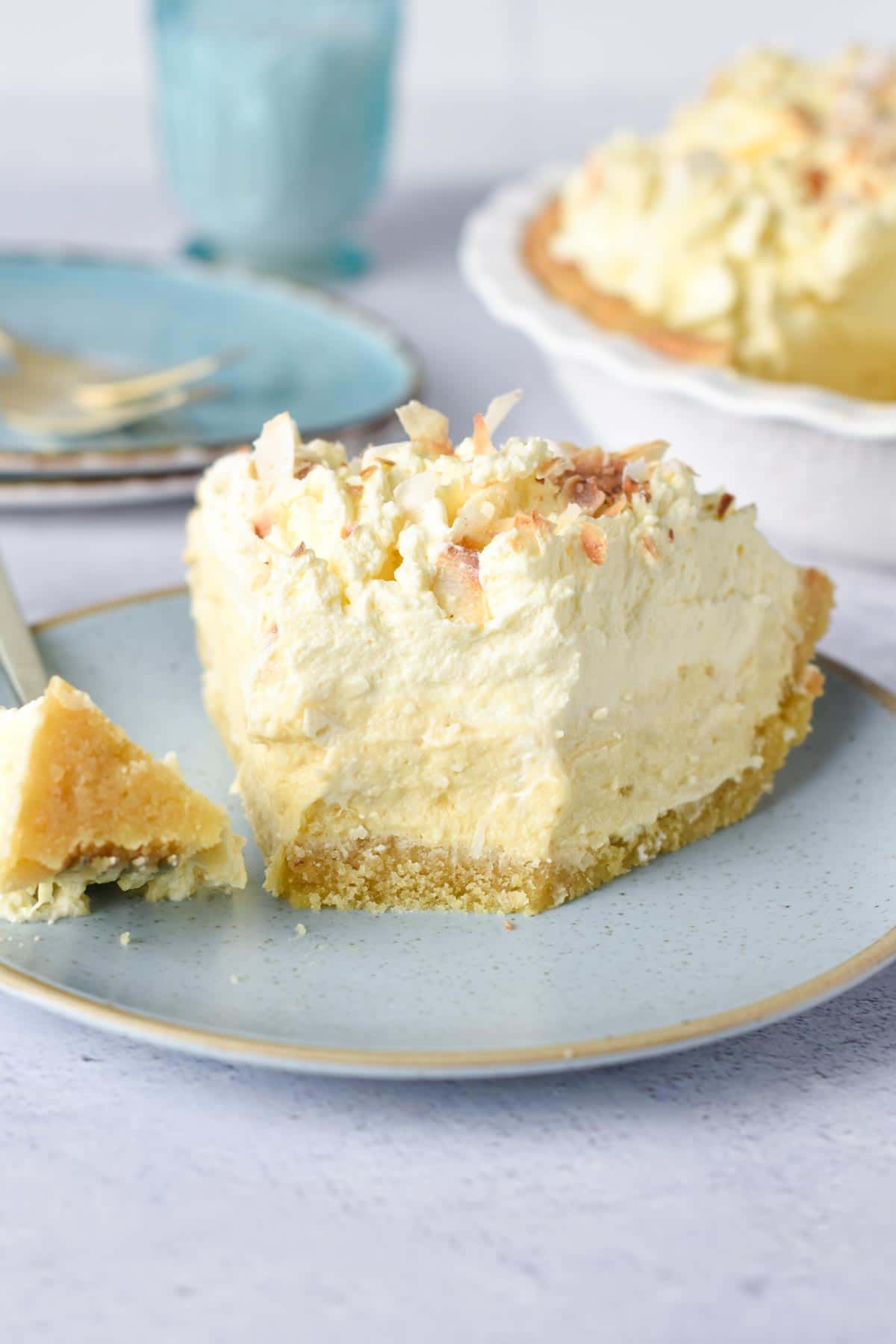 Toasting Coconut Flakes
To make your own toasted coconut, preheat the oven to 325°F (160°C).
Line a baking sheet with parchment paper and lightly oil the paper with coconut oil.
In a mixing bowl, stir two tablespoons of a sweetener of your choice, one cup of coconut flakes, and two teaspoons of melted coconut oil. Stir to combine.
Line the coated coconut flakes in a single layer onto the baking sheet.
Bake for 8 to 10 minutes, stirring halfway, until the coconut flakes are golden brown.
Cool down on the tray, then store in a sealed glass mason jar in the pantry for up to 2 months.
You can use this toasted coconut to decorate pie or keto desserts like keto key lime cheesecake or keto chocolate mousse.
Slice and serve immediately.
Storage Instructions
You can store this coconut pie for up to 3 days in a cake box or airtight container in the fridge.
You can also freeze your pie whole or in slices for up to 3 months. Always thaw keto dessert in the fridge the day before.
Frequently Asked Questions
Below I listed the answers to your most common questions.
Can I Make It Egg-Free?
No, you can't remove or swap the eggs in this recipe.
Can I Make Dairy-Free Coconut Cream Pie?
Absolutely, simply replace heavy cream with canned coconut cream.
However, not that whipped coconut cream is not as firm as whipped heavy cream, and your topping might be thinner and runnier.
More Healthy Dessert Recipes
If you like delicious keto and healthy desserts, you'll love these:
Have you made this keto coconut cream pie dessert? Share a review or comment below to connect with me.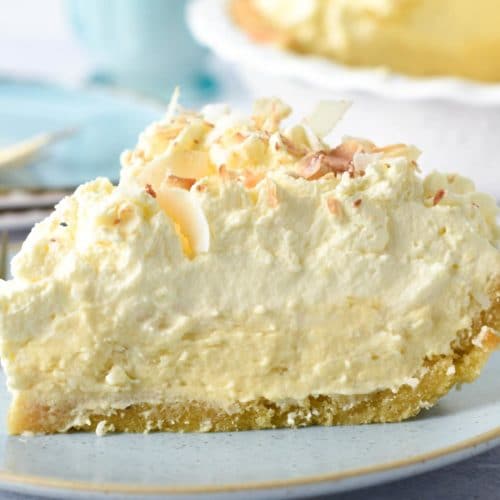 Keto Coconut Cream Pie
This Keto Cream Pie is a flakey buttery pie crust topped with coconut pudding and whipped cream. A dream keto dessert for coconut lovers!
Serving Size:
1
serving (1/2 cup)
Ingredients
For the pie Crust
For the coconut cream filling
2

large

Egg Yolks

at room temperature

2

large

Eggs

at room temperature

6

tablespoons

Erythritol

½

teaspoon

Xanthan Gum

1

cup

Unsweetened Coconut Milk

1

cup

Heavy Cream

2

tablespoons

Butter

not melted

1-2

teaspoons

Natural Coconut Extract

start with 1 and adjust to taste

½

teaspoon

Vanilla Extract
This recipe may contain Amazon or other affiliate links. As an Amazon Associate I earn from qualifying purchases.
Instructions
First, prepare the coconut flour pie crust. Make sure you add the 4 tablespoons of erythritol and 1/2 teaspoon of coconut extract to the crust recipe for extra flavor.

Bake the crust following recipe instructions and cool it in the pan, at room temperature before adding any filling.
Prepare the coconut cream filling
While the crust is in the oven, prepare the coconut cream filling.

In a large mixing bowl, whisk together: egg yolk, whole egg, erythritol, and xanthan gum that you gently sprinkle on top – don't add all the gum at once to avoid lumps! Whisk until fully combined. Set aside.

In a medium saucepan, heat the unsweetened coconut milk and heavy cream over medium heat. Bring to a simmer for 3-4 minutes and stir often to prevent the liquid from overflowing the saucepan.

Remove the saucepan from heat. Scoop 1 tablespoon of the hot milk into the egg mixture and whisk vigorously to combine. Repeat this step once, stirring 1 extra tablespoon of the hot milk into the egg mixture. This step is very important, it brings the eggs to a lukewarm temperature and prevents the hot milk from 'cooking' the eggs.

Now that the egg mixture is tempered with milk, pour the egg mixture from the bowl into the saucepan, stir and return to medium-low heat (don't boil!).

Cook for 5-7 minutes, gently stirring, until it thickens and coats the back of a spoon.

You can sprinkle an extra 1/4 teaspoon of gum if not thick to your liking but keep in mind that the pudding will keep thickening while cooling down.

Once thickened, remove from heat and stir in the fresh butter, vanilla extract, coconut extract, and unsweetened shredded coconut.

Test the coconut cream sweetness and flavor. Adjust the amount of coconut extract to taste. Add an extra 1/4 teaspoon at a time, stir and taste.
Assemble the pie
Pour the coconut pudding into a wide bowl to steam out and cool. Stir every 10 minutes to prevent skin from forming on top.

When cool, about 20-30 minutes later, spread evenly into the baked pie crust and place a plastic film wrap on top of the pie, directly on top of the surface of the pudding, and refrigerate for 1 hour or until chilled before serving.

To serve pie, whip the whipping cream with an electric beater in a large bowl along with powdered sweetener and vanilla.

When a stiff peak forms, top the pie with whipped cream and toasted coconut flakes.
Storage
Store in the fridge in a sealed cake box for up to 3 days.
Want My Kitchen Equipment?
Serving Size:
1
serving (1/2 cup)
Serving:
1
serving (1/2 cup)
Calories:
120.9
kcal
(6%)
Carbohydrates:
1.5
g
(1%)
Fiber:
0.6
g
(3%)
Net Carbs:
0.9
g
Protein:
3.7
g
(7%)
Fat:
11.2
g
(17%)
Saturated Fat:
5.6
g
(35%)
Cholesterol:
150.7
mg
(50%)
Sodium:
129.6
mg
(6%)
Potassium:
44.1
mg
(1%)
Sugar:
0.2
g
Vitamin A:
463.3
IU
(9%)
Calcium:
104.5
mg
(10%)
Iron:
0.4
mg
(2%)
Posted In: