Discover our collection of sugar free desserts for diabetics! Finally a place to indulge with delicious cookies, brownies, pies or mousse with no guilt. Plus, all recipes are keto desserts made with low-carb flours and sugar free sweeteners to keep your blood sugar level on track. So keep reading!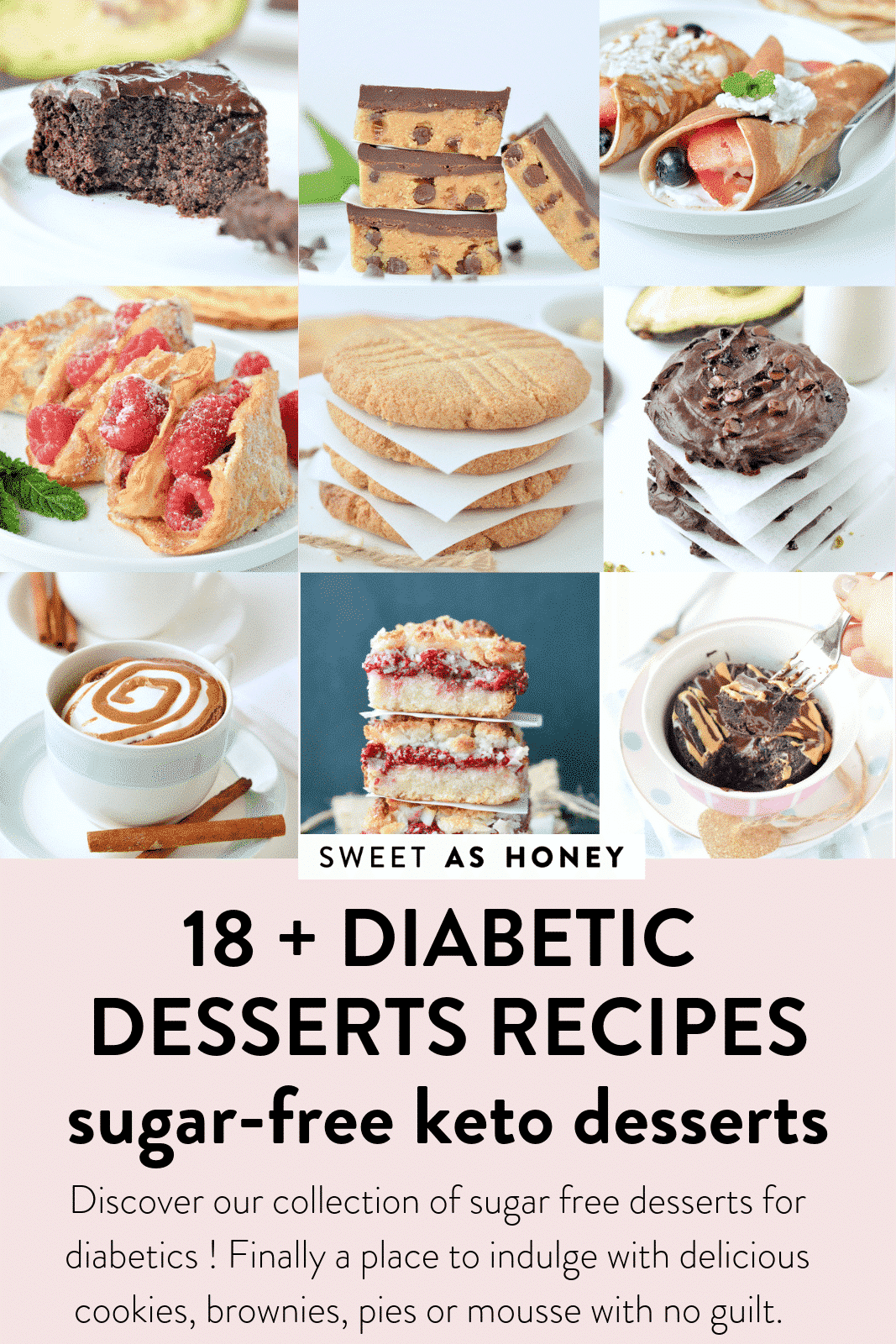 What are sugar-free desserts for diabetic?
Diabetic desserts recipes are low-carb sugar free desserts. Obviously, desserts for diabetics don't impact blood sugar level as much as regular desserts as they contain no sugar.
How to make desserts for diabetics?
There are 3 main ingredients that help you create delicious keto desserts safe for diabetics.
First, low-carb flours if it's a cake or a cookie. As a result low-carb diabetic-friendly baking recipes often use almond flour, coconut flour or seed meals like flaxseed meals. In fact, white-wheat flour is high in carbs and act as sugar in your body. Consequently, low-carb diabetic desserts recipe are made of high fiber flours that don't impact blood sugar level as much.
Next, the choice of sugar-free sweeteners is very important to keep diabetics desserts low in carbs. It should be noted that depending on your diabetes type, your choice of sweetener can vary. The sweeteners listed below are approved for type 1 diabetes and keto desserts.
sugar-alcohol like erythritol. Despite it is chemical name, this is a very healthy sugar-free alternative made of fermented sugar. There is no alcohol or sugar left in the product at the end. However it can be used as a 1:1 ratio to replace sugar in recipe.
Stevia drops
Xylitol
Indeed these 4 sugar-free sweeteners don't impact blood sugar, and have a very low glycemic index. On the other hands, sweeteners like honey, maple syrup, coconut sugar have a higher sugar content and should not be recommended in desserts for diabetics. Finally, healthy fats helps stabilize sugar-level when combine with protein. It can be listed as healthy fat, avocado, coconut oil, olive oil and seed oil.
10+ diabetic desserts recipes | low carb + gluten-free approved
Chocolate avocado cake a healthy fudgy keto gluten free cake. 100% Sugar free + Low Carb + Paleo.
Coconut flour crepes are easy low carb breakfast or desserts crepes perfect for sweet or savory filling. Gluten free + keto + paleo.
This chocolate avocado pudding tick all the diet requirement. Not only it is a delicious sugar free dessert for diabetics but it is also dairy ! An easy healthy sweet treats, 100 % sugar free sweetened with sugar free flavored maple syrup (Monk Fruit) for a silky smooth low carb keto chocolate pudding.
A delicious gluten free dessert with only 7g net carbs per slice made with coconut flour and chia seed jam.
Low carb peanut butter cookies almond flour, coconut oil, sugar free. 100% easy keto gluten free cookies with NO eggs (VEGAN).
Cookie dough bars no bake healthy peanut butter chocolate chips bars with only 5 ingredients. 100% keto + low carb + sugar free + gluten free and vegan.
Almond Meal Easy Healthy Keto Vegan Cookies NO eggs, NO sugar NO dairy. Only 4.4 g net carbs per large cookies.
Fudgy Avocado Brownies are sugar free one bowl brownies sweetened with erythritol and ready in 20 minutes!
A delicious sugar free lemon pie with a low carb pie crust made of coconut flour and almond meal.
Protein crepes are healthy low carb high protein gluten free breakfast crepes made of 3 simple ingredients. A sweet clean eating recipe perfect for breakfast or post workout.
Avocado key lime pie vegan, no bake and low carb. A healthy raw desserts with a coconut almond and cashew crust with NO dates!
A 90-second low carb mug cake made with low carb flours and sweetened with stevia powder. A quick and easy sugar free desserts for diabetics.
Chocolate avocado cookies are healthy fudgy chocolate cookies made of 5 simple ingredients 100 % gluten free + low carb + paleo + sugar free.
Melt-in your mouth lemon cookies with coconut flour and almond meal, easy, healthy soft cookies with no butter. 100% Vegan + Keto + Gluten free.
Low carb bounty bars are raw healthy homemade candy bars 100% Keto + Sugar free + paleo made of 4 ingredients.
Ground chia seed pudding with Almond milk is a smooth chocolate peanut butter healthy dessert or breakfast. Easy, gluten free, vegan, low carb, keto and whole30!
A protein loaded dessert made of eggs, milk and naturally sweetened with stevia. Only 3 ingredients for a delicious comforting sugar free desserts for diabetics.
Low Carb cinnamon mug cake with almond flour, 90 seconds microwave recipe. Keto mug cake taste like a cinnamon roll in a mug.