Cookie Dough Bars are delicious no-bake cookie bars with chocolate chips made with only 5 wholesome ingredients. It is a very easy keto vegan dessert that is sure to keep the whole family happy!
A healthy 100% keto, low-carb, sugar-free, gluten-free, and vegan bar ready in just 20 minutes to fix a sweet craving with no guilt.
The no-bake cookie reinvented
Quick no-bake recipes are the best when it comes to fixing our sweet cravings quickly. This recipe is no exception, with less than 30 minutes to prepare 16 generous portions, this is a true quick keto snack.
Since it's a no-bake recipe, it doesn't require any baking skills. No-bake keto cookies are great, but there's one way to make them absolutely perfect, adding a layer of delicious chocolate on top.
This is how the idea of a no-bake cookie bar came about, taking a truly delicious classic and adding a delicious twist.
And all you need to make this quick keto dessert is only 5 ingredients so let's see how you can make them now.
Vegan keto no-bake cookie bars
These cookie dough bars are not only delicious but also dairy-free, egg-free, and sweetened with sugar-free sweeteners. Therefore they are a perfect quick keto snack for anyone following a keto diet, vegan or not.
ⓧ
Are you new to Keto?
Receive my Keto Quick Start email series to learn all about the Keto diet and kick start your keto journey!
So, all you need to make these no-bake treats are 5 simple low-carb ingredients:
Almond meal – or the finer almond flour, both work in this recipe. I used blanched almond meal to keep the light color but an unblanched almond meal is a great healthy option to add some extra fiber to this quick keto snack.
Coconut flour – you don't need much of this one but it adds the crumbly cookie dough texture to the bar so don't skip it! It should be noted that coconut flour is edible raw. It is essentially raw coconut grounded into flour and it doesn't need to be cooked to be edible.
Sugar-free liquid sweetener – many of you ask me what do I use. Well, I am using a natural liquid sweetener made of Monk fruit also called maple-flavored sugar-free syrup, see here. Monk fruit is a powerful sweetener that adds sweetness to food with no-carbs, no-sugar, and barely any calories. It is working the same as regular maple syrup without the sugar, no carbs and it is good for you! For alternative sweeteners, make sure to check out my list of the best keto-friendly sweeteners!
Peanut butter – I used unsalted peanut butter. Any other nut butter would work well too, just from a new jar. If your peanut butter is hard or dry, the bars will be too and, the dough won't come together. So use fresh peanut butter, runny and no sugar added!
Sugar-free dark chocolate chips – there are plenty of options here, choose the level of cocoa you like. I used sugar-free chocolate chips sweetened with stevia.
How to make a perfect no-bake cookie dough bar?
No-bake recipes are so easy to make, they don't require baking, just freezing. This is the trick to make beautiful no-bake recipes, easy to slice.
You must freeze your no-bake recipe for at least 15 minutes. The freezing process quickly sets the dough and makes the result easier to slice without falling apart.
Another useful tip is to warm your knife blade under warm water. It will slice through the bar much more easily.
The perfect quick keto snack!
These no-bake cookie dough bars are the quickest, tastiest cookie dough bars, perfect for a quick keto vegan dessert.
It can be tough on a keto diet to find snacks and desserts that are both yummy and quick to make. These bars have a peanut butter chocolate chip layer that is high in protein and fiber thanks to coconut flour, making it very keto-friendly.
Next, the chocolate peanut butter layer on top is completely sugar-free, with a delicious melt-in-your-mouth texture.
Finally, the blend of both texture and taste provides the best no-bake cookie bars with 7.2g of protein and only 6g of net carbs.
That makes for a very fulfilling treat that will fix your sweet cravings in a quick and healthy way!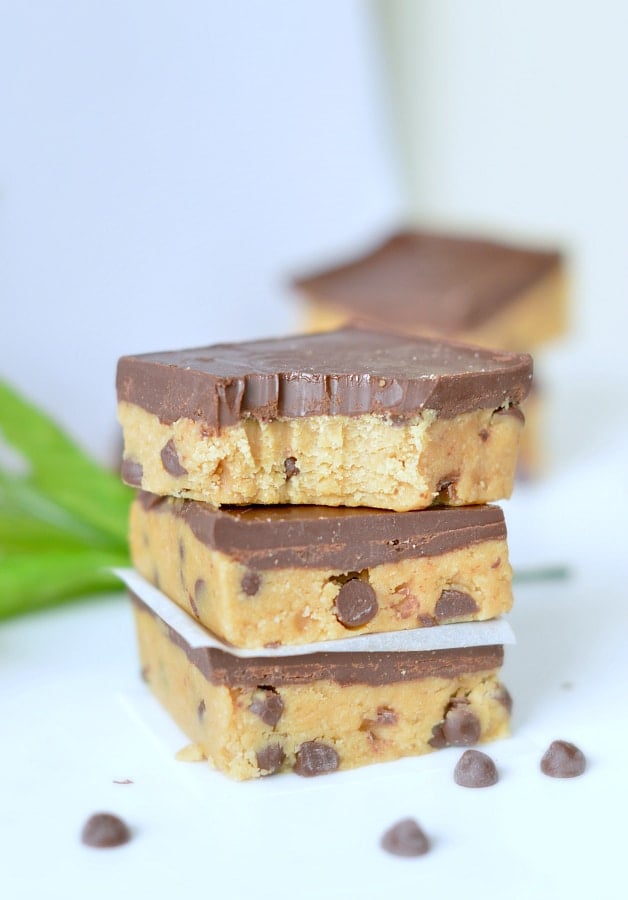 More keto vegan no-bake recipes
If you like no-bake keto snacks, have a look at my other no-bake recipes below.
I hope you will enjoy this recipe too. As always, share a pic with me on Instagram if you try them. I will love to see your creation.
xoxo Carine
Recipe Card
Cookie Dough Bars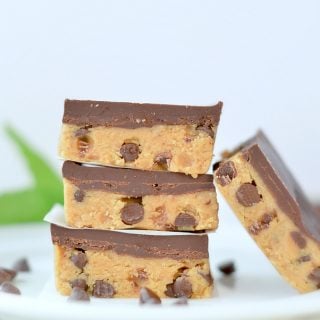 Cookie Dough Bars are delicious no-bake peanut butter chocolate chip bars made with only 5 wholesome ingredients. A healthy 100% keto, low-carb, sugar-free, gluten-free, and vegan bar ready in only 30 minutes to fix a sweet craving with no guilt.
Ingredients
Chocolate nut butter layer
Instructions
In a medium bowl combine the liquid sweetener and peanut butter. 

Microwave 30 seconds - it will be slightly warm, stir to combine. Set aside.

Add the almond flour, coconut flour, and chocolate chips. 

Stir until fully incorporated. It will form a dough that you can easily shape as a cookie dough ball.

Transfer the dough into a rectangle loaf baking pan covered with a piece of parchment paper. (my loaf pan is a 9-inch x 5-inch x 1.8-inch pan)

Press the dough with your hands to cover all the bottom of the pan. Use a spatula to make the surface flat and smooth. Freeze while you prepare the chocolate layer.

In a bowl combine the sugar-free dark chocolate and nut butter. Melt by 30 seconds bursts in the microwave stirring between to prevent the chocolate from burning. It should not require more than 90 seconds. Stir well to combine and form a shiny melted chocolate mixture.

Remove the loaf pan from the freezer, pour the melted chocolate onto the bar. Use a spatula to spread the layer evenly. Freeze again for 10-15 minutes or until the chocolate layer is set.

Cut into bars using a sharp knife. You can warm the knife blade slightly to make the cutting even easier. This recipe makes 8 square bars.

Store the bars in the fridge in an airtight plastic container or plastic bag for up to 10 days! 
Net carb for 1 LARGE square: 6 grams of net carbs.
Cut the recipe into 16 small squares to snack on with only 3 grams of net carbs per square! 
Sweetener: I am using a sugar-free syrup made of monk fruit sugar, it is a natural low-carb sweetener with a delicious natural maple syrup flavor. 
Chocolate: I used sugar-free dark chocolate. It is a 70% cocoa chocolate sweetened with stevia but you can also use stronger chocolate, a 100% sugar-free chocolate will be great too or 85% cocoa.
Nut butter: I used peanut butter, fresh is better as it is runnier and it is easier to blend with the sweetener with a slight rewarm in the microwave. Other options are almond butter or cashew butter.
My Recipe Notes
Tools
Starting Keto
What Is Keto Diet?
Macro Calculator
Sweetener Converter
Keto Meal Plans
Keto Recipe Ebooks
Intermittent Fasting
Keto Fruits
Keto Vegetables
Keto FLours
Fighting Keto Flu
Keto Sweeteners
Nutrition Facts
Cookie Dough Bars
Amount Per Serving (1 cookie dough bar)
Calories 198
Calories from Fat 149
% Daily Value*
Fat 16.5g25%
Carbohydrates 9.9g3%
Protein 7.2g14%
Net Carbs 6g
* Percent Daily Values are based on a 2000 calorie diet.