Keto Bounty Bars – No-Bake Coconut Bars
Keto bounty bars are easy no-bake chocolate coconut bars perfect for a quick keto snack with only 1.7 grams of net carbs.
Plus, this Mound's bar recipe is also delicious when frozen for summer keto tropical treats.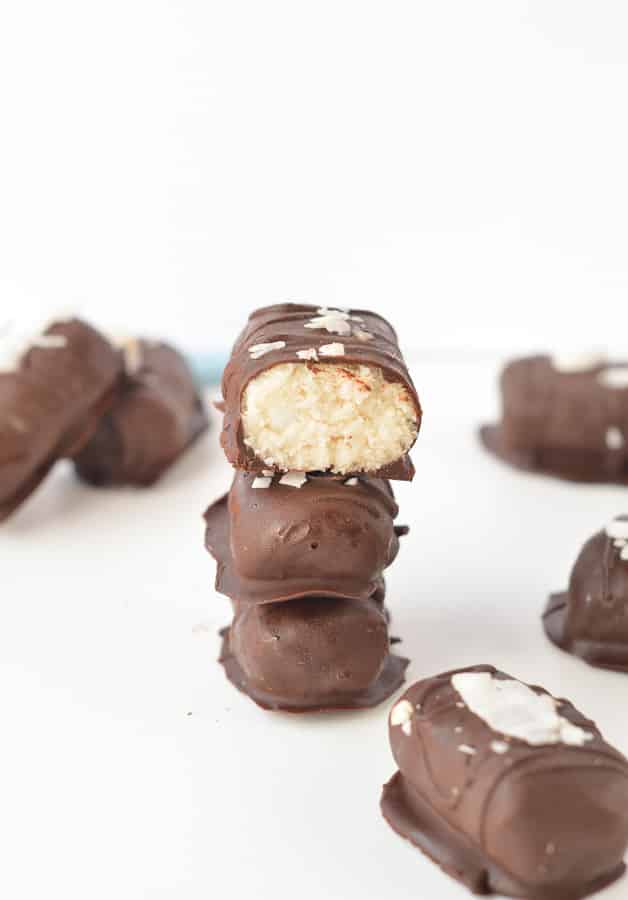 What Are Keto Bounty Bars?
Keto Bounty Bars are keto-version of the classic Bounty bars. They are made with low-carb, sugar-free ingredients for a delicious keto snack.
How To Make Keto Bounty Bars
These no-bake coconut bars with chocolate shells are very similar to the popular keto bounty bars without the carbs!
Bonus, this is the easiest keto snack to make since it uses only 4 pantry ingredients and no oven!
Bounty Bar Ingredients
Unsweetened desiccated coconut – make sure the brand you use is unsweetened, not shredded coconut. This option takes longer to blend as the coconut is grated into thick pieces.
Coconut cream – I used canned coconut cream, full fat. Always shake the can before use.
Coconut oil – coconut oil is the key to creating a no-bake dessert recipe. In fact, coconut oil is solid under 74°F (23°C) providing the moist texture of these bounty bars. You can't use a different oil, but if you don't like the flavor of coconut oil, choose refined coconut oil, it is bland in flavor.
Erythritol – to learn more about sweeteners, find out my top 4 keto-friendly sweeteners.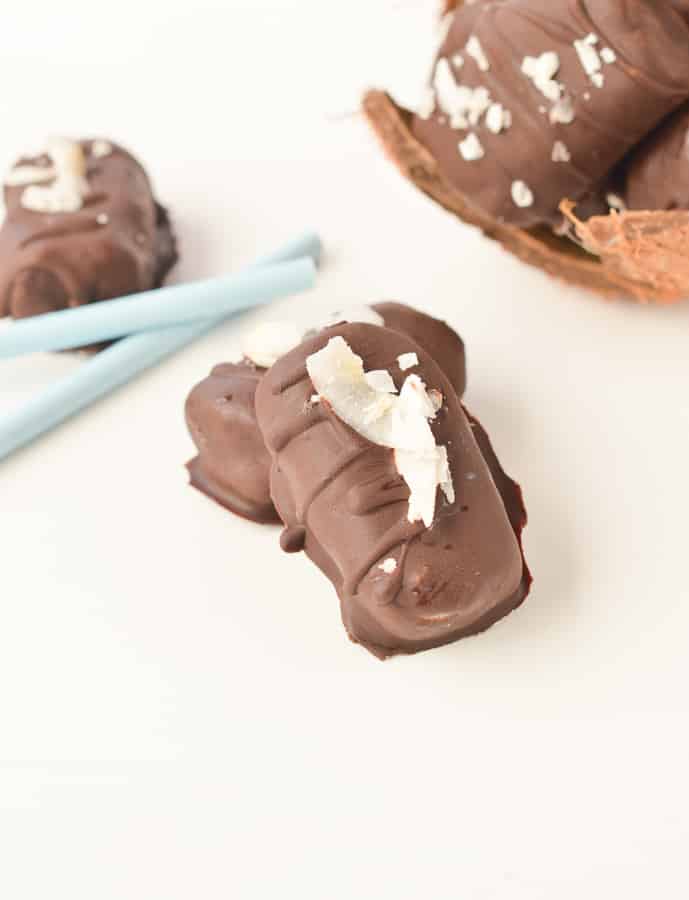 Making No-Bake Keto Coconut Bars
Keto bounty bars, also called no-bake coconut bars, or no-bake Mounds bars, are made in a food processor.
Below are the 3 simple steps to follow to make these no-bake coconut candy bars.
Step 1: Blend all the ingredients
It is important to bring all the ingredients together into a food processor bowl. In fact, the blade will pulse the coconut into a finer texture and crate the sticky batter you need to form bounty bars.
It's also important that you use melted coconut oil, not solid.
Usually, a blending time of 1 minute is enough to bring all the ingredients into a raw dough that is easy to work with.
Step 2: Press the batter into a pan
Prepare a 9-inch x 9-inch square pan lined with parchment paper. Press the raw coconut dough onto the pan using a spatula to smooth the top.
Make sure it is firmly pressed to avoid air that could make the bars fragile.
Step 3: freeze the pan
Freezing the pan is the key to setting your keto bounty bars.
The cold from the freezer will solidify the coconut oil creating firm bars that are easy to cut into smaller bars.
You must freeze the bars for at least 10 minutes up to 15 minutes, not more, or it will be difficult to cut into bars.
Step 4: cut into bars
To prevent the bars from falling apart or crumbling, warm the knife blade under a flame.
This is the trick to easily goes through the block of coconut and shape bars without damaging them.
Then, to make your bars looks like real bounty bars, I recommend you shape them in your hands to form rounded sides.
Step 5: dip into melted chocolate
The last steps consist of melted sugar-free chocolate chips with coconut oil to create a chocolate coating. Then, use 2 forks to dip each bar into the melted chocolate.
Finally, place each chocolate-dipped coconut bar onto a plate covered with parchment paper and freeze again.
This is a messy part, and it takes a little bit of time to dip all the keto bounty bars into chocolate. But, the result will be amazing.
Serving Keto Bounty Bars
Yes, these bars are mainly made of fat, healthy fat from coconut oil that I remember is excellent if you are on a candida diet. I struggle with thrush for years.
Since I eat coconut oil every day, I never experience candida anymore. The other good point about these bars, they don't contain many calories, and they are very fulfilling.
These low-carb bounty bars are as soft and sweet as the real bounty bars. If you have a really sweet tooth, you can adjust the sweetness with extra stevia drops.
The chocolate coating is made of stevia-sweetened chocolate melted with a tiny bit of coconut oil. You can use any dark chocolate >78% cocoa powder.
Storing Keto Bounty Bars
No-bake bounty bars can be stored for up to 1 month in the fridge in a sealed container.
Otherwise, you can also freeze your bounty bars and remove them from the freezer only 30 minutes before eating.
More No-Bake Keto Bars
If you love no-bake keto snacks, you may also want to try my recipes below.
Enjoy the recipe and share a picture of your creation with me on Instagram!
Keto Bounty Bars
Keto bounty bars are raw, healthy homemade candy bars 100% Keto, Sugar-free, and paleo made with only 4 ingredients.
Serving Size:
1
bounty bar
Ingredients
2

cups

Unsweetened Desiccated Coconut

½

cup

Canned Coconut Cream

shake the can before use, full-fat minimum 30% fat, at room temperature (not cold)

⅓

cup

Erythritol

⅓

cup

Coconut Oil

melted, at room temperature
This recipe may contain Amazon or other affiliate links. As an Amazon Associate I earn from qualifying purchases.
Instructions
Cover a 9-inch x 9-inch square pan with parchment paper. Set aside.

In a food processor, add melted coconut oil, desiccated coconut, erythritol, and canned coconut cream (shake can before use!).

Process for at least 1 minute on high-speed. You may have to process 20 seconds, stop, scrape down the bowl and repeat until it comes together into a fine wet coconut batter.

Press the raw dough onto the prepared pan, making sure there is no air left between the batter. I like to press the batter with my hands first and then flatten the surface with a spatula.

Freeze for 10 minutes to firm up. Don't freeze them too long, or they get super hard, and it is difficult to cut them into bars, and they break in pieces easily, still delicious but less pretty as it's more difficult to shape bars.

Remove from the freezer, lift the parchment paper to release the coconut block from the pan easily, and place it on a chopping board.

Use a sharp knife (warm blade under a flame to avoid breaking the bars into pieces!). Cut into 20 rectangles.

If you want, shape each rectangle into your hands to form round borders like the real bounty bars.

Place each formed bounty bar on a plate covered with parchment paper and set it aside in the freezer while you prepare the chocolate coating.

Meanwhile, melt the sugar-free chocolate chips with coconut oil in the microwave. Microwave by 30 seconds bursts until fully melted. Add stevia drops to adjust sweetness to your taste if desired.

Using two forks, dip each coconut bar into the melted chocolate mixture. Return each dipped bar onto the plate covered with parchment paper or on a cooling rack. When all the bars have been covered with chocolate, freeze again for 10-15 minutes to set the chocolate shell.

Store the bounty bars in an airtight container in the fridge for up to 4 weeks or freeze. Defrost 30 minutes before eating.
Want My Kitchen Equipment?
Serving Size:
1
bounty bar
Serving:
1
bounty bar
Calories:
169.7
kcal
(8%)
Carbohydrates:
7.3
g
(2%)
Fiber:
5.6
g
(23%)
Net Carbs:
1.7
g
Protein:
0.7
g
(1%)
Fat:
13.6
g
(21%)
Saturated Fat:
11.2
g
(70%)
Sodium:
3.7
mg
Potassium:
46.2
mg
(1%)
Sugar:
0.8
g
(1%)
Vitamin C:
0.1
mg
Calcium:
2.2
mg
Iron:
0.3
mg
(2%)
Posted In: