Keto Twix Bars (2g Net Carbs)
This is the best easy Keto Twix Bar recipe—a sweet shortbread crust topped with peanut butter caramel, and chocolate, 100% sugar-free and gluten-free.
If you crave your favorite Twix candy bars, these keto Twix bars will fix it with only 2 grams of net carbs per serving.
What Are Keto Twix Bars?
My keto Twix bars are your alternative to the popular store-bought Twix candy bar.
It is made of a shortbread almond flour biscuit topped with peanut butter caramel and dark chocolate.
I'm sharing here two versions of it with either a no-bake shortbread or an oven-baked one.
Why You'll Love This Recipe
This Twix bar recipe is amazing because it is:
Gluten-Free
Keto-Friendly
It tastes like real Twix bars
Dairy-Free
Egg-Free
Vegan
Ready in 15 minutes
How To Make Keto Twix Bars
You won't believe how simple it is to make homemade Twix bars, in particular, this healthy version with no sugar.
All you need are a few simple pantry ingredients. Yes, this recipe is 100% dairy-free, egg-free, and vegan.
Ingredients
You need the following to make these luscious keto caramel bars:
Almond flour or almond meal – prefer unblanched fine almond flour to avoid a gritty texture.
Water
Coconut oil – you can use butter but not for the no-bake version, or the bottom layer will be too soft!
Vanilla
Powdered erythritol – I recommend the powdered version instead of the crystal one to avoid that crunchy feeling in the caramel layer. To make your own powdered erythritol, place 1 cup of erythritol into a high-speed blender and pulse until it's as fine as icing sugar. Measure and use it in this recipe. You can store the homemade powdered erythritol in the pantry in an airtight box for up to 6 months.
Natural Peanut butter or almond butter or tahini – Yes, peanut butter is keto-friendly! Make sure you are using a fresh jar with no added sugar and no added oil. A fresh jar ensures a smooth caramel.
As long as you have all these ingredients, you are ready to make your no-bake keto bars.
Well, you have two options. If you love a crispy shortbread layer that mimics your favorite Twix bars, then I recommend you bake the bottom layer, as seen in my pictures.
Otherwise, for a quick pick-me-up no-bake keto snack, go for the no-bake option!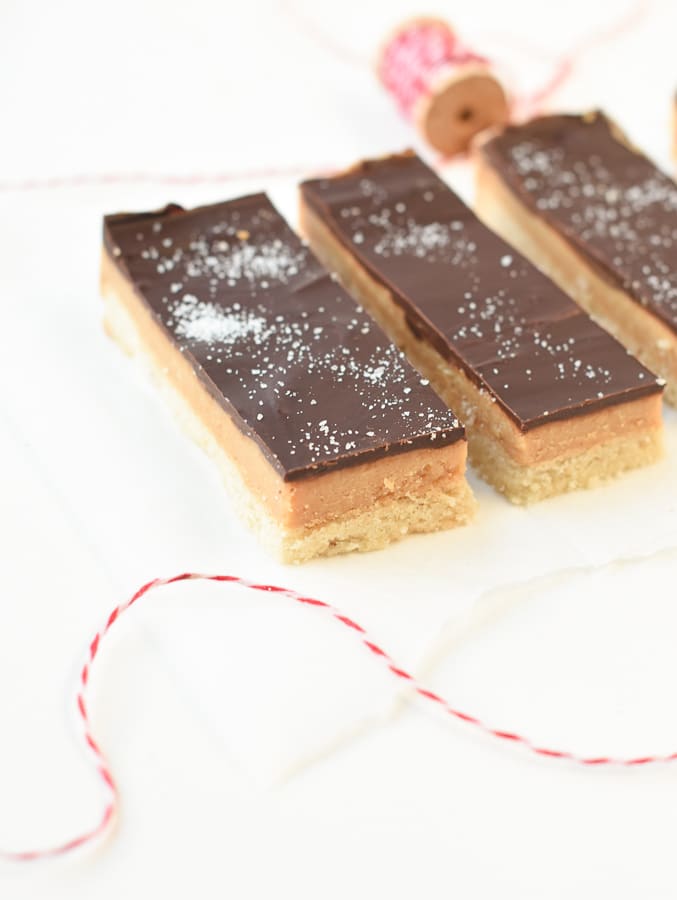 Making The Shortbread Layer
There are two options to make these keto Twix bars. First, you can choose to keep it raw and therefore create a no-bake keto bar. It means none of the layers will be baked at all.
That's my favorite option when I crave a sweet treat as it is faster to make, and the result is great, with a soft, melt-in-your-mouth caramel bar.
Then, if you want to make a crispy shortbread layer like you used to love in store-bought Twix bars.
I recommend baking the bottom layer for 12 minutes at 350°F (180°C) before adding the caramel layer.
Making The Caramel Layer
You can make the caramel layer with many variations. If you love peanut butter flavor, I recommend this option. Peanut butter caramel is a delicious combination.
Otherwise, almond butter, sunflower seed butter, or tahini, also known as sesame seed butter, are also keto-approved.
Making The Chocolate Layer
Sugar-free stevia-sweetened chocolate is the best.
You can choose sugar-free dark chocolate or sugar-free milk chocolate to get even closer to the flavor of store-bought Twix bars.
Also, if you can't find sugar-free stevia chocolate in-store, 85% dark chocolate is keto-friendly as well.
Making No-Bake Twix Bars
If you are opting for the no-bake keto bar option, there are a few things you need to know. You must:
Use coconut oil – don't swap for any other oil or butter, or the layer will fall apart.
Freeze each layer for 10-12 minutes or until set before adding the next layer.
Store the leftover bars in the fridge, especially if it is hot where you are.
Storage Instructions
Since these bars are egg-free and dairy-free, you can keep them in the fridge for up 10 days in an airtight container.
You can also freeze these Twix bars in an airtight container.
Defrost them on the counter at room temperature. It shouldn't take more than 1 hour to fully defrost.
Frequently Asked Questions
How Many Twix Bars Can I Eat?
These Twix bars are very fulfilling keto snacks. One bar, as seen in the picture, contains only 2 grams of net carbs and 178 kcal.
As a general rule, 1 bar is enough to fix your sweet tooth and hunger. If you want to decrease carbs and/or calories, cut the whole recipe into 32 bars instead of 16 bars.
How Can I Cut The Recipe Into 16 Servings?
To make sure you end up with 16 Twix bars of the same size with this recipe, you must use a 7-inch x 11-inch slice pan (or 9-inch x 9-inch brownie pan) and divide the bars as per the pictures below.
If you use a larger pan, you won't have enough batter to cover the pan with each layer.
A smaller pan like a loaf pan would be too small, and you would get fewer bars and therefore more carbs per bar. For fewer carbs, divide the final bars in half again.
It will result in thinner Twix bars similar to the store-bought ones but with only 1 gram of net carbs!
More Keto Snack Recipes
If you love keto snacks with a touch of peanut butter, you will also love these keto snack recipes.
Did you make these keto Twix bars yet? Share a picture with me on Instagram! I love to connect with you.
Homemade Twix Bars
A sweet shortbread crust copycat Twix bar, topped with peanut butter caramel, and chocolate, 100% sugar-free and gluten-free.
Nutrition Snapshot
Want My Kitchen Equipment?
Instructions
If you want a crispy shortbread layer, preheat the oven to 350°F (180°C). However, if you want to make the no-bake Twix bars, you don't need an oven for this recipe.

In a medium-size mixing bowl, stir almond flour, powdered erythritol, and salt.

Add in water, melted coconut, and vanilla. Stir until it comes together, and you can form a dough ball.

Press the dough into the prepared pan until it evenly covers the bottom of the pan. Use a spatula to smoothen the top if desired.

Bake

12

–

15 minutes

at 350°F (180°C) or, for the no-bake recipe, place the pan in the fridge while you prepare the caramel layer.

In another mixing bowl, combine fresh runny peanut butter with melted coconut oil until smooth.

Stir in powdered sugar-free sweetener, vanilla, and caramel stevia drops if desired.

Remove the pan from the oven and cool the crust in the pan

10 minutes

. If you didn't bake the crust, take the pan out of the fridge. Then, pour the caramel on top of the shortbread crust, spreading evenly with a spatula. You don't bake the caramel in this recipe. It will set in the freezer in the next step.

Freeze the pan for

10

–

15 minutes

to set the caramel layer. Whether you bake or no-bake, the crust freezes! It is ready to take out of the freezer when the caramel layer is hard and set.

Meanwhile, melt the sugar-free chocolate and coconut oil in a saucepan under medium heat, or microwave by 30 seconds bursts into a microwave-safe bowl. Stir between each burst and repeat until fully melted.

Remove the pan from the freezer and pour the melted chocolate on top of the caramel layer.

Freeze again for

5

–

8 minutes

or until the chocolate is set.

Remove from the freezer and use the pieces of parchment paper to easily lift out the bar from the pan.

Cut the whole bar into 16 Twix bars. Look at my post above for a picture on how to cut into 16 even bars.

Serve with a pinch of salt on top of the bar if desired.
Storage
Store the bars in the fridge for up 10 days in an airtight container or freeze and defrost for 1 hour before eating on the counter at room temperature.
Notes
Powdered Sugar-free sweetener
This recipe must use powdered sugar-free erythritol or allulose. Powdered sweetener looks like icing sugar in texture, it is not coarse like crystal erythritol, and it won't give a gritty texture to the bars. To make your own, blend on high speed 1 cup of erythritol until it turns into a powder. Then measure the amount required by the recipe and store leftover in an airtight box in the pantry for up to 6 months.
Natural peanut butter swap
Almond butter or sunflower seed butter can be used in the same amount. Make sure they have no sugar added, no oil added.
My Recipe Notes
Nutrition
Serving:
1
Twix bar
Calories:
172.1
kcal
(9%)
Carbohydrates:
3.9
g
(1%)
Fiber:
1.6
g
(7%)
Net Carbs:
2.3
g
Protein:
4.2
g
(8%)
Fat:
16.7
g
(26%)
Saturated Fat:
7.6
g
(48%)
Sodium:
73.5
mg
(3%)
Potassium:
52.3
mg
(1%)
Sugar:
1.2
g
(1%)
Calcium:
25.5
mg
(3%)
Iron:
0.5
mg
(3%)
Posted In: