Keto Blueberry Cobbler with Almond Flour Biscuit
Sweet, baked blueberries topped with a buttery, moist and crispy keto almond flour biscuit.
This keto cobbler recipe contains only 5.6 grams of net carbs per serving. It is gluten-free, dairy-free, and freezes very well for later!
So let's see how to make this easy keto dessert from scratch using fresh or frozen blueberries.
What's a Keto Blueberry Cobbler?
There is a lot of confusion between cobblers and crisp recipes.
While both recipes rely on a baked layer of fruits, their toppings are very different.
A cobbler is topped with a thick buttery biscuit that stays soft in the center and crisps on top.
On the contrary, a crisp or crumble is topped with a dry crunchy crisp that resembles cookie crumble pieces.
Therefore a keto cobbler recipe is a low-carb dessert made of one layer of baked juicy berries and topped with a buttery, moist and crispy biscuit.
The biscuit is usually made of low-carb flour, egg, butter, cream, or milk, but it doesn't involve crunchy nuts like a keto crisp.
How To Make The Best Low-Carb Blueberry Cobbler
A low-carb blueberry cobbler recipe is one of the easiest old-fashioned dessert recipes to serve to your family, with no doubt that everyone will ask for more, even non-keto eaters.
Let me share my tips and tricks to turn this healthy blueberry cobbler recipe into the best keto blueberry cobbler recipe.
Choice of berries
You can make the low-carb blueberry cobbler using fresh or frozen blueberries.
If you are using frozen blueberries, they will release more juice to the recipe, and therefore, it's recommended to add more thickening agents to prevent the biscuit from soaking in the berry juice.
Otherwise, thaw the blueberries before using them in the recipe.
Glazed juicy blueberry layer
The best blueberry cobbler recipes have a juicy, jelly-like layer of blueberry.
To achieve this with no cornstarch as in most classic high-carb cobbler recipes, you need to add a keto thickening agent like whole psyllium husk, xanthan gum, or gelatin.
The purpose of these ingredients is to soak up the liquid from the berries and create a jelly-like texture.
It also prevents a runny, mushy blueberry layer.
Other delicious additions to the blueberry layer are lemon juice and sugar-free crystal sweeteners like erythritol or monk fruit stevia crystal blend.
Soft, fluffy, buttery keto biscuit cobbler
To make the biscuit of your keto cobbler recipe, you need to play with the types of flour.
The combination of coconut flour and almond flour is a must to create a slightly crumbly, moist biscuit.
Ingredients
Let's see all the other ingredients you need to make this almond flour cobbler:
Almond flour – fine almond flour works the best. Almond meal can be used, but the biscuit will be darker and slightly gritty in texture. Read how to choose the best keto flours.
Coconut flour – I highly recommend the combination of both flours for the best taste and texture. If you don't have coconut flour or you want to make an almond flour cobbler, you can try to replace the coconut flour with 3/4 cup of extra almond flour. It results in using 1 1/2 cup of almond flour in this recipe.
Erythritol to sweeten without adding carbs or sugar. Read how to convert keto sweeteners.
Egg – a large egg at room temperature is the best.
Melted butter or melted coconut oil. The biscuit is runnier using melted butter, but both options taste amazing. Butter is a perfectly keto-friendly dairy product.
Unsweetened almond milk or coconut cream or heavy cream – all options work here. Almond milk makes a lighter biscuit, and cream creates a buttery biscuit.
Scooping The Batter
You don't have to prebake the blueberries for this low-carb blueberry cobbler.
First, mix the blueberries with lemon juice, psyllium husk, and erythritol and lay evenly around the pan.
Then, use a cookie scoop to evenly scoop out the cobbler biscuit batter all around the dish.
Finally, use a spoon to roughly flatten and spread each almond flour dollop of biscuit batter onto the fruit.
It is important to spread the biscuit, or the dollops won't fully bake in the center resulting in a very moist and fragile biscuit.
Baking Dish Choice
You can use any glass or ceramic baking dish for baking a cobbler, but not a removable bottom pan or the juice from the berries will run out from the pan.
However, an essential thing to make the best cobbler recipe is to use the same baking dish size recommended.
In fact, if your layer of fruit is thinner due to a larger baking dish, the fruits will bake faster than the top resulting in undercooked toppings and mushy fruits.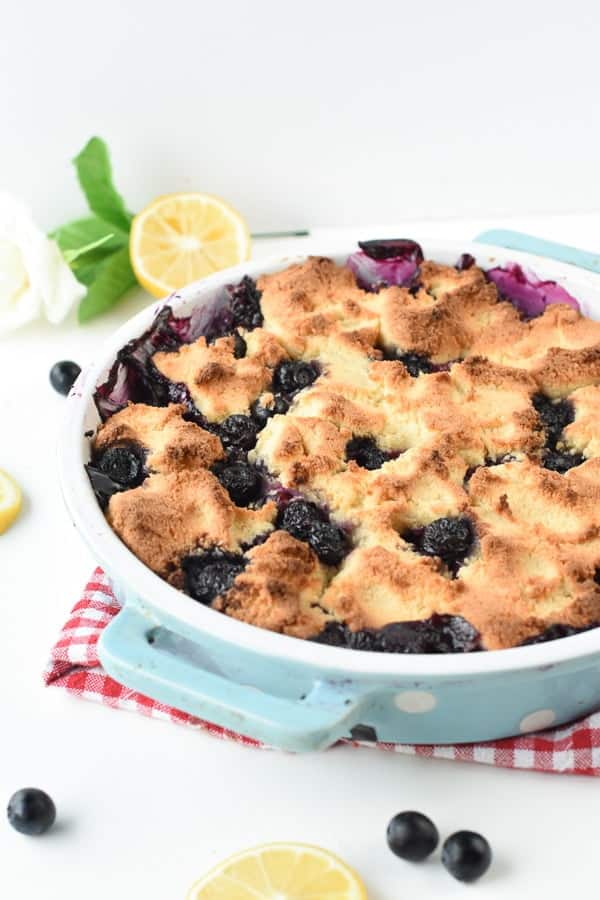 Storage Instructions
You can store the cobbler in the fridge for up to 3 days.
Wrap the top of the baking dish with a piece of plastic wrap.
You can also freeze it in individual containers
Rewarm the cobblers individually for 10-15 minutes at 350°F (180°C) or 25 minutes for a larger portion.
Frequently Asked Questions
Can I freeze the keto cobbler?
Yes, you can freeze your keto cobbler. The best is to freeze the recipe in single-serve portions and individual oven-proof ramekins.
This way, when your sweet craving comes, you can pop the frozen cobbler directly in a warm oven (180°C/350°F) and rewarm for 10-15 minutes.
It will taste as good as a fresh cobbler recipe.
How Much Of The Cobbler Should I Eat?
A reasonable size keto blueberry cobbler is a service of 1/3 cup per person.
While it may sound small, this recipe is highly fulfilling as it contains 12g of fat and 3.4g of fiber per serving.
Plus, keep in mind that you will serve this portion with zero-carb toppings. That's the best part!
I recommend adding 1/3 cup of zero-carb topping to each serving for a cozy, comforting keto dessert.
My favorite zero-carb toppings that I love to sweeten with a touch of vanilla stevia drops are:
Unsweetened whipped cream
Whipped cream cheese
Whipped combo of soft butter and cream cheese
Other delicious keto cobbler toppings that contain few carbs are:
Sugar-free vanilla ice cream
Unsweetened coconut yogurt – check the ingredient list. It should contain only coconut cream and probiotics.
More Keto Blueberry Baking Recipes
Yes, blueberries are keto-friendly fruits, and there are plenty of delicious keto baking recipes you can make with blueberries, including the following:
Have you made this keto blueberry cobbler, and you want to share a picture with me? Connect on Instagram. I read all your messages!
Keto Blueberry Cobbler
This keto blueberry cobbler is a juicy keto blueberry dessert with a moist and crispy buttery crumble biscuit.
Nutrition Snapshot
Want My Kitchen Equipment?
Instructions
Preheat the oven to 350°F (180°C). Grease a 9-inch round pie dish with butter or coconut oil. Don't use a bigger dish, or you won't be able to cover it with the blueberries suggested in this recipe. You can use a smaller baking dish, but the biscuit batter will be thicker, and it will take longer to bake. Set aside.

In a large mixing bowl, combine the fresh (or frozen blueberries) with lemon juice, erythritol, and psyllium husk. Note that you can make this recipe without psyllium husk or xanthan gum, but the filling will be highly juicy and watery, and it will soften the bottom of the cobbler biscuit.

Arrange the blueberries into the baking dish. Set aside on the counter while you are making the cobbler biscuit.

In another mixing bowl, whisk together the almond flour, coconut flour, erythritol, salt, and baking powder.

Stir in beaten egg, melted butter (or coconut oil), and heavy cream until it forms a thick creamy biscuit batter. If your batter is very dry, this may happen if you use almond meal or too much coconut flour add up to 1/4 cup extra cream.

Spoon the batter on most of the blueberries, leaving some holes with no dough to let the baked juicy blueberries go through the biscuit. The trick is to scoop the dough with a cookie scoop all over the pan and then flatten the dough balls with a spoon into a 1 cm (0.4 inch.) thickness to make sure the dough cooks as fast as the blueberries.

Bake for

35-45 minutes

in the center rack of your oven. I recommend covering the baking dish with a piece of foil if the top browns too fast. It is ready when the top of the biscuit is very crispy and blueberries form a jam and bubbles on the side of the baking dish.

Cool

2-3 minutes

then serve in individual bowls, 1/3 cup per person, with a dollop of unsweetened whipped cream on top, or coconut cream or yogurt. These toppings won't add carbs so be generous!
Storage
Store the cobbler for 3 days in the fridge in an airtight container.

Rewarm in a hot oven, 350°F (180°C) for

10 minutes

on top rack, in oven-proof ramekins, until lukewarm and crispy on top. You can switch the oven to broil mode for 1 minute to boost the crispiness.
Notes
To decrease the carbs of this recipe, you can replace the blueberries with:
blackberries
raspberries
or half blueberries/raspberries or half blueberries/blackberries
If you don't have coconut flour, use 1 cup + 1/2 cup almond flour in total to remove the coconut flour from the recipe.
Vegan option: use a flax egg instead of an egg. The texture of your biscuit will be more fragile, and the color will be different, but it will taste terrific. Flax eggs are 1 tablespoon of flax meal that you stir with 3 tablespoons of lukewarm water. Set aside 15 minutes until a gel-like texture forms. Use as an egg replacer in this recipe.
My Recipe Notes
Nutrition
Serving:
1
serving
Calories:
172.3
kcal
(9%)
Carbohydrates:
9
g
(3%)
Fiber:
3.4
g
(14%)
Net Carbs:
5.6
g
Protein:
3.3
g
(7%)
Fat:
14.5
g
(22%)
Saturated Fat:
8.3
g
(52%)
Polyunsaturated Fat:
0.4
g
Monounsaturated Fat:
1.8
g
Trans Fat:
0.1
g
Cholesterol:
32.3
mg
(11%)
Sodium:
122.2
mg
(5%)
Potassium:
41.7
mg
(1%)
Sugar:
3.7
g
(4%)
Vitamin A:
255.5
IU
(5%)
Vitamin B12:
0.1
µg
(2%)
Vitamin C:
3.1
mg
(4%)
Vitamin D:
0.3
µg
(2%)
Calcium:
59.2
mg
(6%)
Iron:
0.6
mg
(3%)
Magnesium:
3.3
mg
(1%)
Zinc:
0.1
mg
(1%)
Posted In: