These Protein Waffles are crispy oat waffles packed with 14 grams of protein per serving and only 166 kcal.
It's an easy, healthy, high-protein breakfast to refuel after a workout.
I have shared so many waffle recipes with you over the past years, but that's the first time I make such easy healthy waffles, perfect to meal prep a week of healthy breakfasts.
It takes under 20 minutes to make a batch and these healthy waffles. Plus, they can be stored in the refrigerator for four days or frozen for up to a month.
What Are Protein Waffles?
Protein waffles are classic waffles made with added protein powder.
They are a healthy recipe packed with proteins, low calories, and low fat, perfect for keeping you full in the morning or refueling muscles after a workout.
Why You Should Add Protein Powder To Waffles
Adding protein powder to waffles is amazing.
It's the best thing because it brings:
Crispy texture to the waffles
It turns waffles into a filling breakfast. I love Liege waffles, but they are not filling. They are sweet and delicious, but you always crave more. This is not happening with these protein waffles. Instead, they keep you full with their 14 grams of protein per waffle.
They taste amazing. Vanilla protein powder tastes delicious in waffles.
Actually, I also like to serve these protein powder waffles as a snack, with my cup of coffee.
It's a tasty treat packed with nutrients and keeps you full up to dinner.
How To Make Protein Waffles
These are blender waffles easy to make in 5 minutes in a high-speed blender or small smoothie blender.
Ingredients
All you need to make high-protein waffles are:
Eggs – Make sure you use large eggs to keep the waffles moist and not dry.
Egg White – These add protein and crispy edges to the waffles.
Plain Greek Yogurt – Yogurt brings even more proteins and keeps the waffle fluffy.
Plant-Based Protein Powder – Always measure the protein powder in a measuring cup, not with the scoop provided in the box. Not all brands have the same scoop volume, leading to different textures in baked goods.
Crystal Sweetener – Use your favorite crystal sweetener such as coconut sugar or any granulated sweetener like allulose.
Baking Powder
Old-Fashioned Rolled Oats – This turns into oat flour in the blender and binds the waffle batter. Oats are high in fiber and vitamins like vitamin E, folate, and iron, and super healthy whole food to add to these waffles.
Salt
Avocado Oil – You can also use melted coconut oil or melted ghee.
Almond Milk or any non-dairy milk you love, including oat milk or soy milk, for an extra protein boost.
Making The Waffle Batter
To make the protein waffle batter, simply pour all ingredients into the jug of a smoothie blender.
Adding the liquid ingredients first matters for a narrow blender like my NutriBullet. For large high-speed blenders like Vitamix, the order doesn't matter much.
Blending Ingredients
Blend on the high-speed setting, stopping a few times to scrape down the sides of the jug, if indeed.
The batter should be fairly liquid with no lumps of oats.
Letting Batter Rest
Set the batter aside in a medium bowl for at least 10 minutes.
During this time, the fiber from the oats and protein from the protein powder absorbs the liquid and thickens the batter.
Cooking Waffles
Warm the waffle maker at a high temperature, then use a cooking spray to oil the waffle plates evenly.
Pour about 1/2 cup of waffle batter – more or less depending on the size of the iron plate.
Close the iron and cook the waffles for 3 minutes, then open and check the texture and color.
The waffles are ready when golden brown and crispy on the edges but still moist in the center.
Don't overbake the protein waffles, as they quickly turn dry.
Then regrease the plate and cook the remaining batter.
Serving
The best way to add more proteins to your waffle is to top it with high-protein food like:
A Dollop of Plain Greek Yogurt
Drizzle Nut Butter like peanut butter, almond butter, or seed butter like sunflower seed butter.
Sprinkle of Hemp Seeds
But also, for flavor and to add some freshness to the waffles, add some fruits!
Banana Slices
Fresh Berries like strawberries, blueberries, raspberries, and blackberries.
Syrup like maple syrup or sugar-free syrup for a low-calorie option.
Flavor Variations
You can use this protein waffle recipe and play with flavors by adding or swapping some of the below ingredients:
Stir 1/4 cup of your favorite chocolate chips in the batter.
Use chocolate protein powder for cocoa-flavored waffles.
Add 1/4 teaspoon of vanilla extract. Watch out! Some protein powders have a strong vanilla flavor, so don't add too much extract or the vanilla flavor is overpowering.
Storage & Meal Prep
These waffles can be stored for up to 4 or 5 days in an airtight container in the refrigerator.
I also like to make a triple batch of them and freeze the waffles individually in zip-lock bags. They are truly the perfect freezer-friendly breakfast for busy mornings on a healthy lifestyle.
The day before, I pop the waffle on the kitchen counter and they are ready for breakfast the next day.
There are a few ways you can rewarm waffles, depending on the texture you are after.
Rewarming Waffles
Microwave – This is not my favorite option, but this softens the waffles and warms them up in less than 30 seconds.
Toaster Oven or oven set on 300°F (150°C). Bake them on a tray for a few minutes until crispy.
Bread Toaster – Pop the waffles in the toaster as if the waffle was a slice of bread. This makes the waffles ultra-crispy.
Air-Fryer Waffles are great, but they dry out quickly! Rewarm them for only 1 minute at 350°F (180°C).
Allergy Swaps
I listed below some substitution ideas to use if you are allergic to some of the ingredients.
Dairy-Free – You can use any yogurt in this recipe, plain soy yogurt, or plain oat yogurt are great dairy-free options.
Egg-Free – I didn't try using egg replacers in this recipe yet, and I am not sure they would work without changing the ratio of oats.
Gluten-Free – Pick gluten-free oats and gluten-free baking powder.
Frequently Asked Questions
Find below my answers to your common questions about this recipe.
Can I Make Protein Pancakes With This Protein Waffle Recipe?
The batter is fairly liquid and will overspread as pancakes, so it needs to be tuned.
I recommend blending an extra 1/4 cup of oats in the recipe to make protein pancakes.
Also, increase the baking powder to 2 teaspoons for an ultra-fluffy texture.
Do High-Protein Waffles Freeze Well?
Yes, these protein waffles can be frozen for up to one month in zip-lock bags.
Thaw at room temperature the day before.
How Do You Make Protein Waffles Less Dry?
The reason why protein waffles are dry is because protein powder is highly liquid absorbent.
To avoid dry waffles, measure the protein powder accurately, don't overpack in the cup, or you will add too much.
Also, use protein powder with clean, minimal ingredients – mine has three simple ingredients: pea protein powder, vanilla extract, and natural sweetener.
If you pick protein powders with many ingredients, you have more chance to impact the waffle texture.
Finally, don't overcook the waffles. Take them out when they turn golden brown, but the dough is still moist.
How Do You Make Healthy Protein Waffles?
Pick a clean protein powder with no more than five ingredients to avoid unhealthy additives.
Use high-fiber flour like oats and refined sugar-free sweeteners.
More High-Protein Recipes
Below are some more protein powder recipes for you to try.
Have you tried these super easy protein waffle recipes? Share a comment or review below to let me know how much you love them.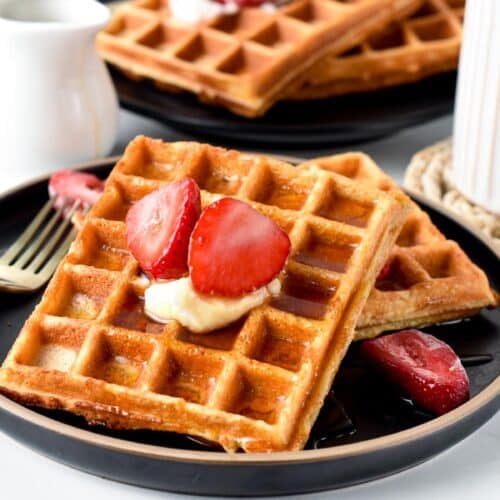 Protein Waffles
These easy Protein Waffles are crispy oat waffles packed with 14 grams of proteins per serving for a fulfilling, healthy breakfast.
Nutrition Snapshot
Want My Kitchen Equipment?
Instructions
In a high-speed blender, add all ingredients at once.

Blend all the ingredients on medium speed until the batter is smooth.

Set aside for 10 minutes in a mixing bowl while you warm the waffle maker.

Use cooking oil spray to oil the plate of the waffle iron generously.

Fill the iron with the batter, close it, and cook the waffles for 3 minutes or until they just turn golden brown but no longer or they get dry.

Serve warm with extra maple syrup and Greek yogurt for more protein.

Cook the remaining batter following the same steps. Always wait for the iron to be piping hot and grease the plate very well to prevent the waffles from sticking to it.
Storage
Store leftovers in the fridge in a sealed container for up to 3 days or freeze them for up to 1 month.

Rewarm in a bread toaster or warm waffle iron.
My Recipe Notes
Nutrition
Serving:
1
waffle
Calories:
166.5
kcal
(8%)
Carbohydrates:
10.4
g
(3%)
Fiber:
1
g
(4%)
Net Carbs:
9.4
g
Protein:
14
g
(28%)
Fat:
7.7
g
(12%)
Saturated Fat:
1.9
g
(12%)
Polyunsaturated Fat:
1.2
g
Monounsaturated Fat:
3.6
g
Trans Fat:
0.01
g
Cholesterol:
113.1
mg
(38%)
Sodium:
340.7
mg
(15%)
Potassium:
121.8
mg
(3%)
Sugar:
1.8
g
(2%)
Vitamin A:
151.4
IU
(3%)
Vitamin B12:
0.2
µg
(3%)
Vitamin D:
0.5
µg
(3%)
Calcium:
162.4
mg
(16%)
Iron:
1
mg
(6%)
Magnesium:
21.8
mg
(5%)
Zinc:
0.7
mg
(5%)
Posted In: