Keto lava cake are quick keto dessert baked in single serve ramekin with a molten chocolate center. Plus, they are gluten free lava cake, paleo friendly and contains only 1 gram net carb per serve.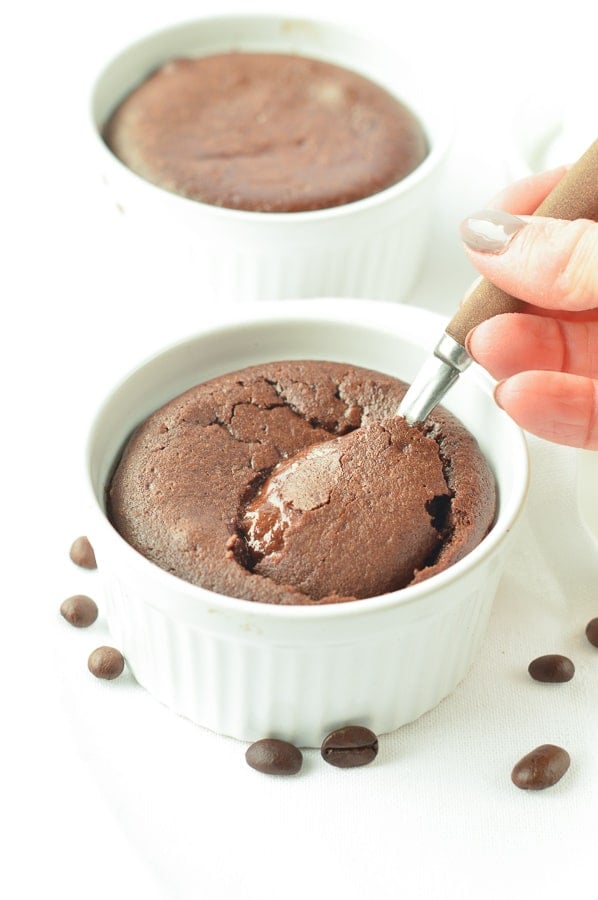 What is chocolate lava cake ?
Chocolate lava cake also known as molten cake are uncooked single serve chocolate cake resulting in a liquid chocolate center. It is a delicious easy desserts to serve lukewarm with a scoop of vanilla ice cream on side.
Keto lava cake 3 ways, runny, molten or gooey
There is many ways to enjoy those low carb lava cake. In fact, you can really play with the texture by adjusting the baking time of your recipe. Let's see the different baking time options to choose from to achieve your favorite lava cake texture.
Runny lava cake – for those who love a liquid runny chocolate lava cake. This option required less baking, about 9 minutes. You want the top of the cake to be set but jiggly and soft to keep a liquid center. I recommend to serve this recipe into the ramekin, don't flip over a plate or the cake is very fragile and may break.
Molten lava cake – this one is less runny than the previous one. You need to bake the lava cakes for about 10 minutes, until the borders and top of cake is set, crackle less jiggly.
Gooey lava cake – this texture is close to a moist chocolate cake, the center is not liquid but very moist and it make this easier to serve on a plate. You need to bake the lava cakes between 11-12 minutes to reach this texture.

Keto lava cake a quick keto dessert
Keto lava cake is the perfect quick keto dessert to serve to your family and friends. Whether your on keto diet or not everyone will love those molten cake with a delicious liquid chocolate center. All you need to make those simple keto desserts are few ingredients:
Sugar free chocolate – I love to use sugar-free dark chocolate sweetened with stevia. If you can't find this where you live you can use 99% dark chocolate or 85% dark chocolate. This last option is sweeter and contains slightly more sugar and carbs er serve but still keto friendly in small amount
Sugar free crystal sweetener – erythritol, Monk fruit stevia blend or xylitol
Butter or dairy free butter
Eggs – regular size
Almond flour – I used fine almond flour but almond meal will work as well
Ground espresso – this is optional but love the flavor of this into my chocolate lava cake
Vanilla extract or vanilla essence

How to make the best chocolate lava cake ?
As I mentioned what make a lava cake perfect is the liquid chocolate center. In order to achieve that you must under cook the cake. My tips are:
Ramekin size – make sure all your ramekin have all the same size I recommend 4 oz ramekin per the recipe. If the ramekin is wider you will result with a thinner layer of batter in each ramekins and the cakes will cook faster.
Filling – fill each ramekin with same amount of batter. You bake the lava cake all at once, if one have less batter it will cook faster
Check the baking process – for a ramekin of my size, it should take 10 to 12 minutes to achieve the perfect liquid center. I recommend you check the lava cake after 10 minutes. It is ready when the center jiggle but the top is set, a crust has form. Also, the sides of the cake, at least 1 m is firm and cooked.

How to store your gluten free lava cake ?
This recipe serve 4 keto lava cake so you probably what to do if you want only one lava cake? There is 2 options:
Store in the fridge the uncooked lava cake – and bake the next day, it will be a bit longer to bake as it is straight out of the fridge
Bake longer to set the center and freeze – it will make delicious chocolate cake that you can freeze or store for 3 days at room temperature

More quick keto desserts
If you love simple keto desserts recipe I have got plenty others to try. You may love my
xoxo Carine,
Keto lava cake
KETO LAVA CAKE an easy recipe in single ramekins with only 0.8 g net carb per serve.
4 people
Print The Recipe
3 ounces 99 % dark chocolate or sugar-free chocolate chips or any chocolate >85% cocoa (85 g)
3 ounces Butter , cubed, out of fridge for 1 hour, or dairy free butter (85 g)
3 regular Egg
1/3 cup Erythritol eryrthritol or Monk fruit or xylitol (only 1/4 cup if stevia sweetened chocolate used!)
1 teaspoon Vanilla essence
1/2 teaspoon ground espresso
3 tablespoon Almond Flour
Preheat oven to 180 C (350F). Grease 4 little ramekin (I used 4 oz ramekin) with a bit of butter. Set aside.

In a medium saucepan, place cubed butter and 99% dark chocolate (or any dark chocolate with more than 85%). Melt on low heat, stirring all the time to avoid the chocolate to burn. You can also melt the chocolate "au bain marie", this method consist of placing the saucepan over a bowl of boiling water to melt it gently. When the chocolate and butter are melted remove the saucepan from heat and set aside.

In a small mixing bowl, using an electric whisk, whisk the eggs and sugar-free crystal sweetener on high speed for 1 minute until foamy, fluffy and lighter in color. Note: use 1/3 cup sweetener if your chocolate is unsweetened or 99%, otherwise if you are using stevia sweetened chocolate or 85% cocoa chocolate, use only 1/4 cup sugar-free crystal sweetener.

Stir in (don't whisk!) the vanilla, ground espresso and almond flour.

Gently pour the melted chocolate in the previous egg mixture, stirring at the same time to form the cake batter. Make sure the melted chocolate is not burning hot or it 'cook' the eggs but if you follow the low-heat technique above that will not be a problem.

Fill the 4 ramekins evenly to make sure they bake at the same speed.

Place the ramekin onto a baking tray and bring the tray into the oven.

Bake for 9-12 minutes. The trick to create a runny, lava center is to under cooked the cake. After 9 minutes, you should have a runny lava cake, after 10 minutes a molten lava cake and after 12 minutes a gooey chocolate cake. In any case you can eat the cake but for a lava center you must take off from the oven when the center of the cake jiggle and the border are slightly set. Simply practice to learn how long you need to bake your lava cake to reach your favorite texture.

Cool 2-3 minutes in the ramekin before serving - note that the cake keep baking slightly when it cool down as the ramekin is hot. That is why you must remove the lava cake from the oven when the center jiggle to enjoy a runny lava cake.

Eat directly in the ramekin with a scoop of sugar free vanilla ice cream on side or up side down on a plate (careful the cake may break if center is very runny!)
Net carbs per lava cake : 1.2 gram using sugar free stevia sweetened chocolate This recipe serve 4 lava cake if you want to eat only 2 of them you can store the uncooked lava cake in the fridge for 24 hours and bake the next day. Otherwise you can bake the 2 extra lava cake longer, they will make delicious keto chocolate cake that you can store for 4 days or freeze and eat for dessert, snack or breakfast. Sweetener amount : if you are using 99% dark chocolate or unsweetened dark chocolate make sure you add 1/3 cup sugar free crystal sweetener. If you use sugar free stevia sweetened chocolate or 85% dark chocolate, those are already sweet so 1/4 cup sweetener is enough !
Nutrition Facts
Keto lava cake
Amount Per Serving (1 lava cake)
Calories 327 Calories from Fat 278
% Daily Value*
Fat 30.9g48%
Carbohydrates 7.8g3%
Fiber 6.6g28%
Sugar 0.4g0%
Protein 7.1g14%
Vitamin A 23IU0%
Net Carbs 1.2g
* Percent Daily Values are based on a 2000 calorie diet.