Keto pumpkin mousse is an easy keto dessert with the most delicious sweet, smooth, light texture. You will love the autumnal flavor of this healthy keto dessert with tiny bubbles of whipped cream melting in your mouth.
What is more comforting than a soft, sweet, and light keto pumpkin mousse to celebrate the fall season? I know, I live in New Zealand, and it is Spring here.
But I know I am kind of an exception, living on the other side of the world. So fall recipes it is to celebrate with all of you this beautiful time of the year.
Is pumpkin keto?
Yes, pumpkin is one of the keto-friendly vegetables. It is not the lowest carb vegetable but let say that on a ranking from A to F – F being the worst, it is clearly a B.
This means that 1 cup of pumpkin only contains 3.8 g net carbs. So if you want to indulge in keto pumpkin desserts during the fall season, it is fine! Keep things in moderation. Of course, desserts are still desserts and won't replace a meal.
How to make a smooth, light keto pumpkin mousse?
The secret of a smooth, light mousse with tiny bubbles is a perfect whipped cream. Scroll down to read more about how to make the perfect whipped cream every time. But first, let's see the ingredients you need to make the most delicious keto pumpkin mousse.
Pumpkin puree – I am using canned pumpkin puree, 100% natural, with no additives. You can make your own puree too if you like but make sure you steam the vegetable to prevent the puree from being too moist. You want a compact, thick pumpkin puree for this recipe, or the mousse will be too runny. Learn how to make your own pumpkin puree.
Heavy cream – you must have at least 35% fat from milk in the cream. I noticed as a traveler that heavy cream is not called the same in every country. For example, heavy cream is known as pure cream in New Zealand or creme liquide in France. So look at the percentage of milk fat on the ingredients list to make sure you pick the right one.
Sugar-free crystal sweetener – Monk fruit or erythritol or xylitol.
Cream cheese – full fat and cold straight out from the fridge for best results.
Pumpkin spices – I am using a ready-made combo of pumpkin spices, no added sugar from the store, but you can make your own, see recipe card below.

How to make whipped cream?
The success of a tasty, smooth, light mousse is a perfectly whipped cream.
First, make sure you use an electric beater. Next, place the beater attachment and mixing bowl in the freezer for 15 minutes before you start.
ⓧ
Are you new to Keto?
Receive my Keto Quick Start email series to learn all about the Keto diet and kick start your keto journey!
I love to use a glass bowl for the best result. Also, make sure you use full-fat heavy cream straight out from the fridge.
Finally, measure the cream and start whipping at medium speed for 2 minutes until frothy, then increase to high speed for 3-4 more minutes.
The cream is ready when it forms solid trails and a soft stiff peak. Don't over whisk, or it gets very firm. I recommend 5-6 minutes in total for this keto pumpkin mousse.
Can I use heavy whipping cream?
You can use both in this recipe, heavy cream or heavy whipped cream. They are both the same thing, containing at least 36% of milk fat. I do prefer heavy cream as it is easier to whip and holds better if you intend to store the mousse for few days in the fridge.

Serve the mousse with my keto candied pecan recipe.
More keto pumpkin recipe
You may also want to try my other keto pumpkin recipe, perfect for bringing to your Thanksgiving table.
xoxo Carine
Recipe Card
Keto Pumpkin Mousse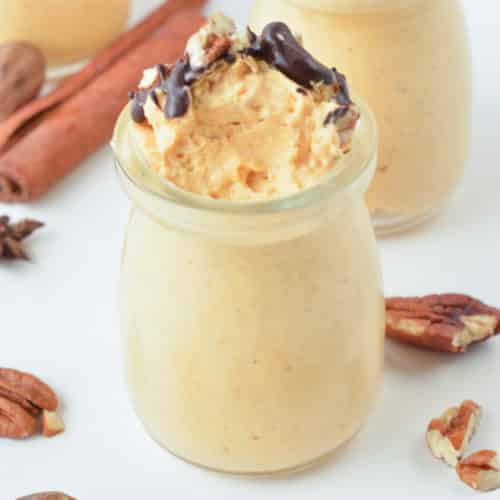 Easy Keto Pumpkin Mousse a healthy cheesecake mousse, low-carb, and sugar-free.
Instructions
Make sure you store your whipping bowl and whisk attachment in the freezer for 15 minutes before you start whipping the heavy cream.

Bring the bowl and tools out of the freezer. Measure and pour the heavy cream into the cold bowl.

Whisk on medium speed for 2 minutes, then increase on high speed and whisk for 2-3 more minutes. It's ready when a firm stiff peak forms. If you like your mousse softer/lighter you can stop when the cream forms a soft stiff peak otherwise beat longer until firm. Set aside in the fridge.

In another bowl, whisk on high speed the cream cheese, pumpkin puree, sugar-free powder sweetener, vanilla extract and pumpkin spices. It shouldn't take more than 2 minutes to get a thick consistent cream.

Gently fold half of the pumpkin puree mixture into the whipped heavy cream and combine to incorporate. Add the rest of the pumpkin puree mixture and keep stirring to incorporate and create a consistent mousse. See video for tips.

Cover the bowl with a plate or a silicone lid, refrigerate the mousse into the bowl for at least 4 hours or overnight.
How to serve keto pumpkin mousse?
Serve in a glass jar, alternate layers of mousse and pecan crumble or add a drizzle of melted sugar-free chocolate on top of the mousse and the sugar-free candied pecan nuts. Use a piping bag to easily swirl the mousse into jars.
How to make 2 teaspoons of homemade pumpkin spices mix?
Combine 1 teaspoon cinnamon + 1/4 teaspoon ground cloves + 1/4 teaspoon ground nutmeg, + 1/4 teaspoon ginger.
My Recipe Notes
Tools
Starting Keto
What Is Keto Diet?
Macro Calculator
Sweetener Converter
Keto Meal Plans
Keto Recipe Ebooks
Intermittent Fasting
Keto Fruits
Keto Vegetables
Keto FLours
Fighting Keto Flu
Keto Sweeteners
Nutrition Facts
Keto Pumpkin Mousse
Amount Per Serving (1 serving)
Calories 250
Calories from Fat 226
% Daily Value*
Fat 25.1g39%
Carbohydrates 4.5g2%
Protein 3g6%
Net Carbs 3.8g
* Percent Daily Values are based on a 2000 calorie diet.