Keto Candied Pecans (Oven and Stove Options)
These keto candied pecans are the best sweet, crunchy topping for Fall keto salads or the perfect keto pecan candy to snack on with only 0.6 grams of net carbs per serving!
Plus, all you need to make the best keto candied pecans are 5 ingredients, so keep reading to learn more!
Are Candied Pecans Keto?
No, classic candied pecans are coated with sugar, as a result, a typical serving contains as much as 10 grams of net carbs.
Since this is too much for a typical keto diet, it's necessary to revisit the recipe with keto-friendly ingredients if you want to enjoy the classic snack.
How To Make Keto Candied Pecans
The best way to make candied nuts – nuts coated with a sweet crystallized crunchy layer – is to use your oven.
While stove recipes are great, they never achieve the same level of crispiness, and you won't have a thick, crunchy layer.
Ingredients
You need 5 simple ingredients to make these candied pecan pralines:
Egg white – you must use eggs for the oven-baked candied pecan recipe. You can make this recipe egg-free only if you cook the nuts on the stove. Eggs are keto-friendly ingredients.
Water
Vanilla Extract
Erythritol – don't use xylitol. It doesn't firm up and make food crunchy as erythritol does. I recommend brands made of pure erythritol (like Swerve) or a combo of Monk fruit and erythritol. Feel free to use white or brown crystal sweeteners. Read my review of keto-friendly sweeteners to learn more!
Cinnamon – or pumpkin spices.
Sea salt
Preparing The Nuts
The first step to making candied pecan in your oven is to coat each nut with a layer of egg white and water mixture.
In fact, this mix helps the sugar mixture, made of sugar-free keto sweetener and spices, to stick to the nuts in the next step.
Plus, egg whites crisp and create a thick candy layer around the nuts that makes them even more delicious.
Sugar-free Coating
Then, pour the sugar-free mixture over the nuts, and all you need is less than 2 minutes of stirring to completely coat the nuts.
The sugar-free mix must use erythritol or a combo of erythritol and monk fruit sweetener as a keto low-carb sweetener.
In fact, xylitol doesn't crisp or firm up after baking, and it won't create crunchy pecan nuts.
Oven Baking Pecan Nuts
First, prepare a large baking sheet covered with parchment paper. This is important to prevent the candied pecans from sticking to the tray.
You can also melt some butter and brush it onto the paper to avoid having the nuts stick too much, but it's unnecessary.
Then, I recommend always baking the nuts at low temperatures to preserve their nutrients. It means that the best oven temperature to bake pecans is 250°F (130°C).
Plus, keto candied pecans use Monk fruit or erythritol. These sugar-free sweeteners have a lower melting point than sugar.
In fact, erythritol or monk fruit erythritol blends melt at 250°F (120°C) while sugar melts at 350°F (180°C).
Therefore, to avoid the sugar-free sweetener turning brown, it is better to candy the pecans at a low temperature.
Finally, always stir the nuts constantly, every 10 minutes during the baking process, to roast them evenly on each side.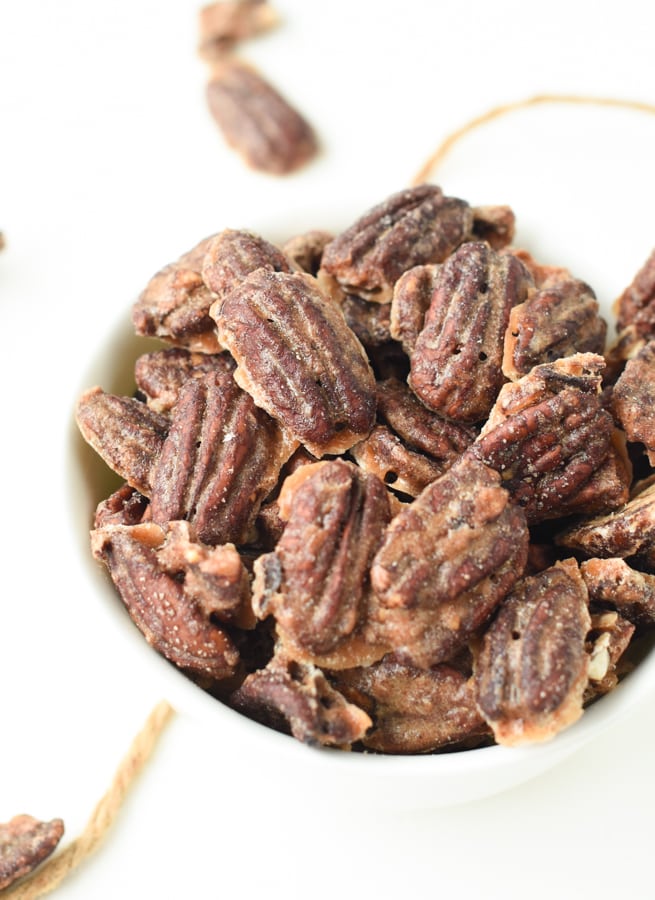 Stove method
In a large non-stick pan, over medium-high heat, add sugar-free crystal sweetener and water.
Stir constantly until the erythritol is melted and the liquid forms lots of bubbles in the center of the pan.
If you have a candy thermometer at home, you want to reach 320°F to 340°F (160°C to 180°C).
This is the temperature at which the sugar-free caramel forms.
Then, pour the pecan into the hot caramel along with cinnamon and sea salt. Reduce to low heat and stir the pecan to coat.
Transfer the coated pecan onto a large baking sheet or plate covered with parchment paper. Spread with a spatula in a single layer and cool completely.
The caramel layer around the nuts will get crunchy after 30 minutes.
This method creates clusters of pecan nuts, with a thin layer of caramel between each.
You can simply break them apart to release the candied nuts individually or serve them as a cluster.
Cooling down
The nuts will crunch after they are completely cooled down.
Remove the tray from the oven and keep the nuts on the baking tray until completely cool.
Otherwise, for faster cooling down, transfer the nuts to a cold metallic baking sheet.
Storing Candied Pecans
These keto pecan pralines must be stored in an airtight container, preferably a metallic or glass container. In fact, plastic containers soften the nuts and they won't store as long.
Keep the container at room temperature and store for up to 3 weeks. You can also freeze the nuts and thaw them for 1 hour before at room temperature.
Stove vs. Oven Options
Both methods are great but deliver very different results in terms of taste, texture, and storage.
Pick the recipe that works the best for you. My preference is the oven version.
Oven-Candied Pecans Have
a highly crunchy sugar coating and nuts – they taste like praline candies.
a thick, white, matte, crystallized sugar coating.
keep their crunch up to 3 weeks.
take at least 1 hour to prepare – including cooling down.
Stove-Candied Pecans Have
a thin layer of caramel.
a shiny, sweet, lovely aspect but are not very crunchy.
store up to 3 weeks, but the nuts soften after a few days.
ready in less than 30 minutes.
So if you love crunchy praline candies, use the oven option.
But if you prefer a slightly crunchy nut or are allergic to eggs or vegan, use the stove option.
Vegan Pecan Candy Option
The original candied pecan recipe above is not vegan since it is using egg-white.
However, there's another way to make candied nuts without eggs under the stove.
This is not my favorite option because the nuts won't crunch as much, and the layer will be more like a thin shiny caramel rather than a crystallized candy crunchy layer.
But since many of you are allergic to eggs or follow a vegan keto diet, I am sharing the vegan keto recipe in this post for you too.
Frequently Asked Questions
When Can I Eat Candied Pecans?
These keto-friendly candied pecans are perfect for the holiday season.
You can use them on top of keto salad, casserole, or desserts like my keto pumpkin mousse.
How Many Carbs Are In Keto Candied Pecans?
These Keto Candied Pecans contain only 0.6 grams of net carbs per serving.
More Keto Snack Recipes
If you enjoy easy keto snacks, you'll love these:
Have you made these gluten-free keto candied pecan yet? Share a picture of your creation with me on Instagram and leave me your comments below! I love to read your feedback on my recipes.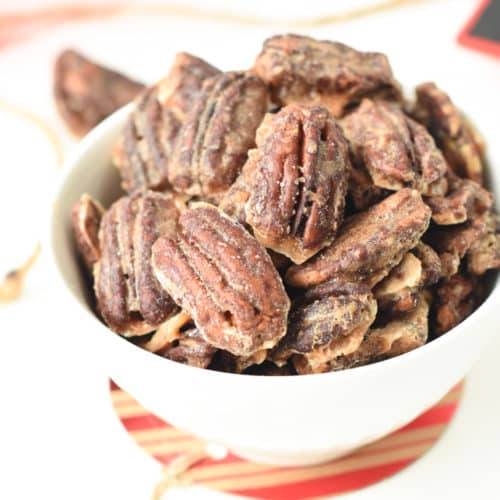 Keto Candied Pecans
A crunchy sweet keto snacks for candy lovers or a simple add-on to keto salads or desserts.
Yield:
servings (2 tablespoons)
Serving Size:
1
serve (2 tablespoons)
Nutrition Snapshot
Want My Kitchen Equipment?
Ingredients
Keto candied pecan – oven method, crunchy pralines
Vegan keto pecan candy – stove recipe – caramelized nuts, low crunch
Instructions
Oven recipe – recommended for crunchy pecan pralines!
Preheat oven to 250°F (130°C). Line a large baking sheet with parchment paper. Set aside.

In a large mixing bowl, beat egg white with water and vanilla vigorously until frothy.

In another bowl, combine erythritol with cinnamon and salt. Set aside

Stir the pecan halves into the egg mixture and toss until evenly coated.

Pour the erythritol mixture onto the pecan and toss again to coat evenly.

Spread the coated pecans into a single layer onto the prepared baking sheet.

Bake for 40 minutes, stirring the pecans every 10 minutes.

Remove from the oven and cool completely on the baking sheet before storing or eating.
Stove recipe
In a skillet, over medium-high heat combine erythritol, water, vanilla, salt, and cinnamon. Cook, stirring constantly until the liquid boils, gets brown and reaches 320°F-340°F (160°C-180°C). You can use a candy thermometer to check the temperature.

Reduce to low heat, stir in the pecan until evenly coated with the sugar-free caramel.

Remove from heat and spread the pecan onto a flat surface (plate or benchtop) covered with a large piece of parchment paper. Don't let the pecans overlap.

Cool completely, about 20 minutes.
Storage and freezing
Store in a glass mason jar or metallic airtight container. Avoid plastic containers. They soften the nuts. Store for up to 3 weeks in the sealed container in the pantry.

It can be frozen in an airtight container for up to 3 months. Defrost at room temperature on a plate before serving.

Serve with salad, dessert, pancakes, or as a snack. One serving is 2 tablespoons.
Notes
Nutrition panel is for the keto oven version using egg white. Net carbs are for 2 tablespoons.
My Recipe Notes
Nutrition
Serving Size:
1
serve (2 tablespoons)
Yield:
servings (2 tablespoons)
Serving:
1
serve (2 tablespoons)
Calories:
86.9
kcal
(4%)
Carbohydrates:
1.8
g
(1%)
Fiber:
1.2
g
(5%)
Net Carbs:
0.6
g
Protein:
1.3
g
(3%)
Fat:
8.9
g
(14%)
Saturated Fat:
0.8
g
(5%)
Sodium:
3.1
mg
Potassium:
53.7
mg
(2%)
Sugar:
0.5
g
(1%)
Vitamin A:
6.9
IU
Vitamin C:
0.1
mg
Calcium:
8.7
mg
(1%)
Iron:
0.3
mg
(2%)
Posted In: