These keto coconut popsicles are creamy coconut milk keto ice cream made with only 5 ingredients. They are creamy, no-churn ice-cream with a secret addition of MCT oil that prevents the ice cream from forming crystals! Keep reading to learn how to make homemade keto ice cream in 15 minutes.
Coconut lovers this recipe is for you! A creamy coconut frozen delight with only 1g net carb per serve and dairy free. Isn't that a dream to have ice cream popsicles on a keto diet? So, let me share with you my tips to make a creamy no-churn ice cream with few carbs, no sugar and no crystals!
What are keto ice pops?
Keto popsicles are made with homemade low-carb ice cream that is frozen into a popsicle shape using pops mold. They are sugar-free, naturally sweetened with a keto sugar-free sweetener like erythritol, stevia or allulose and contain a high percentage of fat to help you reach your fat macro while enjoying a sweet snack.
How to make creamy coconut popsicles?
Coconut popsicles are an easy 5-ingredient recipe ready in 10 minutes. Well, minus the freezing part of course that will probably take 2 hours in a popsicle mold of 80 ml (1/3 cup) as seen on the picture below. This said, the ingredients and method to make your own keto coconut ice cream are pretty basics.
You need:
Canned coconut milk – not the beverage kind that contains added thickener or water. I recommend canned coconut milk with no emulsifier, organic and no GMO.
Canned coconut cream – it is very similar to the ingredient above except it contains more fat and more carbs too! That's why you need a higher ratio of canned coconut milk than coconut cream in this ice cream recipe, to lower the carbs and achieve a 1g net carb keto popsicle!
Erythitol – or monk fruit erythritol blend or allulose.
MCT oil or coconut oil – you may have tried no-churn ice cream recipes before and noticed that they form crystals. MCT oil is the secret ingredient to stabilize homemade keto ice cream and prevent crytallizaton.
Unsweetened shredded coconut or coconut flakes – this adds some tiny pieces of coconut into the ice cream, it is simply delicious !

Blend the mixture
You need to blend your ice cream ingredients, this is a very important process to make sure that all the ingredients come together, and don't separate in layers with oil on top and milk at the bottom. Also, it will break the shredded coconut in pieces resulting in tiny coconut bites that are delicious in your popsicles.
Freeze popsicle in sealed, individual molds
It is important to use a popsicle stand that is sealed on top. This prevents the top of the popsicles from forming crystals too. In fact, if the popsicle gets in contact with air, it forms little icy crystals that are not creamy. Next, make sure that the popsicle stand you are using has individual molds. It means that you can release each popsicle one by one and you don't have to defrost all the popsicles from their stand,  when you crave for an ice cream. Believe me, there are lots of popsicle stands that attach all the popsicles molds together and this is very annoying to release only one ice cream!
Storage of your keto popsicles
Always release one ice cream at a time, just before serving. It means that you store the ice cream popsicles in their mold and you don't release them from the mold all at once and store in an airtight box. The reason you shouldn't transfer them into an airtight box is to prevent them from hardening, losing creaminess and forming crystal on the outer layer. So, always release one popsicle from its mold at a time. To do so, place your mold under hot water, hold the mold in one hand and pinch the popsicle stick with your other hand (thumb and index) and pull out the popsicle from the mold to release your ice cream.
Decorating the popsicles
To decorate your coconut popsicles as seen in my picture, dip the top of the popsicle into lukewarm water for 2 seconds and then quickly dip into toasted coconut. Otherwise, if you want to make a chocolate shell around the popsicle, melt 4 squares of sugar-free chocolate with 1/2 teaspoon of MCT oil and dip the frozen popsicle into the melted chocolate.
How to prevent crystals in no-churn ice cream?
First, the trick to avoid crystals in no-churn ice cream is to add a stabilizer. Usually, most stabilizers are sugar loaded and not keto approved like corn syrup, honey or sugar. So the trick to make keto ice cream with no crystal is to add MCT oil as a stabilizer. Another option is coconut oil or even gelatin powder. Next, homemade ice cream remains softer when you store it in a small container that doesn't require scooping. That is why making popsicle is the best way to keep ice crystals from forming.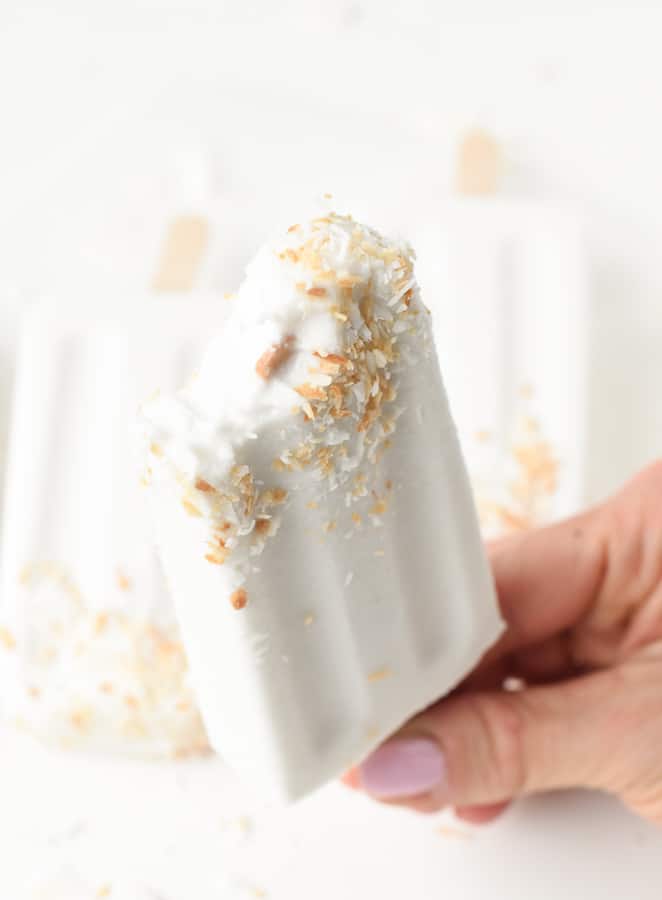 Can I churn this ice cream recipe?
Yes, you can use this keto coconut ice cream recipe to put it into an ice cream maker. It will form a creamy coconut ice cream in about 30 minutes, depending on your ice cream maker. Simply add the batter into your frozen ice cream maker bowl and follow the manufacturer instructions to churn the keto ice cream. Store in an shallow, sealed ice cream container to avoid crystal
More keto coconut dessert recipes
Coconut lovers I have plenty of delicious coconut dessert for you to try !
Keto coconut cake
A moist coconut cake for any occasion, 100% gluten-free, dairy-free and sugar-free
Net Carbs:
3
g
per serving | Serves
12
15 minutes
Check out this recipe
Low carb Bounty Bars
Low carb bounty bars are raw, healthy homemade candy bars 100% Keto, Sugar-free and paleo made with only 4 ingredients. 
Net Carbs:
1.7
g
per serving | Serves
20
10 minutes
Check out this recipe
Made this keto coconut ice cream popsicles and want to share your feedback, question or a picture of your creation with me? Join me in my Facebook Support Group.  I see you there.
XOXO Carine
Keto Coconut Popsicles
Keto Coconut Popsicles are creamy frozen fat bombs to snack on with only 1g net carbs per serve
8 popsicles (1/3 cup each)
Print The Recipe
Prepare a 8 cavity Ice pop mold mine are 1/3 cup (80ml) capacity each, and each popsicle mold can be removed individually for easier single serve snack. If your pop mold has 10 cavities see recipe notes to adjust recipe volume.

Add all the ingredients, at room temperature, into a high-speed blender and blend on high speed for 45 seconds

Fill the ice cream mold, place a popsicle stick in the center of each mold.

Freeze at least 2 hours to set the popsicles or overnight.

The next day, release one popsicle mold place the mold under warm water, hold the mold with one hand and pich the the stick with your thumb and index on the other hand and pull to release.

To decorate with coconut, dip the top of the frozen popsicle into lukewarm water for 2 seconds then quickly dip into unsweetened toasted coconut.

Enjoy immediately.
Churn in ice cream maker
You can pour the prepared ice cream batter into a frozen ice cream maker bowl and churn following the manufacturer insruction.

Store the ice cream in a shallow, sealed container to avoid crystallisation
Popsicles mold that you can use for this recipe (Affiliate links) are this 6 cavity one or 10 cavities version.
Coconut cream and coconut milk used in this recipe are made of 2 ingredients, coconut extract and water. You must use the same for best result. Check that the can information, it must be :
Full-fat
No added sugar
GMO free
Emulsifier and additive free
My mold has 8 cavities of 1/3 cup volume for a 10-cavity pop mold add these extra ingredients to the recipe:
1/2 cup (110ml) full-fat canned coconut milk
2 tablespoons (30ml) full-fat canned coconut cream
2 tablespoons erythritol
1 tablespoon unsweetened shredded coconut
Nutrition Facts
Keto Coconut Popsicles
Amount Per Serving (1 popsicle)
Calories 258.8 Calories from Fat 94
% Daily Value*
Fat 10.4g16%
Saturated Fat 9.3g58%
Sodium 5.9mg0%
Potassium 31.6mg1%
Carbohydrates 2.3g1%
Fiber 0.9g4%
Sugar 1.2g1%
Protein 0.8g2%
Calcium 1.5mg0%
Iron 0.2mg1%
Net Carbs 1.4g
* Percent Daily Values are based on a 2000 calorie diet.