This keto Pina colada is a smooth, fresh, creamy, and frothy pineapple coconut cocktail with only 3.5 grams of net carbs per serving.
This low-carb Pina Colada tastes like the classic drink from Puerto Rico, but it's a sugar-free cocktail recipe with 5 simple ingredients.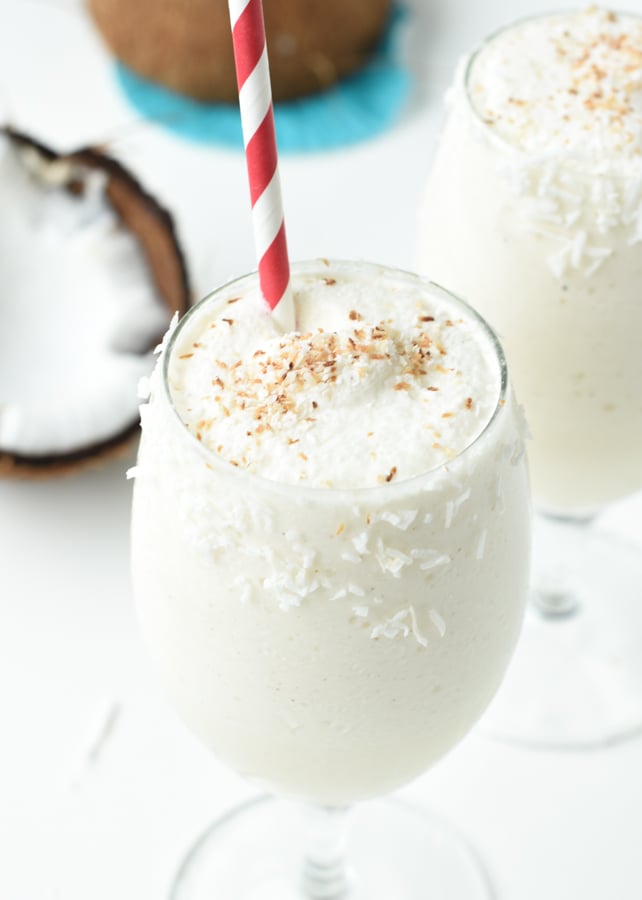 Disclaimer: Consumption of alcoholic drinks negatively affects your ability to drive a car or operate machinery, and may cause health and behavioral problems if consumed in excess. On a keto diet, you might need significantly less alcohol to get severely intoxicated. Women should not drink alcoholic beverages during pregnancy. Alcohol leads to addiction. If you need help, call your local Addiction Center (In the US: (866) 399-3979, in Canada: 1-800-565-8603, in the UK: 0300-123-1110, in Australia: 1300-85-85-84, in NZ: 0800 787 797).
Is Classic Pina Colada Keto?
No, an authentic Pina colada recipe is not keto-friendly as it's made of a high-sugar fruit, pineapple. There are many ways to create Pina Colada.
Some recipes use fresh pineapple others use canned pineapple or pineapple juice.
Whatever the recipe calls for, a Pina colada is a high-carb cocktail, but it takes only a few adaptations to make a keto-friendly Pina colada.
How To Make A Keto Pina Colada
A Pina Colada is a coconut pineapple cocktail with a strong pineapple flavor. Since pineapple is not a keto-friendly fruit, you have to use a few tricks to make your own Keto Pina Colada at home.
Ingredients
Let's look at the keto-friendly ingredients you need to make your own cocktail at home:
Canned coconut cream – make sure you use unsweetened coconut cream. Check the ingredient list for no sugar added. You should only see the following ingredient: coconut cream, water, and sometimes guar gum.
Stevia pineapple drops – it gives the pineapple flavor to the drink without adding carbs. Adjust the amount to the pineapple flavor you love. Some stevia drop brands can be stronger than others, so it's better to start light and increase.
Water – this, along with the previous pineapple drops, creates the pineapple juice replacement. Don't use coconut water. It contains a lot of natural sugar and carbs!
Ice cubes – I like my Pina colada ultra-frothy, and therefore I am using 1 1/2 cup of ice in this recipe. You can start with 1 cup and add more ice cubes if the texture is too liquid for your liking.
Erythritol – this is optional. Add only to boost sweetness.
White rum – it's low-carb keto-friendly alcohol with zero carbs and can be added to any keto cocktail recipe.
Blend on high speed
Bring all your ingredients together into the jug of a high-speed blender and blend. I always recommend starting with a minimal amount of ice and stevia drops.
This prevents an overly sweet cocktail or a too frothy texture.
Taste and adjust
We all have different taste buds when it comes to cocktails! Some people love it very sweet. Others don't. So taste the recipe and adjust by adding some more:
Ice cubes – up to 1 1/2 cup in total for an ultra-frothy cocktail.
Stevia pineapple drops – up to 6 drops for an intense pineapple flavor.
Erythritol – for a very sweet cocktail.
Serve in a chilled glass
The best way to serve this keto cocktail is in a chilled or frozen glass.
Simply pop your glass in the freezer just before serving.
You can also decorate the glass with coconut, as seen in my pictures. To do so, dip the top of the glass in water, then dip into a plate full of unsweetened coconut. The coconut will stick to the wet part of the glass.
Finally, freeze the glass to set the decoration.
You can also add some toasted desiccated coconut on top of the cocktails just before serving.
Can I Use Coconut Milk?
You can make a keto Pina colada with coconut milk. Replace canned coconut cream with canned coconut milk to decrease the saturated fat of the drink.
However, the texture will be less creamy. If you love ice cream-like texture, use canned coconut cream and the maximum amount of ice cubes recommended by the recipe.
More Low-Carb Drinks
I listed below my favorite low carb drinks, with or without alcohol, to celebrate:
Have you made this keto Piña colada recipe? Share a review or comment below, or join me on Instagram to share your picture with me in your story.
Keto Pina Colada
A sugar-free Pina Colada Recipe to enjoy on your keto journey as a celebration drink.
Nutrition Snapshot
Want My Kitchen Equipment?
Ingredients
Optional – if not sweet enough
Instructions
Blend all the ingredients into the blender until smooth, white, and frothy. Always start with the minimal amount of ice (1cup) and a minimal amount of stevia drops (4 drops).

Stop the blender, taste, and add the extra ice cubes for a super frothy, thick cocktail or more stevia drops to boost the pineapple flavor. These changes won't impact the net carbs per serving.

Serve immediately into a chilled or frozen glass, with toasted coconut on top.
My Recipe Notes
Nutrition
Serving:
1
serving
Calories:
367.9
kcal
(18%)
Carbohydrates:
5.3
g
(2%)
Fiber:
1.8
g
(8%)
Net Carbs:
3.5
g
Protein:
2.9
g
(6%)
Fat:
27.7
g
(43%)
Saturated Fat:
24.6
g
(154%)
Sodium:
3.7
mg
Potassium:
260
mg
(7%)
Vitamin C:
2.2
mg
(3%)
Iron:
1.8
mg
(10%)
Posted In: