This Keto Bloody Mary is a delicious sugar-free vodka cocktail with tomato, full of spicy and salty flavors, and perfect as a comforting weekend cocktail.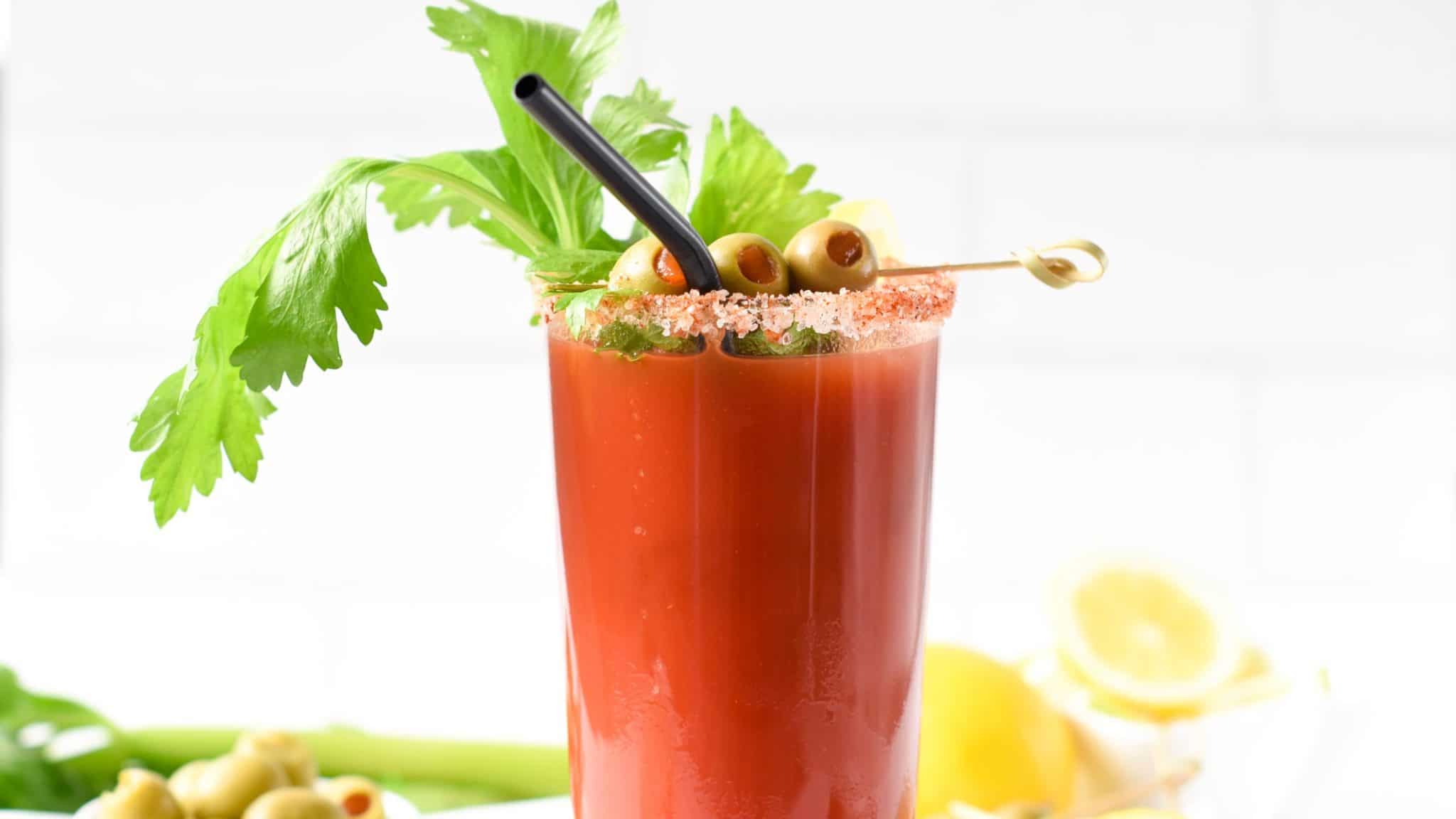 Disclaimer: Consumption of alcoholic drinks negatively affects your ability to drive a car or operate machinery, and may cause health and behavioral problems if consumed in excess. On a keto diet, you might need significantly less alcohol to get severely intoxicated. Women should not drink alcoholic beverages during pregnancy. Alcohol leads to addiction. If you need help, call your local Addiction Center (In the US: (866) 399-3979, in Canada: 1-800-565-8603, in the UK: 0300-123-1110, in Australia: 1300-85-85-84, in NZ: 0800 787 797).
Is Bloody Mary Keto?
A traditional Bloody Mary recipe is relatively low-sugar when made with unsweetened tomato juice.
But ready-made Bloody Mary mixes vary and sometimes contain added sugar or other high-sugar fruit juices.
So always make sure there's no other fruits or sugar added to the juice used in your cocktails or make your own low carb Bloody Mary in a few minutes.
Why You'll Love This Recipe
This Keto Bloody Mary recipe is a simple cocktail that you'll love for its flavors and also it is:
Gluten-Free
Low-Carb
Keto-Friendly
Dairy-Free
Can I Have Cocktails On A Keto Diet?
You can enjoy cocktails on your keto diet while staying on track with weight loss.
Most spirits are keto-friendly alcohols and the key to fitting a cocktail in your daily carb count is to watch for:
How To Make Keto Bloody Mary
Let's see how easily you can make this keto recipe at home in less than 10 minutes.
Ingredients
These are the few simple ingredients you need to make a delicious savory vegetable juice
Vodka – Vodka is low in carbs, like most spirits.
Unsweetened Tomato Juice – tomato juice can range from about 5 grams of net carbs per cup to over 10 grams. Make sure to pick an unsweetened and lower-carb option.
Worcestershire Sauce
Tabasco sauce – This is your hot sauce. Always add a little at first, taste the cocktail, and adjust it by adding more to boost the spicy flavor of your cocktail.
Lemon Juice
Ice Cubes
Shaking The Cocktail
It might sound like a long time to shake a cocktail for 1 minute but it is so worth it. That's the best way to make a delicious bloody Mary, fresh and thick.
So shake it until the shaker is icy and cold, almost difficult to hold with your bare hands.
Strain over a glass filled with ice cubes.
Glass Rim Decoration
It's optional, but you can rub the rim of the glass with a piece of lime to release the lime juice onto the rim of the glass.
Then, dip the glass upside down onto a plate filled with celery salt or a mix of salt and smoked paprika.
Freeze tje glass while preparing the cocktail.
Serving
Bloody Mary is a savory cocktail with a thick, sauce-like texture. It's often served with savory toppings like
Olives
Celery sticks
Pinch of black pepper
Grilled bacon
Frequently Asked Questions
Is Tomato Juice Keto?
Yes, Unsweetened Tomato Juice can be added to your low-carb diet.
Surprisingly, 100 grams of tomatoes contain fewer net carbs (2.6 grams) than popular green keto vegetables like broccoli (4.2 grams).
Is Worcestershire Sauce Keto?
Worcestershire sauce contains 1 gram of net carbs and 0.5 grams of sugar per teaspoon which means you can use it in small amounts to flavor your keto meal or keto drinks.
But, since Worcestershire sauce contains molasse and sometimes corn syrup, don't overuse it. For a cocktail, the drops added to your drinks won't add much.
More Keto Cocktail Recipes
Below I listed more keto cocktail recipes for you to try: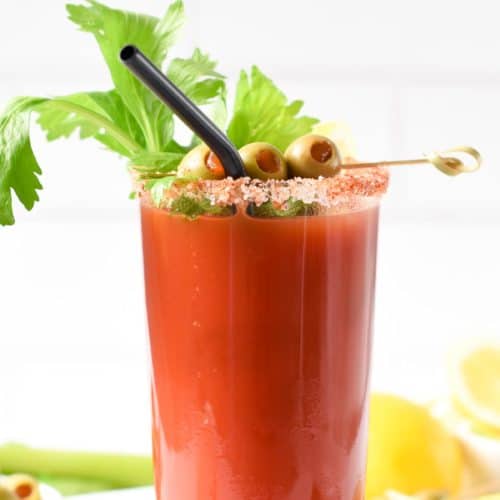 Keto Bloody Mary
This Keto Bloody Mary is a delicious sugar-free vodka cocktail with spicy and salty flavors perfect as a comforting weekend cocktail.
Nutrition Snapshot
Want My Kitchen Equipment?
Instructions
Add the ice cubes to a cocktail shaker.

Pour over the vodka, tomato juice, and lemon juice. Add the minimum amount of Worcestershire Sauce and Tabasco and adjust later if needed.

Shake for 1 minute or until the shaker is very cold.

Taste, add more tabasco to increase spiciness, or more Worcestershire Sauce drops for a salty boost. Add erythritol for a boost of sweetness. Shake well after any addition.

Strain over a tall glass.

Serve with celery sticks and olives.
My Recipe Notes
Nutrition
Serving:
1
cocktail
Calories:
166.6
kcal
(8%)
Carbohydrates:
8.7
g
(3%)
Fiber:
3
g
(13%)
Net Carbs:
5.7
g
Protein:
2.3
g
(5%)
Fat:
1.8
g
(3%)
Saturated Fat:
0.2
g
(1%)
Polyunsaturated Fat:
0.2
g
Monounsaturated Fat:
0.9
g
Sodium:
296.5
mg
(13%)
Potassium:
693.4
mg
(20%)
Sugar:
9.7
g
(11%)
Vitamin A:
1308.9
IU
(26%)
Vitamin C:
50.6
mg
(61%)
Calcium:
61.9
mg
(6%)
Iron:
1.3
mg
(7%)
Magnesium:
37.8
mg
(9%)
Zinc:
0.5
mg
(3%)
Posted In: