Keto Coconut Clusters (Vegan)
These Keto Coconut Clusters are crunchy bite-size chocolate coconut cookies filled with a bunch of nutritious seeds. They are perfect to fix your sweet tooth and fill you up with healthy fat and proteins.
Plus, these coconut clusters are also egg-free, vegan, and gluten-free, with only 1.7 grams of net carbs per serving!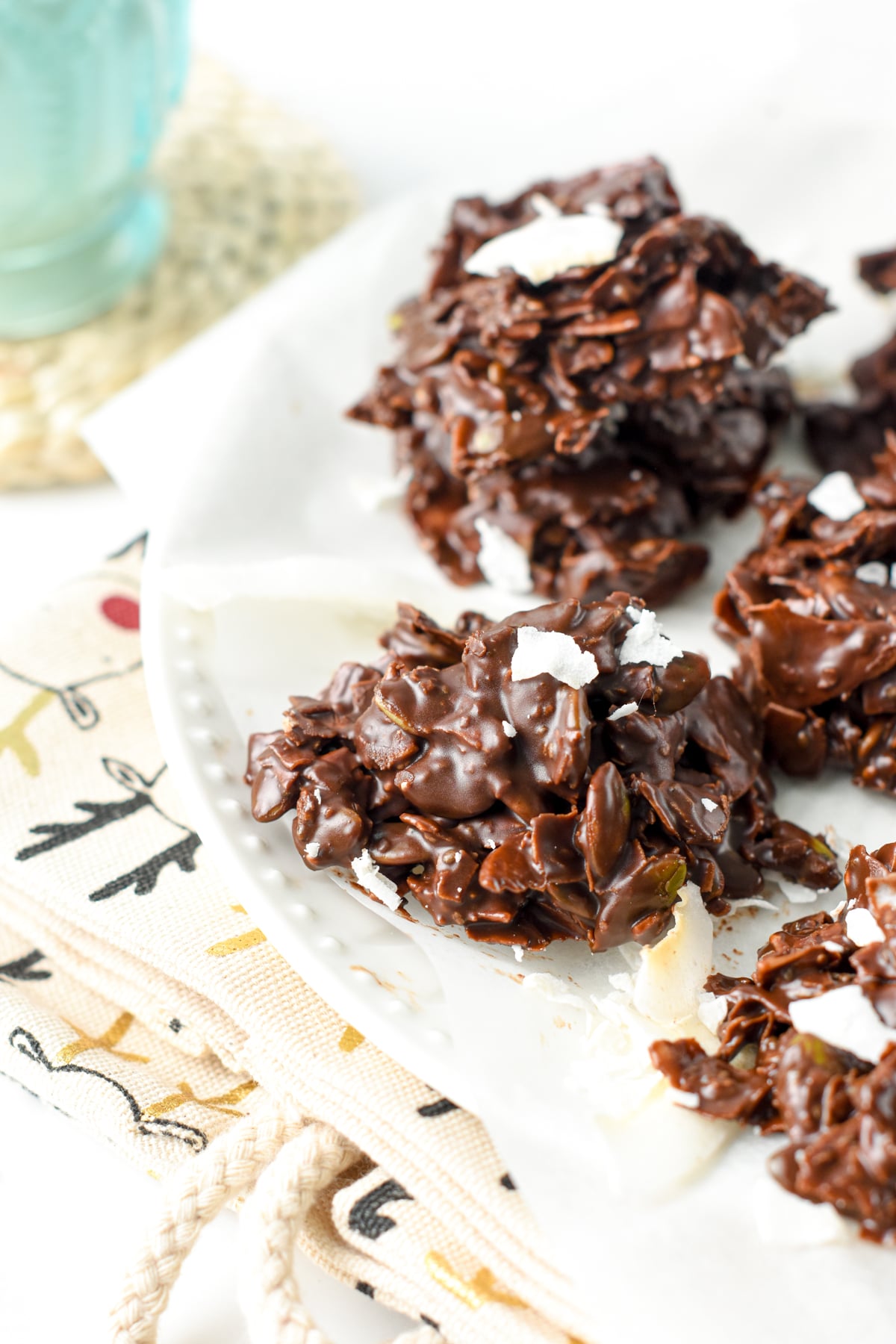 Everybody loves easy cookie recipes, and you can't fail coconut. Some of my most popular recipes are made with coconut: coconut snowballs, keto bounty bars, coconut macaroons, and many more!
The great news is that coconut is keto-friendly and one of the best nut-free keto products for making cookies and treats.
So today, let's see how you can make delicious chocolate coconut clusters in less than 20 minutes.
How To Make Keto Coconut Clusters
It's so easy to make these coconut clusters that you will probably make a batch of those weekly and store leftovers in the fridge for those later sweet cravings.
Ingredients
All you need to make these lovely bite-size sweet treats are:
Coconut Flakes – this refers to the unsweetened large coconut chips or flakes. This is way larger than shredded coconut or desiccated coconut.
Pumpkin Seeds or sunflower seeds, or hemp heart seeds. Actually, any seed would bring a lovely crunch to these keto clusters.
Chia Seeds
Sugar-free Dark Chocolate Chips – you can also use sugar-free white chocolate chips for a Christmas cookie style and white coconut clusters.
Coconut Oil or butter – this helps melt the chocolate and thin out the mixture.
Salt
Cinnamon
Vanilla Stevia Drops – or simply vanilla extract and a pinch of powdered erythritol for boosting the sweetness.
Preparation
These clusters are low-carb no-bake cookies. It means you don't need an oven to set the clusters hard and crunchy. Instead, cold from the fridge or freezer will set the cookie texture.
So before you start, cover a large plate with parchment paper and lightly oil the paper with coconut oil. Then, pop the plate in the fridge or freezer to cool down.
Combining The Dry Ingredients
Next, in a large mixing bowl, combine all the dry ingredients until they are well combined, and cinnamon is well distributed amongst ingredients. Set it aside.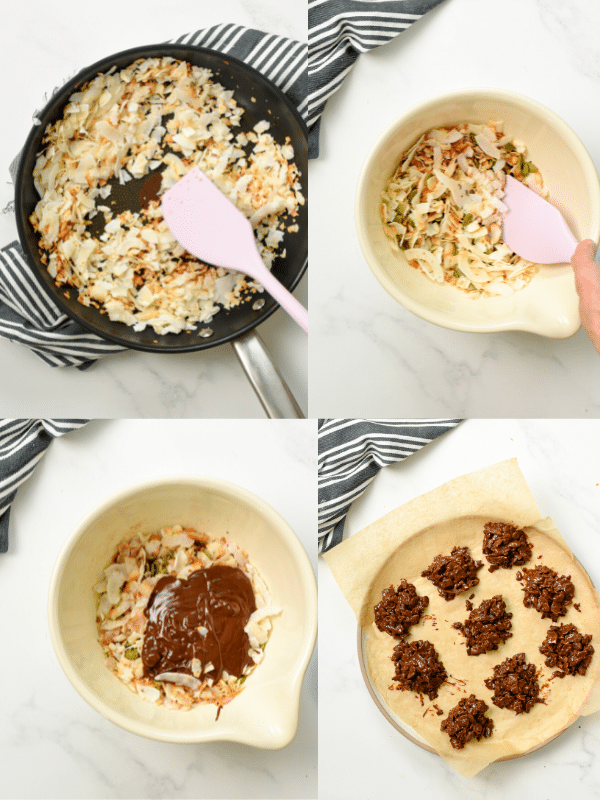 Melting The Chocolate
Now, melt the chocolate and coconut oil together in the microwave.
Place both ingredients into a microwave-safe bowl and microwave in 30-second bursts, stirring between each until the chocolate is fully melted.
Combining Chocolate And Coconut
Finally, pour the melted chocolate over the coconut mixture and stir to coat dry ingredients evenly with the melted chocolate.
Shaping Coconut Clusters
To make coconut clusters, remove the plate from the fridge and scoop about 1-2 tablespoons of coconut chocolate mixture from the bowl – it will be quite loose, and that's normal.
Scoop out onto the plate to form a little cluster, bring the ingredients together, and pack with your fingers if they loosen apart.
Finally, when all your vegan coconut clusters are formed, place the plate in the fridge for 1 hour or 10 minutes in the freezer to set the chocolate clusters.
Storage
These coconut clusters store well at room temperature if it's not too hot where you live.
However, I believe they taste much better if stored in the fridge because they are super crunchy, and this hit the spot for a quick low-carb cookie and fix a sweet craving without starting the oven.
Store them in the fridge for up to 2 weeks in a sealed zip-lock bag or airtight container.
You can also double up the recipe and store the clusters in the freezer. Pop them out of the freezer 20 minutes before eating, or eat them frozen!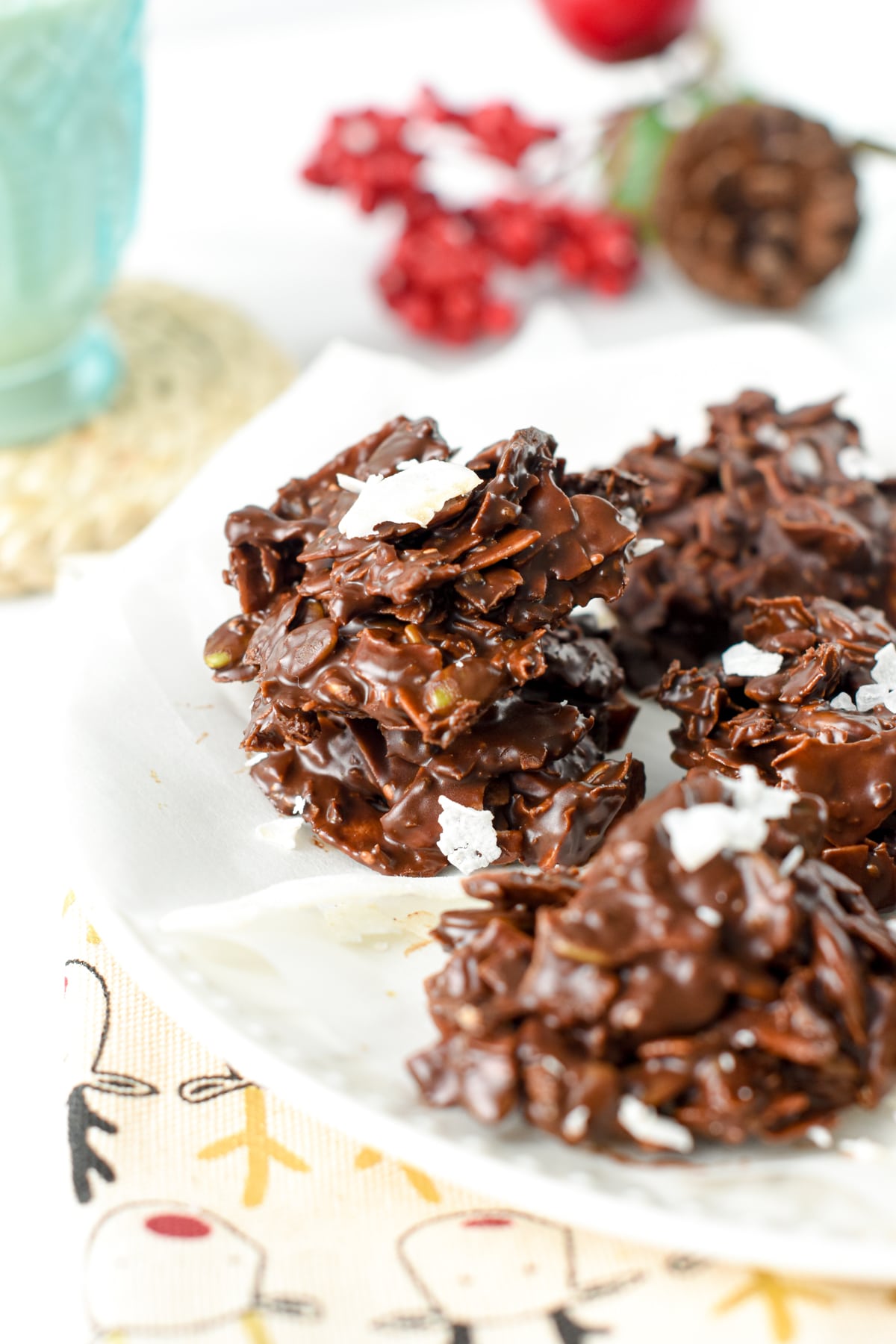 Add-Ons
Of course, you can twist this coconut cluster recipe a lot, adding some lovely ingredients or swapping some for others. Let me share below my favorite ideas to create a range of different coconut clusters flavors.
White Chocolate and Freeze-dried Raspberries – make Christmas coconut cluster by swapping the dark chocolate for sugar-free white chocolate chips. Skip the chia seeds and add a tablespoon of crushed freeze-dried raspberries for a lovely red color.
Nuts – swap the seeds for slivered almonds or finely sliced pecans or walnuts. Coconut nut clusters taste amazing as well!
A pinch of salt – salt is the magic ingredient to enhance the dark chocolate flavor of any cookie. Plus, you need that extra sodium on your keto diet, so why not enjoy a treat and add some goods to your body?
Sprinkles – there are many lovely keto sprinkles on the market that add a lovely color to these coconut clusters.
More Christmas Cookies
If you love to create cookie recipes. My favorites are listed below:
Have you made these keto gluten-free coconut clusters? Share a review or comment below to connect with me!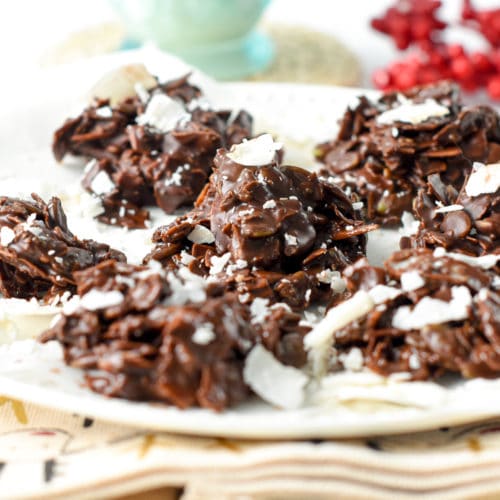 Keto Coconut Clusters
A Crunchy Sugar-free Coconut Cluster recipe full of nutrient-dense seeds.
Yield:
clusters (1 1/2 tablespoon each)
Ingredients
1 ¼

cups

Coconut Flakes

toasted

¼

cup

Pumpkin Seeds

1

tablespoon

Chia Seed

¾

cup

Sugar-Free Dark Chocolate Chips

2

teaspoons

Coconut Oil

¼

teaspoon

Salt

¼

teaspoon

Ground Cinnamon

¼

teaspoon

Vanilla Stevia Drops
This recipe may contain Amazon or other affiliate links. As an Amazon Associate I earn from qualifying purchases.
Instructions
Line a plate with parchment paper and lightly oil with coconut oil. Set aside in the fridge.

If your coconut flakes are untoasted, add them into a non-stick frying pan and cook and stir for a few minutes until slightly toasted and golden. Set aside in a bowl to cool down for 5 minutes.

In a large mixing bowl, add toasted coconut flakes, pumpkin seeds, chia seeds, salt, and cinnamon. Give a good stir to combine and evenly cover all the ingredients with cinnamon. Set aside.

In a saucepan or microwave-safe bowl, add the sugar-free chocolate chips and coconut oil.

Melt by 30-second bursts in the microwave, stirring between each to prevent the chocolate from burning.

Pour the melted chocolate mixture over the coconut bowl and stir to evenly coat all the dry ingredients with the melted chocolate. The mixture is a bit loose, and that's normal.

Remove the plate from the fridge and spoon about 1 1/2 tablespoon of the cluster mixture onto the plate, slightly pack with the help of your fingers to form a cluster. Repeat until no batter is left in the bowl, leaving half thumb space between each coconut cluster. Pop the plate in the fridge for 1 hour or 12 minutes in the freezer to set the clusters.
Storage
Store in a glass mason jar or metallic airtight container for up to 3 weeks in the fridge.

Freeze in an airtight container for up to 3 months. Thaw at room temperature on a plate before serving.
Want My Kitchen Equipment?
Yield:
clusters (1 1/2 tablespoon each)
Serving:
1
cluster
Calories:
137.7
kcal
(7%)
Carbohydrates:
8.7
g
(3%)
Fiber:
7
g
(29%)
Net Carbs:
1.7
g
Protein:
1.6
g
(3%)
Fat:
13
g
(20%)
Saturated Fat:
9.6
g
(60%)
Polyunsaturated Fat:
0.8
g
Monounsaturated Fat:
0.7
g
Trans Fat:
0.1
g
Sodium:
69.3
mg
(3%)
Potassium:
84.2
mg
(2%)
Sugar:
0.9
g
(1%)
Vitamin A:
1.2
IU
Vitamin C:
0.2
mg
Calcium:
12.9
mg
(1%)
Iron:
0.7
mg
(4%)
Magnesium:
25.7
mg
(6%)
Zinc:
0.4
mg
(3%)
Posted In: