Avocado Chocolate Truffles
These Avocado Chocolate Truffles are easy and delicious fudgy chocolate truffles, 100% dairy-free, vegan, and paleo.
These no-bake dark chocolate truffles make a lovely addition to your Christmas or Valentine's truffle plate, and nobody will spot the avocado.
What Are Avocado Chocolate Truffles?
I love dark chocolate truffles. I think there is no celebration without chocolate truffles.
These Avocado Chocolate Truffles are the healthier version of the classic chocolate truffle recipe.
These truffles are super easy to make – all you need is a ripe avocado and a handful of other ingredients.
Why You'll Love This Recipe
This recipe is super simple and delicious, but it's also:
Gluten-Free
Low-Carb
Keto-Friendly
Dairy-Free
Egg-Free
Vegan
Paleo
4 Ingredients
Ready in 30 Minutes
How To Make Avocado Chocolate Truffles
This chocolate avocado truffle recipe is super easy to make and requires no baking.
Ingredients
Avocado – choose a ripe avocado. To know if your avocado is ripe, it should be slightly squishy when touched and the flesh under the stem should be bright green.
Maple Syrup – pick sugar-free maple syrup if you're on a keto diet. Otherwise, you can use regular maple syrup or coconut nectar for a honey alternative.
Dark Chocolate – prefer unsweetened dark chocolate with at least 70% of cocoa.
Cocoa Powder – choose unsweetened cocoa powder.
Instructions
Combine the avocado flesh, maple syrup, melted chocolate, cocoa powder, and vanilla.
Process for 30 seconds to a minute to combine the batter.
The batter will be moist and sticky. You will have to store it in the fridge for at least 30 minutes to firm up.
Then, I recommend slightly rubbing your hands with coconut oil before rolling the truffles into your hands.
It makes the process easier, and it won't stick to your fingers.
Roll the truffles between your hands to form perfect small balls.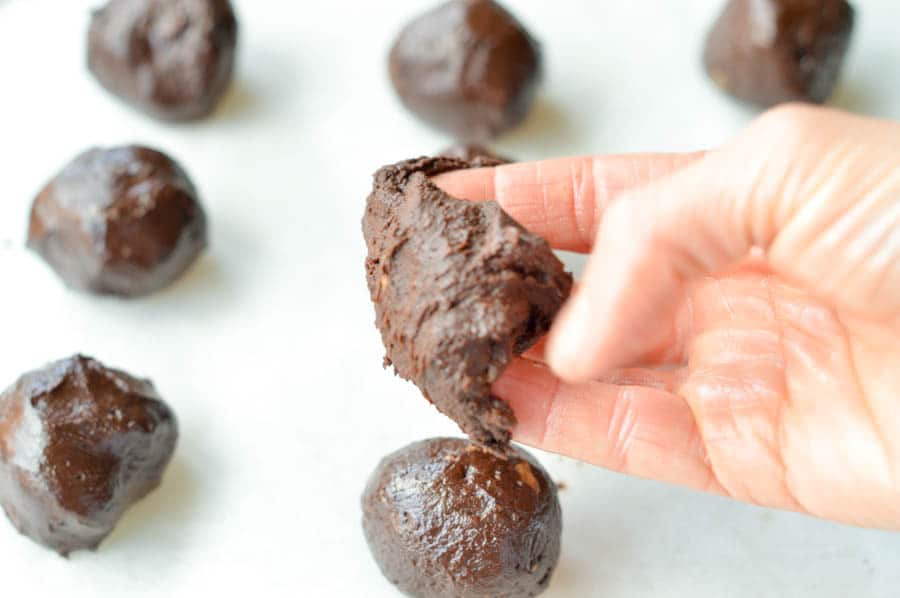 Decorating The Avacado Truffles
Place the avocado chocolate truffles on a simple chopping board covered with parchment paper and decorate most of them with a dust of unsweetened cocoa powder.
To create beautiful Christmas colors on these avocado chocolate truffles, play with natural powders.
The red ones are made with beetroot powder, the green ones with matcha powder, and the white ones are rolled into desiccated coconut.
You can also use some sugar-free icing on some of them.
Storage Instructions
This recipe makes 25 truffles. You can easily store them in the fridge in an airtight container for up to 4 days.
I don't recommend freezing them as they are better enjoyed fresh, but it's possible to keep them in the freezer for up to 3 months.
Frequently Asked Questions
Can I Quickly Ripen An Avocado?
To ripen an avocado quickly, place them in a fruit basket near bananas or wrap them into a piece of foil.
Within 3-4 days, they should turn into smooth, ripe avocados.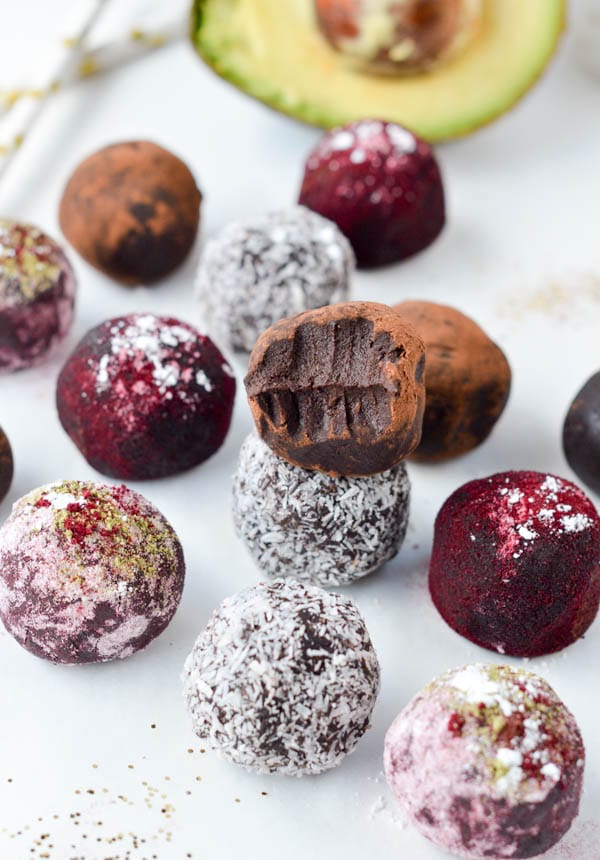 More Easy Chocolate Dessert Recipes
If you like simple chocolate dessert recipes, you'll love these: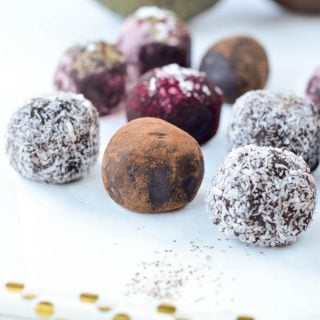 Chocolate Avocado Truffles
These Avocado Chocolate truffles are easy and delicious fudgy chocolate truffles, 100% dairy-free, vegan, and paleo. No-bake dark chocolate truffles to add some healthy touch to your Christmas truffle platter.
This recipe may contain Amazon or other affiliate links. As an Amazon Associate I earn from qualifying purchases.
Instructions
Place the ripe avocado flesh in a bowl. Using a fork, mash the avocado into a smooth puree. You can also process the avocado flesh in a food processor.

Add the sugar-free maple syrup, melted chocolate, unsweetened cocoa powder, vanilla, and stevia drops if you want to increase the sweetness. Stir to combine.

Cover the mixing bowl and refrigerate for 30 minutes to 1 hour. That's an important step to firm up the batter and make the truffles easy to roll up.

Slightly grease your hands with coconut oil and shape the truffles with your hands.

Roll each truffle into the coating of your choice: unsweetened cocoa powder or desiccated coconut, and place the truffles on a plate covered with parchment paper. Store in the fridge 30 more minutes before eating. The texture will be even better.

This recipe makes about 25 truffles. Store well in the fridge for up to 4 days in an airtight container.
Notes
Coating natural colors: for the green coating, I used matcha powder and spirulina powder. The red coating is beetroot powder. Chocolate: this recipe will work well with any dark chocolate. For a bitter, slightly sweet truffle, use 78%-85% dark chocolate. For a sweet truffle, use dark chocolate between 55%-70%. Storage: they store really well in the fridge – up to 4 days in an airtight container. If you are using a powder for coating the truffles like unsweetened cocoa powder, it will get absorbed quickly, and you will have to roll them again into the coating before serving. To prevent that, roll them into a solid coating like desiccated coconut.
Want My Kitchen Equipment?
Serving:
1
truffle
Calories:
42.3
kcal
(2%)
Carbohydrates:
3.2
g
(1%)
Fiber:
2.4
g
(10%)
Net Carbs:
0.8
g
Protein:
0.7
g
(1%)
Fat:
3.7
g
(6%)
Saturated Fat:
1.9
g
(12%)
Polyunsaturated Fat:
0.2
g
Monounsaturated Fat:
1.4
g
Sodium:
4.3
mg
Potassium:
35.6
mg
(1%)
Sugar:
0.1
g
Vitamin A:
7
IU
Vitamin C:
0.5
mg
(1%)
Calcium:
1.6
mg
Iron:
0.1
mg
(1%)
Magnesium:
5.4
mg
(1%)
Zinc:
0.1
mg
(1%)
Posted In: