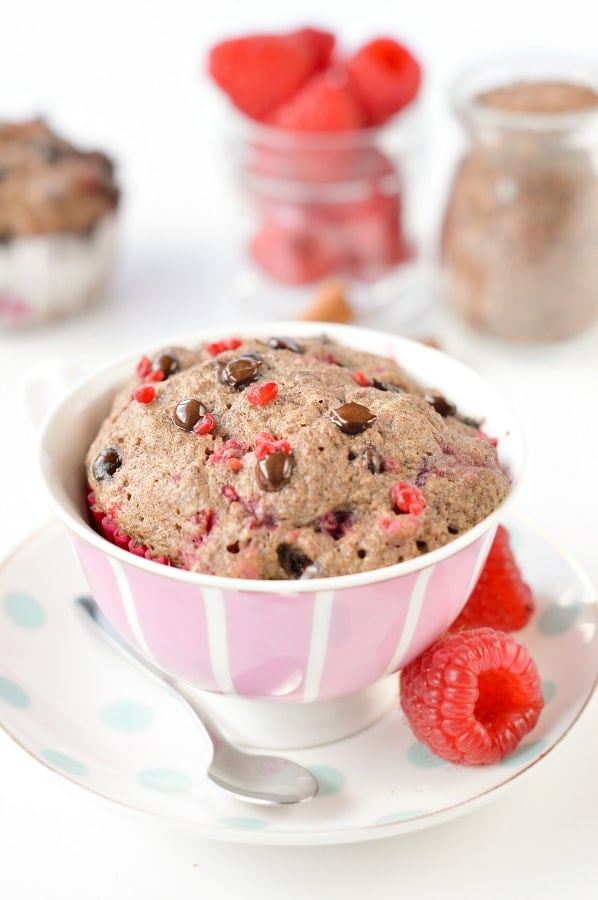 Flaxseed muffin in a mug are delicious easy low carb single serve muffin cooked in 1 minutes 30 seconds in your microwave. It is healthy grain free muffins made with coconut oil, eggs, flax seed meal and flavored with a hint of vanilla, raspberries and sugar free chocolate chips.
Flaxseed muffin in a mug – Single serve muffin ready in 5 minutes !
Are you sometimes craving a good bakery style muffin ? I do and I like to fix my food craving very quickly. That is how I created this simple flaxseed muffin in a mug recipe. It is a very healthy recipe made of few simple low carb ingredients. I baked my muffin in my microwave for a even faster result BUT you can bake yours in a regular oven if you like. It simply takes a bit longer that is why I recommend to cook yours in a mug in the microwave if you crave something sweet now!
So, this is what you need to make a delicious bakery style flaxseed muffin in a mug:
Flaxseed meal – flaxseed is high in fiber and omega 3, plus it is very low carb so a great flour base to create healthy low carb muffins
Coconut oil – you can use any vegetable oil in this recipe but coconut oil is an healthy oil full of anti fungal and antibacterial properties without saying that the flavor it adds is bomb!
Vanilla extract
Cinnamon
Egg – don't replace the egg in this recipe it won't work ! Trust me I tried and there is no great egg free option for this recipe.
Baking powder – or 1/4 teaspoon baking soda
Sugar free crystal sweetener – my favorite sweetener is this one, it is a natural sugar free sweetener, a combo of erythritol and stevia
Raspberries – optional, you can simply make the recipe without fruits or use blueberries, lemon zest or orange zest to add healthy low carb flavors
Sugar free chocolate chips – optional you can replace this by any kind of chopped nuts like walnuts, almonds or pecan.
Grab n' go 5 minute flaxseed muffin in a mug !
YES! you can make those quick flaxseed muffin in a mug as a delicious on the go breakfast! My technique is pretty easy. I am adding a muffin paper cup into my mug. After it cool down for 2 minutes you can easily unmold your muffin, have it on the go !
A flax muffins recipe that taste like bakery style muffin!
It is a moist bakery style muffin filled with raspberries and melted sugar free chocolate chips. You won't believe this recipe is sugar free contains only 3 g net carbs .It is a perfect post work out muffin loaded with 12g protein. This will keep you full until your next meal with no doubt!
Oven or microwave ?
I love to bake my flaxseed muffin into a mug in the microwave for 1 minute 30 seconds. However, you can also use your oven, simply make sure you are using a oven proof ramekin or muffin tray. Bake your recipe at 180 C (350F) for about 12-15 minutes or until a skewer inserted in the middle of the muffin come out clean. You can also quadruple the recipe to make a larger batter and fill a 12 holes mini muffin tray to make small size flaxseed muffins for your week.
More keto mug cakes recipe
Mug cakes are the best keto snacks to fix your sweet tooth with taste while staying in ketosis. If you are not a big fan of flaxmeal you may love those others keto mug cakes recipes using either almond flour or coconut flour
xoxo Carine
Flaxseed muffin in a mug
Flaxseed muffin in a mug with coconut oil, eggs and flax seed meal. A delicious easy low Carb, grain free mug muffin for breakfast with a tasty cinnamon rolls flavor
Prep Time: 2 mins
Cook Time: 1 min
Total Time: 3 mins
1 mug muffin
Print The Recipe
Optional ingredients- Raspberry Chocolate Chip Flax Muffin
In a bowl, whisk egg, oil and vanilla together. Set aside.

Stir in the dry ingredients: flax meal, baking powder, cinnamon and sugar free sweetener.

Stir in the optional ingredients, raspberries and chocolate chips are my favorite.

Transfer into a mug - mine was 2.5 inches height that is the minimum required to avoid the muffin to overflow.

Microwave on high for 1 minute 30 seconds.

Wait 1 minute before eating to avoid burning yourself.
Sweetener: you can also use stevia drops, adjust regarding taste usually 1-2 drops are enough. Flavors idea: other delicious flavors are blueberries/lemon zest, walnuts and orange zest, sugar free chocolate chips
Nutrition Facts
Flaxseed muffin in a mug
Amount Per Serving (1 mug cake)
Calories 283 Calories from Fat 197
% Daily Value*
Fat 21.9g34%
Carbohydrates 11.7g4%
Fiber 8.7g36%
Sugar 0.2g0%
Protein 11.8g24%
Net Carbs 3g
* Percent Daily Values are based on a 2000 calorie diet.