Keto Starbucks Frappuccino CopyCat
This Keto Frappuccino is an easy low-carb chocolate coffee milkshake with almond milk.
Bonus, one Keto Frappe only contains 3.8 grams of net carbs to indulge without guilt!
Who doesn't like to grab a frappuccino in the afternoon?
This keto frappuccino is a safe option to fix any craving at home with only 3.8 grams of net carbs and no dairy!
Is Starbucks' Frappuccino Keto-Friendly?
The standard Coffee Frappuccino from Starbucks contains no less than 46 grams of net carbs per serving.
So it's not at all a keto-friendly option.
Their frappe contains regular milk and frappuccino syrup (of which the main ingredient is sugar). Most Starbucks drinks are also topped with sweetened whipped cream.
How To Make Keto Frappuccino
It's very easy to make low-carb frappuccino. The main rule is to use sugar-free ingredients and lactose-free milk to keep it keto-friendly.
Ingredients
The base recipe to make a keto mocha is to combine the following simple ingredients.
Brewed coffee – chilled strong coffee is the best but of course, a medium-strength coffee or decaffeinated coffee would be tasty as well.
Unsweetened almond milk – I am using unsweetened almond milk as an alternative to dairy milk. It adds a lovely creamy texture to the frappuccino without adding carbs or sugar
Cream – I love my drink dairy-free, so I opt for full-fat canned coconut cream making this recipe a delicious paleo frappuccino. However, you can use heavy whipping cream if you prefer, it's keto-friendly. Both options provide the same texture and macro.
Unsweetened cocoa powder
Sugar-free Crystal Sweetener – erythritol or monk fruit crystal as you like. Stevia drops are tasty too if you don't mind the slight bitterness of stevia drops.
Vanilla Collagen Powder – keto collagen powder doesn't add carbs to your drinks. However, it adds healthy collagen, fats, and proteins! You can also stick to just vanilla extract.
Ice cubes – the more you add the frothier it will be so always start with a small amount and increase to taste
Sugar-free chocolate chips – or use chunks of any dark chocolate with more than 85% cocoa. This is only to decorate the top of your drink and therefore it can be avoided. You can also make your own keto chocolate chips with my recipe.
Instructions
Prepare a hot coffee a little while before making this keto frappe as you need it to cool down.
You might have to pop your freshly brewed coffee in the fridge or the freezer for it to cool down faster.
To make this recipe, combine all the ingredients in a high-speed blender and blend for about a minute.
Adjust the texture of your iced coffee with more ice for a frothier feel, or more milk to make it runnier.
Serving Keto Frappuccino
It's up to you to serve this recipe as a grande frappuccino or 2 small frappuccinos.
I personally use the whole recipe as one serving as it only reaches 3.8 grams of net carbs for a 2 1/2 cup size drink.
It's very comforting to drink such a large sweet drink knowing that it adds so few carbs and calories. While I love ordering a frappuccino at Starbucks, I miss the whipped cream!
Yes, Starbucks' whipped cream is full of sugar and not recommended on keto. Plus, Starbucks whipped cream is not vegan or paleo.
Therefore, making this healthy mocha frappuccino at home is even tastier! You can add that huge dollop of whipped coconut cream or whipped unsweetened cream to indulge safely!
If you love caramel syrup, you can make my Keto Sugar-Free Caramel Syrup Recipe.
Frequently Asked Questions
How do I order a keto Frappuccino?
To order a keto frappuccino at Starbucks, you need to ask for unsweetened plant-based milk like almond milk, no syrup, no caramel sauce, and no whipped cream.
When Should You Drink A Keto Frappuccino?
The best time of the day to enjoy this keto chocolate Frappuccino is either in the morning as a breakfast drink or in the afternoon as a sweet fulfilling snack.
It's also a very good post-workout keto drink to re-hydrate your muscles and fuel with 25 grams of protein.
It tastes like a delicious keto milkshake recipe with a chocolate coffee flavor.
What Are The Benefits Of Collagen Powder?
This healthy Starbucks copycat frappuccino is boosted with vanilla protein collagen powder.
Keto collagen powder won't add carbs to your drink. However, it's a great addition to reinforce bones, joints, and skin on a keto diet.
Plus, it also adds as much as 25g of protein to your drink which is amazing to reload protein after a workout.
If you don't feel like using protein powder, the recipe would be as delicious, it would simply contain less protein.
How many carbs are in a coffee frappuccino?
A classic coffee frappuccino contains more than 45 grams of carbs. However, this keto frappe has only 3.8 grams of net carbs with the use of low-carb ingredients.
I hope you've enjoyed this delicious low-carb Starbucks Frappuccino recipe.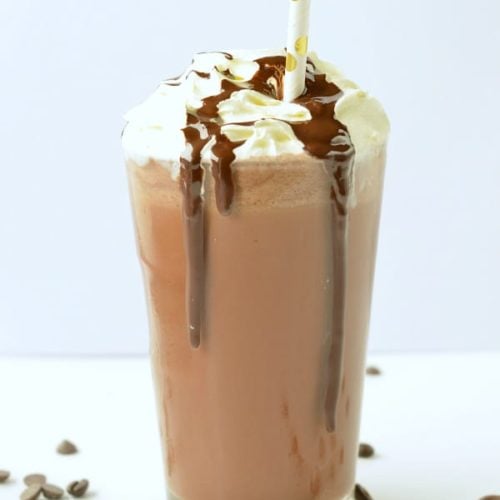 Keto Frappuccino
This Keto Frappuccino is an easy low-carb chocolate frappuccino, a copycat of a popular Starbucks recipe but with only 3.8 grams of net carbs.
Yield:
grande frappuccino
Serving Size:
1
grande frappuccino (whole recipe)
Nutrition Snapshot
Want My Kitchen Equipment?
Instructions
Brew coffee at least 1 hour before making the frappuccino. Store brewed coffee in the fridge to chill.

In a blender, add the chilled coffee, unsweetened almond milk, coconut cream (or heavy cream), unsweetened cocoa powder, sugar-free sweetener, ice cubes (start with 1 1/2 cup you can add more later for a frothier texture), and collagen protein powder (if you want to use some, optional).

Blend on high speed until frosty smooth. Stop the blender and taste. If not sweet enough, this can happen if you didn't add the protein powder, add more sugar-free crystal sweetener (1 or 2 tablespoons). You can also add more ice cubes if you like your frappuccino frothier, up to n extra 1/2 cup. Blend again until it reaches your favorite flavor and texture.

Serve immediately as one grande frappuccino (2 1/2 cup drink) or as two small frappuccinos, topped with unsweetened whipped coconut cream and a drizzle of melted sugar-free chocolate.
Notes
Nutrition panel is for the whole recipe, including 2 tablespoons of vanilla keto protein powder.
Sugar-free chocolate replacement: any chocolate with more than 85% cocoa is keto-friendly and can be used in this recipe.
Whipped coconut cream can be made with thick cream from canned coconut cream. You can whip the cream in a cold bowl using an electric beater or use a whip cream dispenser.
Collagen powder: you can use keto vanilla protein powder or sugar-free vanilla syrup.
My Recipe Notes
Nutrition
Serving Size:
1
grande frappuccino (whole recipe)
Yield:
grande frappuccino
Serving:
1
grande frappuccino (whole recipe)
Calories:
255
kcal
(13%)
Carbohydrates:
6.2
g
(2%)
Fiber:
2.4
g
(10%)
Net Carbs:
3.8
g
Protein:
25.2
g
(50%)
Fat:
16.2
g
(25%)
Sugar:
1.3
g
(1%)
Posted In: