This Keto Caprese Salad is an easy low-carb salad perfect for summer as a side to grilled meat or fish or as a light dinner.
Plus, this low-carb Italian salad is made with a touch of avocado to boost your healthy fat and greens.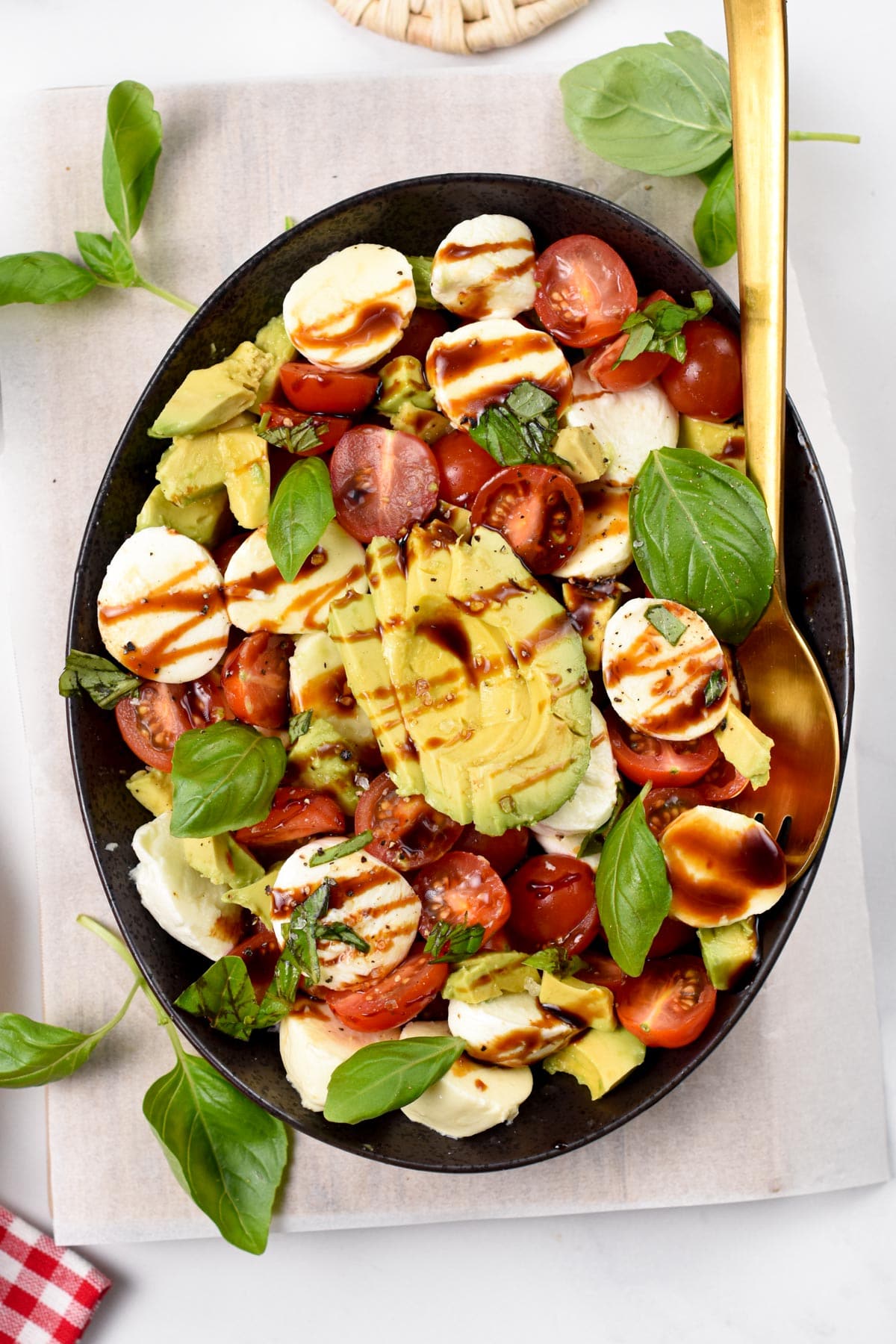 What's A Caprese Salad?
Caprese Salads owe their names to the Italian island of Capri in Italy where the legend says it was made to look like the Italian flag thanks to three basic ingredients.
The green of the basil, the white of the mozzarella, and the red of the tomatoes mimic the Italian Tricolore.
These three ingredients are keto-friendly but what's not low-carb is the balsamic reduction.
How To Make Keto Caprese Salad
It's very easy to make low-carb Caprese salad since the authentic recipe contains mostly low-carb friendly ingredients.
However, an authentic Caprese salad contains added sugar and a large number of tomatoes that increase the carbs just as the large quantity of Balsamic vinegar.
So to keep carbs in control, this recipe swaps some of the tomatoes for low-carb avocado and uses less fresh mozzarella plus no sweetener in the dressing.
Ingredients
Grape Tomatoes – Grape tomatoes are medium-carb vegetables, so it's important to not add too many of them.
Avocado – Pick a ripe avocado for the best taste. A young avo will bring a bitter taste while an overripe avocado has a strong, earthy taste that can spoil the salad.
Fresh Mozzarella – Mozzarella is a simple, healthy low-carb cheese. The name of the mozzarella ball depends on its size. From Perline (size of a small pearl) to Perle (pearl), Noccioline (hazelnut), Cilliegine (cherry), Bocconcini (literally means morsel), Ovoline (egg), and the larger Mozzarella.
Fresh Basil – it's crucial to use fresh basil. This can't be swapped for any other fresh herbs.
Balsamic Vinegar – Balsamic vinegar is the key ingredient of the dressing. Since it contains quite a lot of carbs, it's essential to not add too much of it.
Olive Oil – prefer extra virgin olive oil.
Salt and Pepper
Making The Keto Balsamic Vinaigrette
A balsamic reduction is usually made of balsamic vinegar cooked with sweeteners like honey.
To decrease the carbs in the recipe, this low-carb Caprese salad use half the amount of balsamic vinegar compared to a classic recipe and no sweetener at all.
The result is still sweet and delicious but with minimal carbs per serving.
To make this balsamic dressing, bring the balsamic vinegar to a light boil in a saucepan under medium heat.
Leave it uncovered for about 10 minutes to make it reduce and thicken to a volume of about 3 tablespoons.
Let it cool down in a bowl.
Assembling The Caprese Salad
Chop all the ingredients into bite-size pieces with a kitchen knife.
Combine the baby spinach leaves, halved cherry tomatoes, sliced fresh mozzarella cheese balls, avocado slices, and fresh basil leaves into a bowl.
Add the olive oil to the balsamic reduction with salt and black pepper. Drizzle the Balsamic reduction dressing onto the Keto Caprese Salad.
Storage Instructions
I don't recommend storing the low carb Caprese salad once it's been assembled.
You can store the chopped vegetables in individual containers in the fridge and the dressing in another jar.
Assemble the keto Caprese salad when you're ready to eat it.
Frequently Asked Questions
Is Caprese Salad Keto?
No, the classic salad is generally too high in carbs to be keto-friendly due to the number of tomatoes and the amount of balsamic vinegar used.
How Many Carbs Are In Keto Caprese Salad?
This salad only has 4.9 grams of net carbs, making it an excellent salad choice on your keto diet.
Is Balsamic Vinegar Keto-Friendly?
Balsamic vinegar contains 43 grams of carbs per cup so it's way higher than its counterpart apple cider vinegar or white vinegar.
However, when used in small amounts in a balsamic reduction or vinaigrette, the number of carbs in the recipe can be low and allows you to enjoy a keto balsamic vinaigrette.
If you see a keto recipe that uses a whole cup of balsamic vinegar for 4 servings, the recipe will mechanically have at least 11 grams of net carbs per serving.
Are Mozzarella Balls Keto?
Absolutely! Contrary to the common belief that mozzarella balls are full of milk and therefore lactose (a carb), they actually contain zero carbs.
It's one of the best keto-friendly cheeses.
Posted In: