These Egg Soufflés are fluffy eggs baked in single-serve ramekins with a fancy look perfect as a brunch recipe.
Plus, these egg soufflé are ready in less than 30 minutes and are a great way to feed a breakfast crowd on the weekend with a fancy egg breakfast recipe.
When you're French, having egg cheese soufflé for dinner is an almost weekly thing. Cheese soufflés or egg soufflés are very popular in France.
Soufflé recipes are house staple dinners, more than breakfast, often served with salad as a light comforting dinner.
What Are Egg Soufflés?
Egg soufflés are fluffy baked eggs made from a cheese bechamel in which egg yolk and fluffy egg whites are added.
The mixture is then baked until the eggs puff above the ramekin, creating a crispy outer layer and keeping the center cheesy, moist, and soft.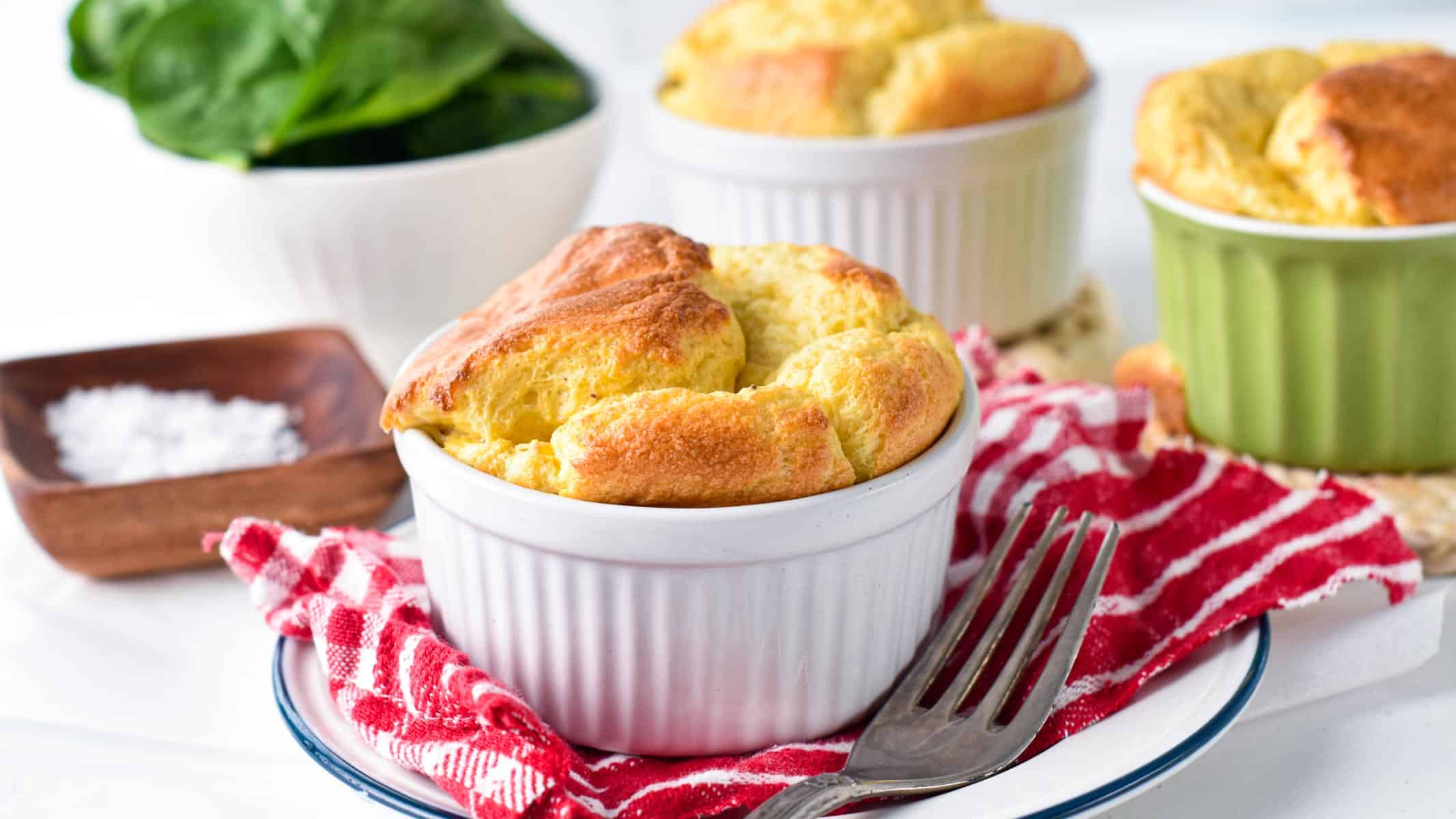 How To Make Egg Soufflés
It's not hard to make a tasty egg soufflé . All you need is a little bit of patience and precision.
Let me share my tips to make the best soufflé recipe.
Ingredients
All you need to start this recipe is:
Unsalted Butter
All-Purpose Flour
Large Eggs
Milk of Choice – Preferably whole milk for a creamy egg texture.
Grated Cheese – I like a combination of Emmental cheese and Parmesan cheese.
Kosher Salt – I barely salt soufflés, because Parmesan is very salty already.
Ground Pepper
Nutmeg – The French touch that all mums always add to a Soufflé recipe. If you don't like nutmeg, add garlic powder instead to flavor this easy egg casserole.
Splitting Eggs
First, split the eggs into two large bowls. One bowl for the egg yolk and one bowl for the egg whites.
Set aside at room temperature while you make the cheese bechamel.
Bechamel Sauce
The soufflé base starts with a sort of cheese bechamel. I say a sort of because egg yolks are added into it, which is not the case for bechamel.
Warm the unsalted butter in a medium non-stick saucepan and melt it over medium heat.
Meanwhile, microwave the milk for 30 seconds.
Reduce to low-medium heat, add the flour, and use a wooden spoon to stir into the melted butter until it forms a golden paste.
Start adding lukewarm milk gradually while stirring to incorporate the flour-butter mixture evenly into the milk.
When all the milk has been added to the saucepan, increase heat to medium-high and bring to a light simmer, stirring occasionally.
You want small bubbles to form on the sides of the saucepan and the sauce to thicken slightly like a custard.
Adding Cheese
Remove from heat and stir in grated cheese. It will be stringy, and that's normal.
Optional Add-Ons
If you like, you can replace a part of the cheese with 1/4 cup of:
Diced ham
Bacon bites
Ground sausage – cooked before adding
Setting Aside
Set it aside for 10 minutes before adding egg yolk. This prevents from cooking the eggs and creating egg yolk lumps in the sauce.
Greasing Ramekins
Meanwhile, grease 8 small oven-safe ramekins. Mine have a 5-ounce volume. You can grease them with butter or cooking spray.
Preheat the oven to a temperature of 420°F (220°C). Set the greased ramekin aside on a baking dish.
Whipping Egg Whites
Meanwhile, use a hand mixer or the whisk attachment of a stand mixer to whip the egg whites to a stiff peak.
Adding Egg Yolk
Bring back the saucepan with the cooled sauce and stir the egg yolk quickly to prevent small pieces of eggs from cooking in the sauce and forming lumps.
Stir in nutmeg, salt, and pepper in the egg yolk mixture.
Adding Whipped Egg Whites
Now, add the stiffed egg whites in three additions.
Use a rubber spatula or a wooden spoon to gently stir the egg whites into the sauce. You want to break the egg whites in the sauce gently to keep the mixture airy and fluffy.
Filling Soufflé Ramekins
Now divide the mixture into the 8 prepared oven-safe ramekins. Don't fill them up to the top.
The egg soufflés raise in the oven, and to prevent the souffle from overflowing, stop 0.6 inches (1.5cm) from the top.
Baking Soufflé
The trick to making super fluffy soufflé is to bake them all at once, at the same level. That's why I place the ramekins on a baking sheet.
Place the baking sheet with the filled ramekin in the center rack of the oven and bake on regular mode – not the fan mode – for 30 to 35 minutes or until the top is golden brown and has risen above the ramekins.
Why Do Soufflés Fail?
There are three things that make soufflés fail and not raise.
Egg Whites Make Soft Peaks – If you didn't reach stiff peaks, you can fix it by adding 1/2 teaspoon of baking powder to the egg whites. This will ensure the souffle rises well, even if the egg whites are not as stiff as they should be.
Fan-Forced Oven – Using the fan-forced mode of your oven makes the souffle deflate or can even keep them from inflating.
Opening The Oven – You must bake souffles for at least 20 minutes before opening the oven door. This is the rule. To ensure the souffle is set enough not to deflate when colder air comes in.
Picking The Best Soufflé Dishes
Cheese soufflé recipes are not hard to make but are tricky to serve.
Since egg souffles are made from fluffy egg white baked in the oven, they puff nicely and rise above the ramekins when the oven is warm, but as soon as they reach a colder temperature, they deflate quickly, even more, when sliced and served.
That's why I am now making egg souffle in an individual ramekin. This is, so far, the best method to nail egg souffle recipes and serve them beautifully every time.
Small Souffle – Use 5-ounce ramekins and fill up to half their level.
One Batch Souffle – Use a round tall casserole dish like a French ceramic dish.
Serving Egg Soufflé
Egg soufflés always deflate as soon as you take them out of the oven. There's nothing you can do about that.
Serve the egg soufflés with extra salt and pepper and a green salad on the side.
Storage Instructions
The egg soufflé recipe doesn't store very well. However, you can store the leftover soufflé in the fridge, cover the ramekins with foil, and they will keep fresh for two days.
But as soon as you rewarm them, the egg cooks again and they dry in the middle, while the crust on top softens.
Cooking Time
An egg soufflé must be baked for at least 20 minutes before you check its texture. This is a must to avoid the soufflé failing, deflating, and never puffing again.
After 20 minutes, look carefully at how they raise.
They are ready when they puff way above the ramekin, forming cracks that are whiter, but dry and a crusty golden brown crust.
If you insert a toothpick inside, the egg mixture should be set but moist, not dry.
Allergy Swaps
Below are some options to make this recipe if you have some food allergies.
Dairy-Free – Use margarin or dairy-free butter instead of butter and use dairy-free milk like soy milk for the best result. Skip the cheese.
Gluten-Free – You can use all-purpose gluten-free flour in the same quantity as all-purpose, with similar results.
Frequently Asked Questions
Below are my answers to your common questions about this recipe.
Can I Use Other Cheese Or No Cheese?
You can make the egg soufflé recipe without cheese or use grated Swiss cheese, grated cheddar cheese, Gruyère cheese, or any hard-grated cheese you love.
What's A Soufflé Egg?
A Soufflé gets its name from the French verb 'souffler', which means blow.
A soufflé recipe is a baked casserole made from fluffy egg whites that puff in the oven, creating a lovely puffed muffins shape with crusty top and moist baked eggs in the middle.
It's a light, airy egg casserole that can be served sweet as a chocolate soufflé or savory as a cheese soufflé.
Are Egg Soufflés Healthy?
Egg Soufflés are packed with proteins from eggs and cheese and are very filling in the morning like an omelet recipe.
However, they are also high in saturated fat and not the healthiest if you watch your fat intake.
Can Soufflé Be Made Without Eggs?
Not really. Soufflés puff because of the fluffy egg white in the batter.
This adds air to the mixture that expands in the oven.
How Long Does A Soufflé Last In The Fridge?
You can keep Soufflés in the fridge, in an airtight container for up to 2 days.
They must be rewarmed before serving. The best way to keep them moist is the microwave the souffle in a bowl covered with a silicone lid.
More Egg Recipes For Breakfast
Here are some more egg recipes for you to try in the morning.
Have you tried this French breakfast Soufflé recipe? Share a comment or review below.
Egg Soufflés
These Egg Soufflés are fluffy eggs baked in single-serve ramekins with a fancy look that is perfect as a brunch recipe. Plus, these egg soufflés are ready in less than 30 minutes and are a great way to feed a breakfast crowd on the weekend with a fancy egg breakfast recipe.
Ingredients
4

tablespoons

Butter

¼

cup

Flour

1 ¾

cups

Milk

lukewarm

4

large

Eggs

divided

¾

cup

Grated Emmental

or gruyere cheese or swiss cheese

¼

teaspoon

Nutmeg

⅛

teaspoon

Salt

⅛

teaspoon

Ground Pepper
This recipe may contain Amazon or other affiliate links. As an Amazon Associate I earn from qualifying purchases.
Instructions
Preheat the oven to 400°F (220°C). Grease 8 small 5-ounce oven-safe ramekins. Set aside on a baking dish.

Separate egg yolks from egg whites, placing them in two different bowls. Set aside at room temperature.

Melt the butter in a saucepan over medium heat.

Meanwhile, microwave the milk for 30 seconds to be lukewarm.

Stir the flour in the melted butter to form a paste.

Gradually pour the lukewarm milk into the paste while stirring a the same time on low heat until the flour-butter mixture melts in the milk.

Increase to medium heat, and bring to a light simmer, occasionally stirring, until the sauce slightly thickens. It should nicely cover a wooden spoon like a custard.

Remove the saucepan from the heat and stir in the cheese. Set aside at room temperature for 10 minutes to cool down.

Meanwhile, beat the egg white with a hand mixer until a stiff peak forms. Set aside.

Bring back the saucepan with the milk mixture and stir in the egg yolk, salt, pepper, and nutmeg. Whisk quickly to prevent the egg yolk from cooking and scrambling.

Incorporate the fluffy egg whites gently in two or three additions. Use a rubber spatula to stir the fluffy egg whites into the egg mixture. Keep stirring until no more white streak shows.
Baking
Pour the mixture evenly into small oven-safe ramekins, up to 0.6 inches/1.5 cm or more, from the top to let some free space for the soufflé to raise nicely.

Bake for 35 minutes on the center rack of the oven. Don't open the oven for the first 20 minutes, or it won't rise.

Bake until the soufflé rises above the ramekin and forms cracks. The crust around the cracks should be dry and golden brown, while the cracks should still be white but not wet. This means the soufflés are still moist inside. If the cracks turn darker, you overbaked the soufflés. If cracks are wet, it's not cooked in the middle.
Serving
Remove the baking sheet from the oven with the ramekins on it.

The soufflés will deflate within 2 minutes. That's normal. They always do.

Serve immediately with a green salad on the side.
Storage
Store leftovers in an airtight container in the fridge for up to 2 days.
Want My Kitchen Equipment?
Serving:
1
soufflé
Calories:
177.9
kcal
(9%)
Carbohydrates:
3.6
g
(1%)
Fiber:
0.4
g
(2%)
Net Carbs:
3.2
g
Protein:
8.4
g
(17%)
Fat:
14.7
g
(23%)
Saturated Fat:
7.4
g
(46%)
Polyunsaturated Fat:
0.9
g
Monounsaturated Fat:
3.5
g
Trans Fat:
0.2
g
Cholesterol:
123.9
mg
(41%)
Sodium:
155.9
mg
(7%)
Potassium:
124.1
mg
(4%)
Sugar:
2.8
g
(3%)
Vitamin A:
480.7
IU
(10%)
Vitamin B12:
0.8
µg
(13%)
Vitamin C:
0.001
mg
Vitamin D:
1.1
µg
(7%)
Calcium:
179.1
mg
(18%)
Iron:
0.6
mg
(3%)
Magnesium:
13.1
mg
(3%)
Zinc:
1
mg
(7%)
Posted In: