Keto Peanut Butter Cookies with Almond Flour
These Keto Peanut Butter Cookies with almond flour are crunchy cookies perfect for a vegan keto diet because they don't have any eggs or dairy!
Bonus, these cookies contain only 7 ingredients. So they are the easiest peanut butter cookies to fix a sweet craving in no time.
What Are Keto Peanut Butter Cookies?
Keto Peanut Butter Cookies are low-carb cookies made with 3 main ingredients: Peanut Butter, Almond Flour, and a sugar-free sweetener.
They are low in carbs with less than 4.4 grams of net carbs per large cookie and are easy to store.
Why You'll Love These Cookies
Everybody agrees that low-carb cookies are the absolute best snack on a keto diet, it's easy to make, and delicious to eat. Not a single week should go by without eating a cookie.
Nut butter cookies are delicious, in particular any cookie with peanut butter!
This particular Keto Peanut Butter Cookie recipe makes the best cookies.
They are:
Keto
Dairy-Free
Egg-Free
Vegan
Gluten-Free
How To Make Keto Peanut Butter Cookies
These peanut butter cookies are straightforward to make, and one of the easiest keto cookie recipes I have!
All you need are 7 simple ingredients for the most delicious crunchy vanilla peanut butter cookies.
Ingredients
Almond Flour – I prefer using blanched ultra-fine almond flour instead of almond meal. It has a finer texture, and it works better in this recipe. Are almond flour recipes keto? If used with other keto-friendly ingredients, absolutely!
Natural Peanut Butter – Yes, peanut butter is keto-friendly! Always make sure you use unsweetened and fresh peanut butter. An old peanut butter jar tends to dry out and would not make as delicious cookies. You can either use salted peanut butter or unsalted peanut butter. If you use salted peanut butter, don't add extra salt to this recipe.
Coconut Oil – I use unrefined coconut oil. Feel free to use refined coconut oil if you don't like coconut flavor.
Baking Soda
Salt – optional, only if your peanut butter is unsalted.
Sugar-free Crystal Sweetener – I used erythritol in this recipe. Feel free to replace it with monk fruit sugar if preferred. Both options are 100% sugar-free and have no carbs. If you are paleo, coconut sugar will work but the recipe won't be low carb anymore!
Xanthan Gum – optional but recommended to make sure the cookies hold any time!
Instructions
These cookies are very simple to make.
Preheat the oven to 350°F (180°C)
Combine all the ingredients in a bowl.
Combine them with a spatula.
Divide the dough into 8 cookie dough balls that you flatten with forks by making a criss-cross pattern on a piece of parchment paper.
Bake the cookies for 10 minutes on a cookie tray.
Cool them down for another 10 minutes on a cookie sheet and another 10 minutes on a cooling rack.
Expert Tips
Following are my tips to make the most delicious sugar-free peanut butter cookies:
Follow the baking time. It takes 10 minutes, not more. The cookies will be very soft and will look undercooked, and that is what you want!
Cool them down for 10 minutes on the cooking tray. Please don't touch them. Start your timer and wait 10 full minutes. Now they are half hard.
Cool them down for 10 minutes on the cooling rack. Transfer each cookie gently to a cooling rack by sliding a spatula under the cookie. Wait for another 10 minutes and let the magic happens!
Your keto peanut butter cookies with almond flour are now crunchy, buttery, and delicious!
So now, let me know what you think of these easy low-carb peanut butter cookies?
You can also use some vanilla essence or vanilla extract for a delicious vanilla taste.
Storage Instructions
These cookies can store really well as long as you follow some basic principles.
You can keep them for at least 3 weeks in a sealed jar, kept in a cool, dry place, away from direct sunlight.
Heat, moisture, and air would oxidize and degrade the taste of these cookies. But if you store them sealed, they will taste delicious for longer.
You can also freeze them for up to 3 months in individual ziplock bags or in small airtight containers. Again, try to remove as much air as possible to reduce the moisture. Thaw them in the fridge, or pop them in a toaster or oven to reheat.
Allergy Swaps
If you are allergic to any of the ingredients, you can do the following swaps.
Almond Flour: you can substitute almond flour for oatmeal or sunflower seed flour. Do not use coconut flour or flaxseed meal, they are too moisture-absorbent due to their higher fiber content.
Erythritol: you can replace the erythritol with any other crystal sweetener such as allulose, tagatose, or coconut sugar (if not keto). Do not use Monk fruit extract, Stevia extract, or any liquid sweetener.
Peanut Butter: if you are allergic to peanuts, you can swap the peanut butter for any other seed butter or nut butter such as Almond Butter, Sunflower Seed Butter, or Cashew butter. Make sure to use a fresh jar of natural nut or seed butter so it's runny. Do not use Crunchy Peanut Butter or any peanut butter that has sugar as an ingredient.
Xanthan Gum: Xanthan gum is optional in this recipe. It helps make the cookie hold together, but you can do without it. Do not use a flaxseed egg instead, it would make the dough too wet.
Coconut Oil: You can pick any other oil with a high-enough smoke point, like avocado oil but the cookies will taste different (a bit like avocado).
Frequently Asked Questions
How Many Carbs Are In Keto Peanut Butter Cookies?
These peanut butter cookies are made with only keto-friendly ingredients and come at 4.3 grams of net carbs each.
Peanut butter is a good keto-friendly ingredient as it contains only 1.4 grams of net carbs per serving of two tablespoons!
However, store-bought peanut butter is not always made with only peanuts. In doubt, you can always make your own peanut butter. It's effortless and rapid!
This recipe is also made with Almond Flour, and it is one of my favorite keto-friendly flours with only 10.6 grams of net carbs per 100 grams. Compare this with regular wheat flour that tops up at 75 grams of net carbs per 100 grams!
All this makes these Peanut Butter Cookies a great keto-friendly snack!
How Do They Taste?
So now you wonder what makes these keto peanut butter cookies so special? Well, compared to regular cookies, they will be super soft when out of the oven.
Like really soft! You might even think that they are undercooked. And you will think there is NO way this recipe will harden and works! But it does.
These cookies are egg-free and need more cooling time than baking time to become crunchy and delicious.
Can I make different flavors?
The best way to tune the flavor of these cookies is to add sugar-free chocolate chips to make perfect peanut butter chocolate chip cookies.
Are these cookies gluten-free?
Yes, these cookies are 100% gluten-free, made with only low-carb ingredients.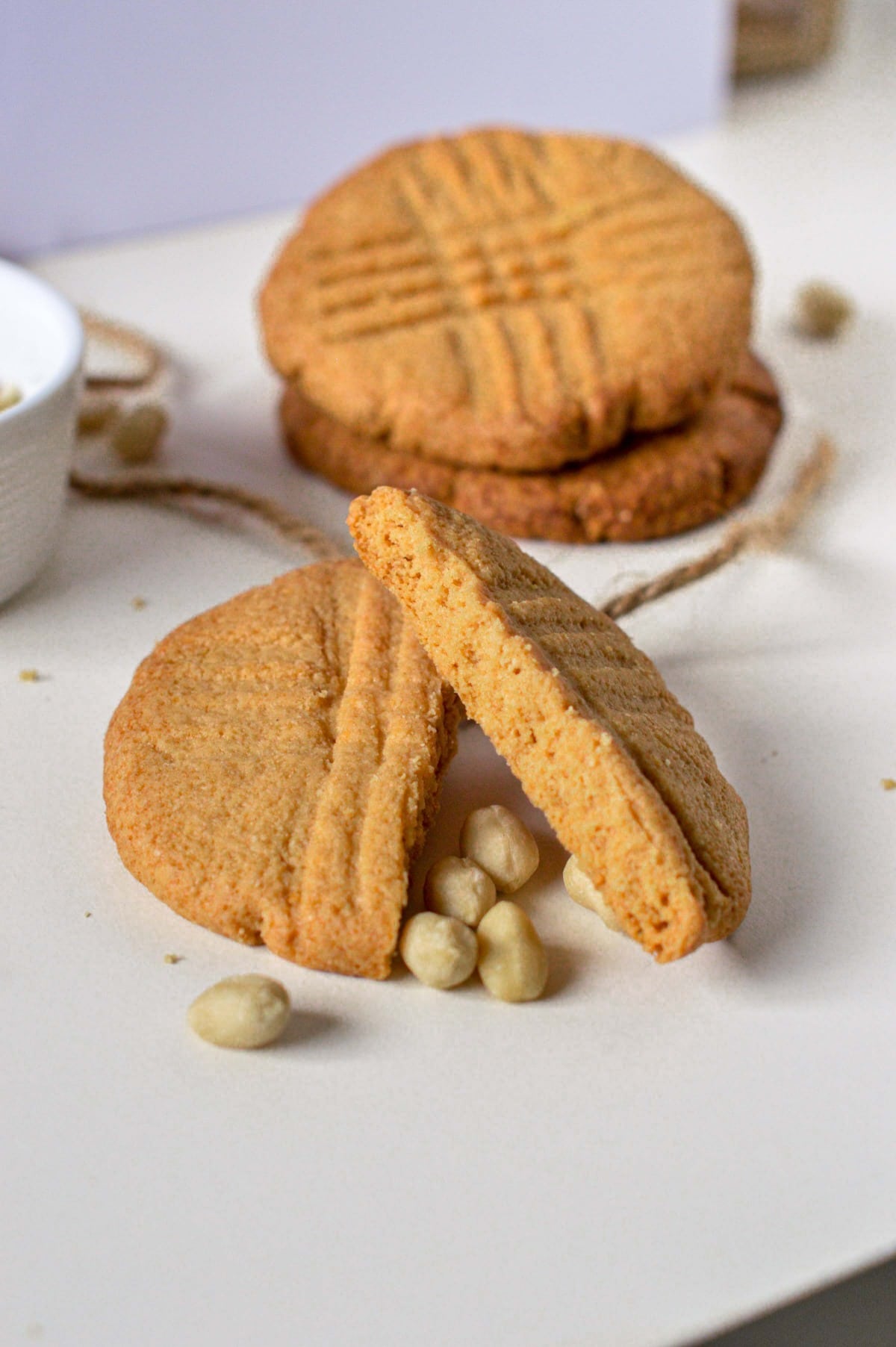 More Keto Almond Flour Cookies
If you like keto recipes with almond flour like these peanut butter cookies, check out these other keto almond flour recipes that make cookies just as delicious as this one!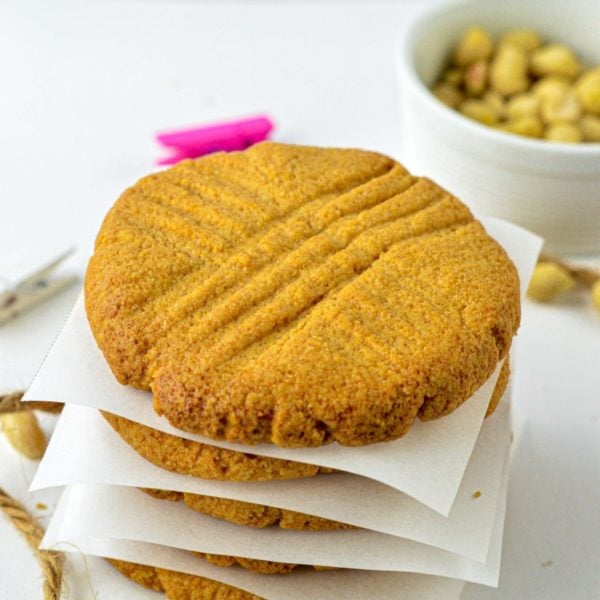 Keto Peanut Butter Cookies with Almond Flour
These Keto Peanut Butter Cookies are made with almond flour, peanut butter, and coconut oil for a sugar-free, 100% easy, keto, gluten-free, vegan cookie recipe with no eggs.
Ingredients
½

cup

Natural Peanut Butter

unsweetened

1

tablespoon

Coconut Oil

melted

⅓

cup

Erythritol

no Xylitol, they won't firm up!

1

cup

Almond Flour

I used blanched fine almond flour

¾

teaspoon

Baking Soda

½

teaspoon

Vanilla Extract

⅛

teaspoon

Salt

optional. Use only if your peanut butter is unsalted

½

teaspoon

Xanthan Gum

optional but highly recommended to prevent the cookies from falling apart
This recipe may contain Amazon or other affiliate links. As an Amazon Associate I earn from qualifying purchases.
Instructions
Preheat the oven using the fan-bake mode to 350°F (180°C).

Line a cookie sheet with a piece of parchment paper. Set aside.
Make the cookie dough
In a large mixing bowl, add all the ingredients: peanut butter, melted coconut oil, erythritol, almond meal, baking soda, salt, xanthan gum, and vanilla essence.

Combine with a spatula until it forms a thick cookie dough.

Divide the dough into 8 large cookies (or 12 smaller cookies).
Bake the cookies
Place each cookie ball on the prepared cookie sheet. Flatten slightly with your hand palm, then use a fork to flatten more and create a lovely fork print on top of your peanut butter cookies. Those cookies won't expand while baking, so there is no need to leave more than half a thumb space between each cookie.

Bake for 10 minutes or until the sides are golden. The cookies look uncooked, they are VERY soft after baking, and that is what you want!
Cooldown 10 minutes on the cookie tray
Remove the tray from the oven and let cool down for at least 10 minutes on the tray, at room temperature. I know this isn't easy to believe they will harden, but they will! Don't touch them. Just let the magic happens.
Cooldown 10 minutes on the cooling rack
Now, the cookies are a bit harder but still soft, so carefully slide a spatula under each cookie and transfer them one by one onto a cookie rack to cool down for 10 more minutes. Trust me. It is worth waiting for! I know it smells good, but wait for the magic to happen.

After 20 minutes, the cookies are ready to eat, but if you love them crunchy, wait until they reach room temperature – should not take more than 20 more minutes. They will end up very crunchy, hard, and buttery.

Store in a cookie jar – glass or metal – for up to 2 weeks.
Notes
Cooldown: These almond flour peanut butter cookies are mainly made of healthy fat, they don't contain eggs, and they need the 2 steps of cool down to get hard and crunchy. Don't skip these steps! Sugar-free sweetener: you can use erythritol or monk fruit sugar in this recipe. Paleo sweetener: Coconut sugar would be a good alternative (but it is not sugar-free). Use the same amount as erythritol. This would make this recipe not suitable for a keto diet!
Want My Kitchen Equipment?
Serving:
1
cookie
Calories:
191.3
kcal
(10%)
Carbohydrates:
6.8
g
(2%)
Fiber:
2.4
g
(10%)
Net Carbs:
4.4
g
Protein:
6.6
g
(13%)
Fat:
16.9
g
(26%)
Saturated Fat:
3.6
g
(23%)
Polyunsaturated Fat:
2
g
Monounsaturated Fat:
4.2
g
Sodium:
213.6
mg
(9%)
Potassium:
91.9
mg
(3%)
Sugar:
2.2
g
(2%)
Calcium:
37.4
mg
(4%)
Iron:
0.8
mg
(4%)
Magnesium:
27.3
mg
(7%)
Zinc:
0.4
mg
(3%)
Posted In: