Keto Cups (5 Ingredients)
These Keto Cups filled with sugar-free strawberry jelly are the most delicious dairy-free fat bomb!
With only 1.9 grams of net carb each, they are perfect to fix a sweet craving and keep your macros on track.
Last year, I shared my delicious keto peanut butter cups. It's always been one of my favorite recipes, but sometimes I feel like something fruity. These Strawberry Coconut Keto cups come to the rescue!
They are made with a few simple ingredients and inspired by a famous New Zealand ice cream named Jelly Tip.
So this recipe is for my kiwi keto followers, who, like me, used to love the Jelly Tip popsicles made of vanilla ice cream and Strawberry jelly covered with chocolate.
What Are Keto Cups?
Keto cups are single-serve bite-size sweet snacks to enjoy on your keto diet.
It's a sugar-free snack high in healthy fat to keep you full and satisfy your sweet tooth without raising too much your carbs macros.
Most keto cups are made of peanut butter or almond butter. Here I am sharing a fruity version of my classic keto peanut butter cups.

How To Make Keto Cups
Making these Keto Cups is easy as pie, it only takes 7 ingredients!
Ingredients
All you need to make these Strawberry coconut keto cups are:
Sugar-free Chocolate Chips – you can use dark chocolate or milk chocolate.
Coconut Butter – also known as coconut mana, see my options below in the post if you don't have this in store.
Coconut Oil or MCT oil, or melted cocoa butter. Any option works well.
Powdered Erythritol or vanilla stevia drops or any keto sweetener you love.
Vanilla Extract – optional
Sugar-free Strawberry Jelly – The one I am using is natural and vegan, making these keto-friendly fat bombs vegan.

Preparation
First, line a 12-hole mini muffin tray with lightly oiled paper cups or silicone cups.
Then, add the sugar-free chocolate chips and coconut oil to a microwave-safe bowl. Microwave by 30-second bursts, stir and repeat until melted.
Spread about two teaspoons of melted chocolate at the bottom of each muffin cup, then freeze the muffin tin.
Coconut layer
While the cups are in the freezer, prepare the coconut layer.
To make the coconut layer, place coconut oil and coconut butter in a microwave-safe bowl.
Microwave for 30 seconds, stir and repeat until fully melted and consistent. Then, stir in the powdered erythritol and vanilla extract.
Remove your muffin pan from the freezer and evenly spread the coconut filling into the 12 cups.
Return the muffin pan to the freezer to set the coconut layer – it takes barely 10 minutes.
Strawberry jelly layer
Meanwhile, prepare the sugar-free jelly recipe following the packaging instruction.
Remove the muffin pan from the freezer and spread the jelly on top of the coconut layer – about two teaspoons per cup.
Drizzle the remaining melted chocolate on top to entirely hide the jelly. If the chocolate you melted earlier has hardened, microwave again to liquify.
Finally, pop the muffin tin one last time in the freezer to set the top chocolate layer.
Storage
These keto coconut cups store very well in your fridge in an airtight box for up to 1 week. Otherwise, you can freeze them and each them frozen, or thaw 30 minutes before eating.
Allergy Swaps
I have plenty of options for ingredient swaps below. Let me share my favorites:
Coconut Butter – If you can't find coconut butter at the store, try tahini or coconut yogurt! For the coconut yogurt option, you will have to skip the coconut oil in the coconut layer, and it takes longer to freeze and set.
Strawberry Jelly – Try my keto jam instead and swap the raspberries for strawberries. Both are keto-friendly fruits! It has a delicious jelly texture, and it's easy to make.
Coconut Oil – swap for cocoa butter.
Powdered Erythritol – Swap for monk fruit extract if you like, but add only a tiny amount. 1/4 teaspoon of pure monk fruit powder is very sweet. Adjust the sweetness to your taste.
Serving Ideas
You can serve these keto cups plain or with some toppings like:
A pinch of sea salt
Coconut Flakes
Chopped Peanuts
Crushed Almonds
More Keto Fat Bomb Recipes
Below I listed my top keto sweet recipes that you can make in less than 30 minutes and enjoy as a guilt-free keto snack:
have you made these no-sugar keto cups? Share a review or comment below to tell me how it goes.
XOXO Carine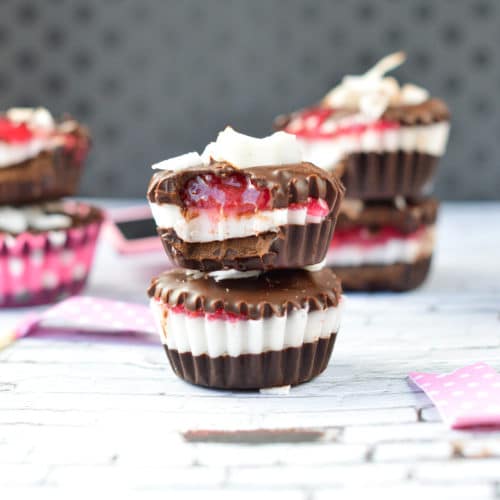 Keto Cups
A no-sugar Keto Cup recipe filled with coconut butter and sugar-free strawberry jelly.
Ingredients
Chocolate layers – top + bottom
1

cup

Sugar-Free Chocolate Chips

stevia-sweetened or 85% cocoa, not pure 100% cocoa

2

tablespoons

Coconut Oil

use refined coconut oil for no coconut flavor
Coconut layer
½

cup

Coconut Butter note 1

1

tablespoon

Coconut Oil

use refined coconut oil for no coconut flavor

¼

cup

Powdered Erythritol

not Crystal!

½

teaspoon

Vanilla Extract

optional
This recipe may contain Amazon or other affiliate links. As an Amazon Associate I earn from qualifying purchases.
Instructions
Line a 12-hole muffin tray with muffin paper liners or silicone cups. Set aside.
Bottom chocolate layer
Melt the sugar-free chocolate with coconut oil in a microwave-safe bowl for 1 minute. Stop the microwave, stir chocolate, and repeat heating with 30-second intervals until all the chocolate is melted. Otherwise, melt over medium heat in a saucepan, constantly stirring with a wooden spoon until the chocolate is melted.

Pour 1 tablespoon (15 ml) of melted chocolate at the bottom of each paper liner. You can tilt the pan slightly to help the chocolate spread all over the bottom of the paper liner.

Repeat this step for each paper liner until the 12 paper liners are covered with melted chocolate.

Place the tray 8-10 minutes into the freezer until the chocolate is firm.

Set aside the bowl with the remaining melted chocolate for later in a warm place. Don't store this in the fridge. You want the mixture to stay liquid.
Coconut layer
In another microwave-proof mixing bowl, combine coconut butter with coconut oil. Microwave 30 seconds to soften, remove the bowl from the microwave and stir the ingredients to combine evenly.

Stir in powdered erythritol, vanilla extract until it forms a slightly thick mixture.

Remove the muffin tray from the freezer and add 2 teaspoons (10 ml) of the coconut butter filling into each cup. Use a spoon to spread the layer evenly all over the first chocolate layer.

Freeze the muffin tray again for 10-12 minutes until the coconut layer is firm. Meanwhile, prepare the sugar-free jelly following the packaging instruction.

Spread two teaspoons of jelly on top of the coconut layer, then top up with the remaining melted chocolate. If the remaining melted chocolate has thickened, re-heat the bowl for 30 seconds in the microwave to soften. Stir and use on top of the jelly. Top with coconut flakes if you like.

Freeze again for 8-10 minutes to set the top chocolate layer.
Storage
Store the keto cups in a sealed container in the fridge for up to 1 month or freeze and thaw at room temperature 1 hour before eating.
Notes
Note 1: Replace coconut butter with tahini or cashew butter if preferred.
Note 2: It can be replaced with my keto chia seed jam.
Want My Kitchen Equipment?
Serving:
1
cup
Calories:
152.8
kcal
(8%)
Carbohydrates:
13.4
g
(4%)
Fiber:
11.5
g
(48%)
Net Carbs:
1.9
g
Protein:
0.4
g
(1%)
Fat:
14.3
g
(22%)
Saturated Fat:
8.6
g
(54%)
Polyunsaturated Fat:
0.1
g
Monounsaturated Fat:
0.2
g
Sodium:
2.1
mg
Potassium:
0.3
mg
Sugar:
0.4
g
Vitamin C:
0.1
mg
Calcium:
2.1
mg
Iron:
0.2
mg
(1%)
Magnesium:
0.1
mg
Posted In: