These Peanut Butter Fat Bombs are no-bake chocolate peanut butter keto snacks.
They are an easy sweet snack with only 1.4 grams of net carbs per serving.
Is Peanut Butter Keto?
Not all peanut butter brands are keto-friendly.
You should always check the ingredients list of the peanut butter you buy and look for: no added sugar, no added vegetable oil.
Pure keto peanut butter is made of one or two ingredients: peanut butter and salt, that is all.
How To Make Peanut Butter Fat Bombs
These peanut butter fat bombs or keto Reese peanut butter cups are my favorite snack with my almond joy bounty bars.
If I crave sweet, that is what I grab in the fridge.
You can make them in less than 20 minutes with only 5 ingredients that all keto lovers have in their pantry.
Ingredients
Peanut butter – make sure you use unsalted no sugar added peanut butter made with 100% peanut or make your own peanut butter.
Coconut oil – if you don't like the coconut flavor of coconut oil, use refined coconut oil.
Cocoa butter or butter – both options are tasty. My husband is vegan, and I like to share my treats with him, so I usually prefer to use cocoa butter. Plus, cocoa butter really adds a real chocolate flavor to those little treats. It is like eating real chocolate without the sugar!
Powdered sugar-free sweetener – I am using powdered erythritol because it dissolves better than crystal erythritol, but if you don't mind having some crunchy bites of sweetener, you can use your regular sugar-free crystal sweetener.
Stevia drops – I love to add some vanilla creme-flavored stevia drops. It is optional, but this adds an extra boost of sweetener and a delicious vanilla cream flavor that I love. Feel free to use the stevia drops you like, of course.
Instructions
To make these fat bombs, start by microwaving the peanut butter, coconut oil, and butter in a large mixing bowl for about 60 seconds.
You should then be able to stir the mixture with a silicone spatula. It will get more liquid as the ingredients melt and combine.
If you don't want to use the microwave, you can heat them in a large saucepan over medium heat.
Once the mixture is well combined, add the powder sweetener and the stevia drops.
It will slightly thicken but should be runny enough to pour them into your silicone mold.
Make sure to place your silicone mold on a plate before pouring the mixture. Otherwise, you might struggle to transfer it into the freezer.
Chocolate Shell
You don't have to add a chocolate shell to these peanut butter fat bombs. They are absolutely delicious as is.
But, if you miss a good Reese peanut butter cup, adding my chocolate shell recipe will make you a real treat.
I love to use chocolate silicone molds that are small but high to create thick peanut butter fat bombs. If you don't have such molds, you can use a regular ice cube tray.
Make sure you spray oil into your tray to make it easier to release.
Serving Peanut Butter Cups
The peanut butter fat bombs taste like little ice cream cups when they are cold or frozen.
Feel free to double the batch, and you are good for a few months of treats.
It is a very good way to indulge in a sweet treat without blowing your carb count or reaching something you shouldn't eat.
Storage Instructions
I recommend storing the peanut butter cups in your fridge, especially in summer, or they get very soft and will melt quickly above 85°F (30°C).
You can also store them for up to 3 months in the freezer and they taste amazing frozen or thawed!
If you don't want to eat them too cold, simply wait 20 minutes after you remove them from the fridge.
More Fat Bomb Recipes
If you like fat bombs as a hunger-buster, you'll love the following recipe: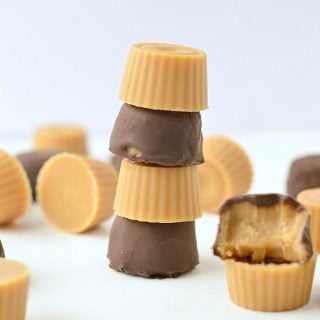 Peanut Butter Fat Bombs
Peanut Butter Fat Bombs are easy keto treats made of only 4 ingredients: peanut butter, coconut oil, cocoa butter (or butter), and stevia vanilla drops. 100% Gluten-free, Low-carb, Vegan, and Dairy-free. A delicious clean-eating healthy treat.
Nutrition Snapshot
Want My Kitchen Equipment?
Ingredients
Dry ingredients
Instructions
In a small microwave-safe glass bowl, add all the ingredients: peanut butter, coconut oil, butter (or melted cocoa butter).

Microwave in 30-second bursts, stir and microwave again until the coconut oil and butter are fully melted. Make sure you stir between each 30-second burst to not 'burn' the peanut butter. You can also do this on the stove, in a saucepan, under medium heat.

You should obtain a consistent batter, very runny, almost like water. Next, stir in the powdered sugar-free sweetener and vanilla creme flavored stevia drops if used. The batter will thicken slightly but still be very runny, and that is what you want. Taste and adjust sweetness with more stevia drops at this point if needed.

Place each chocolate silicone mold on a plate (this makes it easier to carry them to the freezer when filled). Fill each hole of the silicone mold with the peanut butter mixture up to the top.

Place your plate with the filled silicone mold in the freezer for 20 minutes or until the chocolate has firmed up.
Chocolate shell
Meanwhile, prepare the chocolate shell of your peanut butter fat bombs.

In a small glass bowl, add the sugar-free chocolate chips, coconut oil, and a pinch of salt if you like.

Microwave in 30-second bursts, stir and repeat until the chocolate is melted.

Cover a plate with parchment paper, lightly oil it with oil spray. Set aside.

Remove the peanut butter fat bombs from the freezer. Carefully unmold each fat bomb by pushing them out of the silicone mold.

Use 2 forks to dip each fat bomb into the melted chocolate, and place them on the plate you prepared to cool down. Repeat until all the fat bomb has been covered with chocolate.

Bring the plate in the freezer again for 10 minutes to set the chocolate shell.

Remove from the freezer and enjoy straight away!
Storage Options
You can store your peanut butter fat bombs in an airtight container in the fridge for up to 3 weeks (if made with cocoa butter) or up to 1 week if made with butter. I found that the taste changes slightly if I use butter and store them for longer.

Another option is to freeze them in zip lock bags for up to 3 months.

Eat them cold from the fridge or frozen! Don't store at room temperature or they will soften too much!
Notes
I use cocoa butter for a dairy free fat bomb, however you can use butter if preferred.
My Recipe Notes
Nutrition
Serving:
1
fat bomb
Calories:
65
kcal
(3%)
Carbohydrates:
1.6
g
(1%)
Fiber:
0.2
g
(1%)
Net Carbs:
1.4
g
Protein:
1
g
(2%)
Fat:
6.5
g
(10%)
Sugar:
0.5
g
(1%)
Posted In: