Time for an easy no bake treat with those 4 ingredients no bake peanut butter balls. Those are melt-in-your mouth sweet treats with only 3.7 g net carb per serve. The best keto snack to fix your sweet craving in less tan 20 minutes.
Are you ready for more no bake keto dessert recipes? It is that time of the year, it is hot and nobody want to start the oven. Well, I am ok in New Zealand as its winter but I know most of you read from a summer part of the globe. So I can't see better than those no bake peanut butter balls to share.

No bake peanut butter balls keto recipe
No bake recipes are great to fix your sweet tooth very quickly on keto diet. Unfortunately most recipes calls for sugar-free liquid sweetener , not always easy to find in store. Good news, this peanut butter balls healthy recipe don't! Let's check the 4 easy ingredients you need to make those delicious balls.
Peanut butter – use fresh peanut butter, soft and runny. Peanut butter is keto approved as long as it has no added sugar, I also recommend using pure peanut butter with no added oil
Coconut flour – make sure it has no lumps and measure precisely
Sugar free powdered Monk fruit or erythritol – it is basically the same thing as icing sugar with NO sugar and NO carbs
Sugar free dark chocolate – I used sugar free dark chocolate bars or chips sweetened with stevia. It is optional but depending on your sugar-free chocolate bran you may like to add a bit of coconut oil to melt it. Some brands tend to burn in the microwave if you don't add a tiny bit of oil so I prefer to keep you aware of that.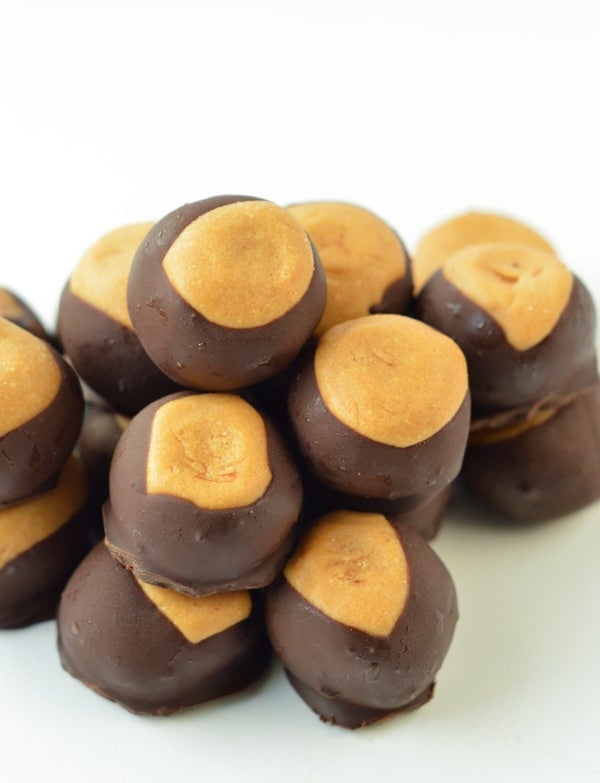 How to make powdered sugar-free sweetener at home ?
This is very easy to create homemade sugar-free powdered sweetener. First, add sugar-free crystal sweetener – erythritol or Monk fruit –  into a blender. Make sure you fully cover the blade or it won't work. Then, blend on high speed for 30 seconds -1 minute. Your crystal sweetener will turn into an icing sugar texture, with NO carbs and NO sugar! Finally, store your powder in an airtight container in the pantry for up to 3 months. Use this as you would use icing sugar. It makes delicious cake glazing like in my keto lemon pound cake recipe.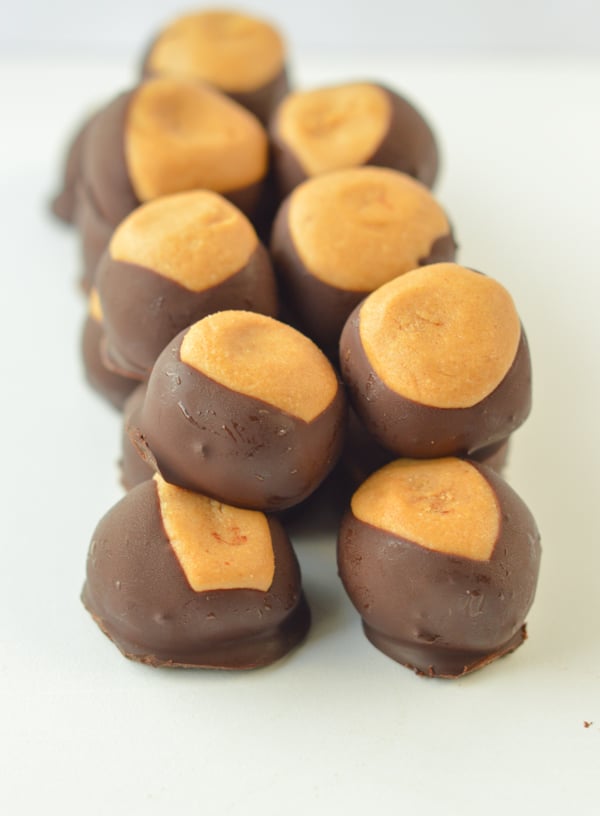 How to make buckeye peanut butter balls keto ?
Those no bake peanut butter balls turn into buckeye peanut balls keto-fyed very easily! All you need is to dip your ball into melted sugar-free dark chocolate. A buckeye peanut butter ball is not fully covered by chocolate. The trick to achieve this perfect result is to insert a toothpick  in the middle of the ball. Then, use the toothpick as a guide to roll the ball into the sugar-free melted chocolate without adding some on top. Finally, close the little hole left by the toothpick with your finger. Also, freeze your ball to set the chocolate quickly. I always place the balls on a plate covered with parchment. It is the easiest way to remove the balls from the plate without breaking the chocolate shell.
More no bake keto recipes
I love creating no bake keto desserts recipes. If you do, I recommend you try my others no bake keto recipes with peanut butter:
I hope you guys enjoyed this simple no bake peanut butter balls healthy recipe. Don't forget to save it for later on Pinterest, it will make a great Keto Christmas truffle too !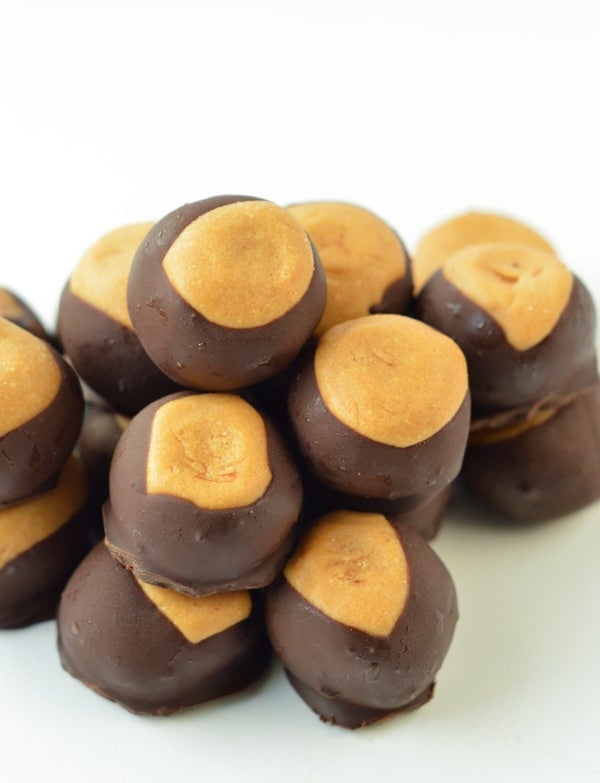 No bake peanut butter balls keto
KETO NO BAKE PEANUT BUTTER BALLS 4 Ingredients buckeyes balls with 3.7 g net carbs.
18 balls
Print The Recipe
Line a plate or chopping board with a piece of parchment paper. Set aside.

In a medium size mixing bowl, add fresh runny peanut butter along with coconut flour and sugar-free powdered sweetener.

Combine with a spatula at first then use your hands to knead the dough. You want all the ingredients to be evenly combine. It should take no more than 1 minute to form a dough ball that hold together. It should be soft, slightly sticky and shiny.

Divide the dough into 18 even pieces.

Roll each pieces into a ball and place each ball onto the plate covered with parchment paper. The dough is soft and will slightly flatten. That is ok keep rolling balls and make sure you leave 1 thumb space between each balls to avoid them to stick together.

Place the plate in the freeze for 12 minutes. This steps will firm up the balls slightly. This will allow you to shape beautiful balls and it makes it easier to dip the balls into the melted chocolate . Don't skip this !

Remove from the freezer and reshape the balls that may have flatten too much.

Place the plate back to the freezer for 12 minutes.

Meanwhile prepare the chocolate dipping sauce.
Chocolate coating
Add the sugar free dark chocolate pieces with the coconut oil into a microwave safe bowl

Microwave by 30 seconds burst, stirring between until the chocolate is fully melted and shiny.

Remove the plate with the peanut butter balls from the fridge. They must be half frozen, hard on the sides and still soft in the center. If too soft, keep them in the freezer for an extra 5-10 minutes.

Plant a toothpick in the center of the peanut butter ball.

Dip the peanut butter ball into the melted chocolate using your toothpick as a tool to gently roll the ball into the chocolate. As the peanut butter balls are slightly frozen and your chocolate is hot the shell should harden fast.

Bring the peanut butter ball back to the plate covered with parchment paper.

Repeat the chocolate dipping steps until the 18 balls have been covered with chocolate.

Bring the plate back to the freezer to set the chocolate shell. It should take about 3-5 minutes.

Store the balls in an airtight container in the fridge, don't overlap to avoid them to stick together. They store up to 2 weeks. Don't store at room temperature or they get really soft.
Net carbs per balls: carbs takeaway fiber, 3.7 grams per ball
Nut allergy
Replace peanut butter by the same quantity of sunflower seed butter
Nutrition Facts
No bake peanut butter balls keto
Amount Per Serving (1 ball)
Calories 130 Calories from Fat 93
% Daily Value*
Fat 10.3g16%
Carbohydrates 7.3g2%
Fiber 3.6g15%
Sugar 2.4g3%
Protein 4.4g9%
Net Carbs 3.7g
* Percent Daily Values are based on a 2000 calorie diet.