This Egg White French Toast recipe makes crispy, sweet, high-protein, low-fat breakfast toasts, perfect as a fulfilling breakfast for the whole family.
Plus, these are easy to adapt to any food allergy, including a gluten-free or low-carb diet.
My kids love bread for breakfast! But my daughter doesn't like the taste of egg yolks. So I created this egg-white version for her.
What Are Egg White French Toast?
As a French mum, I must share a bit of French vocabulary with you when it comes to food. So let me answer the three main questions I always hear about French toast!
Egg White French Toasts are healthy French toasts made without egg yolk.
As a result, they are lower in saturated fat and calories and don't have an eggy taste that some people don't like in French toast recipes.
How To Make Egg White French Toasts
It's very easy to make delicious French toast with egg white.
Ingredients
All you need are the following:
Egg Whites – you can buy egg white in the store in a bag, or split your whole eggs at home and set aside the egg yolk to use in another recipe.
Stale Whole Wheat Bread Slices – you can use any bread you like, but I highly recommend a bread that is slightly hard, a few days old, to make the French toast crispier.
Almond Milk or any milk you like.
Greek Yogurt for a boost of protein.
Maple Syrup or crystal sweetener you like including sugar-free sweeteners if preferred.
Cinnamon
Vanilla Extract – for added flavor
Coconut Oil to fry the bread slices.
Step 1: Choosing The Bread
The bread is what makes a big difference in French toast and especially in this egg white recipe.
If your bread is too soft and fresh, it results in a soft and soggy texture.
The best bread for this recipe is:
Slightly stale wholemeal bread – the crumb of the slices should be slightly hard.
Sourdough bread – naturally harder than other bread, sourdough French toasts taste great even with fresh sourdough.
Stale homemade bread like my Keto Bread, Almond Flour Bread, Almond Flour Keto Bread with Yeast.
Brioche of challah
How To Harden Bread For French Toasts
If your bread is soft and fresh, but you still crave this recipe, then place the slices on a baking tray covered with parchment paper.
Bake in preheated oven at 400°F (200°C) for 4-6 minutes, flipping the slices halfway.
Cool them down on a cooling rack before using them in the recipe
Step 2: Whisking The Ingredients
Egg whites are much more difficult to whisk with other ingredients than you think.
So use a good kitchen whisk, and beat vigorously the egg white, yogurt, cinnamon, maple syrup, and vanilla until it's well combined.
The mixture shouldn't split – it means you shouldn't see spots only with egg whites.
Step 3: Soaking And Frying
Warm some coconut oil in a large non-stick skillet over medium heat.
Meanwhile, dip the bread slice on both sides into the egg-white mixture. Always hold the bread slice a few seconds above the bowl to let the excess run out into the bowl.
Then, place the dipped bread slice into the hot oil.
Fry the bread for 2 minutes on one side or until the sides are crispy – it won't be golden brown as there's no egg yolk in the recipe.
Flip and keep frying the bread slice over medium-high heat, for about 1 to 2 minutes.
Place the toast on a plate with some absorbent paper if you care about fat – this absorbs the excess oil.
Serving Egg White French Toasts
The best way to serve French toast is to add similar toppings as you will add to pancakes, like:
Maple syrup
Fresh berries or any fresh fruit
Unsweetened whipped cream
Butter
Peanut butter
Icing sugar
Storage Instructions
You can store leftover cooked egg white French toast in an airtight container in the refrigerator for up to 2 days.
Rewarm in a hot non-stick pan, lightly oiled with coconut oil, or rewarm in the air fryer at 320°F (160°C) for 2-4 minutes, flipping halfway.
You can also rewarm them in a toaster oven.
Frequently Asked Questions
What Are French Toasts Called In France?
French toasts are called "Pain Perdu" in French, which means "lost bread" when translated word for word.
It actually refers to the recipe ingredients. French people make French toasts to reuse old stale bread. It's not considered a fancy breakfast in France. It's more of a way to turn old food into a meal to save money.
Are French Toast From France?
Yes and no! While the French version of French Toasts has existed for centuries, the name French Toasts was given by a man named Joseph French. That's it.
Are French People Eating French Toast?
French toast recipes are not very popular in France. We prefer French crepes for breakfast or croissants.
You will rarely if ever, see people eating French toast for breakfast in France.
Most of the time, French people make French toast as a quick, low-cost kid snack after school to reuse old stale bread.
Can I Cook Egg White Toast in the Oven?
Yes you can! Place the soaked toast on a baking sheet lined with parchment paper and bake them for 2 to 3 minutes on broiling mode.
More Egg White Recipes
Below I listed more recipes with egg whites for you to try:
Have you made this egg-white toast recipe? Share a comment or review below to connect with me.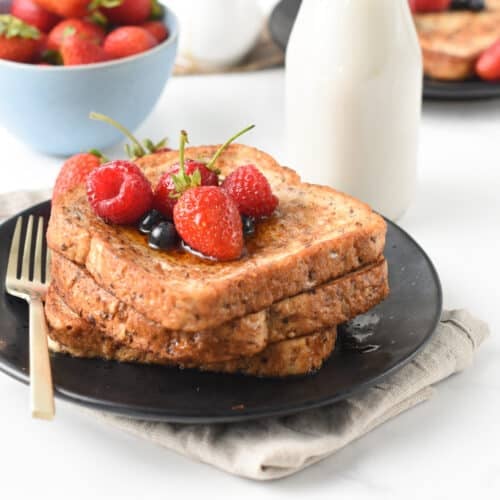 Egg White French Toast
These Egg White French Toasts are crispy, sweet, high-protein, low-fat breakfast toast perfect as a fulfilling breakfast for all the family. Plus, these are easy to adapt to any food allergy, including gluten-free and low-carb diets.
Nutrition Snapshot
Want My Kitchen Equipment?
Instructions
Select thick slices of bread of about 3/4 inches to 1 inch. I recommend bread a few days old, slightly hard, so the French toasts hold their shape better and their texture is the best.

In a shallow bowl, whisk very well egg white, milk, yogurt, cinnamon, maple syrup, and vanilla extract. The mixture should be well combined and consistent. You don't want bits of egg whites.

Dip each side of the bread slices for a few seconds into the egg white mixture. Wait for a few seconds above the bowl to let the excess egg white run back to the bowl. Place the prepared bread slices onto a plate.

Warm the coconut oil or butter in a frying pan. When hot, fry bread slices for 2-3 minutes on one side, then flip on the other side. Add more coconut oil if no more is left in the pan. Repeat these steps until all the French toasts are cooked.

Serve immediately with a drizzle of maple syrup and fresh berries.
My Recipe Notes
Nutrition
Serving:
1
slice
Calories:
126.9
kcal
(6%)
Carbohydrates:
17.5
g
(6%)
Fiber:
1.8
g
(8%)
Net Carbs:
15.7
g
Protein:
6.4
g
(13%)
Fat:
3.4
g
(5%)
Saturated Fat:
2.1
g
(13%)
Polyunsaturated Fat:
0.5
g
Monounsaturated Fat:
0.4
g
Cholesterol:
1.2
mg
Sodium:
165.2
mg
(7%)
Potassium:
131
mg
(4%)
Sugar:
6
g
(7%)
Vitamin A:
16.4
IU
Vitamin B12:
0.1
µg
(2%)
Vitamin C:
0.01
mg
Vitamin D:
0.1
µg
(1%)
Calcium:
71.2
mg
(7%)
Iron:
0.8
mg
(4%)
Magnesium:
26.3
mg
(7%)
Zinc:
0.6
mg
(4%)
Posted In: