This Sugar-Free Granola is a delicious homemade granola recipe for those looking for less sugar and fewer carbohydrates in their breakfast.
I love granola for breakfast, and while I used to love my keto cereal granola recipe, it doesn't contain oats and doesn't have a classic granola flavor.
Also, most store-bought granola contains added sugar, so if you are after a healthier alternative packed with healthy fats and fiber, you better bake your own granola batch.
So, I created this granola recipe with no sugar to be low in carbohydrates while still containing wholegrains oats for fiber, proteins, and flavor.
How To Make Homemade Sugar-Free Granola
This is the easiest homemade granola recipe to boost your breakfast yogurt bowl or milk with protein, fiber, and a real crunch.
Ingredients
All you need to make this sugar-free cereal recipe are:
Old-Fashioned Rolled Oats
Walnuts – They are packed with omega-3 fatty acids and add a genuinely crunchy texture to granola. Feel free to use other nuts, like almonds, cashews, pecans, or hazelnuts.
Sunflower Seeds, pumpkin seeds, or hemp hearts for a boost of proteins.
Sesame Seeds or any other small seeds, like chia seeds, flax seeds, or any seeds you love.
Unsweetened Shredded Coconut, more oats, or coconut flakes for more texture.
Ground Flaxseeds – This forms granola clusters when combined with the remaining liquid ingredients in the recipe.
Egg White – It binds the ingredients and forms granola clusters while adding protein to the granola. You can also use three tablespoons of sugar-free syrup instead or mashed banana, but the granola will be moist and less crunchy.
Coconut Oil – You can use melted coconut oil, avocado oil, or light olive oil.
Vanilla Extract
Cinnamon
Sweeteners are optional for this recipe. I like adding sugar-free crystal sweeteners like erythritol monk fruit blend because they melt and crystalize, helping the granola clusters form. Another option is sugar-free maple syrup made from monk fruit and soluble fiber.
Preparation
Line a large baking sheet with a silicone mat or parchment paper. Set aside. Preheat the oven to 320°F (150°C).
In a large bowl or the bowl of your stand mixer add all the dry ingredients. Stir to combine evenly.
Next, add the wet ingredients: egg white, vanilla extract, and melted, cooled coconut oil.
Stir with a spatula or use the paddle attachment of your stand mixer to bring all the ingredients together.
Lay the granola mixture onto the prepared baking sheet into a single layer. Bake at 320°F (150°C) on the center rack of the oven until the mixture is golden brown and fragrant.
Cool down without touching the mixture on the baking sheet. As it cools, the granola firms up and forms clusters.
Variations
You can change this recipe to use any nuts and seeds you have.
It doesn't have to be the ones listed in this recipe, but as long as you respect the measurement any swap of seeds, nuts for other varieties, or even for more rolled oats is fine.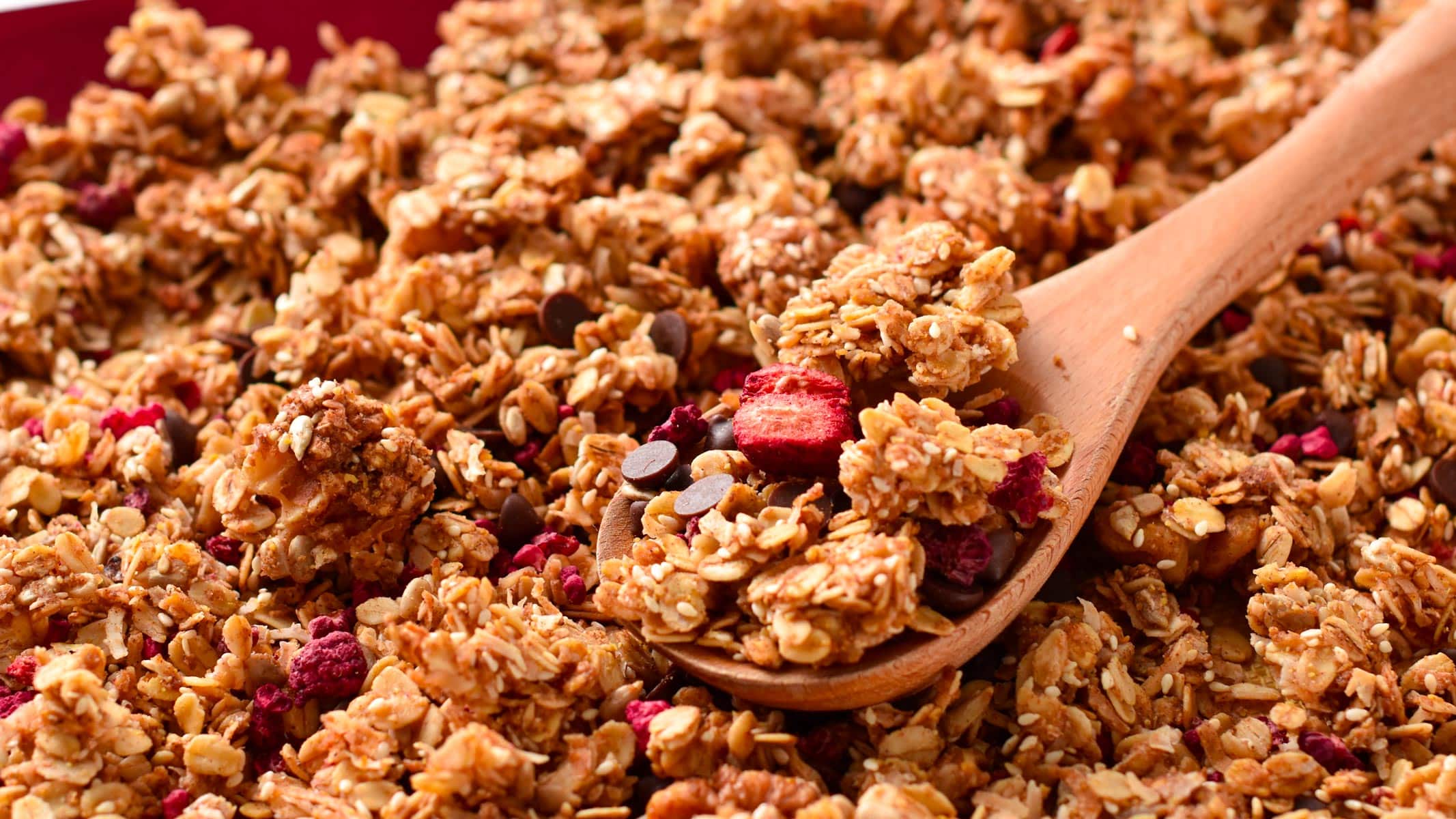 Add-Ons
Most granola recipes are combined with add-ons, like dried fruits, chocolate chips, and more. Here are some sugar-free and refined sugar-free add-ons for your granola recipe.
No Added Sugar
Freeze-Dried Berries – Most are freeze-dried with no sugar added, but always check the ingredients list to be sure they are free from refined sugar.
Cacao Nibs
Sugar-Free Chocolate Chips
Refined Sugar-Free Add-Ons
The below ingredients contain natural sugar, mostly dried fruit, but they are wholesome and healthy add-ons:
Dried Cranberries – You can find unsweetened dried cranberries to limit sugar.
Dried Apricot – Finely chopped. Dried apricot have a lower GI than other dried fruits like dates, raisins or cranberries.
Dried Sultanas
Goji Berries – They are very low in natural sugar.
Dried Dates – Finely chopped.
Storage Instructions
Store the sugar-free granola recipe in a sealed, airtight container, like a glass jar, for up to 1 month in the pantry.
Freeze in zip-lock bags and thaw the day before at room temperature.
Allergy Swaps
Below are some allergy swap if you need.
Gluten-Free – Pick gluten-free certified oats or swap for other gluten-free cereals like rice flake or puffed quinoa.
Egg-Free – Swap the egg white for 2-3 tablespoons of unsweetened applesauce, mashed banana, maple syrup, or honey for a refined sugar-free option. The first two options moisten the granola and won't form such nice clusters.
Oil-Free – You can swap coconut oil for some nut butter like peanut butter or almond butter.
Frequently Asked questions
Here are my answers to your most common questions about this granola recipe.
What is the best granola for diabetics?
The best granola for diabetes contains a lot of healthy fats from nuts and seeds, no added sweetener or dried fruits, and a minimal amount of oats to keep the carbs low.
Is no added sugar granola good for you?
No-added sugar granola spikes your blood sugar level much less than granola sweetened with sugar or even natural honey or maple syrup. It's, therefore, a healthier option for you as it delays hunger and cravings and keeps your energy stable for longer.
More Granola Recipes
If you like this recipe, you'll love these: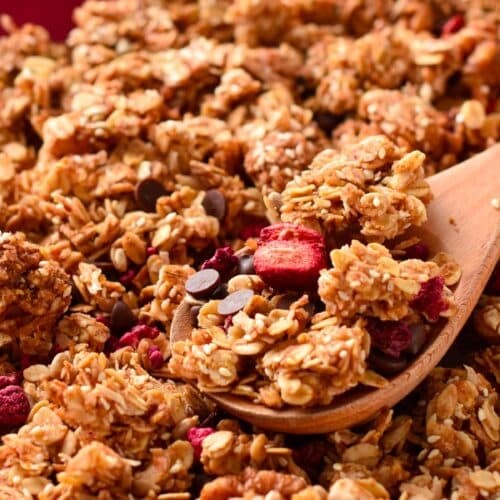 Sugar-Free Granola
This Sugar-Free Granola is a delicious homemade granola recipe for those looking for less sugar and fewer carbohydrates in their breakfast.
Yield:
servings (1/4 cup)
Nutrition Snapshot
Want My Kitchen Equipment?
Instructions
Preheat the oven to 320°F (150°C). Line a large baking sheet with parchment paper or a silicone mat. Set aside.

In a large mixing bowl, stir all the dry ingredients.

Stir in liquid ingredients until all seeds, nuts, and oats are nicely coated.

Spread the granola in an even single layer on the prepared baking sheet.

Bake at 320°F (150°C) for 15-17 minutes or until golden brown.

Cool at room temperature on the baking sheet, without touching the mixture.
Storage
When cooled, break some of the clusters and store them in an airtight container for up to 4 weeks in the pantry.
My Recipe Notes
Nutrition
Yield:
servings (1/4 cup)
Serving:
1
serving
Calories:
150.6
kcal
(8%)
Carbohydrates:
9.3
g
(3%)
Fiber:
3
g
(13%)
Net Carbs:
6.3
g
Protein:
3.6
g
(7%)
Fat:
11.9
g
(18%)
Saturated Fat:
5.2
g
(33%)
Polyunsaturated Fat:
4
g
Monounsaturated Fat:
1.9
g
Sodium:
6.6
mg
Potassium:
119.9
mg
(3%)
Sugar:
0.6
g
(1%)
Vitamin A:
2.4
IU
Vitamin B12:
0.002
µg
Vitamin C:
0.1
mg
Calcium:
43.4
mg
(4%)
Iron:
1.2
mg
(7%)
Magnesium:
49.1
mg
(12%)
Zinc:
0.9
mg
(6%)
Posted In: