Cottage Cheese Banana Pancakes
These Cottage Cheese Banana Pancakes are delicious high-protein banana pancakes made from blended cottage cheese with no protein powder added.
These protein pancakes are also packed with fiber and are the most filling breakfast pancakes.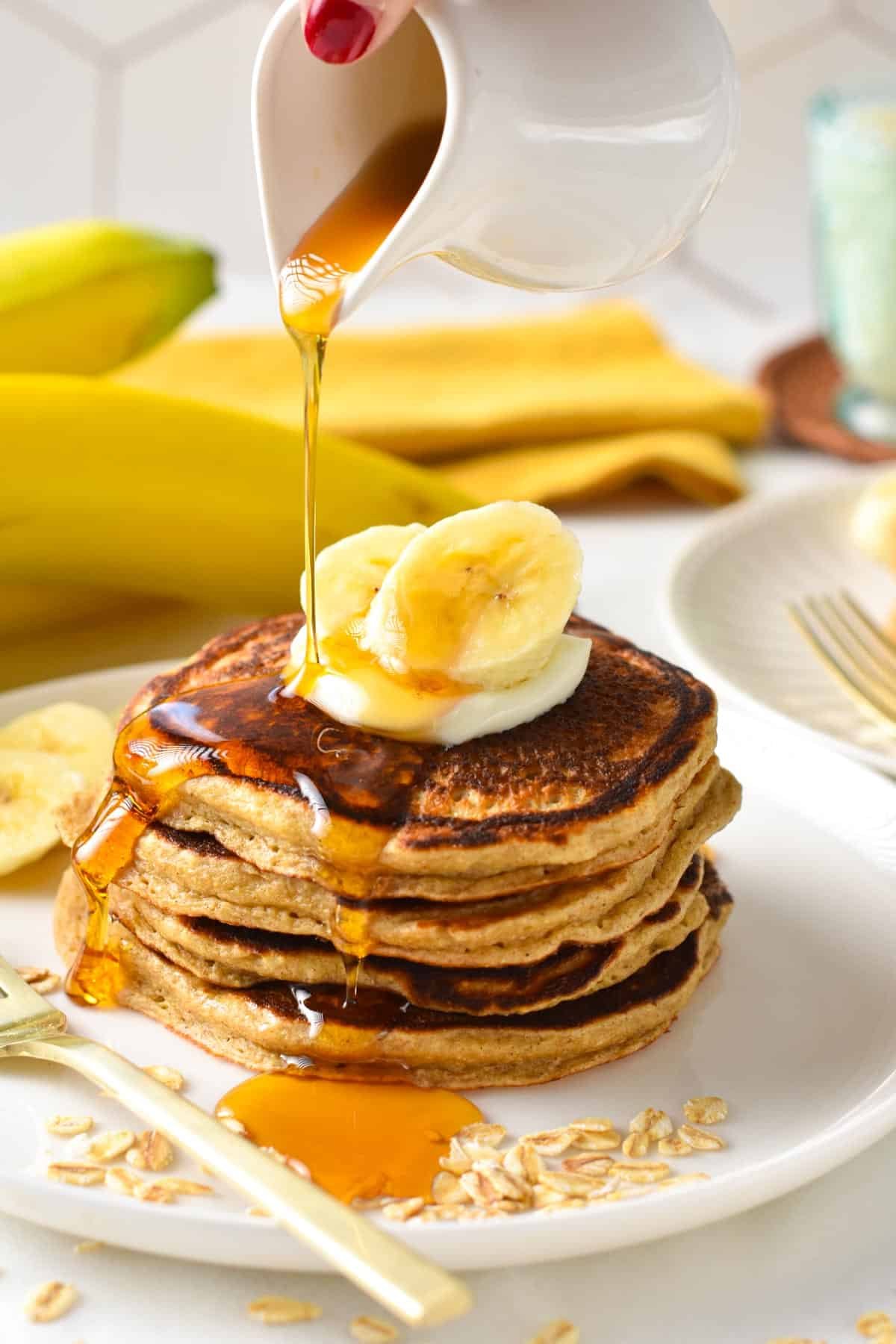 You might have tried my cottage cheese protein pancake recipe using protein powder or some of my other cottage cheese recipes.
This is a much fluffier pancake recipe using cottage cheese. This pancake recipe uses the natural sweetness of bananas to create the most decadent, sweet, and protein-packed cottage cheese pancakes.
You will love that these pancakes don't require much time to make. It's an all-in-one recipe prepared in 2 minutes in your blender for a quick healthy breakfast.
How To Make Cottage Cheese Banana Pancakes
It's very easy to make banana pancakes with cottage cheese. You need a blender or food processor for this recipe to blend the cottage cheese into a creamy mixture.
Ingredients
Cottage Cheese – Feel free to use any plain cottage cheese you like, from full-fat to fat-free. The recipe works with any options.
Bananas – The riper the bananas, the sweeter the pancakes. If your bananas have black spots on their skins, you won't need much sweetener for this recipe.
Crystal Sweetener of Choice – Coconut sugar, erythritol, or allulose for low-calorie natural options..
Old-Fashioned Rolled Oats or quick oats
Eggs
Cinnamon
Baking Powder
Vanilla Extract
Almond Milk
Preparation
In a high-speed blender, add all the banana pancake ingredients: eggs, cottage cheese, peeled banana pieces, almond milk, sweetener, oats, cinnamon, vanilla, and baking powder.
Blend the batter at high speed, using the tamper attachment of your blender to help the batter blend easily.
Keep blending until smooth and the consistency of the batter looks like a regular pancake batter. If the batter is extremely thick, this can happen if your eggs are small, then add a splash more milk.
Set aside into a bowl, while you warm the pancake griddle.
Cooking The Pancakes
Warm a pancake griddle or large non-stick skillet over medium-low heat. Add coconut oil to the pan or use cooking spray to evenly grease the surface of the pan.
Scoop out 1/4 cup of cottage cheese banana pancake batter into the pan.
Cook the pancake for 2 to 3 minutes on one side until bubbles form on top or the sides start to dry out.
Use a spatula to flip the pancake to the other side and cook for an extra minute.
Remove the pancake from the pan and set it aside on a cooling rack while cooking the remaining pancake batter.
You can cook more than one pancake at once in the same pan, leaving two thumbs of spaces between each pancake because the batter spreads a little bit, and this prevents the pancakes from sticking to each other.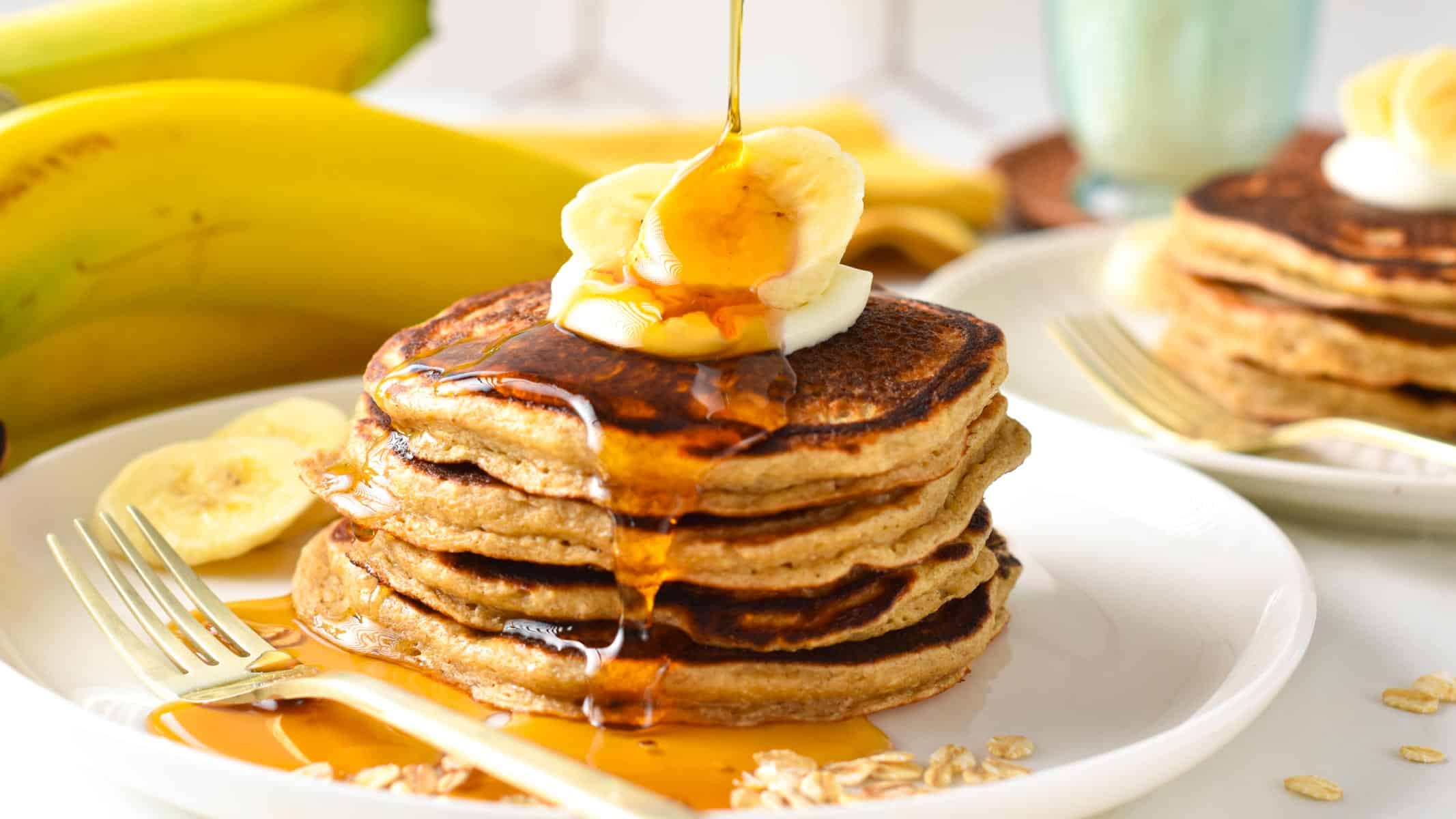 Serving
Serve the pancakes with some of your favorite toppings like:
Greek Yogurt for a boost of proteins
Banana Slices
Fresh Berries like raspberries, blueberries, or strawberries.
Maple Syrup or any unrefined syrup you love including sugar-free pancake syrup made from monk fruit.
Nut-Butter – Add a drizzle of fresh drippy peanut butter or almond butter to boost the protein.
A few Chocolate Chips
Variations
You can use this recipe with different ingredients. The best swaps I tried so far are:
Eggs For Egg Whites – Decrease the saturated fat of the recipe and swap the 2 eggs for 4 egg whites. The pancakes texture is much crispier, less fluffy and moist with this option.
Add Fruits or chocolate chips – stir in 1/4 to 1/3 cup of chopped nuts, chocolate chips, or blueberries in the pancake batter before cooking.
Add Protein Powder – Add up to 2 tablespoons of protein powder, then add an extra 2-3 tablespoons of almond milk to thin out the batter.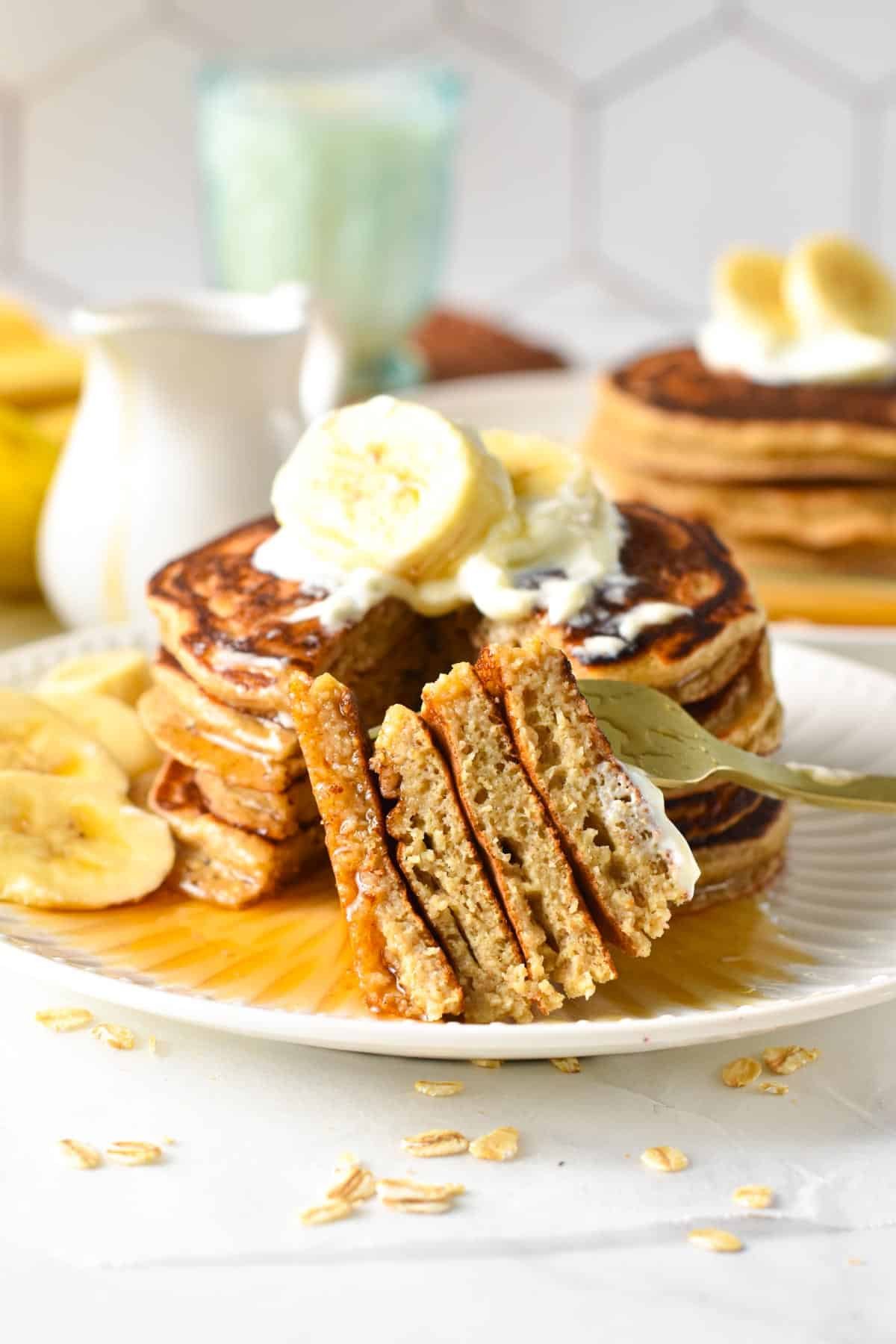 Storage Instructions
Store leftover banana cottage cheese pancakes in an airtight container in the fridge for up to 3 days.
You can freeze the pancakes in zip-lock bags for up to one month.
Make sure you separate each pancake with a piece of parchment paper or they stick together in the freezer. Then, thaw for a day before serving in the fridge.
Rewarm the pancakes in a bread toaster, warm non-stick skillet, or microwave.
Allergy Swaps
Below are some ingredients substitutions ideas if you need them.
Egg-Free – I haven't tried the recipe with egg replacers but I am confident that flax or chia eggs will work well.
Nut-Free – Swap the almond milk for any milk like regular milk, skim milk, or soy milk.
Gluten-Free – Use a gluten-free oat brand and make sure the baking powder you use is wheat-free.
Flour – You can blend all the ingredients except oats and stir the blended ingredients with oat flour or use half almond flour and half oat flour. The pancakes will be fragile using only almond flour, you may need an extra egg for this option.
Frequently Asked Questions
Here are my answers to your most common questions about this recipe.
Why are my banana pancakes mushy?
You can end up with mushy pancakes if you use too much banana in the recipe. For example, you might have used large bananas instead of medium or small ones.
Simply add a few extra tablespoons of flour to balance the texture.
Why do my banana pancakes fall apart?
A pancake that falls apart has too much liquid, or it misses flour or eggs. It can be that you used smaller eggs, more milk, or not enough flour.
What does banana substitute in pancakes?
Most of the time, bananas are used to remove oil or butter in pancakes recipe while adding natural flavor and sweetness.
More Healthy Pancake Recipes
Below are some more healthy pancake recipe inspirations for you to try.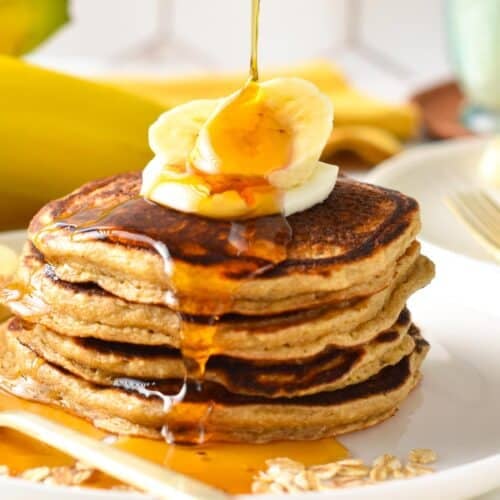 Cottage Cheese Banana Pancakes
These Cottage Cheese Banana Pancakes are delicious high-protein banana pancakes made from the blended cottage, with no protein powder needed.
Yield:
servings (3 pancakes each)
Nutrition Snapshot
Want My Kitchen Equipment?
Instructions
In a high-speed blender, add all the ingredients: cottage cheese, large eggs, old-fashioned oats, cinnamon, baking powder, 1 tablespoon of almond milk, and sweetener.

Blend on medium-high speed and use the tamper tool of your blender to push the batter next to the blade. If too thick, add the extra tablespoon of almond milk, and blend again to incorporate.

Blend until smooth and thick as regular pancake batter. Transfer batter into a mixing bowl.

Warm a non-stick pan or a pancake griddle over medium-high heat with avocado oil or cooking oil spray.

Scoop 1/4 cup of batter per pancake and cook for 2-3 minutes, on medium heat, until the sides are set and the pancakes are easy to flip.

Flip with a spatula and cook for an extra minute until golden brown.
Serving
Serve with maple syrup, a dollop of Greek Yogurt and a few banana slices
Storage
Store in the fridge in an airtight container for up to 3 days. Or freeze in zip-lock bags for up to one month. Thaw in the fridge the day before serving and rewarm in a warm non-stick pan or in the microwave.
My Recipe Notes
Nutrition
Yield:
servings (3 pancakes each)
Serving:
3
pancakes
Calories:
322.6
kcal
(16%)
Carbohydrates:
44.3
g
(15%)
Fiber:
5.9
g
(25%)
Net Carbs:
38.4
g
Protein:
19.3
g
(39%)
Fat:
8.3
g
(13%)
Saturated Fat:
2.4
g
(15%)
Polyunsaturated Fat:
2
g
Monounsaturated Fat:
2.9
g
Trans Fat:
0.02
g
Cholesterol:
188.3
mg
(63%)
Sodium:
737.2
mg
(32%)
Potassium:
478.4
mg
(14%)
Sugar:
9.3
g
(10%)
Vitamin A:
332.4
IU
(7%)
Vitamin B12:
0.8
µg
(13%)
Vitamin C:
5.2
mg
(6%)
Vitamin D:
1
µg
(7%)
Calcium:
335.5
mg
(34%)
Iron:
3.3
mg
(18%)
Magnesium:
82
mg
(21%)
Zinc:
2.4
mg
(16%)
Posted In: