Cottage Cheese Protein Pancakes
These Cottage Cheese Protein Pancakes are delicious healthy protein pancakes packed with 33 grams of protein per breakfast.
They are lightly crispy on the edges, soft and moist in the center, with a delicious vanilla flavor.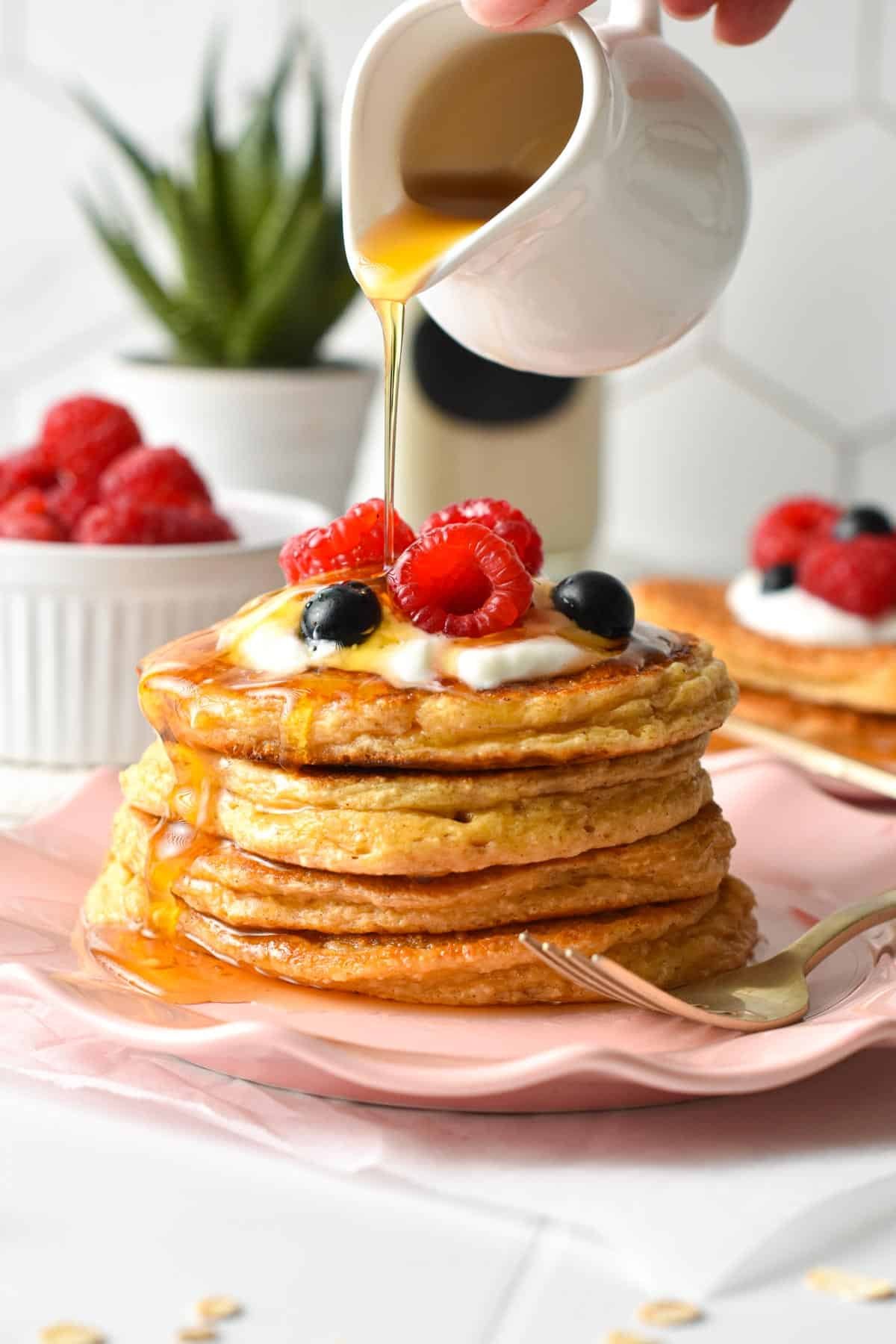 A complete breakfast should bring 30 grams of protein or more, depending on your workout in the morning.
During the week, I like protein shakes or omelets post-workout. But on the weekend, I love my protein waffles or, recently, these cottage cheese protein pancakes.
If you never added cottage cheese to pancake batter yet, you should start now! It adds a deliciously moist texture to the enter and a bunch of protein.
While there are many ways to make cottage cheese pancakes, this recipe focus on using wholesome ingredients, no refined flour or sugar.
Therefore, it's also packed with fiber and vitamins from rolled oats to keep you full for the house.
How To Make Cottage Cheese Protein Pancakes
If you are after something sweet and filling, these pancakes with cottage cheese are for you.
Ingredients
All you need to make these high protein blender cottage cheese pancakes are:
Old-Fashioned Rolled Oats – This is the most nutritive grain to add to your breakfast pancakes. It's also higher in protein than white flour and packed with fiber, vitamins, and gut-friendly.
Cottage Cheese – Feel free to use low-fat cottage cheese to cut down the calories if desired.
Eggs – Use large eggs or the batter gets dry.
Vanilla Protein Powder – Feel free to use any protein powder you love. I use a clean vanilla pea protein powder. It is made with only three ingredients: pea protein isolate, natural vanilla flavor, and thaumatin as a sweetener.
Sweetener of Choice – To keep the calories low and avoid added sugar, I like allulose, erythritol, or a few drops of stevia glycerite. Feel free to use coconut sugar or date sugar if preferred.
Baking Powder
Vanilla Extract – Use only if your protein powder is unflavored. Mine has a strong vanilla flavor so I do skip the vanilla extract.
Cinnamon
Blending Ingredients
To make tasty and healthy cottage cheese pancakes, you must blend all the ingredients in a high-speed blender.
Place cottage cheese, eggs, oats, protein powder sweetener, cinnamon, vanilla extract, and baking powder.
Blend on medium-high speed and use the tamper tool of the blender to push the batter next to the blade.
Adjusting The Batter
The batter is ultra-thick, and that's normal, it shouldn't be liquid like for regular pancakes.
If too difficult to blend, stop the blending, or use a silicone spatula to scrape down the sides of the jug and repeat blending at low speed.
If really too dry, feel free to add one egg white or 2 to 3 tablespoons of water, but this can make the batter fragile when cooking later.
Place the thick cottage cheese pancake batter in a bowl. Set aside while warming the pancake griddle.
Food Processor Method
If you are using a food processor, start by adding the oat and blend on high speed to form oat flour.
Then, add the remaining ingredients and blend again to form the thick pancake batter.
Cooking The Pancakes
These are not your classic pancakes. The batter is thick and won't spread.
First, warm the pancake skillet over medium-high heat and grease the surface with cooking spray or avocado oil.
Add 1/3 cup of batter – I use an ice cream scoop to release a nice round dollop of batter.
Then, wet your finger a little and press the top of the uncooked batter to spread the pancakes and make then wider.
Cook for 1 to 2 minutes or until the sides start to dry.
Flip and cook an extra 2 to 3 minutes over medium heat until golden brown and cook in the center.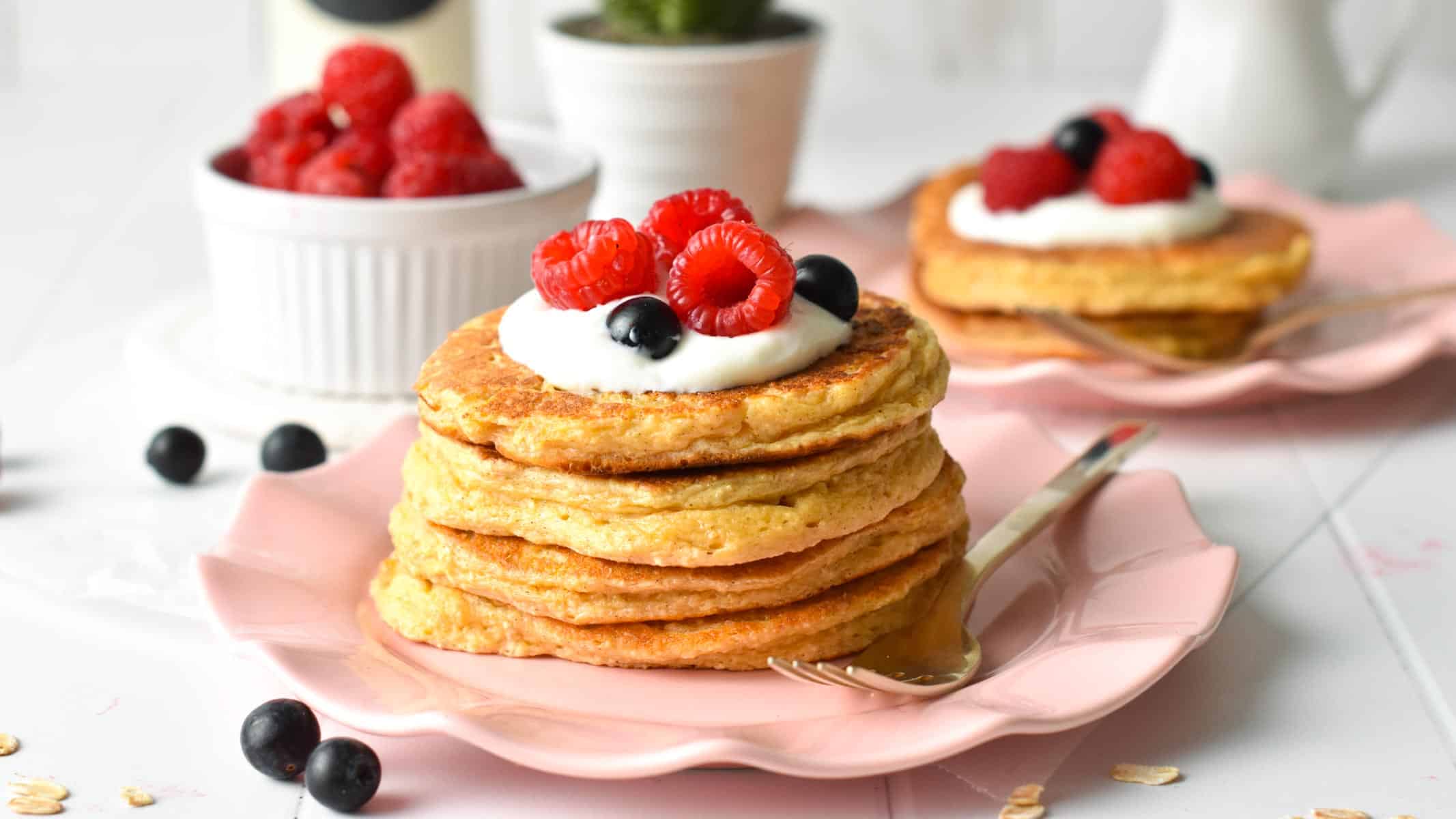 Serving
This recipe makes 6 pancakes of about 1/3 cup of batter each.
Serve 3 pancakes as a high-protein breakfast, stack the cottage cheese oatmeal pancakes then add:
A dollop of Plain Greek yogurt for a boost of protein.
Fresh fruits like raspberries, blueberries, or banana slices.
Maple syrup, honey, or sugar-free pancake syrup.
Nut butter- this also adds protein, try a drizzle of fresh peanut butter or almond butter.
Nuts – add a few slices of almonds, chopped walnuts, or pecan.
Chocolate chips
Storage Instructions
This high-protein cottage cheese pancake recipe is freezer-friendly. Place it in zip-lock bags and freeze it for up to one month.
You can also store it for up to 3 days in an airtight container in the fridge.
Rewarm leftovers in a warm pancake griddle or non-stick pan or for a few seconds in a bread toaster.
Allergy Swaps
Below are some options to make this recipe if you have some food allergies:
Egg-Free – Removing and swapping eggs for egg replacers decreases the protein content of the pancakes. Also, remember that the texture will be more dense and gummy. To skip eggs, replace with 1/2 cup of mashed banana and one tablespoon of flax meal.
Gluten-Free – Use gluten-free certified oats.
Protein Powder-Free – Feel free to skip the protein powder and add one teaspoon of vanilla extract for flavor.
Frequently Asked Questions
Below are my answers to your most common questions about this healthy pancake recipe.
Can you mix protein powder with cottage cheese?
You can add protein powder in a cottage cheese protein shake, in cottage cheese protein pancake batter, or on its own to thicken and flavor the cottage cheese. To eat on its own, add one scoop of protein powder per cup of plain cottage cheese.
Are high-protein pancakes good for you?
Yes, adding more proteins to your breakfast feed your muscles with energy and encourage muscle growth instead of fat. It's also a great way to keep you full for longer as proteins are very filling and stop food craving for a long time.
Are protein pancakes healthier than regular pancakes?
Yes, protein pancakes are packed with proteins that keep you full quickly and reduce the number of calories you eat. Also, they are often made with unrefined grain and low sugar, and they are better for you if you want to eat more wholesome ingredients.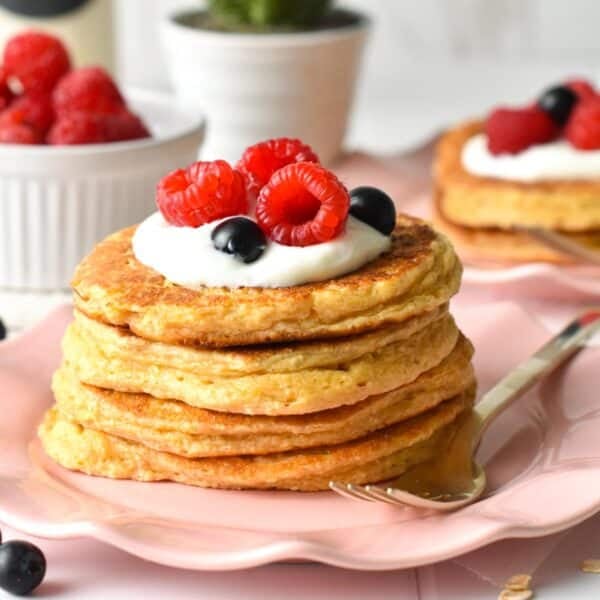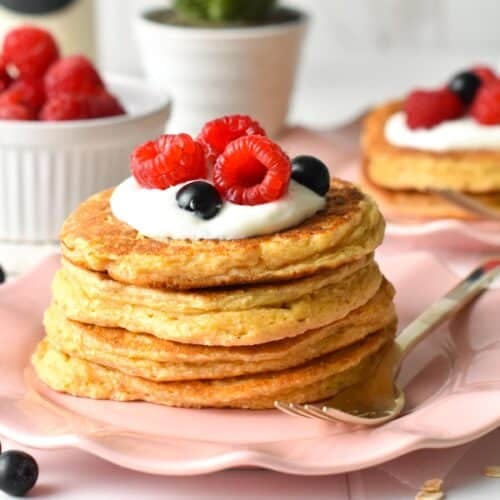 Cottage Cheese Protein Pancakes
These Cottage Cheese Protein Pancakes are delicious healthy protein pancakes packed with 11 grams of protein per pancake. They are crispy on the edge, soft and moist in the middle, with a delightful vanilla flavor
Ingredients
1

cup

Cottage Cheese

low-fat

2

large

Eggs

¼

teaspoon

Cinnamon

2

teaspoons

Baking powder

2

tablespoons

Vanilla Protein Powder

not packed, swept

1-2

tablespoons

Erythritol

like allulose or erythritol, adjust regarding taste
Optioanl
1-2

tablespoons

Almond Milk
This recipe may contain Amazon or other affiliate links. As an Amazon Associate I earn from qualifying purchases.
Instructions
In a high-speed blender, add all the ingredients: cottage cheese, large eggs, old-fashioned oats, cinnamon, baking powder, vanilla protein powder, and sweetener.

Blend on medium-high speed and use the tamper tool of your blender to push the batter next to the blade. You may need to stop the blender to scrape down the sides of the jug with a silicone spatula and bring all ingredients together.

Blend until thick, and well combined – it does look grainy, wet, not dry. If dry, you can blend in an extra egg white, or 1-2 tablespoon almond milk, but you shouldn't have to.

Warm a pancake griddle over medium-high heat with avocado oil.

Scoop 1/3 cup of batter per pancake, forming a thick dollop that won't spread. Oil or lightly wet your fingers with water and pat/press to spread and flatten the batter.

Cook for 1-2 minutes until the sides dry, and it's easy to flip.

Flip and cook for 2-3 minutes until the center is not wet and set. They will puff when warm and deflate as you serve, and that's normal.
Serving
Serve with maple syrup or sugar-free pancake syrup, berries, and a dollop of Greek Yogurt for a boost of extra protein.
Storage
Store in the fridge in an airtight container or zip-lock bags for up to 3 days or freeze for up to 1 month. Thaw in the fridge the day before serving.
Want My Kitchen Equipment?
Serving:
3
pancakes
Calories:
362.9
kcal
(18%)
Carbohydrates:
39.5
g
(13%)
Fiber:
4.2
g
(18%)
Net Carbs:
35.3
g
Protein:
32.3
g
(65%)
Fat:
8.6
g
(13%)
Saturated Fat:
2.6
g
(16%)
Polyunsaturated Fat:
1.9
g
Monounsaturated Fat:
2.7
g
Trans Fat:
0.02
g
Cholesterol:
222.6
mg
(74%)
Sodium:
953.7
mg
(41%)
Potassium:
429.7
mg
(12%)
Sugar:
3.4
g
(4%)
Vitamin A:
279.8
IU
(6%)
Vitamin B12:
1
µg
(17%)
Vitamin C:
0.01
mg
Vitamin D:
1
µg
(7%)
Calcium:
455.6
mg
(46%)
Iron:
3.2
mg
(18%)
Magnesium:
81.3
mg
(20%)
Zinc:
2.7
mg
(18%)
Posted In: