Greek Yogurt Protein Shake (40 Grams of Proteins)
This Greek Yogurt Protein Shake is a deliciously creamy and smooth raspberry protein shake packed with 40 grams of proteins.
The shake is also gluten-free and easy to adapt to create a range of protein shake flavors.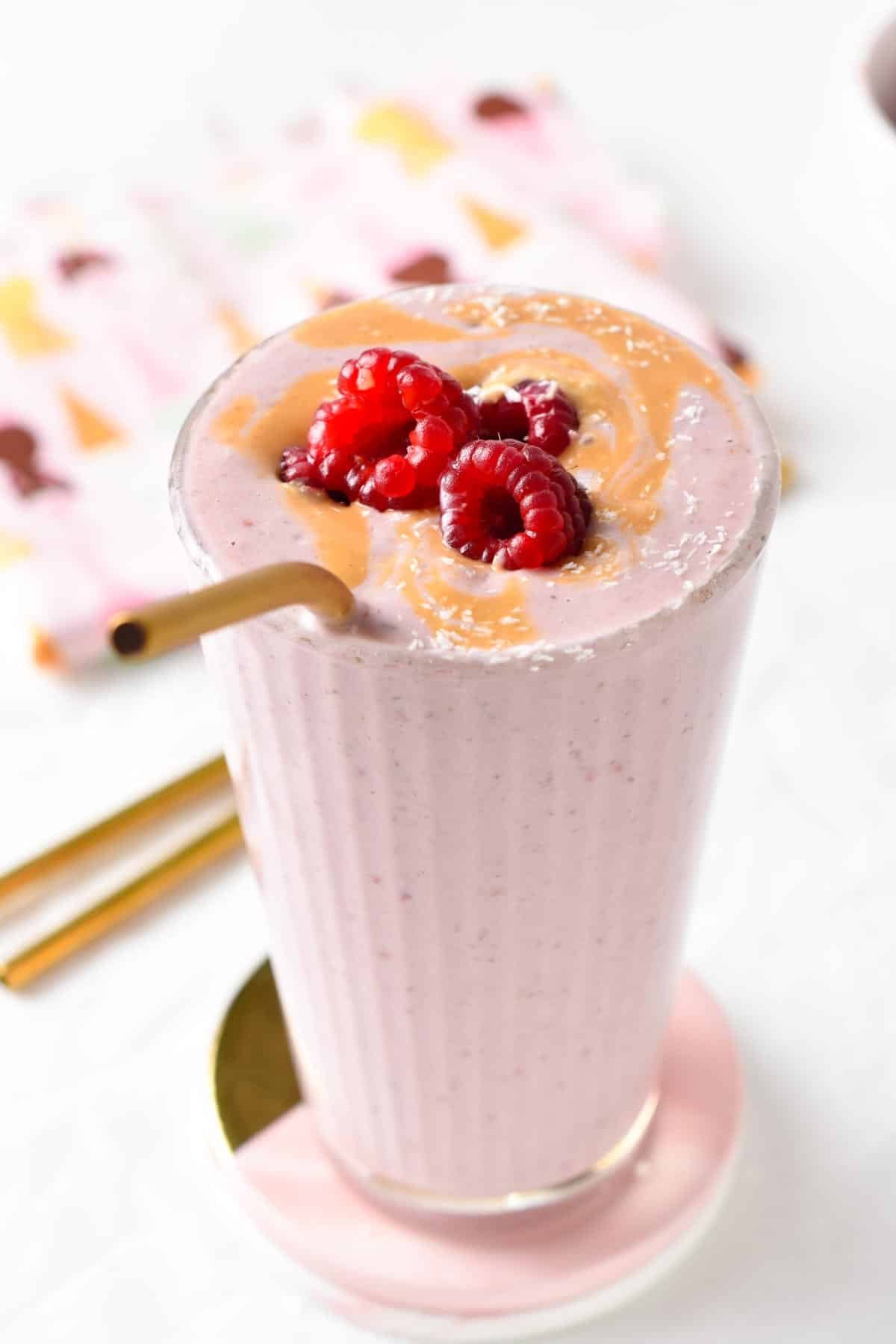 If you have tried and liked my delicious Greek yogurt smoothie and you regularly workout or just need more protein, this recipe is for you!
This Greek yogurt shake is packed with 40 grams of protein.
This protein shake is a great breakfast meal replacement or post-workout snack to refuel your muscles with complete proteins from yogurt.
How To Make Greek Yogurt Protein Shake
Like many other shakes and smoothies, this recipes is very easy to make!
Ingredients
All you need to make a tasty protein shake with Greek yogurt are:
Plain Greek Yogurt – If you prefer flavored Greek Yogurt, you will have to decrease the quantity of fruits.
Vanilla Protein Powder – I like pea protein powder, but feel free to add the protein powder you love, including whey, soy, or hemp protein powder.
Frozen Raspberries – Raspberries contain less sugar and calories than other berries. Therefore it's an excellent choice for a healthy protein shake. However, feel free to use other frozen fruits you love, including frozen bananas, strawberries, or frozen mango.
Ice Cubes
Skim Milk or almond milk, and some non-dairy milk like soy milk are also high in protein.
Chia Seeds or ground flaxseeds to add fiber and healthy fats.
Almond Butter adds a nice flavor, protein, and omega-3 fatty acids. If you prefer, use peanut butter or sunflower seed butter.
Optional Ingredients
Depending on your liking you may like to add some of the ingredients below for a boost of flavor.
1/2 teaspoon of vanilla extract
Pinch of cinnamon
One tablespoon of honey or sugar-free sweetener you love.
Preparation
In a high-speed blender add all the ingredients, starting with the minimum amount of ice cubes. Blend until smooth.
Taste, add the sweetener to boost sweetness. I personally like mine without added sugars. The fruits and protein powder make the Greek yogurt protein shake sweet enough.
For a frothier, creamy texture, blend in some more ice or frozen fruits.
If the shake is too thick, add more liquid
Serving
This Greek yogurt protein smoothie is great on its own or with some toppings like:
A drizzle of nut butter
Shredded coconut
Fresh or frozen berries
A dollop of Greek yogurt
Drizzle of honey or maple syrup – use sugar-free maple syrup if preferred.
Flavor Ideas
Of course, you can create a range of Greek yogurt shakes flavors using some different frozen fruits or add ingredients.
Banana Chocolate Protein Shake – Replace the frozen berries with a frozen banana, add one tablespoon of cocoa powder, and use a scoop of your favorite chocolate protein powder.
Mango Coconut – Use frozen mangoes, coconut milk, and coconut protein powder.
Peanut Butter Protein Shake – Use frozen banana or frozen cauliflower, use a peanut protein powder, and replace the almond butter with peanut butter.
Green Protein Shake – Use frozen banana or frozen avocado and add vegetables like a handful of spinach, kale, or cucumber.
Allergy Swaps
Below are some ingredient substitution ideas if you need them.
Nut-Free – Replace the almond butter with sunflower seed butter or pumpkin seed butter.
Dairy-Free – Use dairy-free Greek yogurt and non-dairy milk like almond milk or soy milk.
Low-Carb – Use low-carb fruits like raspberry or strawberries, low-carb yogurt, and almond milk.
Frequently Asked Questions
Here are my answers to your most common questions about this protein shake with Greek yogurt.
Can I Put Greek Yogurt In My Protein Shake?
Yes, adding Greek yogurt is a great way to increase the protein in your shake, and it also adds creaminess.
Can You Use Greek Yogurt Instead Of Milk In A Protein Shake?
You can't entirely swap the milk for Greek yogurt, you will always need a splash of liquid, or the frozen fruits will have difficulties blending in.
But you can replace 90% of the milk with yogurt and add a splash of almond milk or water to help the shake blend well.
Is Greek yogurt as good as whey protein?
Greek yogurt is a complete protein source and as such, it's just as good for your body as whey protein.
You could argue that because it's less processed, Greek yogurt is even healthier.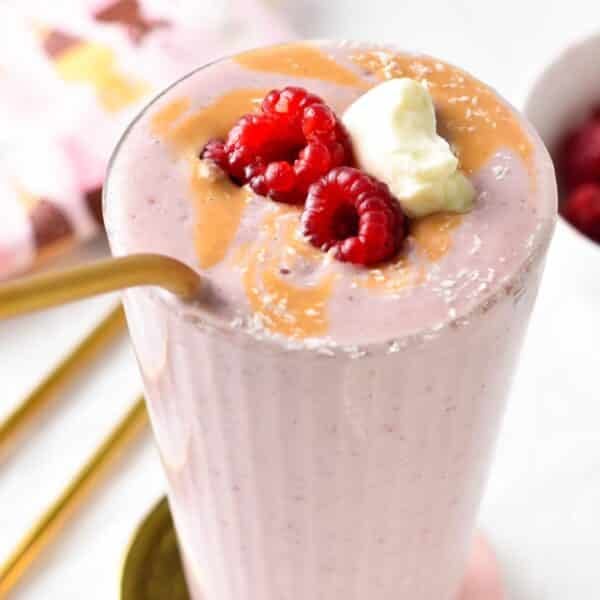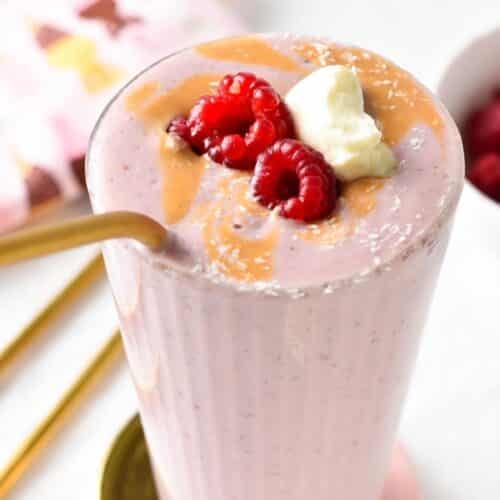 Greek Yogurt Protein Shake
This Greek Yogurt Protein Shake is a deliciously creamy and smooth raspberry protein shake packed with 40 grams of protein.
Ingredients
Optional
1

tablespoon

Sweetener

honey or sugar-free maple syrup
This recipe may contain Amazon or other affiliate links. As an Amazon Associate I earn from qualifying purchases.
Instructions
In a high-speed blender, add the protein shake ingredients – order doesn't matter. Blend until smooth.

Taste, and add more ice cubes for a creamier texture. If not sweet to your liking, blend in the sweetener.

Serve immediately with berries, a drizzle of peanut butter, or a dollop of yogurt.
Want My Kitchen Equipment?
Serving:
1
shake
Calories:
341
kcal
(17%)
Carbohydrates:
31.5
g
(11%)
Fiber:
5.8
g
(24%)
Net Carbs:
25.7
g
Protein:
40.4
g
(81%)
Fat:
6.9
g
(11%)
Saturated Fat:
1.4
g
(9%)
Polyunsaturated Fat:
1.9
g
Monounsaturated Fat:
1.8
g
Trans Fat:
0.02
g
Cholesterol:
73.9
mg
(25%)
Sodium:
220.9
mg
(10%)
Potassium:
817.5
mg
(23%)
Sugar:
20
g
(22%)
Vitamin A:
525.8
IU
(11%)
Vitamin B12:
2.1
µg
(35%)
Vitamin C:
15.8
mg
(19%)
Vitamin D:
2.7
µg
(18%)
Calcium:
649.4
mg
(65%)
Iron:
1
mg
(6%)
Magnesium:
94.4
mg
(24%)
Zinc:
2.2
mg
(15%)
Posted In: