This healthy cheesecake recipe is the easiest healthy dessert for cheesecake lovers.
Packed with 12 grams of protein, no sugar, and gluten-free, this dessert will make all your family and friends ask for more.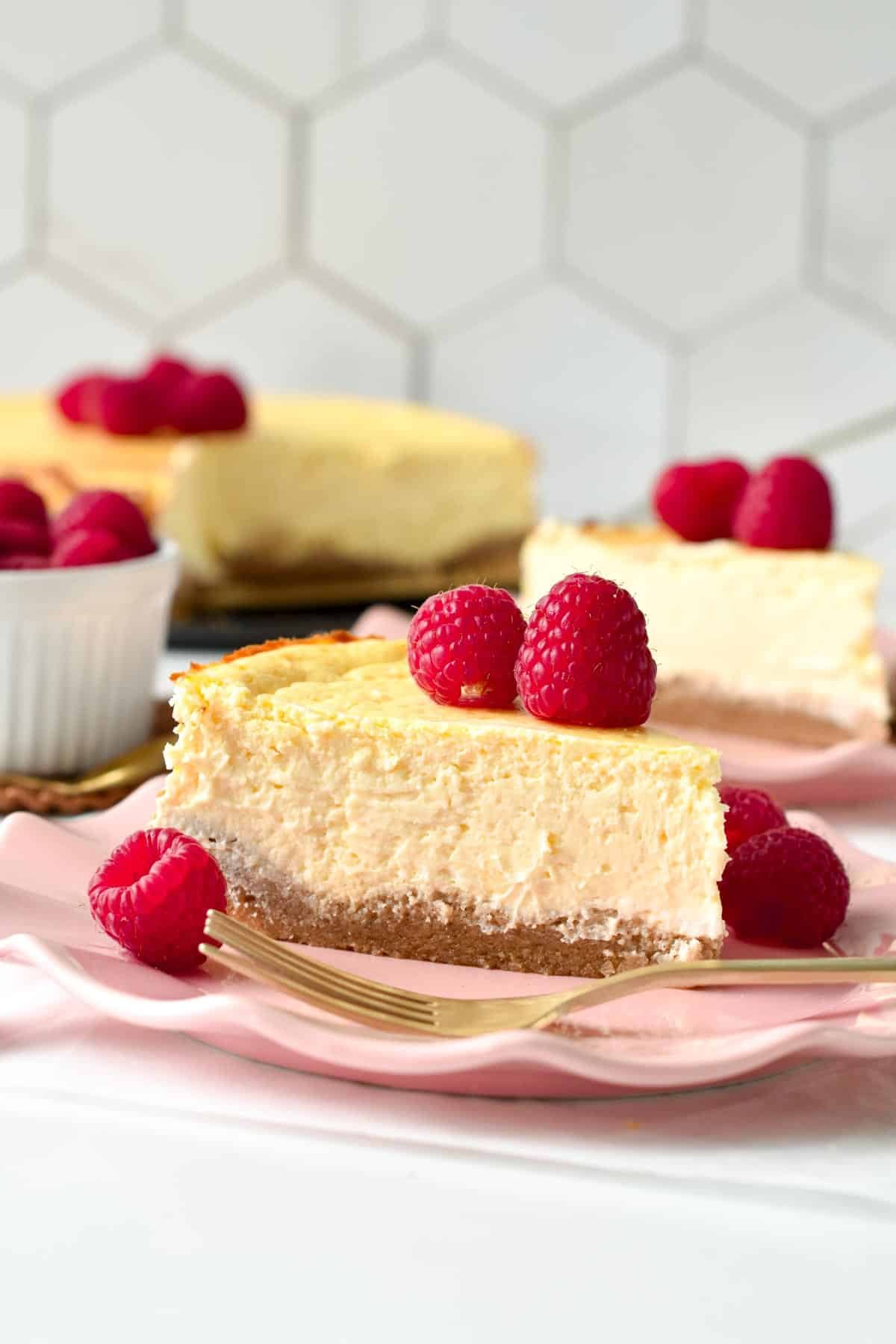 I am passionate about healthier desserts, especially anything that tastes like cheesecake.
Cheesecake is one of my favorite desserts but, let's face it, it can easily be too high in sugar or lack proteins, leading to overeating.
For now, the best way I like to fix a cheesecake craving without guilt is to make single-serve keto cheesecake bites or keto chocolate cheesecake fat bombs.
But when I invite family and friends, I go for this healthy cheesecake recipe. It serves 16 slices. It's packed with creamy vanilla flavor and so refreshing on hot days.
What Is A Healthy Cheesecake?
A healthy cheesecake is a cheesecake recipe that actually brings you nutrients and is made from wholesome, natural ingredients.
Healthy cheesecake is packed with proteins, and fiber, reduced in fat, and uses nuts and natural sweeteners.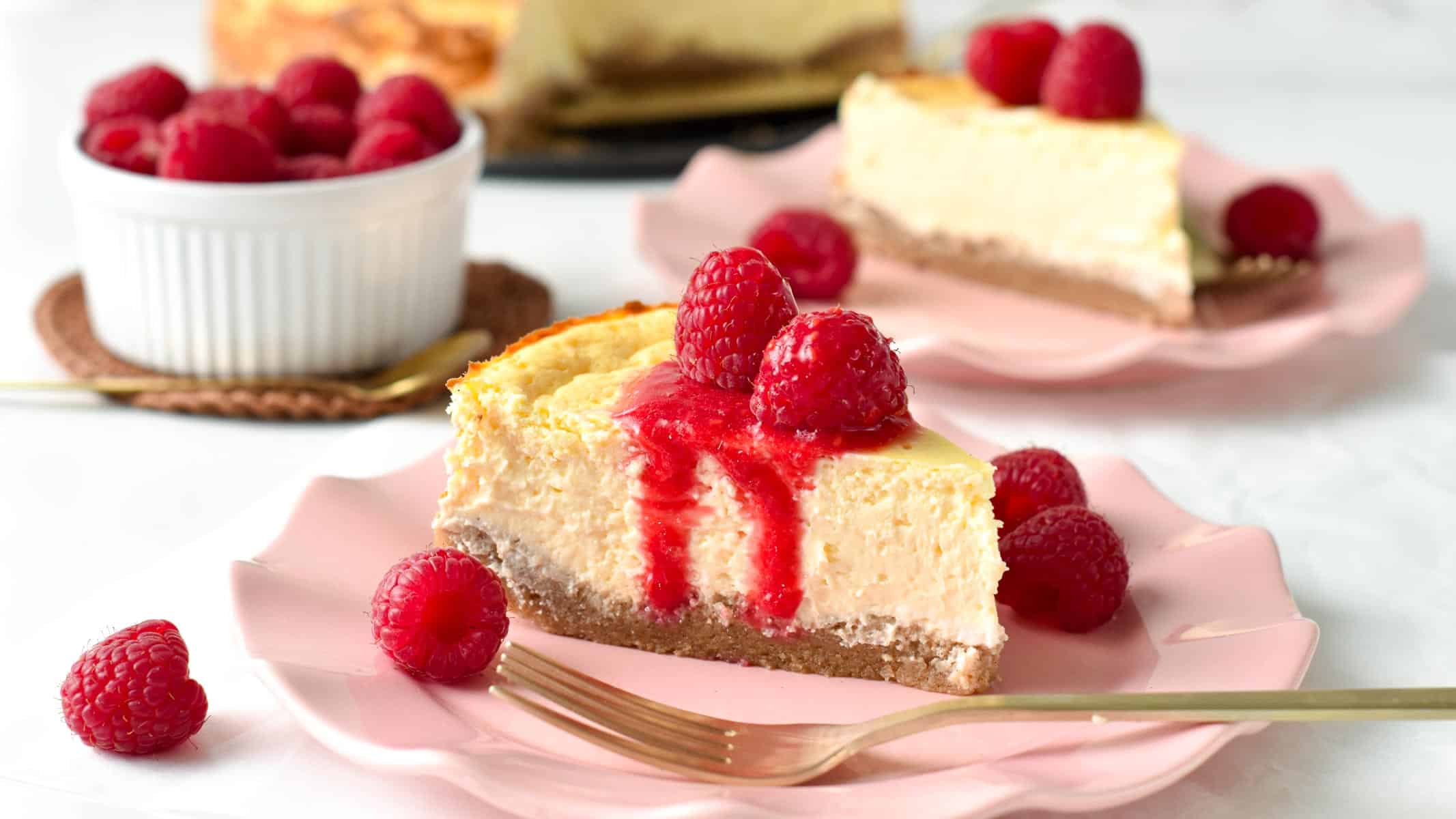 How To Make Healthy Cheesecake
The amazing fact about this healthy cheesecake is how ridiculously easy it is to make. You don't need many steps or strong baking skills.
Healthy Cheesecake Crust Ingredients
To make a cheesecake crust healthier, I opt for wholesome ingredients. We don't use store-bought graham crackers that are loaded with sugar.
However, I can guarantee that my healthy cheesecake crust tastes like a healthy graham cracker crust.
Almond Flour or oat flour. Both work well.
Sugar-Free Crystal Sweetener like allulose or erythritol. This option keeps the calories to zero and doesn't add sugar to the recipe. For a healthy crystal sweetener that is not low-carb, try coconut sugar or unrefined cane sugar.
Unsalted Butter or melted coconut oil
Pinch of Salt
Cinnamon
Vanilla Extract
Making Homemade Graham Cracker Crust
Preheat the oven to 325°F (160°C).
To make the healthy crust, stir all ingredients into a large mixing bowl. The mixture should look like a graham cracker crumb.
It should be a bit dry but hold together if pressed. If too dry, add a splash of extra melted butter or water.
Press the ingredients evenly into an 8-inch springform pan, grease with coconut oil, and lined with parchment paper on the bottom and sides.
Prebake the crust in preheated oven at 325°F for 10 minutes. Cool down at room temperature while preparing the filling.
Increase the oven temperature to 350°F (180°C).
Healthy Cheesecake Filling
To lighten up a cheesecake, I opt for sugar-free sweetener and low-fat cream cheese, and I replace some of the cream cheese with Greek yogurt.
A Greek Yogurt cheesecake is lighter than a traditional cheesecake. It contains more proteins, fewer calories and keeps you full for longer.
The ingredients you need for the filling are:
Reduced Fat Cream Cheese – Feel free to use regular or dairy-free cream cheese if needed.
Greek Yogurt
Crystal Sweeteners – Look at the options above.
Lemon Juice
Large Whole Eggs – You must use eggs for this recipe. They bind the cheesecake and add proteins and texture.
Vanilla Extract
Cornstarch or xanthan gum. This helps the cheesecake filling firm up nicely.
Preparing The Filling
Add all the ingredients to a high-speed blender or food processor to make the filling. Blend on medium speed for about 30 seconds until the mixture is smooth and creamy.
Don't blend too fast or too long to avoid adding too much air in the cheesecake filling.
Pour the cheesecake batter over the cooled almond flour cheesecake crust.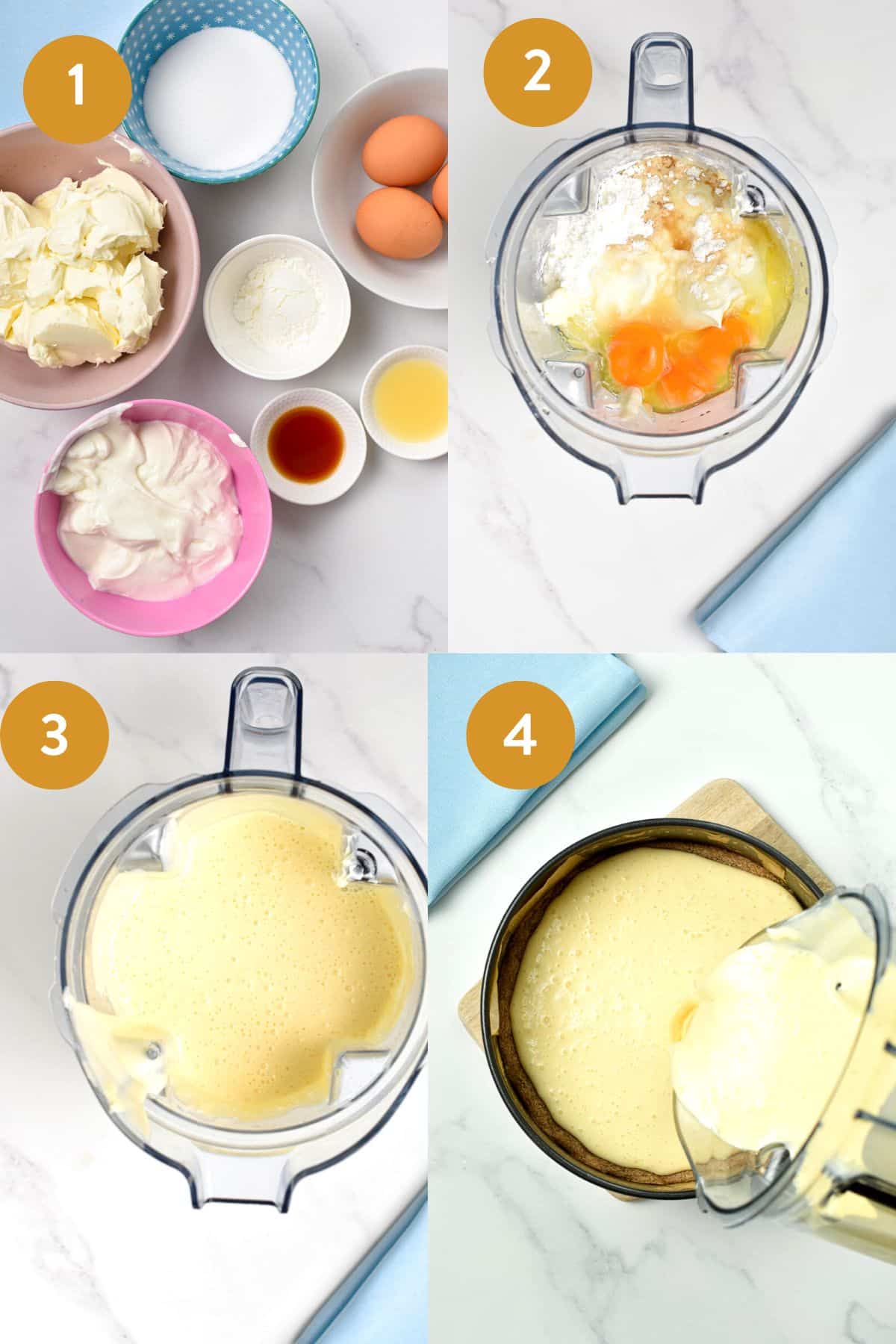 Baking The Cheesecake
Bake the healthy cheesecake in the oven at 350°F (180°C) for 45 to 55 minutes or until the sides of the cheesecake or set and golden brown.
The center should be a bit jiggly, and that's normal.
Stop the oven, open the oven door, and keep the cheese in the oven for 1 hour.
Then, transfer the cheesecake to the fridge in its pan for 8 hours or overnight. I like to press a piece of plastic wrap on the top of the cheesecake to prevent the top from drying out.
Healthy Cheesecake Toppings
The next day, release the cheesecake on a cake stand. Slice it into 16 portions and serve with healthy toppings.
Raspberry Coulis
Fresh fruits like blueberries, strawberries, or raspberries
Whipped cream
A dollop of Greek yogurt
Drizzle of honey or sugar-free maple syrup
Melted Chocolate Chips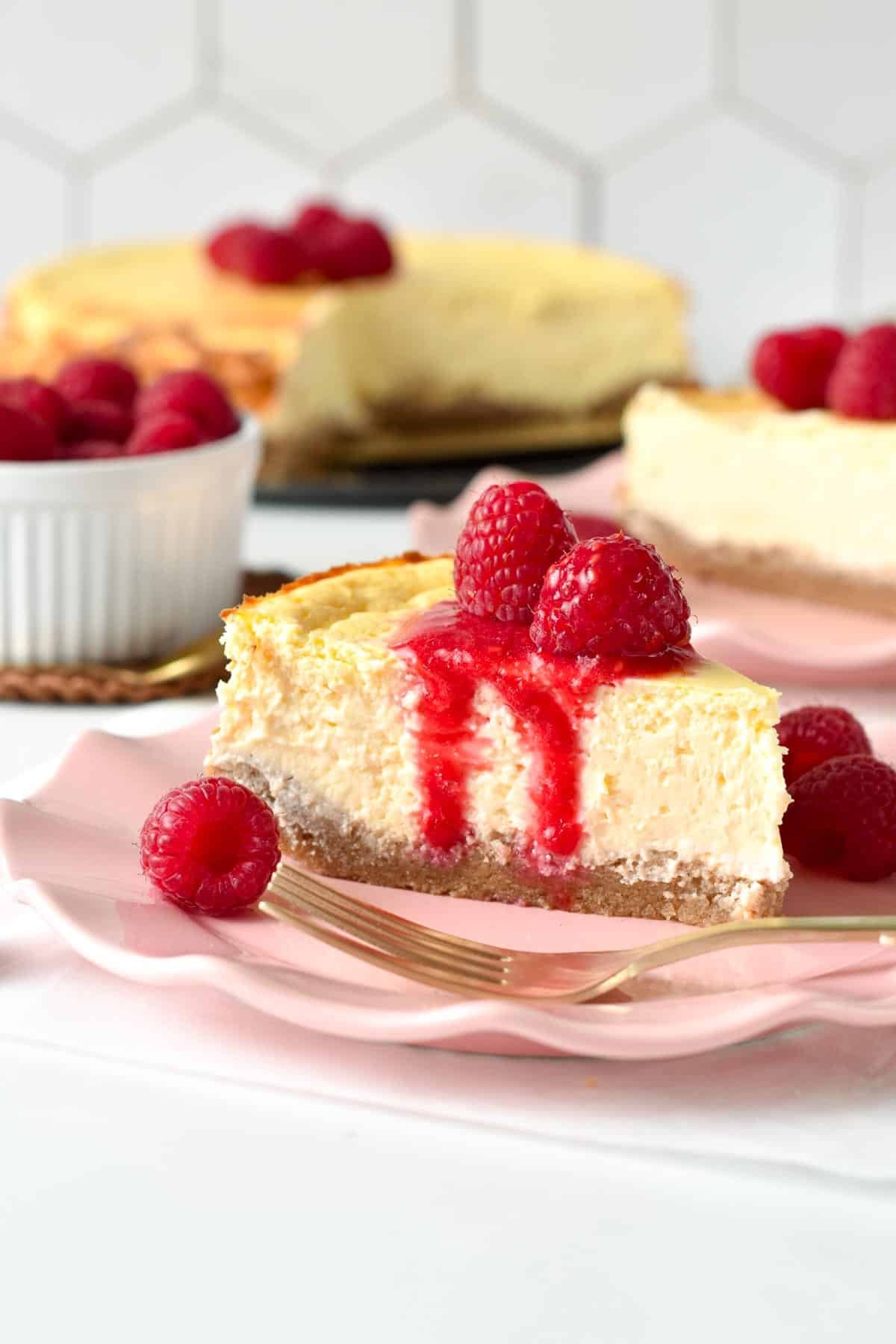 Storage Instructions
Store the cheesecake in an airtight cake box in the fridge for up to 4 days.
You can also freeze this cheesecake whole or in individual slices. Thaw the cheesecake in the fridge for a few hours.
Allergy Swaps
Below are some options for you to try if you are allergic to the ingredients used in this recipe.
Dairy-Free – You can replace butter with light olive oil or melted coconut oil. Soft dairy-free cream cheese and plain dairy-free yogurt work well.
Low-Carb – Use a low-carb sweetener and replace the cornstarch with xanthan gum.
Nut-Free – Replace the almond flour with oat flour, sunflower seed flour, or sesame flour.
Frequently Asked Questions
Is There Anything Healthy About Cheesecake?
A traditional cheesecake is not truly healthy.
It contains lots of high-sugar and high in fat ingredients. For example, it contains full-fat cream cheese, store-bought graham crackers made from processed ingredients, and lots of white sugar. The combination of sugar and fat in regular cheesecake recipes makes them comforting and not as healthy as any dessert or as a healthy cheesecake recipe.
What Is A Healthy Substitute For Cream Cheese In Cheesecake?
You can use low-fat cream cheese to make healthier cheesecake and replace some of the cream cheese with Greek yogurt.
This decreases unhealthy fat, decreases calories and boosts the protein content of your cheesecake.
Does Plain Cheesecake Have Carbs?
Absolutely. The carbs in a plain cheesecake come from the added sugar to sweeten the filling and the graham crackers in the crust.
Is Cheesecake Healthier Than Other Desserts?
Not really, cheesecakes have a bit more proteins than cakes or cookies. But overall, it still contains a lot of sugar and unhealthy fat.
More Healthy Dessert Recipes
If you like healthy dessert recipes, try some of these: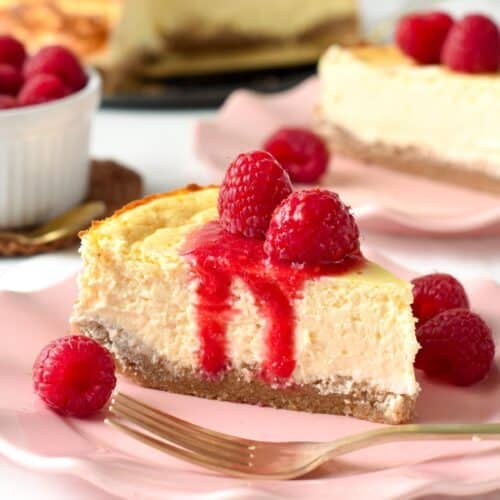 Healthy Cheesecake
This healthy cheesecake recipe is the easiest healthy dessert for cheesecake lovers. Packed with 12 grams of proteins, no sugar, and gluten-free, this dessert will make your family and friends ask for more.
Ingredients
Cheesecake Crust
¼

cup

Erythritol

like coconut sugar, erythritol, allulose, or classic sugar.

⅓

cup

Unsalted Butter

melted, or melted coconut oil

1

teaspoon

Vanilla Extract

¼

teaspoon

Salt

1

teaspoon

Cinnamon
Healthy Cheesecake Filling
16

ounces

Low Fat Cream Cheese

equivalent to 2 block, at room temperature

3

large

Eggs

2

teaspoons

Lemon Juice

½

cup

Erythritol

1

teaspoon

Vanilla Extract

1 ½

cup

Greek Yogurt

plain, low-fat if you like

2

tablespoons

Cornstarch

or 1/2 teaspoon xantham gum
This recipe may contain Amazon or other affiliate links. As an Amazon Associate I earn from qualifying purchases.
Instructions
Preheat oven to 350°F (180°C). Grease an 8-inch springform pan and cover the bottom and side with parchment paper. Oil the paper as well. Set aside.

In a mixing bowl, add the crust ingredients and stir to combine evenly.

Press the cheesecake crust at the bottom of a greased 8-inch springform pan.

Bake for 10 minutes, remove from the oven, and cool at room temperature while making the healthy cheesecake filling.

Reduce the oven to 325°F (160°C).
Filling
Place all the filling ingredients into a blender, and blend on medium speed until smooth. Don't over-blend. It shouldn't take more than a minute to get smooth.

Pour the filling over the cooled crust.

Bake the cheesecake for 45-55 minutes or until its sides are golden brown, set, but the center is still a bit jiggly.

Stop the oven, crack the door half-open, and let it cool for an extra hour in the oven.

Cool for 8 hours or overnight in the fridge before slicing.

Serve with a drizzle of raspberry coulis or raspberry chia seed jam.
Want My Kitchen Equipment?
Serving:
1
slice
Calories:
293.2
kcal
(15%)
Carbohydrates:
10.6
g
(4%)
Fiber:
3.2
g
(13%)
Net Carbs:
7.4
g
Protein:
11.8
g
(24%)
Fat:
24.1
g
(37%)
Saturated Fat:
6.6
g
(41%)
Polyunsaturated Fat:
0.5
g
Monounsaturated Fat:
2.5
g
Trans Fat:
0.2
g
Cholesterol:
61.6
mg
(21%)
Sodium:
190.7
mg
(8%)
Potassium:
86.1
mg
(2%)
Sugar:
3.7
g
(4%)
Vitamin A:
338
IU
(7%)
Vitamin B12:
0.4
µg
(7%)
Vitamin C:
0.2
mg
Vitamin D:
0.3
µg
(2%)
Calcium:
136.6
mg
(14%)
Iron:
1.3
mg
(7%)
Magnesium:
3.7
mg
(1%)
Zinc:
0.3
mg
(2%)
Posted In: