Berry Smoothie With Almond Milk
Refresh this summer with this 3-ingredients mixed berry smoothie with almond milk.
If you love low-carb smoothies for breakfast, this fruit smoothie with almond milk is for you!

Can You Make Fruit Smoothies With Almond Milk?
Keto Smoothies are often made with almond milk because it's a low-carb alternative to dairy milk that has a light taste.
While coconut milk or oat milk can be overpowering, almond milk lets you enjoy all the flavors of your fruit smoothies.
I love this almond milk because it's light, dairy-free, and low-calorie – only 16 kcal per serving of 100ml.
Plus, unsweetened vanilla almond milk doesn't contain added sugar, and it adds a delicious vanilla flavor to smoothies.
Why You'll Love This Recipe
This berry smoothie with almond milk is delicious and:
Low-Carb
Keto-Friendly
Egg-Free
Dairy-Free
Gluten-Fre
Vegan
4 Ingredients
Ready in 5 Minutes
How To Make A Fruit Smoothie With Almond Milk
This berry smoothie with almond milk is the easiest smoothie recipe to make. Only 4 ingredients and 5 minutes.
Mixed Berry Smoothie Ingredients
Berries of Choice: use any of your favorite berries and combine the types for different flavors. My favorite combo is frozen raspberries and frozen strawberries. Adding frozen blueberries also makes it delicious.
Almond Milk: prefer unsweetened almond milk. You can also pick lightly flavored almond milk like unsweetened vanilla almond milk to vary the flavors.
Baby Spinach: I love to add just a few baby spinach leaves to boost the vitamins in my smoothies without altering the taste.
Sweetener: to adjust the sweetness of the smoothie, add some sweetener. You can use any option you like from a keto-friendly crystal sweetener like erythritol to a healthy but high-carb coconut nectar. Pick what works for you!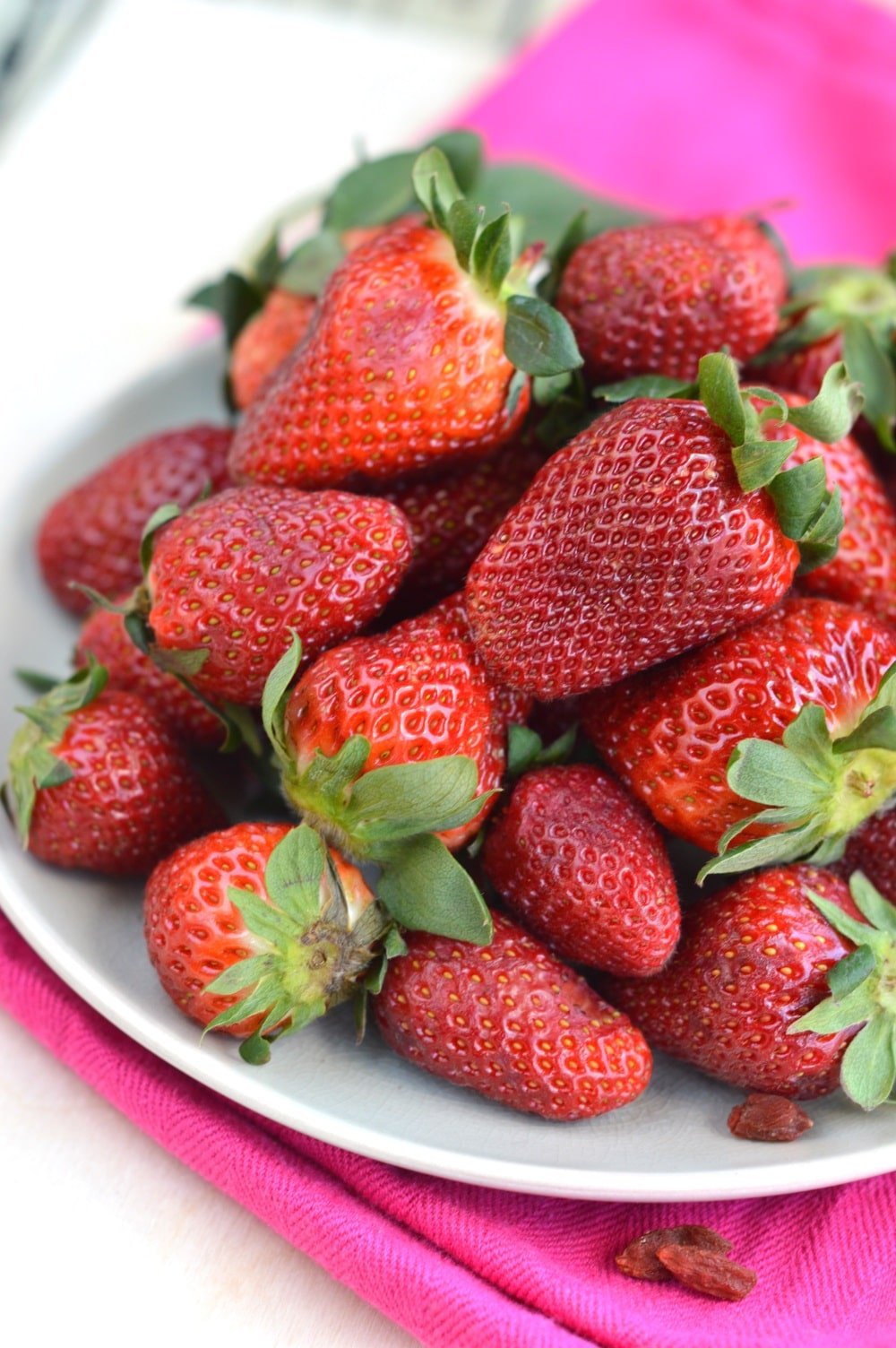 Making The Smoothie
To make this fruit smoothie, pour all the ingredients into your high-speed blender in any order.
You can add some ice cubes if you want to make it slightly frothy.
Blend the almond milk smoothie for one to two minutes, adjust the sweetness, and serve it immediately.
Decorating
Decorate this fruit smoothie with a few mint leaves, a drizzle of peanut butter, fresh goji berries, and a few slices of fresh strawberries.
Frequently Asked Questions
How Does This Berry Smoothie With Almond Milk Taste?
The texture of this mixed berry smoothie is thick and creamy – very close to a berry ice cream. I found this smoothie really satisfying, and I did not reach the pantry after drinking it.
Which Fruits Are Low In Carbs For Berry Smoothies?
The best fruits to use for a keto smoothie with berries are strawberries, raspberries, boysenberries, and blueberries.
More Keto Smoothie Recipes
If you like keto smoothies, you'll love these:
Mixed Berry Smoothie with Vanilla Almond Milk
Healthy Mixed berry Smoothie without banana, almond milk, spinach, and frozen berry. An easy dairy-free breakfast smoothie, vegan and low-carb.
Serving Size:
1
smoothies
Nutrition Snapshot
Want My Kitchen Equipment?
Instructions
In a blender add all the ingredients.

Process for 1-2 minutes until smooth and thick.

Decorate with extra berries, desiccated coconut, and mint.
Notes
Milk alternatives: if you don't like almond milk, this recipe works well with any milk like cow milk (if you eat dairy) or dairy-free milk like oat milk, soy milk, rice milk, or coconut milk. Almond milk is your best option for low calories and no-aftertaste milk. Berries: I used a combo of frozen strawberries and raspberries, but any combo of berries works well, like boysenberries, and blueberries.
My Recipe Notes
Nutrition
Serving Size:
1
smoothies
Serving:
1
smoothies
Calories:
98
kcal
(5%)
Carbohydrates:
16
g
(5%)
Fiber:
9
g
(38%)
Net Carbs:
7
g
Protein:
3
g
(6%)
Fat:
4
g
(6%)
Saturated Fat:
1
g
(6%)
Sodium:
329
mg
(14%)
Potassium:
202
mg
(6%)
Sugar:
6
g
(7%)
Vitamin A:
391
IU
(8%)
Vitamin C:
32
mg
(39%)
Calcium:
330
mg
(33%)
Iron:
1
mg
(6%)
Posted In: