Almond Flour Banana Bread (Low-Carb, Dairy-Free)
This Almond Flour Banana Bread is an easy, healthy recipe with no sugar added and dairy-free!
Bonus, this banana bread is also low-carb with only 6 grams of net carbs per slice, 3 times less than regular banana bread, and perfect as a diabetic-friendly banana bread recipe.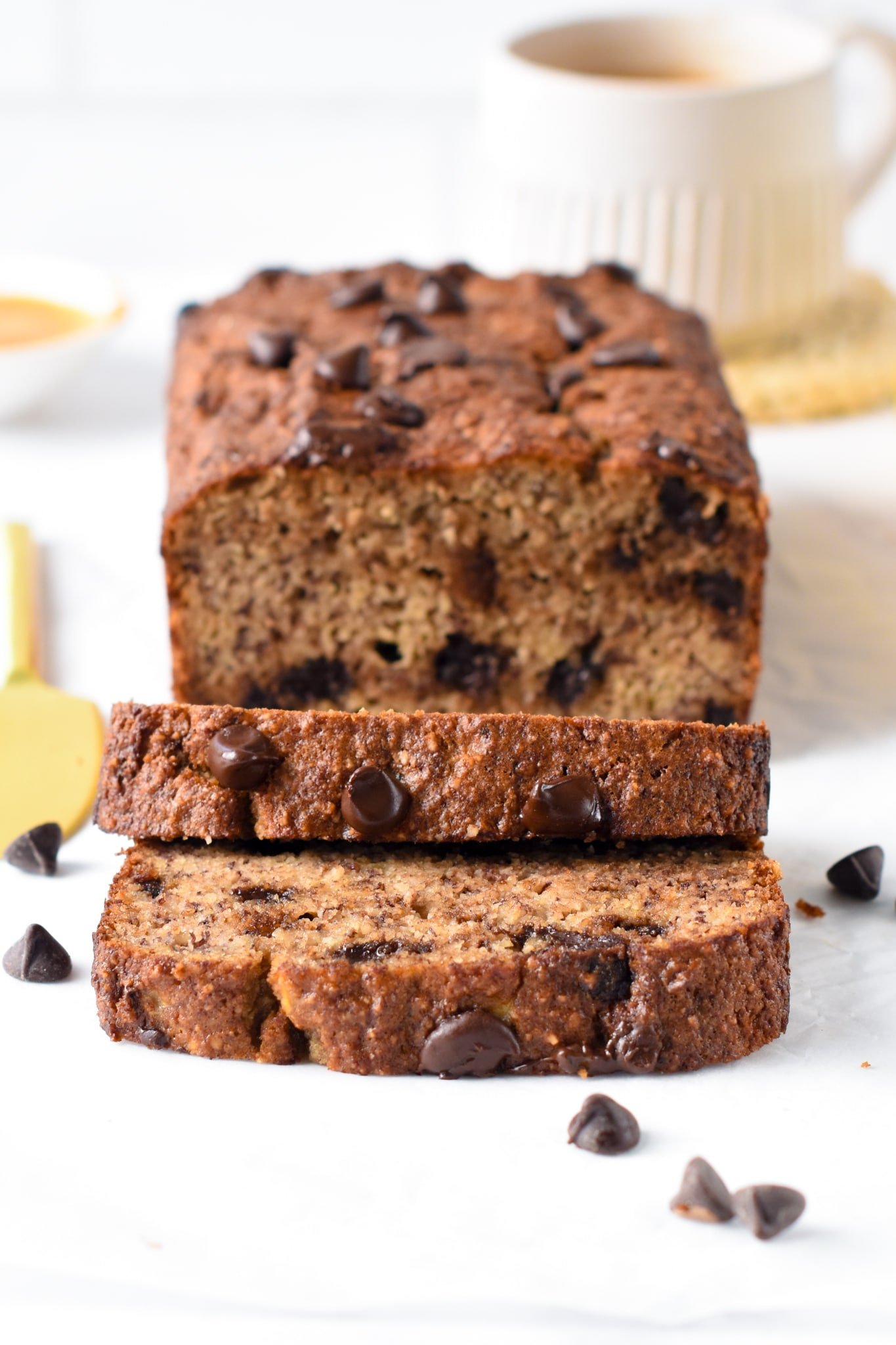 This is the classic alternative to my popular keto banana bread recipe made with banana flavor instead of real banana to keep the carbs to the lowest.
There's so much demand for low-carb banana bread with almond flour and real bananas!
The key is to use low-carb flours and a no added sweetener.
Let me share my tips for making delicious low-carb banana bread with almond flour.
This recipe is naturally:
Low-carb
Paleo
Dairy-free
Grain-free
Diabetic-friendly banana bread – with only 6 grams of net carbs per slice, this is great banana bread for diabetics. For fewer carbs, try my keto banana bread instead.
How To Make Almond Flour Banana Bread
It's very simple to make healthy banana bread with almond flour.
Let's start with the basics ingredients and tips to make this perfect every time.
Ingredients
All you need to make this healthy banana bread with almond flour are:
Blanched Almond Flour – I recommend ultra-fine almond flour with a light golden color made from blanched almonds.
Flaxseed Meal – golden or brown but watch out, brown flaxseed meal has a slightly bitter fishy flavor.
Cinnamon
Baking Soda or double up the amount if you want to use baking powder. It means swapping the 3/4 teaspoon of baking soda for 1 1/2 teaspoon of baking powder.
Salt
Ripe Bananas – the ripest the sweetest the bread will be. Since this banana bread contains no sweetener, I highly recommend using ripe bananas to boost the sweetness.
Large Eggs
Melted Coconut Oil or melted butter if not dairy-free.
Vanilla Extract
Mashing Bananas
The key to making the perfect almond flour banana bread is to mash the banana with a fork or potato masher as smooth as possible.
Then, measure out the amount required by the recipe with a measuring cup – this prevents issues like adding too many bananas that make the bread so moist that it won't cook in the middle.
Combining Wet Ingredients
Next, in a large mixing bowl, beat eggs, coconut oil, and vanilla extract.
Fold in the mashed banana and give it a quick whisk to combine.
Stirring Dry Ingredients
Finally, add almond flour, flaxseed meal, salt, cinnamon, and baking soda.
Stir with a silicone spatula to incorporate and form a slightly thick banana bread.
It would appear a bit grainy and that's normal. It shouldn't be overly thick if so you probably added too much almond flour.
Add-Ons
Banana bread is always better with some crunchy addition like 1/2 cup of one or two of the below ingredients:
Dark Chocolate Chips – use sugar-free for a low-carb banana bread
Chopped Walnuts
Chopped Pecans
Shredded Coconut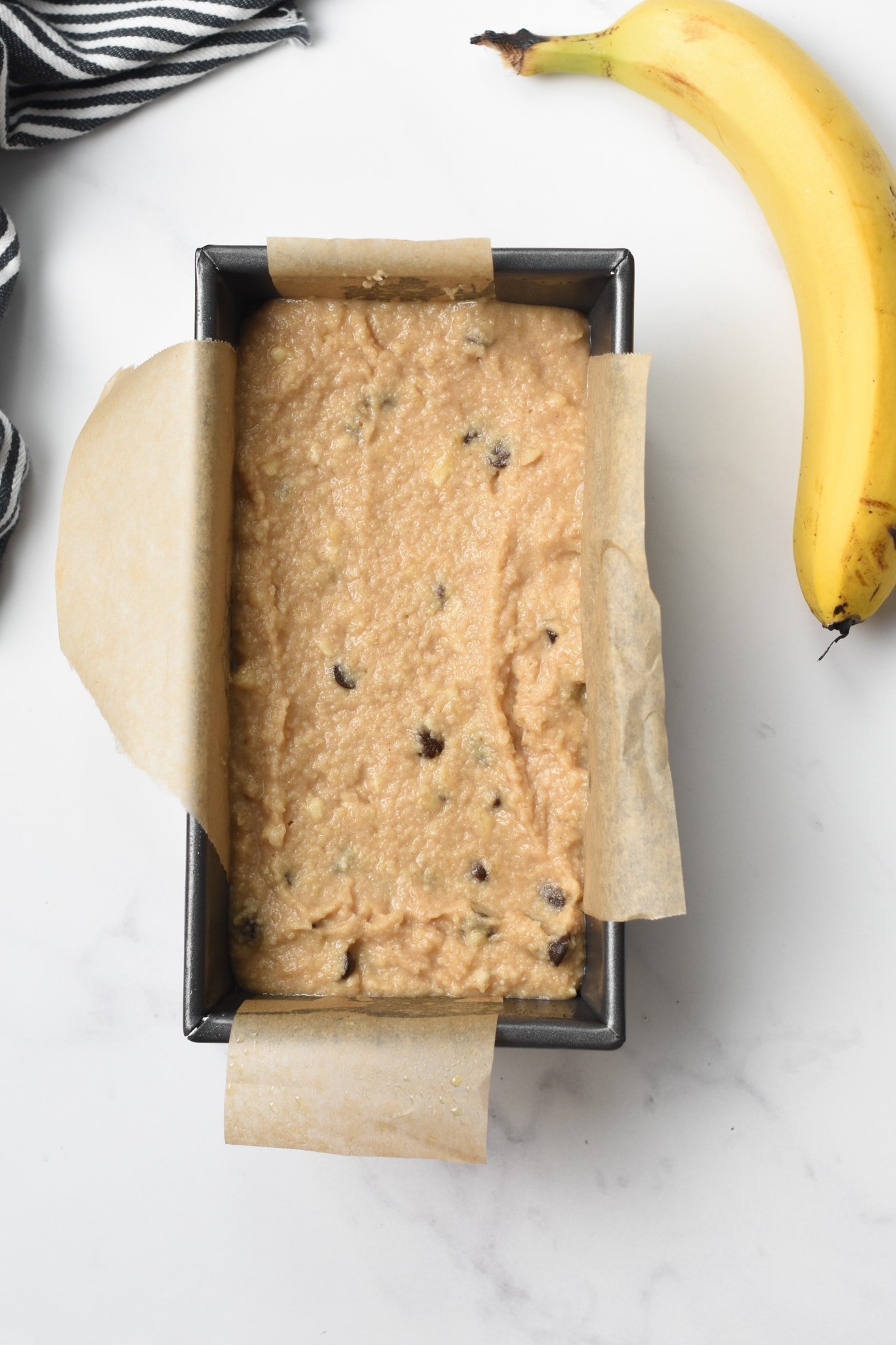 Baking
Preheat the oven to 350°F (180°C). Line a 9-inch x 5-inch loaf pan with parchment paper. Slightly oil the paper with cooking spray.
Pour the banana bread batter into the loaf pan and bake on the center rack of the oven for about 40-55 minutes.
Foiling The Pan
After 30 minutes, the top of the banana bread darkens fast.
Tent a piece of foil on the top of the pan to protect the top of the bread.
Keep baking until a toothpick inserted in the center of the bread comes out clean.
Cooling Down
Finally, when the bread is cooked, remove it from the oven and use the hanging pieces of parchment paper to pull the banana bread out of the pan.
Let it cool completely at room temperature for at least one hour in the cooling rack before slicing.
Serving
This diabetic-friendly banana bread is delicious on its own but even better with some spread like:
Storage
Banana bread can be stored very well in the fridge for up to 3-4 days in a sealed container.
You can also freeze your banana bread, sliced or entirely, and thaw it in the fridge the day before.
To rewarm the banana bread slices you can place them in an air fryer at 280°F (140°C) for a few minutes or in a bread toaster.
Allergy Swaps
Below I listed some allergy swaps to make this recipe even if you have some food intolerance:
Nut-free– swap almond flour four sesame flour, sunflower seed flour, or oat flour.
Seed free– replace the flaxseed meal with chia seed meal or skip it entirely and add an extra 1/4 cup almond flour instead. Another option is to skip the flaxseed meal altogether and also skip coconut oil.
Why You'll Love This Healthy Banana Bread
This banana bread is definitely a healthy recipe for banana lovers and I can guarantee that you will love this recipe.
Let me share three reasons why you should make an almond flour banana bread:
More fiber – fibers are fulfilling and improve your gut health.
Less sugar – almond flour is one of the lowest carb flour. Therefore this bread keeps your sugar level steadier and you won't crave sugar as fast as after a regular banana bread slice.
High-protein – the addition of almond flour, extra eggs, and flax meal make this recipe high-protein banana bread.
Gluten-free – there's no wheat flour, so no gluten, it's, therefore, easier to digest.
Tips For Baking With Almond Flour
I love baking with almond flour and I have been sharing almond flour bread recipes for years now.
If you are a beginner baking with almond flour, remember that it's a very low-carb flour compared to wheat flour.
Therefore, when making this banana bread with almond flour you will experience some differences.
For example,
Almond flour batter is thicker,
The banana bread batter texture looks grainy
Baking time will increase
Almond Flour Don'ts
Don't use almond meal instead of almond flour.
Don't try to thin out the batter by adding almond milk or more coconut oil.
Don't skip the eggs or swap for flax eggs or the bread won't set at all.
For my full list of tips and tricks with flour read my 9 Baking Tips to Make Baking Easy
Frequently Asked Questions
Below I listed the answers to your most frequent questions about this recipe.
Can I Swap Almond Flour For Coconut Flour?
No, you can't replace almond flour with coconut flour because both flours have different properties.
For example, coconut flour contains four times more fiber and thus requires more eggs to achieve a similar texture.
Can I Skip Flaxseed Meal?
Yes, you can but if so skip the melted coconut oil as well or the banana bread will be too moist and take longer to bake in the center.
Can I Make Egg-Free Almond Flour Banana Bread?
You probably can replace the eggs with oat flour but I didn't try this option and I can't comment on it.
Note that the recipe won't work well with flaxseed egg or any egg replacer.
Can I Add Sugar Or Sweetener?
Absolutely! This no-sugar banana bread recipe is already very sweet, especially if you use ultra-ripe bananas.
But, if you want to boost its sweetness, add 2-4 tablespoons of your favorite granulated sweetener like coconut sugar, brown sugar, or sugar-free erythritol.
Avoid liquid sweeteners like maple syrup. They thin out the batter and the banana bread crumb takes longer to set in the center.
Can I Decrease The Bananas?
You can decrease the carbs and banana flavor in this bread by removing up to 1/2 cup mashed banana.
If so, add an extra beaten egg to your liquid ingredients to keep the texture right.
Are Bananas Keto-Friendly?
No, bananas are not quite keto-friendly, but used sparingly, they can still be a delicious ingredient in a low-carb recipe.
Did you try this low-carb banana bread? Share a comment or review below to tell me how much you loved it!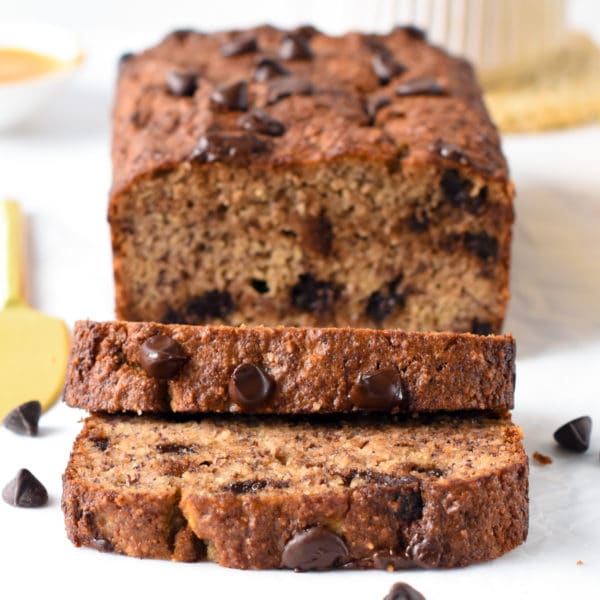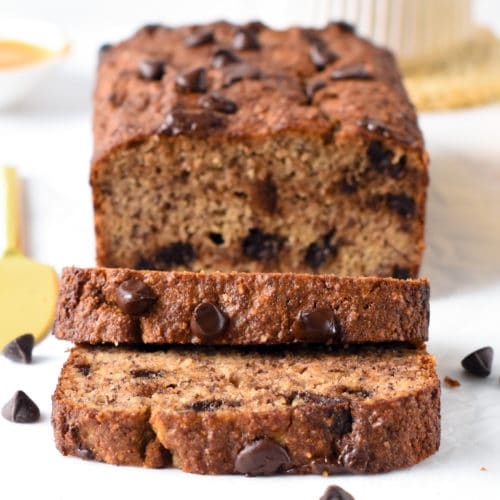 Almond Flour Banana Bread
This Almond Flour Banana Bread is a healthy recipe with Chocolate Chips, no Sugar Added and dairy-free.
Nutrition Snapshot
Want My Kitchen Equipment?
Instructions
Preheat the oven to 350°F (180°C).

Grease a loaf pan with coconut oil. or line a 9-inch x 5-inch loaf pan with parchment paper. Set aside.

In a mixing bowl, combine the dry ingredients: almond flour, flaxseed meal, cinnamon, baking soda, salt, and optional sweetener. Set aside.

In another bowl mix mashed bananas, eggs, melted coconut oil, and vanilla extract.

Pour wet ingredients into the dry ingredients and combine until you get a consistent batter.

Fold in the chocolate chips, chopped walnuts, or both.

Transfer the banana bread batter into the loaf pan.

Bake for 40 – 50 minutes. If the top of the bread darkens too fast, place a piece of foil on top of the bread, reduce the oven to 325°F (160°C) and keep baking until a toothpick comes out clean.

Cool down on a cooling rack for 1 hour before slicing.
Storage
Store in the fridge in an airtight container or freeze for later.
Notes
Egg-free: replace the eggs with flax eggs.
My Recipe Notes
Nutrition
Serving:
1
slice
Calories:
179.9
kcal
(9%)
Carbohydrates:
9
g
(3%)
Fiber:
3
g
(13%)
Net Carbs:
6
g
Protein:
6.1
g
(12%)
Fat:
14.7
g
(23%)
Saturated Fat:
4
g
(25%)
Polyunsaturated Fat:
0.8
g
Monounsaturated Fat:
0.8
g
Trans Fat:
0.1
g
Cholesterol:
46.5
mg
(16%)
Sodium:
135.4
mg
(6%)
Potassium:
99.8
mg
(3%)
Sugar:
3.1
g
(3%)
Vitamin A:
80
IU
(2%)
Vitamin B12:
0.1
µg
(2%)
Vitamin C:
1.6
mg
(2%)
Vitamin D:
0.3
µg
(2%)
Calcium:
53.4
mg
(5%)
Iron:
1.1
mg
(6%)
Magnesium:
13.6
mg
(3%)
Zinc:
0.3
mg
(2%)
Posted In: