The healthiest Chocolate Lava Cake recipe you'll ever made! This dessert is simply a BOMB and tick all the dietary boxes, it is gluten free, dairy free and sugar free. It is a great guilt-free treat for all diabetic around here.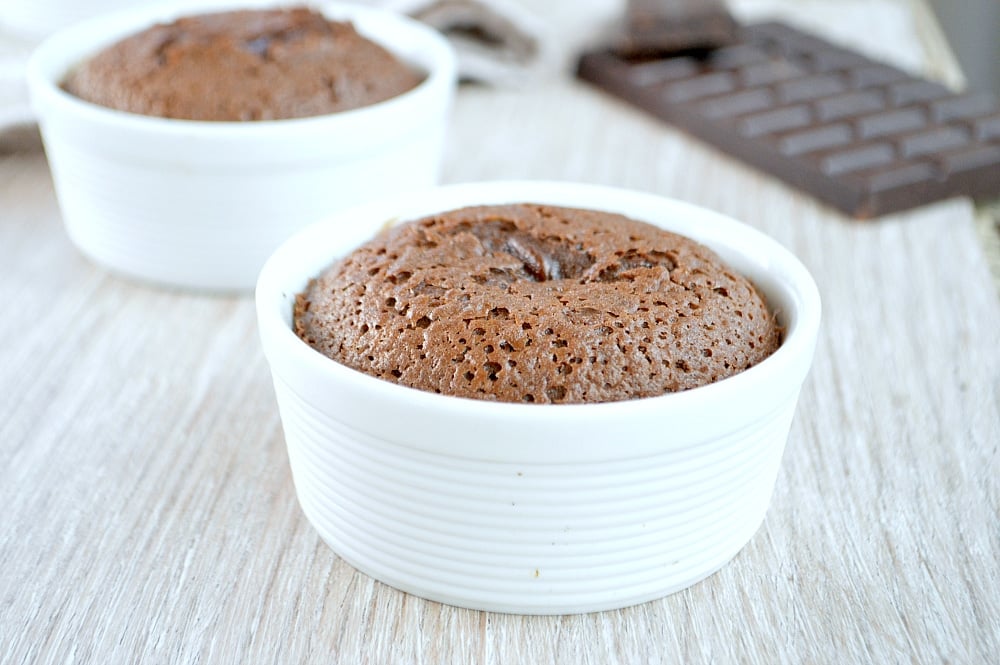 Sugar-Free Chocolate Lava Cake who do not skimp on flavor !
I thought I will bake something while I was visiting my family in France, argh, no time ! We have been very busy talking, cuddling, sharing. This was so good to see mum and dad again. Luckily, I baked this great sugar free chocolate lava cake before I left New Zealand, time to share it now as I am far from home ! Sugar-Free Chocolate Lava Cake is a very popular French recipe. As I eat mostly sugar free I used a natural sugar sweetener in this recipe. It is a combo of stevia and erythritol that you can measure as sugar, much easier than any sugar substitute I bought before! There is different brand available on the market. In US I recommend Swerve or Natvia in New Zealand. If you are a diabetic, constantly looking for simple sugar-free recipe I highly recommend this chocolate lava cake recipe.
Sugar Free Chocolate Lava Cake Low carb + Gluten free
This recipe is using sugar free chocolate. In New Zealand we named sugar free chocolate a naturally stevia sweetened chocolate like Healtheries. Alternatively you can use a strong dark chocolate, nothing less than 85% cocoa bars of course. Green and Blacks is a great one as it contains only 20g carb/100g – you can find it here. Last option is to make your own sugar free chocolate bars using my recipe here.
This sugar free chocolate lava cake recipe is really good surprise. The texture is similar to the sugar loaded recipe I was eating before. A molten heart with a strong chocolate sweet flavor. Honestly, after eating those I sometimes ask myself why I did use so much sugar in baking before! All my new sugar free baking recipes works so well lately. I love this new clean eating lifestyle. Feel free to find more clean food recipe on the blog here.
Key of success for this Sugar Free Chocolate Lava Cake, the baking time
Do not over-bake the cake. For a small ramekin like this 12-15 minutes is enough to have a runny chocolate heart. You can make-ahead those chocolate lava cake ahead. Store them in the fridge unbaked. Bake them just before serving. It is recommended to take them out of the fridge at least 30 minutes before baking. Obviously, check the baking process very often during the last minutes of baking. You know it is baked as soon as a crust is forming on the top of the cakes. If you insert a skewers in the center it should come out full of runny chocolate.
Sugar Free Chocolate Lava Cake | Gluten Free
A delicious easy Sugar free chocolate Lava Cake Recipe perfect for diabetic. Gluten free, low carb with a runny chocolate heart and molten texture. This healthy chocolate lava cake is heavenly delicious.
6 people
Print The Recipe
7 oz Unsweetened Cocoa powder or 85% dark chocolate (200 g)
4.2 oz Unsalted Butter or coconut oil (120 g)
4 Egg
1 Egg Yolk
2.1 oz Erythritol or natural sugar free sweetner Natvia in NZ or Truvia in Europe (60 g)
1 oz Corn flour (30 g)
1 oz Buckwheat flour (30 g)
1/4 cup Unsweetened coconut milk or milk of your choice (60 ml)
Preheat oven fan-forced 360 F (180 C) or baking mode oven 390 F (200 C).

Grease 4 individual ramekins or custard cups.

In a saucepan under medium heat, melt the chocolate and butter. Stir constantly until fully melted. Remove from heat, set aside.

In a medium mixing bowl whisk eggs, egg yolks and natural sweetener until smooth.

Add the corn flour and buckwheat flour to the egg mixture. Stir with a wooden spoon or a spatula to combine until smooth.

In another saucepan, under medium heat warm the coconut milk. Don't boil, stop when some bubbles form on sides of the saucepan. Set aside 1 minute then pour the hot milk slowly onto the egg mixture while whisking vigorously to prevent the eggs from cooking.

Whisk in the melted chocolate and butter until a smooth chocolate batter forms.

Fill evenly the 6 custard cups with the chocolate cake batter.

Bake for 12-15 minutes or until a light crust is forming on the top of the cake and a skewer inserted in the middle of the cakes comes out covered with runny chocolate.

Do not over-bake or the heart of cakes will not be as runny as in the picture.

Serve immediately.
Note 1: you can make-ahead the chocolate lava cakes. Fill in the custard cups and store in the fridge. Remove from the fridge 30 minutes before baking. If you intend to store them overnight, cover the custard cups with plastic wrap to prevent the top from drying out Note 2: corn flour can be substituted by arrowroot flour for a healthier option Note 3: if you want a runny chocolate centre, check the baking process during the last 5 minutes to prevent the cake from overbaking.
Nutrition Facts
Sugar Free Chocolate Lava Cake | Gluten Free
Amount Per Serving (1 serve)
Calories 336 Calories from Fat 256
% Daily Value*
Fat 28.4g44%
Carbohydrates 36.9g12%
Fiber 13.2g55%
Sugar 1.3g1%
Protein 11.9g24%
Net Carbs 23.7g
* Percent Daily Values are based on a 2000 calorie diet.