This Cottage Cheese Breakfast recipe is the easiest diabetes-friendly, high-protein breakfast packed with 23 grams of proteins for a refreshing morning packed with flavors.
Plus, it's also gluten-free, low-carb, and vegetarian.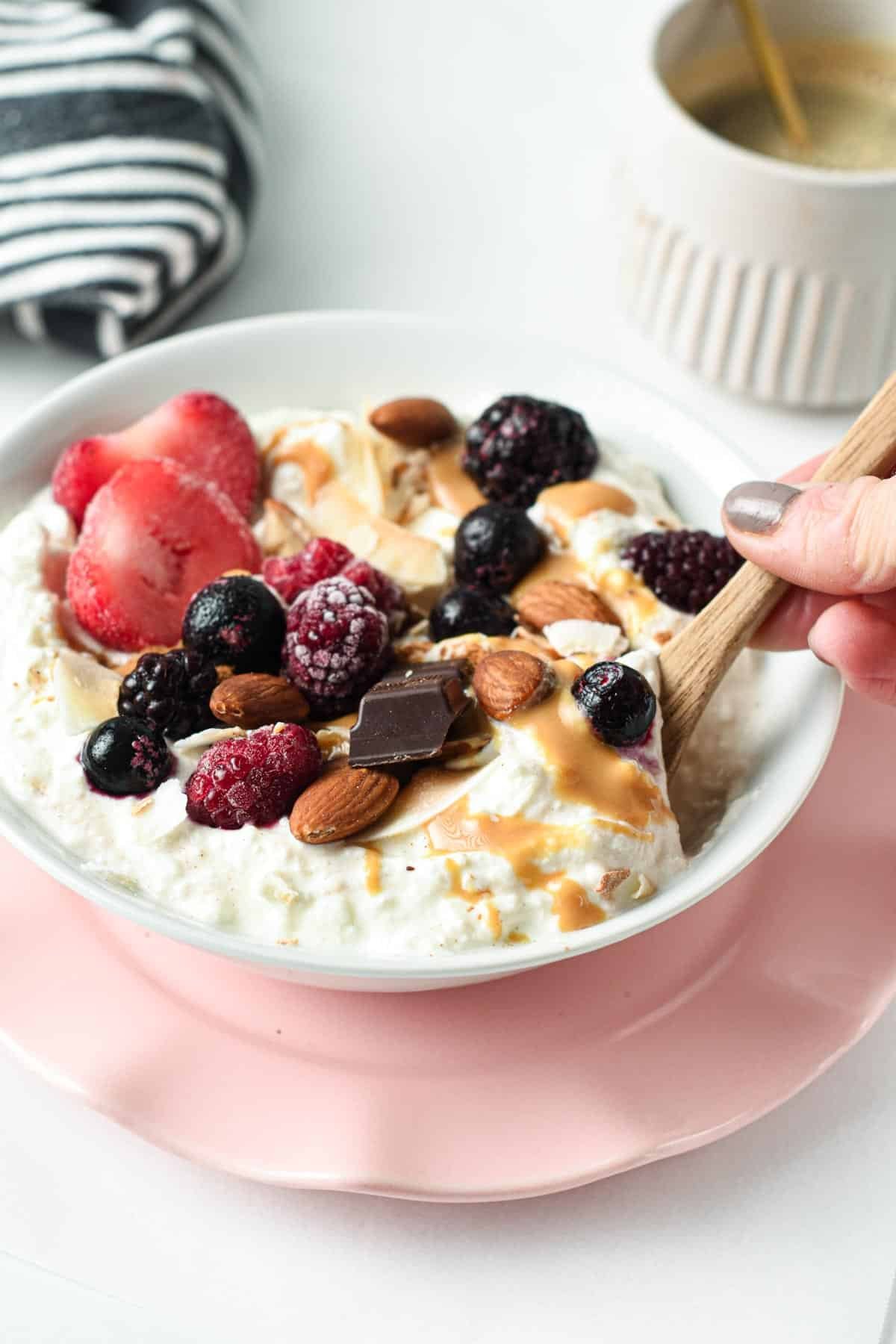 On hot summer days, all you want in the morning is a cold breakfast to refresh while keeping it nourishing and fulfilling. That's why cottage cheese for breakfast is the best!
It's cold, packed with proteins and so delicious when flavored with a pinch of simple ingredients.
Plus cottage cheese is low-carb and perfect for boosting your protein in the morning on a low-carb lifestyle.
How To Make Cottage Cheese Breakfast Bowl
This is a sweet version of the classic cottage cheese bowl.
Ingredients
All you need to make it are:
Cottage Cheese – Pick the variety that fits your diet the most. You can choose low-fat cottage cheese or dairy-free alternatives. Cottage cheese is keto-friendly.
Plain Yogurt – Any plain yogurt works, including Greek yogurt, coconut yogurt, or soy yogurt. I like Greek yogurt for an extra boost of protein in the morning.
Cinnamon
Vanilla Extract – For a perfect taste.
Sweetener – You can use maple syrup or sugar-free maple-flavored syrup to keep the sugar to a minimum. You can also use granulated keto sweeteners like erythritol or allulose.
Frozen Berries – Any berries taste great with cottage cheese I like to use a combination of strawberries, raspberries, blueberries, and boysenberries.
Toasted Coconut Flakes
Peanut Butter – Or almond butter for less saturated fat and fewer carbs.
Preparing The Bowl
First, in a breakfast bowl stir cottage cheese, yogurt, cinnamon, vanilla, and sweetener or choice.
Next, chop nuts – you can use any nuts walnuts, almonds, pecans or hazelnuts taste awesome.
Top the bowl of cottage cheese with chopped nuts, toasted coconut flakes, and frozen berries.
Finally, drizzle fresh drippy peanut butter all over the bowl and serve your cottage cheese breakfast.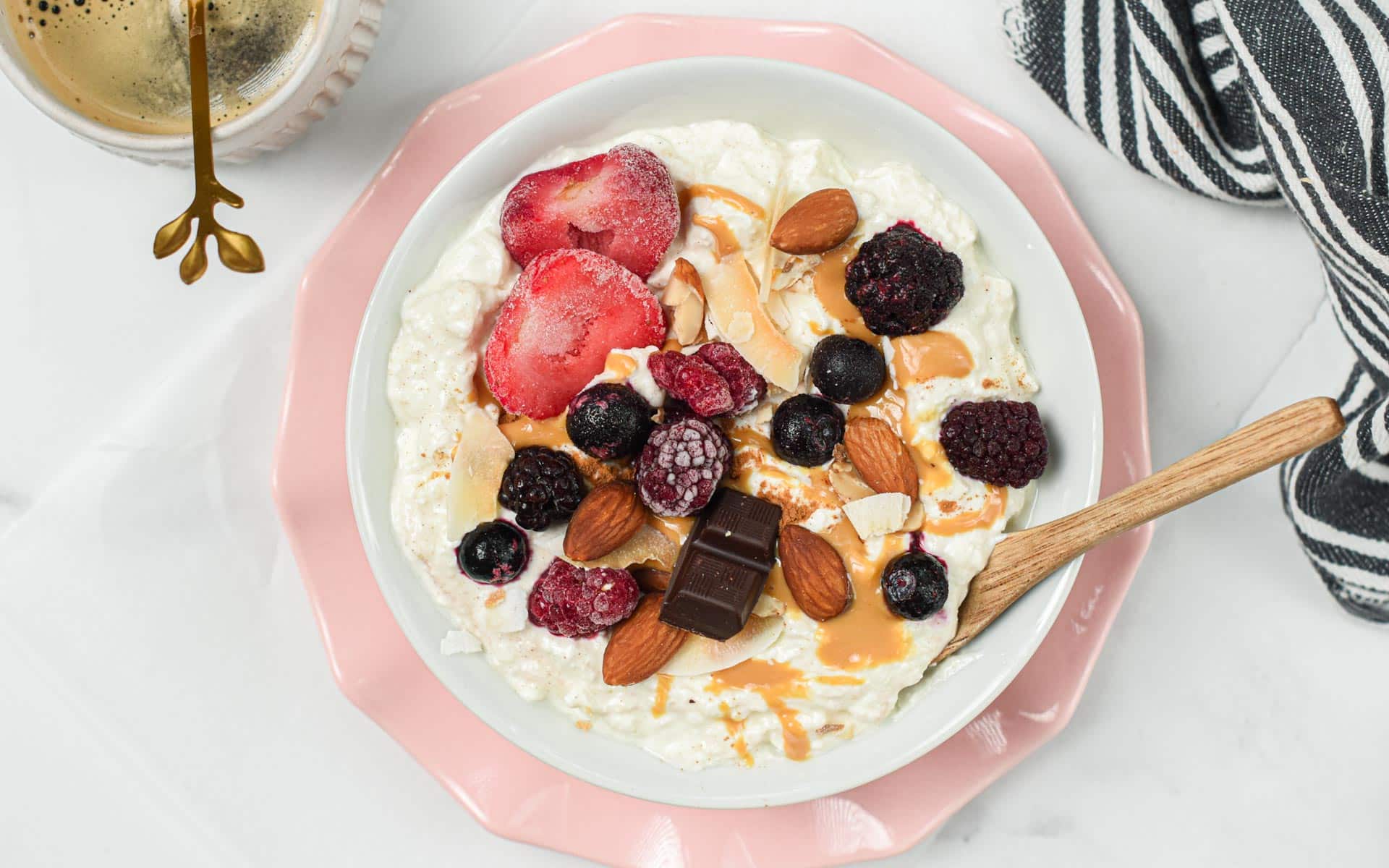 Add-Ons
If you want to boost the protein profile of this recipe, you can add 1 to 2 teaspoons of:
Protein Powder
Collagen Protein Powder
Cocoa Powder for a chocolate flavor
Allergy Swaps
If you have some food allergies, I listed some options for you below to adapt the recipe and enjoy this lovely cottage cheese breakfast.
Dairy-Free – There are healthy dairy-free cottage cheese alternatives in store, pick one of these and stir in with dairy-free yogurt like coconut yogurt.
Sugar-Free – Pick any sugar-free sweetener you love like allulose, erythritol, or sugar-free maple syrup.
Nut-Free – You can top up the bowl with cereals like oats, puffed rice, amaranth, or quinoa. Also, seeds like pumpkin seeds or sunflower seeds add a delicious crunch. Finally, swap the peanut butter with sunflower seed butter.
Storage Instructions
You can store the cottage cheese mixture – without any toppings up to 3-4 days before serving.
The time actually depends on the consumption limit date on your dairy product so have a good look at this when it comes to storing dairy.
Simply pack the mix in a sealed, airtight container in the fridge and serve in the morning with your favorite toppings.
Frequently Asked Questions
Below are the answers to your most common questions about this recipe:
Can I Boost The Protein Of My Cottage Cheese Bowl?
Yes, you can add up to two teaspoons of protein powder but watch out, adding protein powder thickens the cottage cheese mixture a lot!
There are other natural options to boost protein in this breakfast bowl like sprinkling some high-protein seeds like hemp seeds, flaxseed, or chia seeds.
These three seeds are keto-friendly, low carb, and packed with a high amount of plant-based protein.
What Can I Eat With Cottage Cheese For Breakfast?
You can mainly add anything to cottage cheese, it can be sweet fruits, nuts, seeds, or even raw vegetables and smoked salmon if you like it savory.
Below are two ideas to top up a bowl of cottage cheese, sweet and savory toppings:
Sweet Cottage Cheese Toppings
Frozen berries or fresh berries if in season.
Nut butter, like peanut butter or almond butter.
Maple syrup or sugar-free syrup.
Cereals – it can be low-carb cereals or oats or puffed cereals like puffed quinoa or puffed amaranth for healthy choices.
Dark chocolate chips.
Cinnamon
Savory Cottage Cheese Toppings
Add cottage cheese in a bowl with a pinch of salt, black pepper, garlic powder, and 1 or 2 tablespoons of chopped chives or green onion.
Then, top it up with:
Is Cottage Cheese And Fruit A Healthy Breakfast?
Absolutely! Cottage cheese is packed with protein, calcium, and fruits that add all the natural sweetness and vitamins you need to start the day.
More Cottage Cheese Recipes
If you love cottage cheese, try some of the recipes below:
More Cold Breakfast Recipes
Refresh in the morning with some of the easy cold breakfast recipe ideas below.
Have you tried this cottage cheese bowl for breakfast? Share with me your feedback below by adding a comment or review.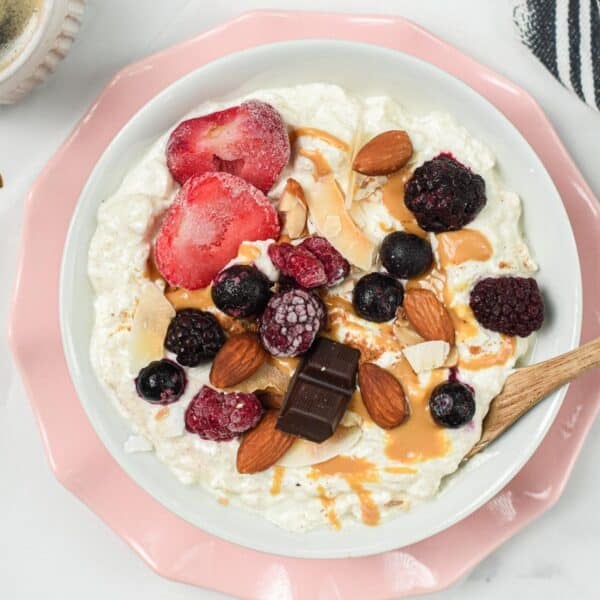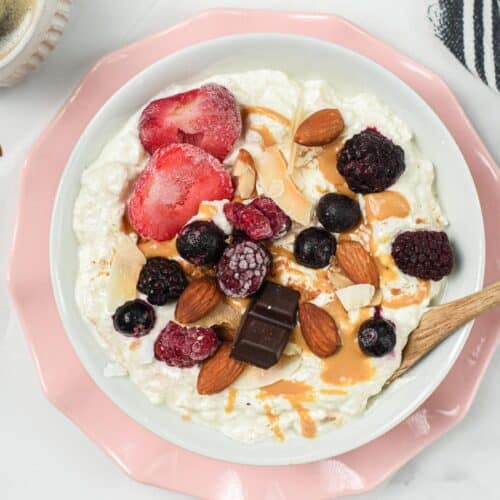 Cottage Cheese Breakfast
This Cottage Cheese Breakfast recipe is the easiest diabetes-friendly, high-protein breakfast packed with 23 grams of protein for a refreshing morning packed with flavors. Plus, it's also gluten-free, low-carb, and vegetarian.
Nutrition Snapshot
Want My Kitchen Equipment?
Instructions
In a breakfast bowl, stir the cottage cheese, plain yogurt, sweetener of choice, cinnamon, and vanilla extract.

Top up with frozen or fresh berries, chopped nuts, coconut flakes, and chocolate chips. Drizzle peanut butter all over and serve.
Notes
Note 1: You can use any cottage cheese, dairy-free or low-fat works as well. Note 2: Any plain yogurt works, including dairy-free yogurt. Note 3: Any sweetener can be used. Liquid sweeteners like maple syrup, including sugar-free version, or granulated sweeteners like sugar-free erythritol or coconut sugar. Note 4: Fresh or frozen berries like raspberries, strawberries, blueberries, or boysenberries are good. Note 5: Any chopped nuts like pecans or walnuts work. For a nut-free option, use pumpkin seeds or sunflower seeds. Note 6: Almond butter or sunflower seeds butter works.
My Recipe Notes
Nutrition
Serving:
1
bowl
Calories:
352
kcal
(18%)
Carbohydrates:
16.8
g
(6%)
Fiber:
5
g
(21%)
Net Carbs:
11.8
g
Protein:
23.7
g
(47%)
Fat:
22.2
g
(34%)
Saturated Fat:
7.4
g
(46%)
Polyunsaturated Fat:
3.5
g
Monounsaturated Fat:
8.2
g
Cholesterol:
21.1
mg
(7%)
Sodium:
425
mg
(18%)
Potassium:
348.8
mg
(10%)
Sugar:
9
g
(10%)
Vitamin A:
191.3
IU
(4%)
Vitamin B12:
0.5
µg
(8%)
Vitamin C:
8
mg
(10%)
Vitamin D:
0.1
µg
(1%)
Calcium:
201.9
mg
(20%)
Iron:
1.1
mg
(6%)
Magnesium:
74
mg
(19%)
Zinc:
1.4
mg
(9%)
Posted In: