Cottage Cheese Overnight Oats (32g Protein)
This Cottage Cheese Overnight Oats is a delicious high-protein breakfast packed with 32 grams of protein per serving.
It combines protein from the cottage cheese and the protein powder to make it a filling post-workout breakfast.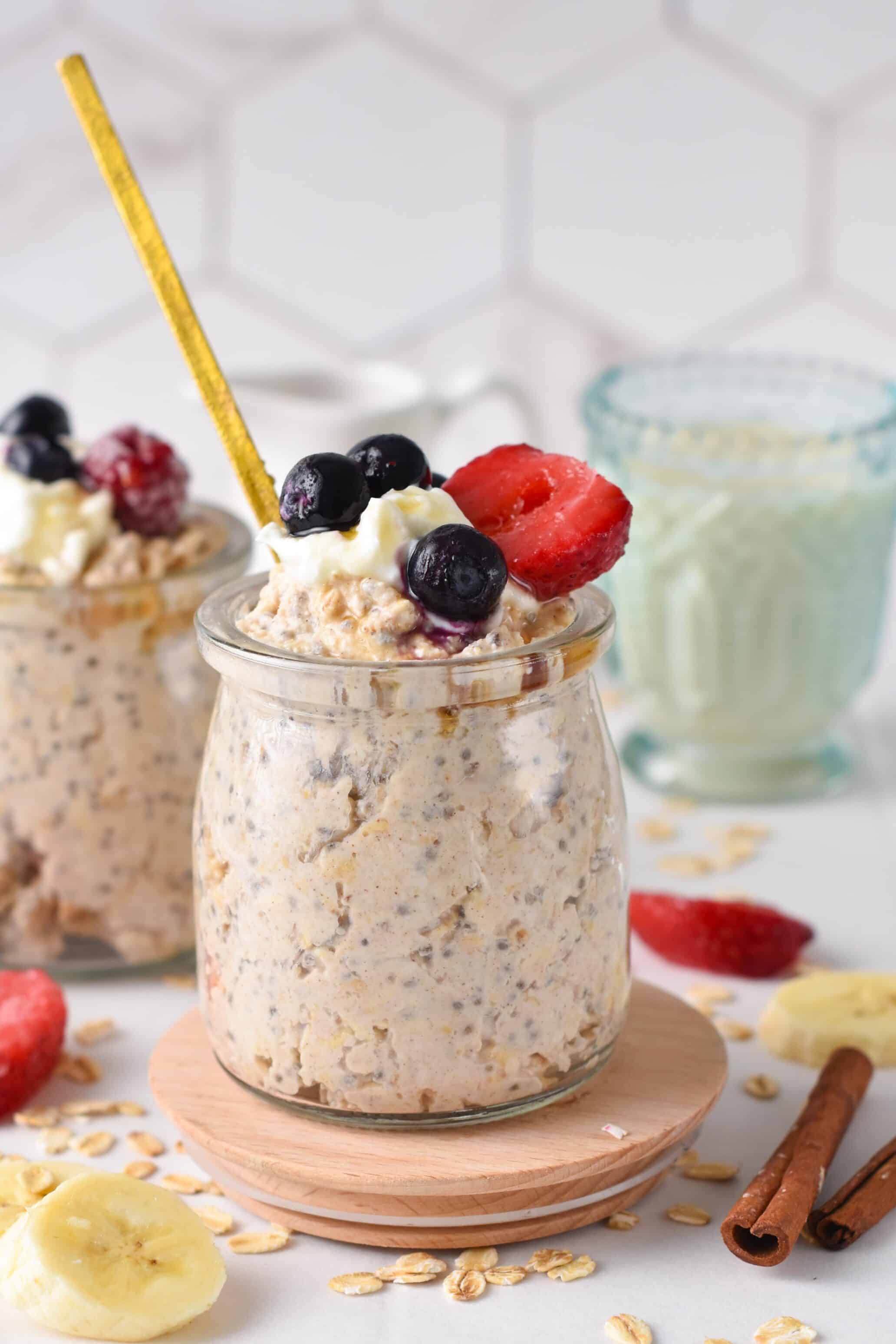 I never run out of ideas to include cottage cheese on my plate. From cottage cheese ice cream to cottage cheese egg bites, there's always a way to boost your protein intake in recipes using cottage cheese.
How To Make Cottage Cheese Overnight Oats
The goal of this cottage cheese overnight oats is simply to boost the proteins in your breakfast.
You will feel full for hours and build muscles while enjoying the most dreamy oatmeal creamy texture.
Cottage cheese has a strange texture and can be a bit sour, so you need to subtlety combine the ingredients to make a delicious sweet cottage cheese recipe.
Ingredients
You need only a few ingredients to make this easy healthy breakfast recipe.
Old-Fashioned Rolled Oats or quick oats or a combination of both.
Cottage Cheese – Feel free to use low-fat cottage cheese to cut down calories and fat.
Vanilla Protein Powder – I use pea protein powder. It's natural, wholesome, and contains no sugar or additives but adds a delicious vanilla flavor to the recipe.
Chia Seeds
Almond Milk or any non-dairy milk you love
Cinnamon
Vanilla Extract
Maple Syrup, sugar-free syrup, or any sweetener you love.
Preparation

In a large mixing bowl, add oats, chia seeds, and protein powder. Whisk to bring all the ingredients together. Set aside.
In a high-speed blender, add cottage cheese and plant-based milk. Blend on high-speed to create a liquid that has no bits or pieces of cottage cheese.
Pour the liquid ingredients onto the dry ingredients, and add the vanilla extract and sweetener and stir to combine.
Cover the bowl with a lid or piece of foil and refrigerate overnight or at least 3 hours to thicken.
Variations
This recipe can create a range of cottage cheese overnight oats flavors.
For example, try:
Peanut Butter Protein Overnight Oats – Add 1-2 tablespoons of peanut butter or peanut butter protein powder to the mixture.
Berries Cottage Cheese Breakfast Oats – Stir 1/2 cup of any berries in the mixture, like blueberries, raspberries, or strawberries.
Chocolate Protein Overnight Oats – Use chocolate protein powder. Stir in one tablespoon of unsweetened cocoa powder and two tablespoons of dark chocolate chips.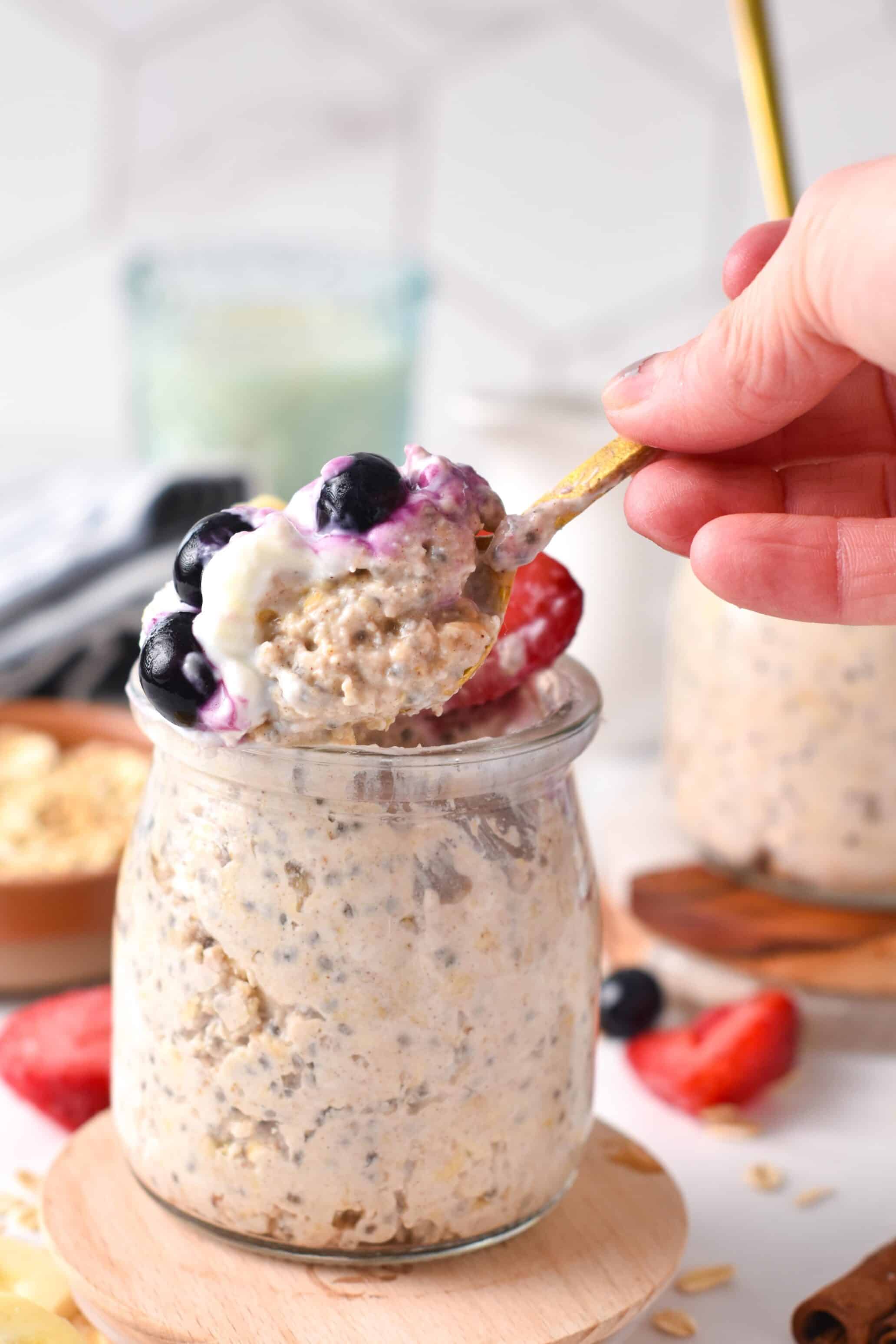 Serving
This cottage cheese overnight oats recipe is creamy, with a light sour flavor from cottage cheese.
Serve with some of the below ingredients for extra flavors:
Berries – banana slices, strawberries, blueberries or raspberries.
Dollop of Greek Plain Yogurt
Shredded coconut
Peanut butter or almond butter
Sliced almonds or chopped peanuts
Allergy Swaps
If you have some food allergies try the options below.
Gluten-Free – Use a certified gluten-free oats brand.
Nut-Free – Replace almond milk for coconut milk, soy milk, or oat milk.
Chia Seed Free – Skip the chia seeds or replace them with the same amount of ground flaxseeds. Removing the chia seeds turns the texture slightly less thick and decreases the fiber and healthy fats.
Protein Powder Free – If you remove the protein powder, you need to decrease the milk to 3/4 cup, or the texture will be too liquid.
Low Carb – Use my low-carb overnight oats recipe and add cottage cheese to the mix.
Storage Instructions
Overnight oats with cottage cheese are the best way to meal prep days of healthy high-protein breakfast. They are ready to eat in the morning, no cooking required.
Fridge – Store leftovers in an airtight jar or glass mason jar for up to 4 days.
Freezer – Freeze leftovers in an airtight container and thaw in the fridge the day before.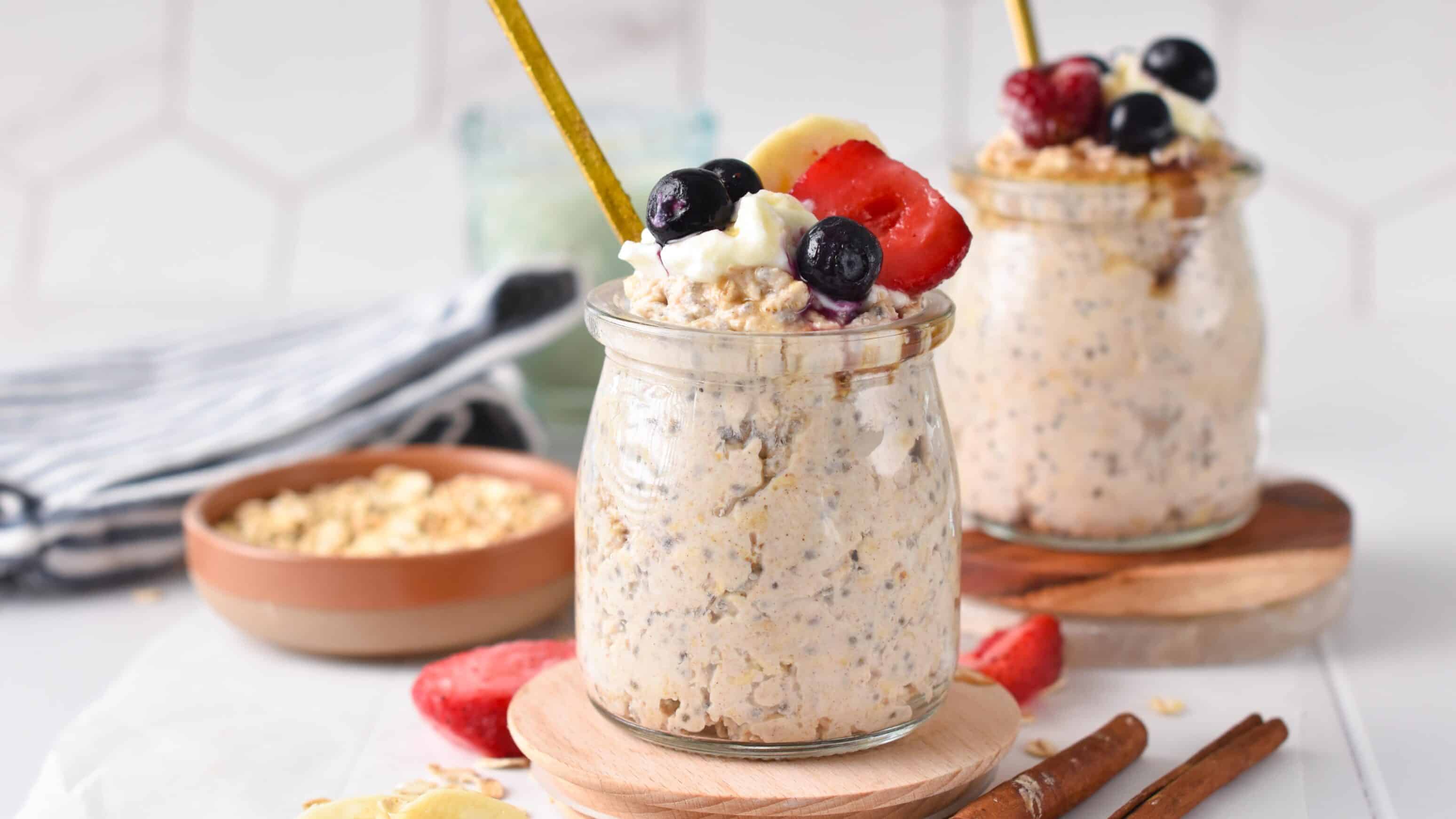 Frequently Asked Questions
Below are some answers to your most common questions about cottage cheese overnight oats.
Is oatmeal and cottage cheese good for you?
Adding cottage cheese to oatmeal increases the protein content of your breakfast. Therefore, it keeps you full for longer rather than oatmeal itself. Plus, protein slows down the absorption of carbohydrates in oats which keeps your blood sugar level and energy level steady for longer, avoiding a crash of energy in the morning.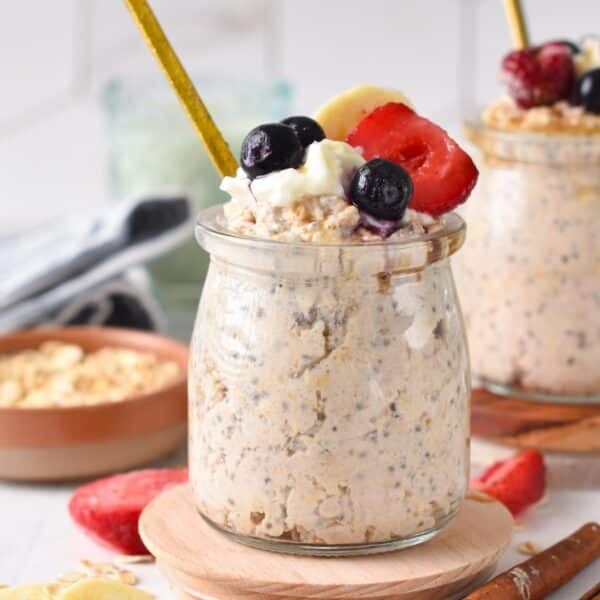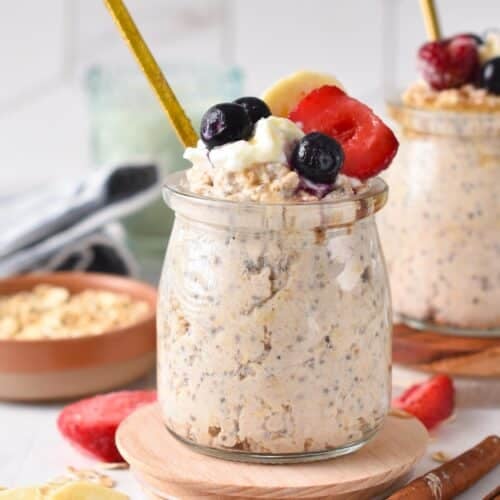 Cottage Cheese Overnight Oats
This Cottage Cheese Overnight Oats is a delicious high-protein breakfast packed with 32g grams of protein per serving. It combines high proteins from cottage cheese and protein powder to provide a filling post-workout breakfast.
Nutrition Snapshot
Want My Kitchen Equipment?
Instructions
In a blender, add cottage cheese, almond milk, vanilla protein powder, cinnamon, and sweetener and blend on high speed until smooth.

In a large mixing bowl, whisk the remaining dry ingredients: oats and chia seeds.

Pour the liquid ingredients on top of the dry ingredients and stir to evenly combine.

Close container with a lid or plastic wrap.

Serve the extra day with a drizzle of almond butter, Greek Yogurt and berries.
My Recipe Notes
Nutrition
Serving:
1
serving
Calories:
371
kcal
(19%)
Carbohydrates:
41.3
g
(14%)
Fiber:
7.9
g
(33%)
Net Carbs:
33.4
g
Protein:
31.7
g
(63%)
Fat:
9.8
g
(15%)
Saturated Fat:
1.8
g
(11%)
Polyunsaturated Fat:
3.5
g
Monounsaturated Fat:
2.7
g
Trans Fat:
0.01
g
Cholesterol:
45.6
mg
(15%)
Sodium:
451
mg
(20%)
Potassium:
364.9
mg
(10%)
Sugar:
6.7
g
(7%)
Vitamin A:
67.4
IU
(1%)
Vitamin B12:
0.4
µg
(7%)
Vitamin C:
12.5
mg
(15%)
Calcium:
378.4
mg
(38%)
Iron:
3
mg
(17%)
Magnesium:
99.2
mg
(25%)
Zinc:
2.1
mg
(14%)
Posted In: