Gluten-Free Keto Focaccia Recipe
This Gluten-free Keto Focaccia Recipe is a copycat of the classic Italian Focaccia bread with only 4.4 grams of net carbs per serving.
It's crispy on the outside, soft in the middle with a lovely garlic rosemary flavor.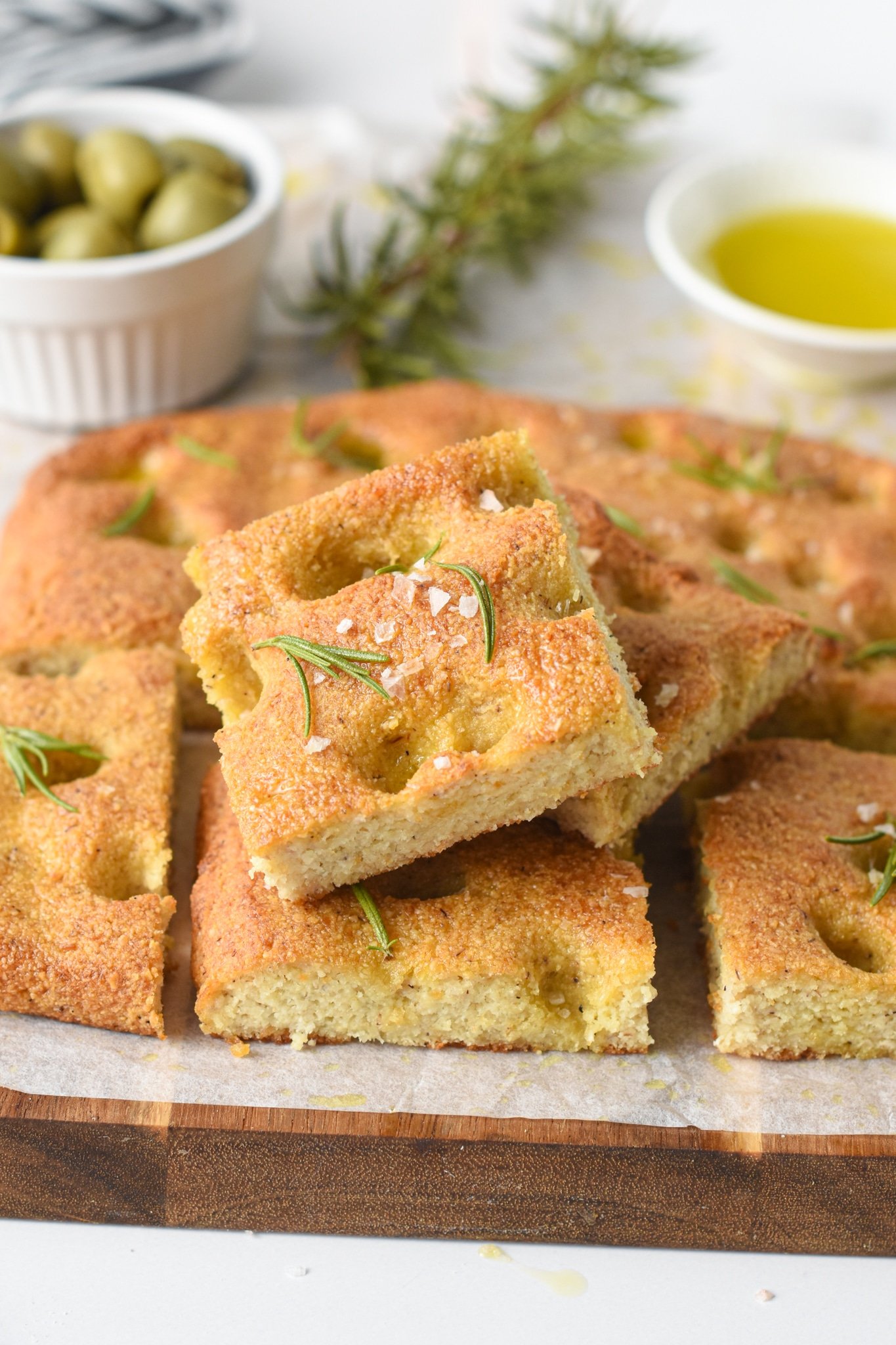 I love keto bread recipes, and I can't live without a piece of low-carb bread daily.
Since I am French, I love fluffy focaccia as a side or appetizer for dipping into olive oil or tapenade.
Here's my keto low-carb version that is also:
Grain-Free
Gluten-Free
Dairy-Free
Paleo-Friendly
What Is Focaccia?
Focaccia is an Italian baked yeast bread shaped in a large flat rectangle with holes poked on the top.
It has a delicious fluffy texture with a crusty outside, and it's often served as an appetizer or side to soup and topped with olive oil and fresh rosemary leaves.
Is Focaccia Bread Keto-friendly?
The classic Focaccia bread is made of wheat flour, a high-carb flour that is not keto-friendly.
To make low-carb focaccia bread, you need to use low-carb flours. Let me show you how.
How To Make Low-Carb Keto Focaccia Bread Recipe
It's straightforward to make this keto bread recipe using a few pantry ingredients.
Make sure you don't swap ingredients for the best results.
In fact, keto bread recipes are very sensitive to flour type and amount.
Therefore, replacing or poorly measuring the flour results in a bad baking experience and a waste of ingredients.
Ingredients
All you need are:
Almond flour – use ultra-fine blanched almond flour, not almond meal that is darker in color, coarser, and makes bread grainy. Learn how to pick keto flours.
Coconut flour – you can't replace the coconut flour with almond flour in this recipe or the focaccia comes out too soft.
Whole psyllium husk – ground husk works as long as you are using a brand that contains 100% husk. Don't use husk supplements in keto baking, brands like Metamucil contain only 50% husk and won't work in keto baking recipes.
Dried yeast or baking powder – the yeast won't make the bread rise much because it's gluten-free bread. So you can use baking powder instead. Measure the same amount and skip the sweetener used to feed yeast.
Extra virgin olive oil or any oil you like, or melted butter.
Egg whites – it matters to use a combo of egg whites and eggs to create a crusty focaccia.
Eggs
Salt
Rosemary and garlic are optional but delicious.
Gluten-Free Focaccia Bread Batter
First, add the dry ingredients to a mixing bowl: almond flour, coconut flour, salt, and garlic powder
Activating The Yeast
In another small bowl, whisk the yeast, water, and inulin or maple syrup.
Don't worry about using maple syrup or sugar to feed the yeast. It won't leave any sugar in the recipe since the yeast will consume it to create carbon dioxide that makes the bubbles.
Set the yeast mixture aside for 10 minutes until the yeast foams.
Meanwhile, whisk the yeast with olive oil, egg whites, and egg.
Combining Liquid To Dry Ingredients
Finally, pour the liquid ingredients onto the dry ingredients and stir to combine. You should stir for 1 minute to bring all ingredients together nicely.
The dough should be wet and sticky; that's normal.
Resting The Dough
Cover the bowl with a kitchen towel, and set it aside for 10 minutes at room temperature to give the fiber time to absorb the liquid.
Shaping The Bread
Preheat the oven to 350°F (180°C).
Line a baking sheet with lightly oiled parchment paper.
Place the dough in the center, oil your hands and shape the dough into a 7-inch x 5-inch rectangle shape (20 cm x 7 cm).
Then, use your fingertips to poke holes on the top of the dough.
Brush the top of the bread with olive oil.
Bake in the center rack of the oven on conventional mode 350°F (180°C) for 20-35 minutes or until the top is crusty and golden brown.
Serving
This grain-free focaccia recipe is delicious on its own or as a side to keto soup.
It's delicious served lukewarm with some toppings like:
A drizzle of olive oil
A pinch of sea salt flakes
Fresh rosemary

Focaccia Toppings
Focaccia is delicious plain or flavored.
You can add some grated cheddar or mozzarella to the batter before shaping the bread.
Or, add some of the great Italian-style toppings on the top before baking:
Sundried tomatoes
Fresh rosemary – I add mine after baking but it's up to you.
Olives
Cubes of cheese like parmesan or Emmental.
Cherry tomatoes halves
Storage Instructions
You can store the leftover bread wrapped in a clean kitchen towel at room temperature for up to 2 days or freeze for later.
The bread freeze well wrapped in plastic or an airtight container. Thaw the day before at room temperature.
Frequently Asked Questions
Can I Add Cheese Or Olives?
You can add 1/2 cup of grated cheese to the batter for cheesy focaccia or add green olives on the top of the bread before baking.
Olives are keto-friendly vegetables and a great addition to keto bread recipes.
Can I Remove The Yeast?
You can replace the yeast with the same amount of baking powder and skip the sweetener.
Keep all the remaining ingredients the same.
Stir the baking powder with the dry ingredients instead of stirring with water.
Can I Swap Coconut Flour With Almond Flour?
You can't use only almond flour in the recipe.
These flours have a very different purpose in keto baking.
Coconut flour is 4 times more liquid absorbent, so they are used in drastically different liquid-to-dry ratios in keto baking.
Can I Swap The Psylliun Husk With Xanthan Gum?
I didn't try this option, but you can probably replace 4 tablespoons of husk with 1 teaspoon of gum with similar results.
More Keto Bread Recipes
Below I listed more keto bread recipes for you to try.
Have you made this keto Italian bread recipe? Share a comment or review below to connect with me,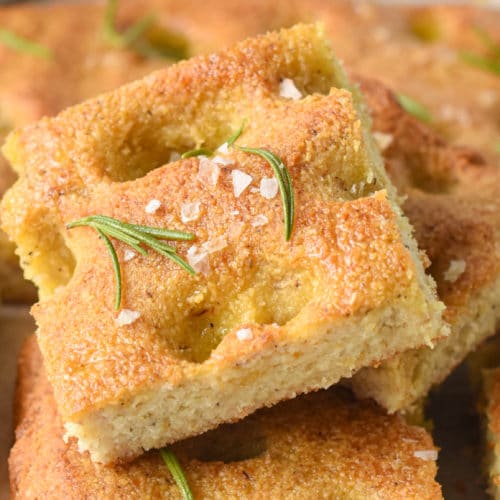 Keto Focaccia Recipe
This easy Keto Focaccia Recipe is a copycat of the classic Italian Focaccia bread without the carbs, made with a combination of keto flours. The texture is crispy on the outside, soft in the middle, with a lovely garlic rosemary flavor.
Nutrition Snapshot
Want My Kitchen Equipment?
Ingredients
Proofing yeast
2

teaspoons

Dried Yeast

or for yeast-free option, replace with 1/2 tablespoon of baking powder and skip sweetener

2

teaspoons

Maple Syrup

or inulin (omit this ingredient if you don't use dried yeast)

½

cup

Water

lukewarm – think bath temperature (37°C/100°F) not too hot or it will 'kill' the yeast
Instructions
Proofing the yeast – or go to next step for yeast-free recipe
Preheat oven to 350°F (180°C).

If using dry yeast, start by proofing the yeast. Combine dried yeast with inulin or maple syrup (don't worry, no sugar will be left in the recipe, the yeast will consume it all!) and lukewarm water (think hot bath temperature, not hot). Stir, set aside 10 minutes until foamy.
Make Dough
In a large mixing bowl, add the dry ingredients together: almond flour, coconut flour, psyllium husk, salt, and garlic powder. If you choose not to use dried yeast, add 1/2 tablespoon of baking powder to the dry ingredients now.

Stir well to evenly combine the dry ingredients are evenly combined. Set aside.

Bring back the bowl with the proofed yeast and beat in the egg white, egg, and olive oil. If you didn't use yeast, only beat the egg white, egg, and olive oil with 1/2 cup of the lukewarm water (no sweetener needed).

Pour the liquid ingredients into the bowl with the flour. Combine with a spatula and keep stirring for about 1 minute to let the fiber absorb the moisture.

Put the dough ball into the lightly oiled mixing bowl, cover the bowl with a towel, and set it aside at room temperature for 10 minutes.

Meanwhile line a baking sheet with oiled parchment paper. Set aside.

Remove towel from the bowl, generously your hands with oil, and press down the dough onto the prepared baking sheet, shaping a flat 7-inch x 5-inch rectangle.

Brush olive oil all over the dough and use your fingertips to randomly poke the top of the bread.

Place a piece of parchment paper on top of the dough and roll to extend the oval shape into a thinner oval disc.

Bake the bread at 180°C (350°F) for

25

–

35 minutes

or until golden on top and crusty.

Cool it down for 5 minutes on the baking sheet then transfer to a wire rack to slightly cool down before serving.

Cut into 9 even pieces and serve lukewarm as a side dish or appetizer.
Storage
Wrap leftover in a clean kitchen towel and keep up to 2 days at room temperature or freeze for later.
Notes
The nutrition panel is for one. The whole bread serves 6 portions. Evenly slice the bread in 6 to create one serving.
Yeast-free option:
You can make this recipe without the yeast. In the 'yeast proofing' ingredient list, only keep the lukewarm water and add the water along with eggs and oil with the rest of the dry ingredients. I recommend adding 1/2 tablespoon of baking powder instead of the yeast for a little rise.
Psyllium husk: Don't use Metamucil fiber supplements in this recipe. It is not the same product as whole psyllium husk fiber. Metamucil is a supplement that is not suitable for baking keto bread because it contains far less husk than classic psyllium husk. It will turn your food dry, purple, or blue.
My Recipe Notes
Nutrition
Serving:
1
serving
Calories:
171.7
kcal
(9%)
Carbohydrates:
10.9
g
(4%)
Fiber:
6.5
g
(27%)
Net Carbs:
4.4
g
Protein:
5.7
g
(11%)
Fat:
12.5
g
(19%)
Saturated Fat:
1.8
g
(11%)
Polyunsaturated Fat:
0.6
g
Monounsaturated Fat:
4
g
Trans Fat:
0.1
g
Cholesterol:
20.7
mg
(7%)
Sodium:
94.1
mg
(4%)
Potassium:
50.6
mg
(1%)
Sugar:
1.7
g
(2%)
Vitamin A:
30
IU
(1%)
Vitamin B12:
0.1
µg
(2%)
Vitamin C:
0.1
mg
Vitamin D:
0.1
µg
(1%)
Calcium:
46.2
mg
(5%)
Iron:
0.8
mg
(4%)
Magnesium:
3.5
mg
(1%)
Zinc:
0.3
mg
(2%)
Posted In: