This Pork Seasoning recipe is the best way to add flavors to any piece of pork, like pork chops, pork tenderloins, or pork roast. Plus, it takes just 5 minutes to whip up a batch of this pork seasoning recipe, and it lasts several months in the pantry.
I have been making my homemade seasoning recipes for a very long time. If you have tried my low-sodium taco seasoning or chicken taco seasoning, I always have them in my pantry to season meat.
They are always the best way to enhance the flavor of pork whenever it's summer and you are grilling pork chops on the BBQ, or you are using your oven to make oven-baked pork chops or broiled pork chops.
Why You Will Love This Pork Chop Seasoning Recipe
Pork chops on their own can be good, but they can be delicious with this seasoning recipe.
Ready in 5 minutes
Stores for up to 1 year in the pantry
Works with any lean piece of meat
Cheaper and healthier than store-bought
Why Make Homemade Pork Seasoning
Pork is a delicious, tender, juicy meat when well cooked, but it can also be very bland. That's why seasoning, or using my pork marinade, is the key to bringing your pork pieces to the next level.
This pork seasoning recipe has a balance of sweetness from brown sugar to crisp the pork and adds a lightly sweet flavor to the meat, balanced by the smoked taste of paprika and spicy cayenne pepper, pepper, and dried mustard seeds.
Ingredients For Pork Seasoning
My expert tip to make a great seasoning recipe for pork is to combine the five tastes that we all love in food: sweet, spicy, salty, sour or bitter, and umami.
Smoked Paprika has a smoky, woody, lightly spicy flavor that turns any piece of pork mild-spiced with a hint of sweetness.
Kosher Salt – Salt in pork delivers a more robust meat flavor. It enhances the umami taste.
Dried Mustard Seeds add bitterness to the seasoning.
Pepper and Cayenne Pepper – While we often think both peppers are the same and easily interchangeable in seasoning recipes, this is wrong. Cayenne peppers have a spicy flavor close to jalapeno pepper or chili powder, while black pepper is hot and woody. You need both in the pork seasoning blend to make the meat not too hot but still spicy.
Garlic Powder has a less pungent flavor than fresh garlic cloves adding a mild garlic flavor to the pork seasoning.
Dried Oregano has a strong aromatic flavor that adds earthy, minty notes to the meat seasoning.
Italian Seasoning is a blend of dried herbs that flavors pork with a nice earthy piney flavor with a perfect balance of sweet and sour flavors.
Onion Powder enhances the umami flavor already present in the meat.
Brown Sugar creates the perfect blend of sweet and savory in your meat. The sugar also creates a crispy crust on the meat keeping the meat tender, moist, and juicy.
How To Make Seasoning For Pork
Simply stir all the dry ingredients into a large bowl and combine evenly. Then, store the mix in an airtight glass mason jar in the pantry in a cool, dry place for up to a year.
Chef Tips To Use Pork Seasoning
This pork seasoning can be used for any pork dishes, as a dry rub or to make a pork marinade.
It means you can use it directly on any piece of pork, or to marinade meat with oil.
Pat Dry The Meat – Removing any moisture around the meat before rubbing it with the seasoning is the best way to create a brown, flavorful crust around the pork meat.
Combine with Oil – If you use this recipe to season pork chops, tenderloin, or even a roast, start by rubbing the meat with high-smoke point oil like avocado oil. The oil keeps the meat moist, and juicy, and then rub the dry spices all around the meat. For marinade, stir oil and pork seasoning in a large bag, place meat in the bag, seal the bag, and refrigerate for 3 hours to marinade.
Rub Generously – Make sure all parts of the meat are fully covered with spices, even the pork bone. You don't eat the bone but it will release fat in the dish as it cooks and combined with the seasoning it creates a tasty flavored oil that.
Use Fresh Spices – Old spices lose their strength with time. Use fresh dry spices make the homemade seasoning last longer and the balance of flavors is guaranteed.
More Seasoning Recipes
If you like this recipe, you'll love these other seasoning options: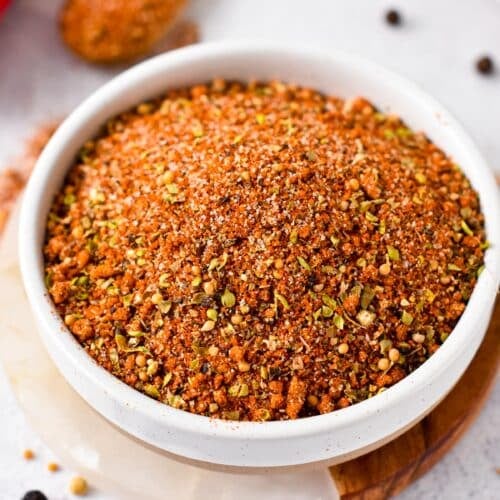 Pork Seasoning
This Pork Seasoning recipe is the best way to add flavors to any piece of pork, like pork chops, pork tenderloins, or pork roast.
Yield:
servings (2 tablespoons each)
Serving Size:
2
tablespoons
This recipe may contain Amazon or other affiliate links. As an Amazon Associate I earn from qualifying purchases.
Instructions
In a small jar, bring all ingredients together. Close the jar lid and shake vigorously to combine.

Pat dry your pork piece with absorbent paper, rub the meat with avocado oil, then rub the pork seasoning generously. Pat the dry rub on all sides of the meat.
Notes
How to store pork seasoning
Store the seasoning in a glass jar in the pantry in a cool, dark, dry place. Store for up to 1 year or up to the shortest expiry date of the spices used in the recipe.
Sugar-free – use brown erythritol instead of sugar, or don't add any sugar.
Want My Kitchen Equipment?
Serving Size:
2
tablespoons
Yield:
servings (2 tablespoons each)
Serving:
2
tablespoons
Calories:
29.5
kcal
(1%)
Carbohydrates:
6.4
g
(2%)
Fiber:
3
g
(13%)
Net Carbs:
3.4
g
Protein:
1.3
g
(3%)
Fat:
0.8
g
(1%)
Saturated Fat:
0.2
g
(1%)
Polyunsaturated Fat:
0.4
g
Monounsaturated Fat:
0.1
g
Sodium:
2330.8
mg
(101%)
Potassium:
178.1
mg
(5%)
Sugar:
0.6
g
(1%)
Vitamin A:
2401.5
IU
(48%)
Vitamin C:
0.4
mg
Calcium:
46.3
mg
(5%)
Iron:
1.8
mg
(10%)
Magnesium:
17.5
mg
(4%)
Zinc:
0.3
mg
(2%)
Posted In: