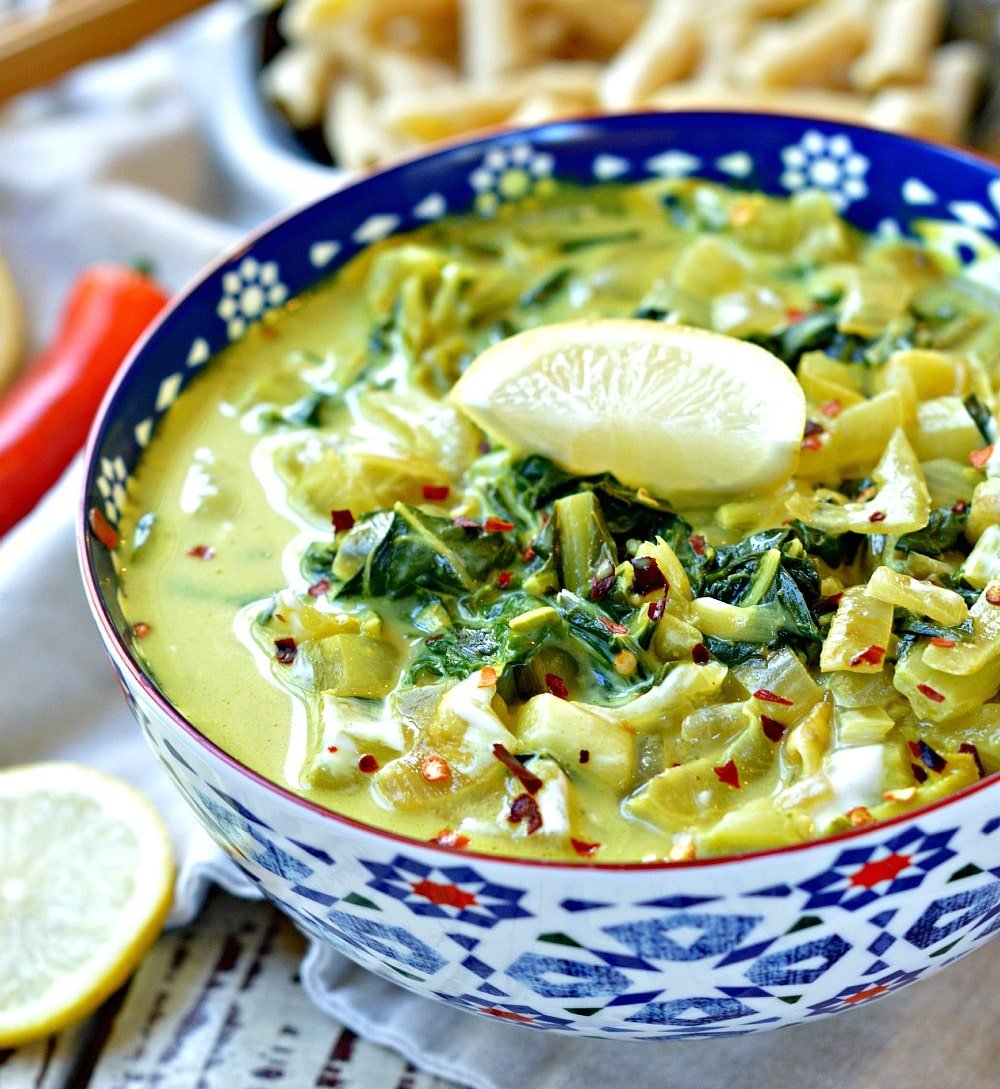 Are you looking for a simple vegan curry recipe with great flavors and lots of plant-based protein ? This coconut bok choy curry need less than 30 min to make and contains 9 g of protein per serve. I know that is amazing right?
Vegan curry recipe with bok choy
I know Bok Choy also known as Pak Choy is not a typical Indian vegetable. But, it is in season right now and it makes a great source of calcium, protein and fiber. You know I love clean food recipes and even more vegan recipes. Right now, I am all into Indian vegetable recipes specially Indian curry. My favorite Indian curry recipe is usually a classic chicken tikka massala recipe but today I asked my Indian friend to share her easiest vegetarian curry recipes, one that don't need Indian curry paste. So the recipe she shared was an Indian spinach dish. I chose to adapt the recipe and make it with Bok Choy – it is in season – it cost me only $2 for two bunches of Bok Choy in a West Auckland asian supermarket.
What I love the most about curry sauces is the creamy, smooth and spicy taste – not obviously the tick sauce – this one is not. This Bok Choy Curry definitely tick all the box with an extra acid flavor of lemon that perfectly balance the chilli.
Usually the best way to eat an indian curry is with white basmati rice but because I have to watch my carbs I choose whole grains pasta which contains much fibre and less carbs. And because we had leftover we eat this vegan curry curry recipe with brown lentils the next day. Both went well with this curry dish.
Vegan Curry Recipe with Bok Choy
An easy vegan curry recipe with Bok Choy packed with plant-based protein, delicious indian spices flavor and comforting coconut cream.
Prep Time: 15 mins
Cook Time: 15 mins
Total Time: 30 mins
4 people/servings
Print The Recipe
2 tablespoon extra virgin coconut oil or olive oil
1 small onion peeled, finely diced
2 cloves cloves garlic peeled, finely chopped
1 tablespoon curry powder
1/2 teaspoon ground turmeric
1/2 teaspoon ground fenugreek
1 tablespoon fresh grated ginger
2 bok choy washed, feet removed, roughly chopped
14 oz unsweetened coconut milk ,400 ml
1/2 cup vegetable stock
For Serving
fresh coriander
chili flake
Heat oil in a large skillet, add onions and garlic. Stir fry for 1-2 minutes maxi or until fragrant and golden.

Add all the ground spices : curry powder, turmeric, fenugreek and grated ginger. Stir fry 30 seconds - 1 minutes until fragrant.

Add the roughly chopped Bok Choy and toss with tongs until it wilts then cover, reduce to medium/low heat and simmer 3-4 minutes.

Uncover and cook for 3 - 4 minutes on high/medium heat to evaporate the vegetable juice slightly.

Stir in coconut milk, vegetable stock and continue cooking for 10 more minutes until a thick liquid reduces.

Serve with a squeeze of lemon juice, chili flakes and fresh coriander.

Serve the dish with rice, bulgur, buckwheat or quinoa.
Coconut milk: In New Zealand, I used unsweetened UHT coconut milk from vitasoy. It contains only 32 kcal/100 ml and low fat. You can also use canned coconut milk but check out the fat and calories if you watch your diet. 
Nutrition Facts
Vegan Curry Recipe with Bok Choy
Amount Per Serving (4 persons)
Calories 189 Calories from Fat 109
% Daily Value*
Fat 12.1g19%
Carbohydrates 23.3g8%
Fiber 12.5g52%
Sugar 4.6g5%
Protein 5.6g11%
* Percent Daily Values are based on a 2000 calorie diet.
Nutrition Panel is for one person. This vegan curry recipe with bok choy serve 2 person.