Almond Flour Chocolate Chip Cookies Paleo, vegan and low carb !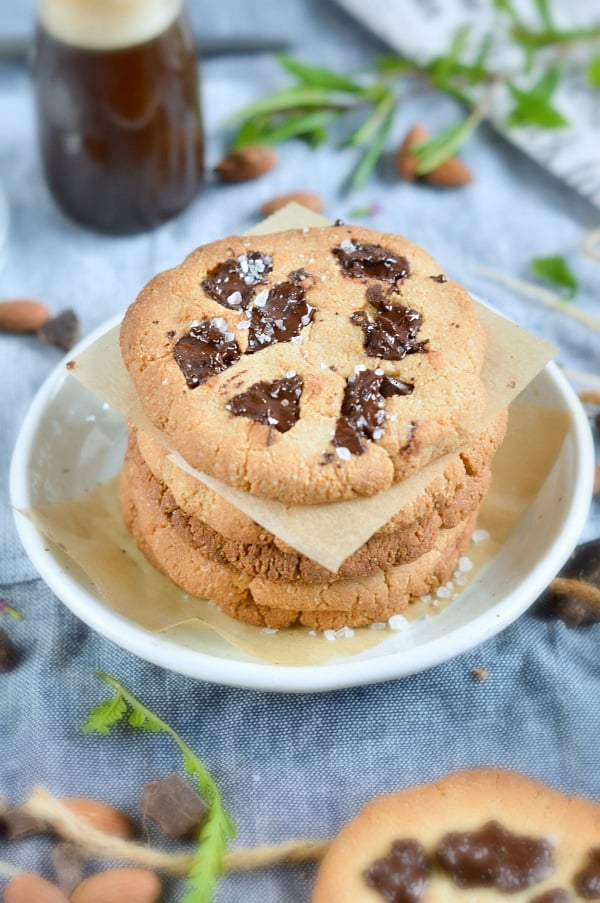 Be ready for the most delicious crispy chewy chocolate chips cookies! Those are crispy, chewy, melt-in your mouth cookies that everyone can make with only 7 basic ingredients in one bowl. Plus, those Almond Flour Chocolate Chip Cookies are healthy clean eating cookies good for you with only 1.1 g sugar per cookie.
Almond Flour Chocolate Chip Cookies Paleo + Vegan + Sugar free
Baking delicious healthy cookies, desserts or breakfast for my family is my passion. Baking and sharing healthy sweet treats with my loved ones is what makes me happy. But I have to say, this past year have been a real challenge. Since my husband Damien switch vegan I can't bake with eggs anymore! It is a real problem when you love sugar free treats because most sugar free crystal sweetener won't hold well in baking without the eggs. I used to make delicious sugar free chocolate chips cookies but those have eggs so I can't share them with him anymore. Fortunately, this year I discovered sugar free maple flavored syrup made from Monk fruit! This is a natural sugar-free liquid sweetener that works as regular maple syrup. You can use 1 cup for 1 cup as a sugar-free replacement. It is a life-saver to make vegan sugar free baking recipes.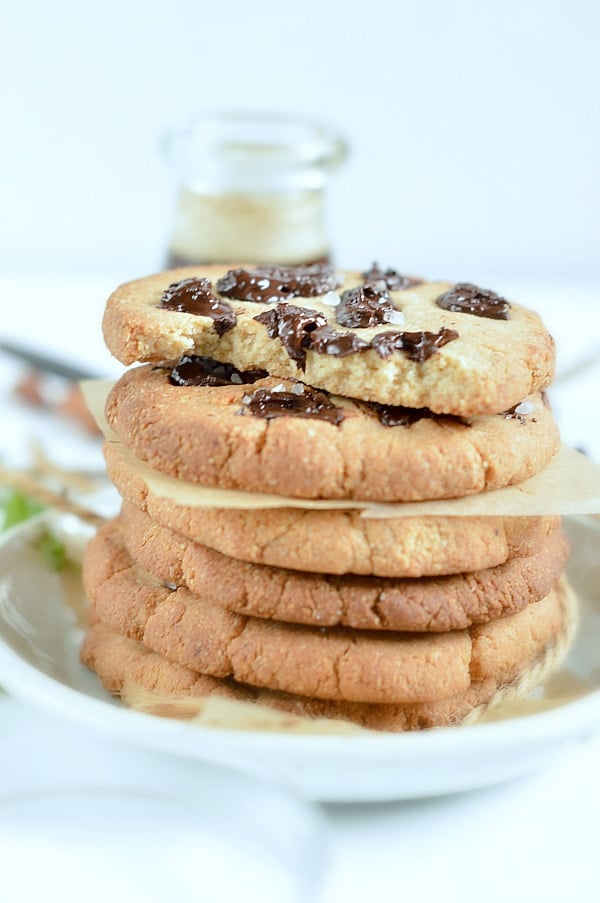 Easy one bowl cookie recipe – 6 ingredients
So back to the recipe, all you need to make those delicious crisp almond flour cookies are:
Almond meal, blanched or unblanched. I used blanched almond meal to create a lovely golden/white cookie colour but both works. Note that almond meal is the same as almond flour or ground almond, terminology change from country and brand.
Sugar-free maple flavoured syrup. I love to use sugar free liquid sweetener made from Monk fruit sugar because it has no carbs, no calories and it is natural. If you can eat a bit of sugar or carbs use regular maple syrup or brown rice syrup.
Coconut oil, melted. I used virgin unrefined coconut oil, it had a lovely light coconut flavour to the cookies. If you don't like coconut flavour use refined coconut oil.
Baking soda. It slightly leavens the cookies to create a softer cookie.
Salt. I also used an extra pinch of coarse sea salt to drizzle on top of the baked cookies. It is a really delicious addition
Dark Chocolate chunk. I used sugar free dark chocolate bars that I cut in chunks. You can use any dark chocolate of your choice. Any chocolate with more than 70% cocoa is an healthy choice.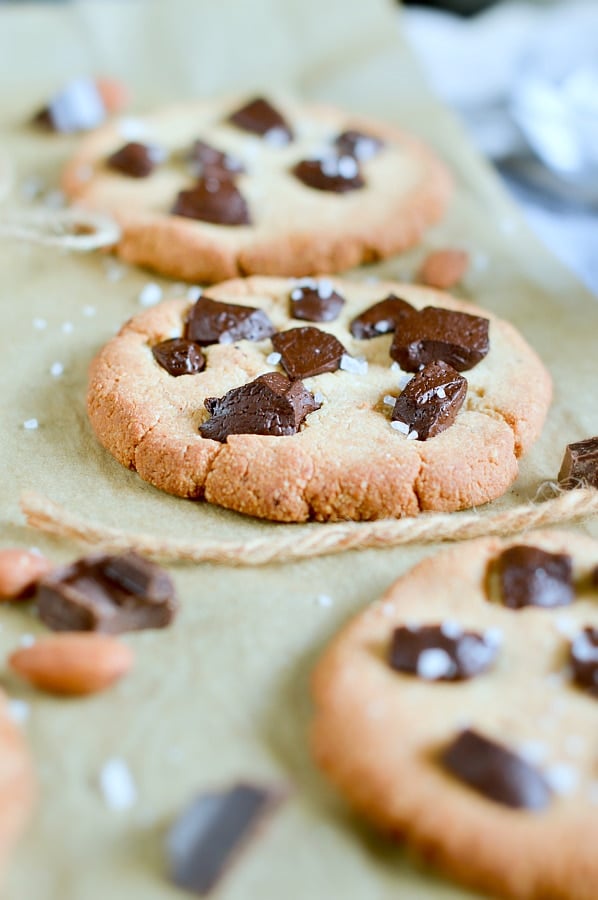 How to make perfect Almond flour chocolate chips cookies?
Those are my top recommendation, but don't worry this recipe is the EASIEST! It is a NO FAIL cookie recipe.
Combine all the ingredients – order doesn't matter but don't add the chocolate chunks/chips now!
Shape a large cookie dough ball, roll into a cylinder and cut into 6/8 even pieces
Roll each ball between your hands to form 6/8 cookie dough balls,
Place each ball on a cookie sheet covered with parchment paper, they won't expand so don't leave much space between them
Flatten with your hand to your favourite thickness, border can crack a bit but it is easy to reshape with your hands, dough is soft and not crumbly!
Add the chocolate chunks on top of the shaped cookies, not too close of the border to avoid the chocolate to melt outside of the cookie.
Bake and enjoy with a sprinkle of coarse sea salt on top!
I hope you enjoy this simple almond flour chocolate chip cookies paleo recipe. If so, leave me a comment! I love to read your thought.
This recipe serve 8 large Almond Flour Chocolate Chip Cookies Paleo + vegan.See nutrition panel after the recipe box.
Watch the recipe video and make those delicious healthy vegan cookies now !
XOXO Carine
Almond Flour Chocolate Chip Cookies Paleo + Vegan
Almond Flour Chocolate Chip Cookies Paleo, Low Carb, Sugar free, Vegan. An easy 6 ingredients healthy clean eating cookie recipe with only carbs per cookies.

Prep Time: 10 mins
Cook Time: 12 mins
Total Time: 22 mins
8 cookies
Print The Recipe
Preheat oven to 180C (350F).

Line a cookie sheet with parchment paper. Set aside.

In a large mixing bowl add almond meal, liquid sweetener, melted coconut oil, vanilla, salt and baking soda.

Combine with a spatula or a spoon until all the ingredients are combine and it forms pieces/crumble of cookie dough.

Use your hands to bring the pieces together into a large cookie dough ball. The dough is soft, easy to bring together into a ball, not a crumbly dough.

Roll the dough ball into a cylinder of about 20 cm long (7 inches long), use a sharp knife to divide the cylinder into 8 even pieces. I usually make 8 medium size cookies but feel free to make 6 large cookies if preferred!

Take a piece of dough, roll into a ball and place the cookie dough ball on the cookie sheet. Repeat for the other pieces of dough. Leave about a thumb space between each cookie dough balls – the cookies won't expand much when baking so you don't need lots of space between balls. Repeat for all cookie balls until you obtain 8 cookie balls on the cookie sheet covered with parchment paper.

Flatten each cookie ball with your hands. The more you press the thinner and crispier they will be. Don't press too much for a softer, chewier and thicker cookie. If the border slightly crack, simply use your finger to smooth the border and reshape.

Add few dark chocolate chunks or chips onto each flatten cookies. Slightly press to stick the chocolate to the dough- not much as you don't want the chips/chunks to go through the dough. Place the chocolate chunks away from the border, to prevent the chocolate to overflow from the cookie when baking.

Bake 12 minutes or until the edge are golden.

They will be slightly soft when out of the oven, cool down 5 minutes on the baking sheet then using a spatula, transfer onto a cooling rack.

Store for 1 week in a cookie jar.
Dark chocolate: feel free to use your favorite dark chocolate if you are not sugar free. Any chocolate with more than 70% cocoa is a healthy option. Almond flour is the same as almond meal or ground almond. Terms differ from brands and countries. Use blanched or un blanched almond flour as you like. Liquid sweetener: if you are vegan and not sugar free you can also use maple syrup or brown rice syrup or agave syrup
Nutrition Facts
Almond Flour Chocolate Chip Cookies Paleo + Vegan
Amount Per Serving (1 cookie)
Calories 234 Calories from Fat 172
% Daily Value*
Fat 19.1g29%
Carbohydrates 11.2g4%
Fiber 5.4g23%
Sugar 1.1g1%
Protein 6.2g12%
Net Carbs 5.8g
* Percent Daily Values are based on a 2000 calorie diet.