Almond Flour Cupcakes (Keto, Gluten-Free, Dairy-Free)
These Almond Flour Cupcakes are moist, fluffy, and healthy vanilla cupcakes made with almond flour.
Bonus, these are keto cupcakes 100% sugar-free and dairy-free with only 3 grams of net carbs per serving.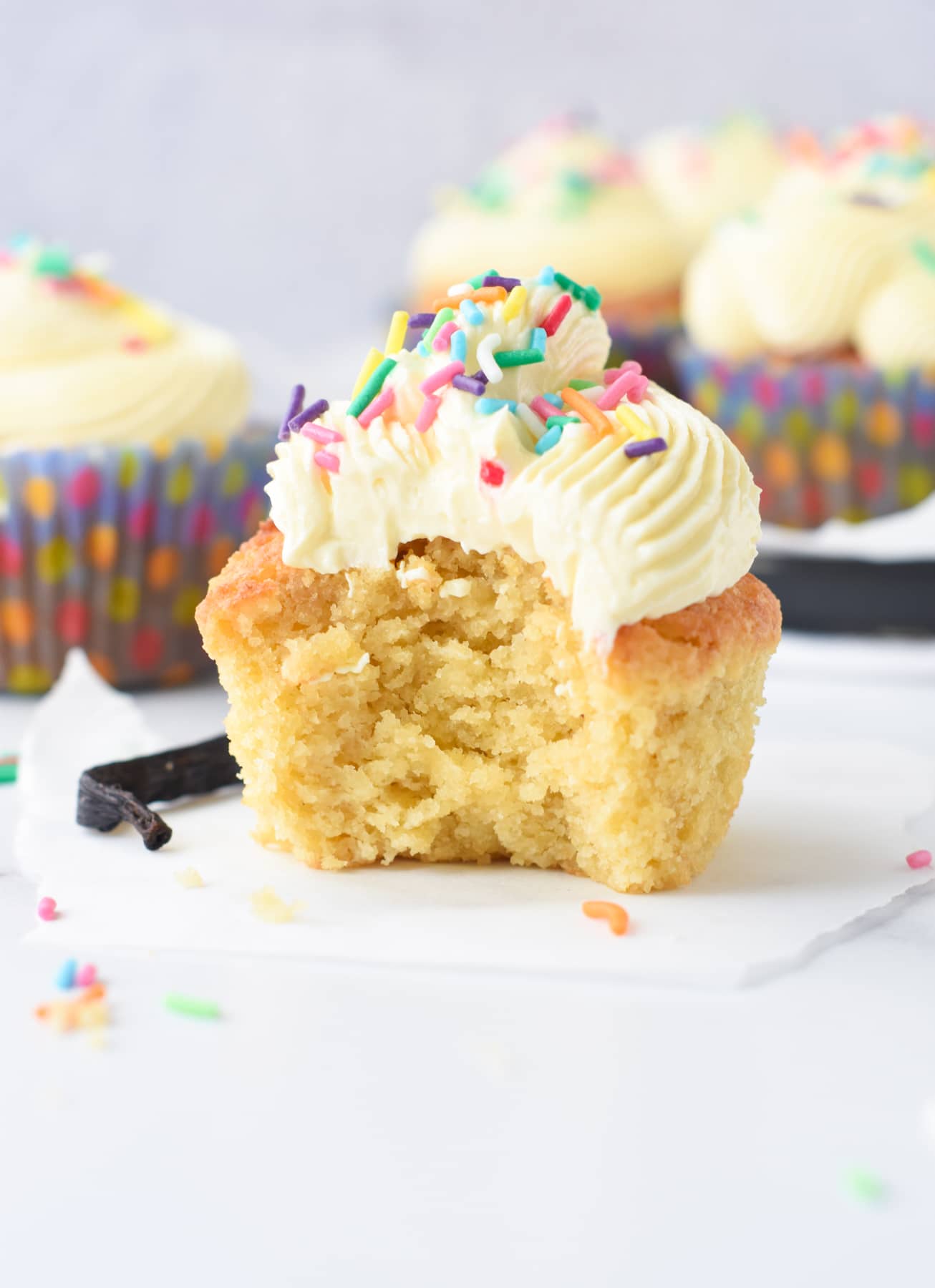 It's that time of the year when we should start practicing our cupcakes skills for Christmas, right?
After my keto lemon cupcakes, here are vanilla keto cupcakes made with the most delicious buttercream frosting and sugar-free sprinkles for a touch of color.
How To Make Almond Flour Cupcakes
There's nothing easier than making these delicious almond flour gluten-free cupcakes! All you need are a few ingredients and some top tips to make these baked goods, moist and delicious.
Ingredients
The key to making delicious cupcakes with almond flour is to use ingredients at room temperature. Don't use eggs or almond milk straight out from the fridge or the cupcakes comes out dense:
Blanched Almond Flour – This is not the same as almond meal. If you never baked with keto flours before, especially almond flour, you should know that almond meal is not the one to choose to make fluffy almond flour baked goods. Almond flour is a light, fine and golden flour made of blanched almond.
Granulated Sweetener – To keep this recipe keto-friendly, I used erythritol but any granulated sweetener works in the recipe. If you are looking for paleo cupcakes, use coconut sugar as a healthy swap.
Large Eggs – Not small, not medium but large eggs at room temperature. Eggs add the best fluffy texture to gluten-free cupcakes. Note that the recipe won't work with egg replacers. Also, you must use eggs at room temperature, take them out from the fridge at least 30 minutes before making the recipe.
Unsweetened Almond Milk
Baking Powder – You can swap baking powder for baking soda. Double up the amount of called in the recipe.
Melted Coconut Oil – You can use butter too but the recipe won't make gluten-free, dairy-free cupcakes anymore!
Vanilla Extract – yes, that's one tablespoon! These are keto vanilla cupcakes and you want that vanilla flavor to pop!
Preheating Oven
Before you start the recipe, preheat the oven to 350°F (180°C). Line a 12-hole muffin tin with lightly oiled cupcake paper liners. Set it aside.
Combine Ingredients
Now, in a mixing bowl add all the dry ingredients: almond flour, baking powder, and granulated sweetener. Whisk to evenly combine the dry ingredients together and avoid lumps.
In another bowl, whisk eggs, almond milk and melted coconut oil, and vanilla extract. Make sure that all ingredients are at the same temperature.
Now, stir the wet ingredients with the dry ingredients until a thick cupcake batter forms. Don't expect a light runny batter like you sued to have when baking with flour.
Almond flour muffin, cupcakes, or almond flour bread batter always look thicker, gritty and that's normal. Don't thin out the batter.
Baking Cookies
Now, fill 12 cupcake paper cases with the batter – I used about 1/4 cup per cupcake.
Bake in the center rack of the preheated oven at 350°F (180°C) for 20-25 minutes or until golden brown on top. If the cupcake tops brown too fast, tent the muffin tray with a piece of foil to prevent the top from darkening.
Check the baking time by inserting a toothpick in the center of the cupcakes. It should come out dry with no crumbs.
Cooling down
Cool the cupcakes down on a cooling rack immediately after baking. Don't cool down in the pan or they trap some moisture.
Cupcake Frosting
These keto vanilla cupcakes are even better with some frosting. You can make the keto buttercream frosting below or make my Keto Cream Cheese Frosting.
To make the frosting you need:
Softened butter or dairy-free butter if you don't eat dairy. Some dairy-free butter blocks are made of coconut oil and are keto-friendly.
Powdered erythritol
Vanilla stevia drops – the reason I use stevia drops and powdered erythritol is to boost the sweetness of the frosting and avoid too much sugar alcohol sweetener. In fact, erythritol tends to cool down the batter, and sometimes, it splits the frosting. So it's better to add only a small amount and balance sweetness with stevia drops.
Use the paddle attachment of your stand mixer to beat butter until creamy. Then, stir in the remaining ingredients. Taste and adjust sweetness if desired.
Pipe the frosting on top of the cupcakes once they are cooled.
Decorate with a pinch of sugar-free sprinkle for colors!
Storage Instructions
Store the cupcakes for up to 4 days in a cake box in the fridge.
Or, freeze the cupcakes in a zip-lock bag and thaw at room temperature the day before serving.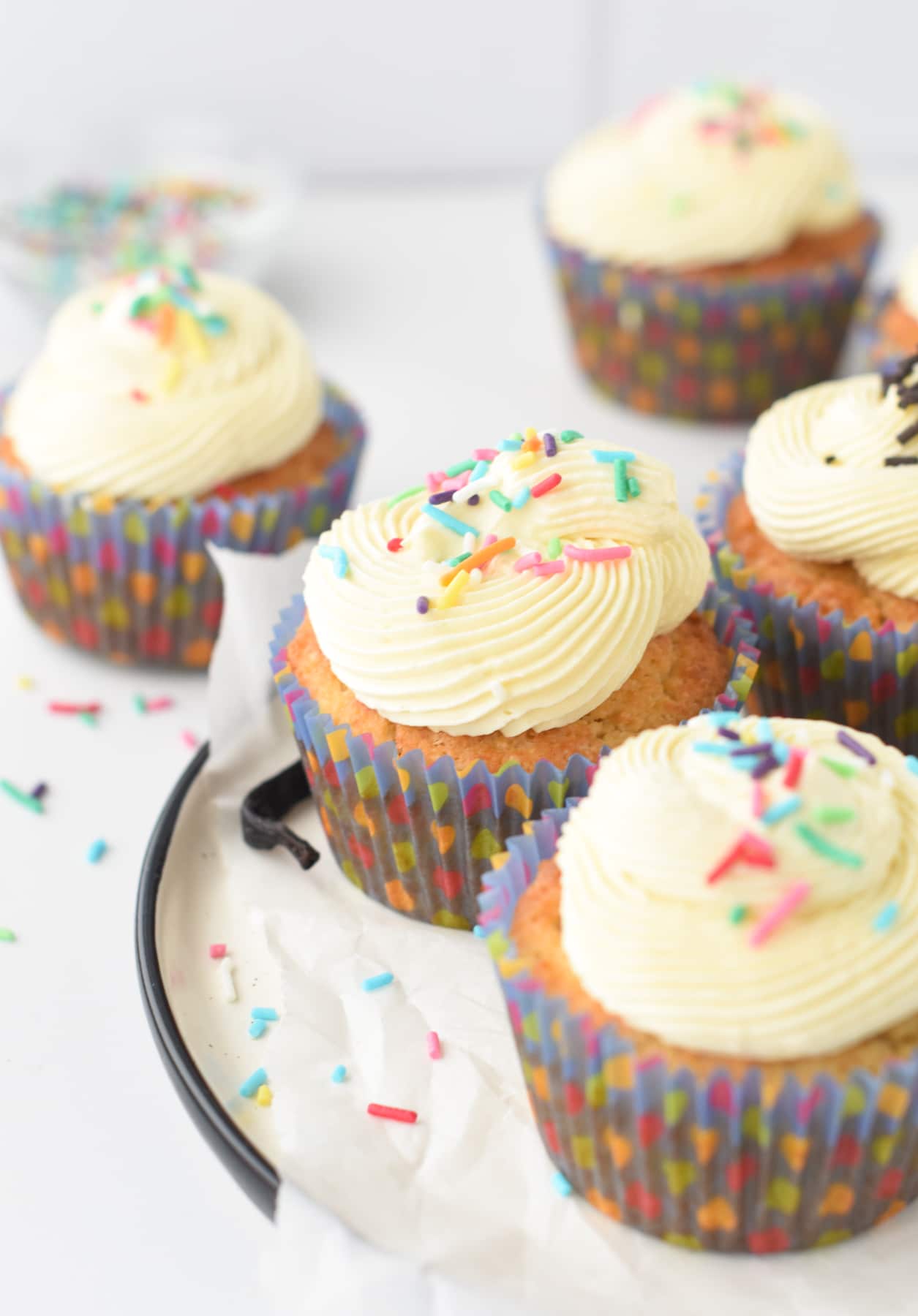 Frequently Asked Questions
Can I Swap Almond Flour For Coconut Flour?
No, you can never swap one for the other. Coconut flour contains 4 times more fiber than almond flour and it requires more eggs or liquid to make fluffy cupcakes.
Use this coconut flour cupcake recipe if you don't have almond flour available.
Can I Save My Frosting That Split?
A frosting splits when there's a large variation of temperature in the bowl. It can be that your almond milk or butter are too cold or you added more powdered sugar-free erythritol.
Erythritol decreases the temperature of the batter. You can fix a split frosting by adding warmer ingredients in the mix, more room temperature almond milk for example.
If it splits because the mixture is too hot, pop the bowl in the fridge.
Can I Add Cocoa Powder?
You can make keto chocolate cupcakes with this recipe. Decrease the almond flour to 2 cups and add 1/4 cup cocoa powder in the mixture and 1/3 cup chocolate chips.
More Almond Flour Recipes
If you like to bake with almond flour, I have many more keto-friendly recipes for you: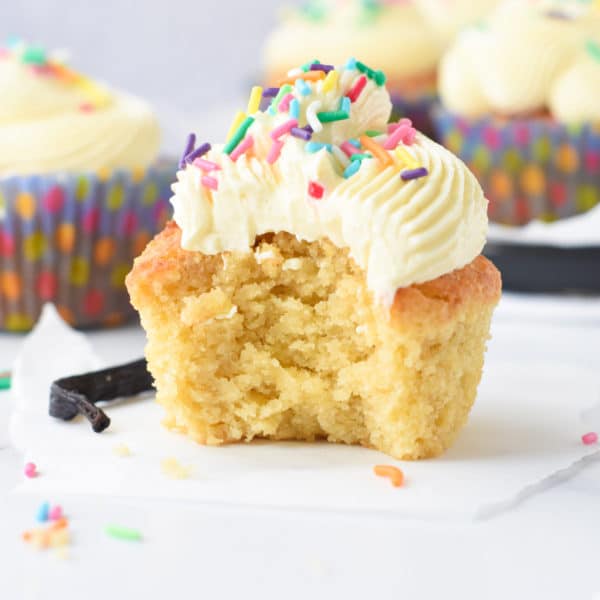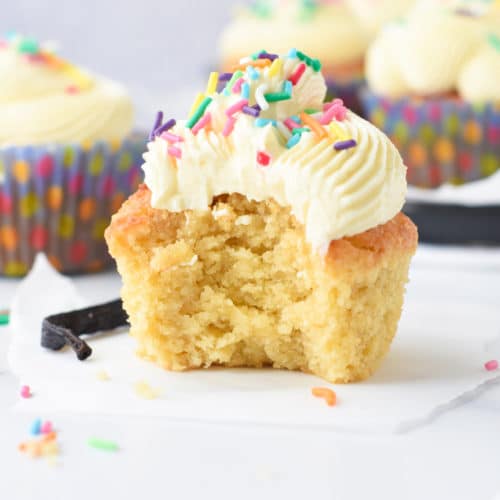 Almond Flour Cupcakes
An easy Almond Flour Cupcake recipe with a moist vanilla crumb and delicious buttercream frosting. dairy-free, gluten-free, and keto-friendly.
Ingredients
3

large

Eggs

½

cup

Granulated Sweetener of Choice

I used sugar-free erythritol (note1)

⅓

cup

Unsweetened Vanilla Almond Milk

⅓

cup

Melted Coconut Oil

(note 2)

2 ½

cups

Almond Flour

2

teaspoons

Baking Powder

1

tablespoon

Vanilla Extract
Buttercream frosting
6

ounces

Softened Butter

or dairy free butter

½

teaspoon

Vanilla Stevia Drops

1/4-1/3

cup

Powdered Erythritol

I used erythritol

1-2

tablespoons

Heavy Cream

or canned coconut cream for dairy-free
This recipe may contain Amazon or other affiliate links. As an Amazon Associate I earn from qualifying purchases.
Instructions
Preheat oven to 180°C (350°F). Line a 12-hole cupcake/muffin pan with cupcake paper cases or grease mold with an oil spray if preferred. Set aside.

In a medium-sized mixing bowl, whisk together eggs, sugar-free sweetener of your choice, unsweetened almond milk, melted coconut oil, and vanilla extract. Make sure all the ingredients are at room temperature. If you are using cold eggs straight out of the fridge, they will solidify the coconut oil creating oil lumps. Otherwise, use butter to prevent this from happening.

Stir in baking powder and almond flour, 1/2 cup at a time, stirring gently incorporate the flour to avoid lumps.

Transfer the cupcake batter evenly into the 12-cupcake case. I used a mechanical ice cream scoop to be accurate and ensure that each cupcake has the same size (and so the same amount of carbs per serving).

Bake for

22

–

25 minutes

or until a toothpick inserted in the middle of the cupcakes comes out clean or with few to no crumbs on it.

Cool for

10 minutes

in the cupcake pan, then gently transfer onto a cooling rack and cool for

30 minutes

to 1 hour before eating. Be patient. They get the best texture at room temperature.
Storage
Store in an airtight box for up to 4 days at room temperature.

Can be frozen in airtight ziplock bags, preferably without the paper cup. Defrost the day before at room temperature. Can be toasted or rewarmed in an oven at 100°C/210°F.
Cupcake Buttercream Frosting
In a stand mixer, using the paddle attachment, beat softened butter until creamy.

Stir in stevia drops, powdered sweetener and add cream gradually until the frosting reach your favorite texture.

Taste and add more sweetener if needed.
Notes
Note 1: Any granulated sweetener works in this recipe. To make keto cupcakes, I used sugar-free erythritol, but if you are not on a keto diet, coconut sugar is a healthy swap Note 2: Melted butter or melted ghee works as well.
Want My Kitchen Equipment?
Serving:
1
cupcake
Calories:
312.6
kcal
(16%)
Carbohydrates:
5.5
g
(2%)
Fiber:
2.5
g
(10%)
Net Carbs:
3
g
Protein:
6.7
g
(13%)
Fat:
30.8
g
(47%)
Saturated Fat:
9.1
g
(57%)
Polyunsaturated Fat:
3.4
g
Monounsaturated Fat:
6.6
g
Trans Fat:
0.1
g
Cholesterol:
48.2
mg
(16%)
Sodium:
231.7
mg
(10%)
Potassium:
25.9
mg
(1%)
Sugar:
1
g
(1%)
Vitamin A:
592.9
IU
(12%)
Vitamin B12:
0.1
µg
(2%)
Vitamin C:
0.1
mg
Vitamin D:
0.3
µg
(2%)
Calcium:
108.7
mg
(11%)
Iron:
1.2
mg
(7%)
Magnesium:
2.3
mg
(1%)
Zinc:
0.2
mg
(1%)
Posted In: