This Japanese Cabbage salad is an easy 5-minute Japanese side dish with crunchy shredded cabbage in a delicious Japanese dressing.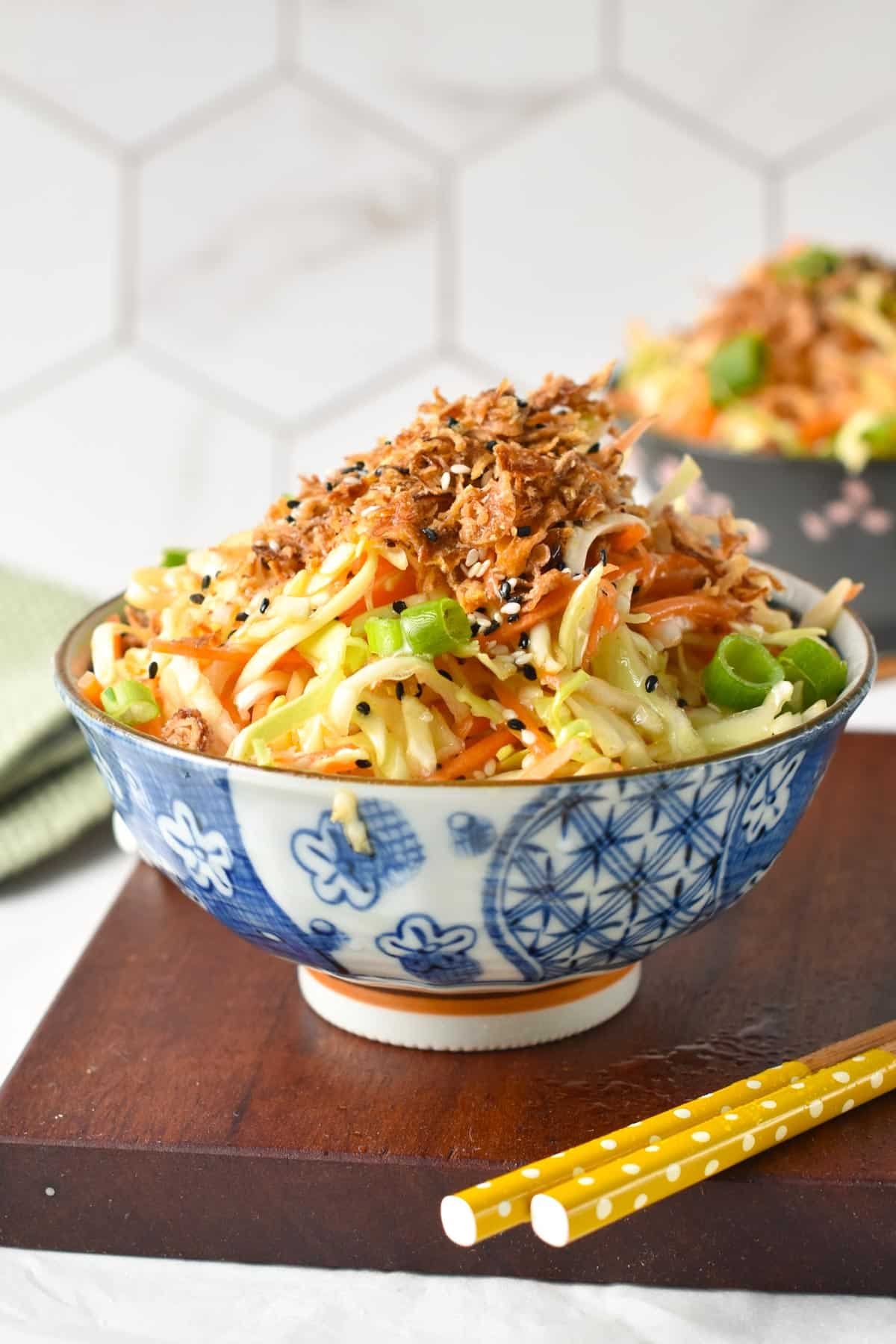 One side dish I always order at my favorite Japanese restaurant is a Japanese coleslaw. Japanese cabbage salad is light, healthy, packed with a lot of fiber, and cabbage is also a low-carb vegetable.
This cabbage Japanese salad is the perfect cold side to any warm Japanese fried food like chicken, cooked fish, or pork katsu.
What Is Japanese Cabbage Salad?
A Japanese cabbage salad is a typical Japanese side dish served next to a warm Japanese protein dish like Tonkatsu chicken or grilled fish.
It's a crunchy cabbage salad called Japanese coleslaw made from very thinly shredded cabbage. It's served with a light dressing made of sesame and soy flavors.
How To Make Japanese Cabbage Salad
I am not Japanese, so this Japanese cabbage salad is purely inspired by my favorite salad from a local Japanese restaurant.
Ingredients
Shredded Cabbage – This restaurant-style Japanese salad is made with thinly sliced cabbage or coleslaw, a mix of green cabbage and carrots. To prepare this salad in less than 10 minutes, use packaged shredded coleslaw. It saves time, and if you discard the pre-made sauce provided in the packet, the vegetable is as healthy as if you slice them at home.
Rice Vinegar
Soy Sauce or tamari sauce for a gluten-free option.
Toasted Sesame Oil
Garlic
Ginger
Honey – Most recipes use white sugar. I love honey as a healthier alternative, and the flavor is fantastic with soy sauce.
Green Onion – to serve
Sesame Seeds – To serve the salad I use a combo of white sesame seeds and black sesame seeds.
Fried Shallots
Japanese Mayonnaise – optional
Making the Slaw
I bought pre-shredded coleslaw for this recipe. If you want to shred cabbage, you can use a food processor with a large shredding attachment or a hand grater. Feel free to use only green cabbage, or a combination of green and red cabbage.
First, cut the cabbage in half, remove the hard part of the cabbage feet, and shred it into a thin texture. Peel and shred the carrot.
Japanese Coleslaw Dressing
In a mixing bowl, add all the salad dressing ingredients, and whisk to combine evenly. You can also place all the dressing ingredients in a glass mason jar, close, and shake.
Assembling The Japanese Salad
In a large bowl, add the shredded slaw, pour the dressing on top, and toss to coat evenly.
Taste and adjust the recipe adding more salt, pepper, or a drizzle extra soy sauce to boost savory umami flavors.
Serving ideas
Then, serve the salad with some of the toppings below.
Spring onions
Sesame seeds
Drizzle of Japanese mayonnaise
Shriracha sauce for a touch of spice
Fried shallots – This is not a classic Japanese topping but adds a delicious crunch and flavor to the salad. For a more authentic approach, try adding bonito flakes.
Storage Instructions
Store the Japanese salad leftovers in an airtight container in the fridge for up to 2 days.
After that time, the cabbage softens, and the texture is not as crunchy and tasty.
Variations
You can use this salad recipe to make different kinds of Asian cabbage salad by adding some ingredients.
For example, you can add in the shredded cabbage, some of the below vegetables:
Finely sliced red bell pepper
Bean sprouts
Roasted peanuts
Fresh ginger
Fresh mint or coriander
Allergy Swaps
Below are some ingredients substitution ideas if you need them.
Gluten-Free – Swap soy sauce for tamari sauce.
Sugar-Free – Swap the honey for a sugar-free sweetener of choice or leave out any sweetener.
Seed-Free – Skip the sesame seed and use slivered almonds or sliced almonds. Use peanut oil or light olive oil.
Carrot-Free – Use only shredded cabbage or swap carrot with shredded radish.
Rice Vinegar – You can use apple cider vinegar, lemon juice, or white vinegar for this recipe.
Frequently Asked Questions
Below are my answers to your most common questions about this easy salad recipe.
How Do You Cut Japanese Cabbage For Salad?
To make a super thin, fluffy cabbage salad like in a Japanese restaurant, you need a thin progressive mandolin.
Remove the tough core part of the cabbage, then select the inside part of the cabbage where the leaves are packed, white, not green. Hold from the top of the head and shred until thin and fluffy.
What Type Of Cabbage Is Used In Japanese Cooking?
For a warm cooked recipe, Japanese cuisine uses Nappa cabbage. However, for salad and slaw, use green cabbage or green and red cabbage.
Japanese Cabbage Salad
This Japanese Cabbage salad is an easy 5-minute Japanese side dish with crunchy shredded cabbage in a delicious Japanese dressing.
Serving Size:
1
Serving (without toppings)
Nutrition Snapshot
Instructions
In a large mixing bowl, add the shredded coleslaw. Set aside.

In another bowl, whisk all the dressing ingredients, pour over the shredded cabbage, and toss to coat.

Serve with fried shallots, sliced green onions, sesame seeds, and a drizzle of Japanese mayonnaise.
My Recipe Notes
Nutrition
Serving Size:
1
Serving (without toppings)
Serving:
1
Serving (without toppings)
Calories:
136.2
kcal
(7%)
Carbohydrates:
9.9
g
(3%)
Fiber:
2.3
g
(10%)
Net Carbs:
7.6
g
Protein:
1.5
g
(3%)
Fat:
10.6
g
(16%)
Saturated Fat:
1.5
g
(9%)
Polyunsaturated Fat:
4.4
g
Monounsaturated Fat:
4.2
g
Sodium:
183.9
mg
(8%)
Potassium:
162.7
mg
(5%)
Sugar:
7.2
g
(8%)
Vitamin A:
85.9
IU
(2%)
Vitamin C:
32.3
mg
(39%)
Calcium:
38.1
mg
(4%)
Iron:
0.5
mg
(3%)
Magnesium:
12.4
mg
(3%)
Zinc:
0.2
mg
(1%)
Posted In: